Big NCAA Tournament bets paying off for Las Vegas casino owner
Updated April 1, 2018 - 6:01 pm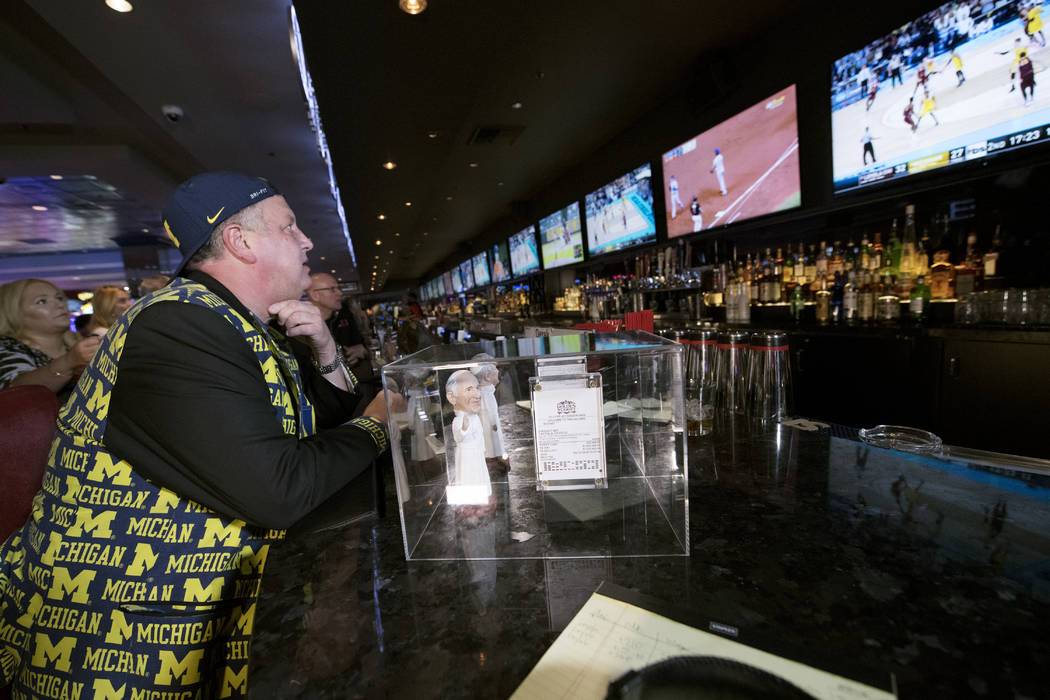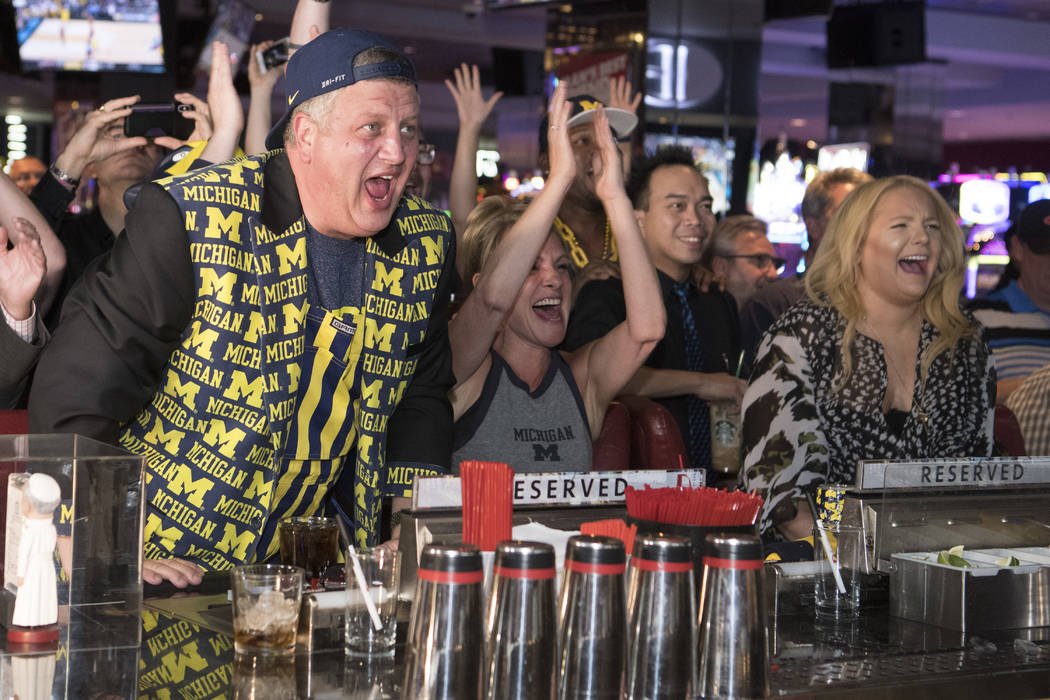 Whether Derek Stevens cashes a $1 million ticket on the NCAA Tournament is something of a side issue.
Regardless of how much, or even if, the owner of the D Las Vegas and Golden Gate collects because of his beloved Michigan Wolverines, he's already a winner.
Stevens has gained priceless promotional value with his NCAA Tournament gambit. Before the tournament, the aggressively loyal Michigan grad bet $25,000 on the Wolverines to win the championship at 40-1 odds. He placed the wager at rival downtown resort Golden Nugget, reportedly the largest bet ever taken at the hotel's sports book.
Stevens effectively hedged the bet in Saturday's Final Four semifinal matchup between Loyola-Chicago and Michigan, making two bets totaling about $52,000 on Loyola. If the Ramblers had won, Stevens would have won, too.
He's flamboyant, not stupid.
Stevens is going to hedge again in the championship between Michigan and Villanova. "I'm still working on it, but I won't announce until just before tip-off tomorrow," he said Sunday. The Wolverines opened as a 6.5-point underdog, and the line quickly moved to 7.
That's the showman, the P.T. Barnum, in Stevens. The level of national media attention and business he has sparked at his hotel is immeasurable.
On Saturday, the D hosted a watch party at Longbar that was livestreamed on the VSiN gaming network. Stevens was there with his wife, Nicole, to his left. To his right sat a Pope Francis bobblehead — a "bobblepope," if you will — inside a glass box, blessing Stevens' $25,000 ticket.
This was a box-and-one defense against Loyola's Sister Jean, the 98-year-old nun who was an inspiration for the 11th-seeded Ramblers through their series of tournament upsets. Derek and Nicole shared their epiphany of how to combat Sister Jean's sway over the tournament.
"Nicole and I realized that for us to win this we had to go to a higher power," said Stevens, his face sweaty just after the Wolverines' 69-57 victory. "That's why we have the pope. You see him blessing the ticket, right?"
Yes. And the encased bobblepope will be back at Longbar for Monday night's championship. Stevens is not moving the party to a hotel ballroom or its second-floor showroom. He's had luck at Longbar.
"This has been a roller coaster, for sure," he said. "I'm not going to get too superstitious, but I'm going to be back at seat 1 at the Longbar. This is going to be something special."
It already has been.
Jillette's Fremont Street experience
Magician Penn Jillette has been hanging around Fremont Street over the past several days working on a new book. The follow-up to his 2016 "Presto!" which tracked his 100-plus-pound weight loss, is to focus on the famed promenade.
"I hadn't been on Fremont Street in years, and it's nothing like the Strip," Jillette said during his latest "Penn's Sunday School" podcast. "The Strip is false classiness, this horrible gold-pillared classiness that is not really classy. But Fremont Street is just in the funk of it. It's a freak show, street performing — but not like San Francisco street performing, which is clean and good-natured. Fremont Street is dirty and funky."
Penn has tipped $20 for a photo with some of those performers only to be asked by those buskers if they can take a picture with him.
One woman hammers a nail up her nose and walks on broken glass.
"I know a little bit about this," Jillette, a veteran street performer, said to the woman. He offered her a $20 tip. She said, "Can you staple that to me?" And he did, over her right breast. Once a carny, always a carny. Jillette updates this odyssey on his Facebook page, should you want to follow."
Incubus, and my ears
A good reason for the incoming ownership partners representing Virgin Hotels not to mess with The Joint at Hard Rock Hotel is Incubus's extended engagement.
Brandon Boyd and the boys leveled the place Saturday night, a great exercise in sight and sound.
One thing about @IncubusBand: No banjo. @TheJointLV @HardRockHotelLV pic.twitter.com/ZzOsTJjjTf

— John Katsilometes (@johnnykats) April 1, 2018
I'd not seen them before and was especially mesmerized by the advanced light show in that comparatively intimate venue and the blistering musicianship from the stage. I especially loved the cover of INXS' "Need You Tonight."
How we land it … damn fine performance @IncubusBand @TheJointLV @HardRockHotelLV pic.twitter.com/acQIWtukGf

— John Katsilometes (@johnnykats) April 1, 2018
Incubus is a band that draws great musicians to its shows. Evidence of that was seated at my left: Christian Brady of Hellyeah and Franky Perez's band The Truth. Brady is a monster player and Las Vegas native who readily recites such VegasVille factoids as Living Colour and Primus rocking UNLV's Artemus Ham Hall in March 1991. At times, and this is one, I'm jealous of Vegas natives.
Maybe we know this one, too … @IncubusBand @TheJointLV @HardRockHotelLV pic.twitter.com/JslHbsWqCI

— John Katsilometes (@johnnykats) April 1, 2018
'Harry-Oke' unleashed!
Veteran comic and club operator Harry Basil has stitched together a groovy little late-night hang in the green room at Laugh Factory at Tropicana. This is "Harry-Oke," a sing-fest for Basil stand-up friends, at midnight on select Saturdays. This weekend, Basil and his wife, Laura, were joined by such professional funny people as Laugh Factory headliner Jamie Kennedy; Carl LaBove and Allan Stephan of the new "Stripped" comedy show at Windows at Bally's; frequent Vegas headliner Shayma Tash; Geechy Guy of "The Dirty Jokes Show" at Hooters; street-joke specialist Rick D'Elia; and a Laugh Factory comic from this weekend, Kristi McHugh.
Lynyrd Skynyrd's "Free Bird," as recited by Laura Basil and Tash, was among the highlights.
"Harry-Oke" is a private party, so far. But it is entertaining enough to put onstage, at least as a one-off. Someone should get on that.
Worlds collide
Cirque du Soleil's Twitter account applauded William Karlsson's dazzling, between-the-legs goal he scored Saturday night in the Vegas Golden Knights' 3-2 victory over the San Jose Sharks at T-Mobile Arena. "Some Cirque du Soleil moves on the ice tonight, and they didn't come from us — looking at you, @WKarlsson71!" If Cirque ever opens an ice show, they know who to call.
Hsieh, Hsieh, Hsieh
That indeed was Zappos founder Tony Hsieh singing along to MC Hammer's "U Can't Touch This," played as house music at the end of Jewel's performance at Encore Theater on Friday night. He's wearing a Mohawk these days, but he can't escape this guy's eyes.
I do keep hearing …
Of a return of the Route 91 Harvest festival to the Strip, this year, at Las Vegas Festival Grounds. No formal confirmation, I must say, but this buzz has intensified over the past month.
John Katsilometes' column runs daily in the A section. Contact him at jkatsilometes@reviewjournal.com. Follow @johnnykats on Twitter.