Binion statue at South Point now sports Golden Knights gear
Updated May 24, 2018 - 4:36 pm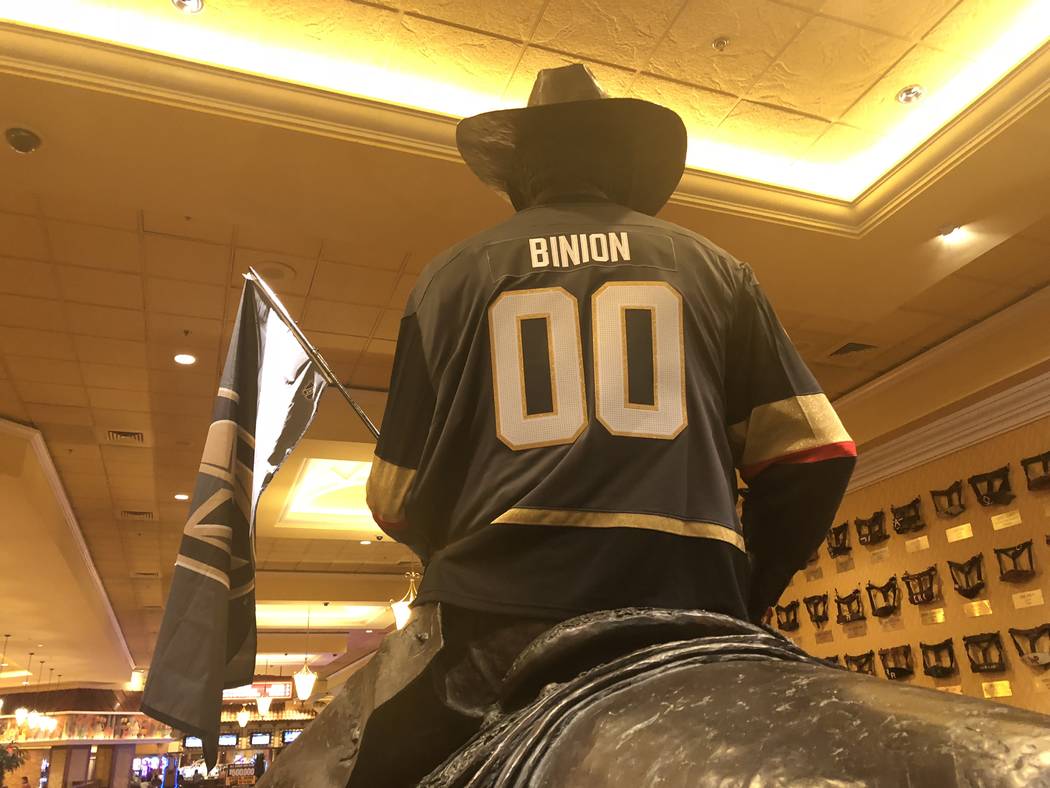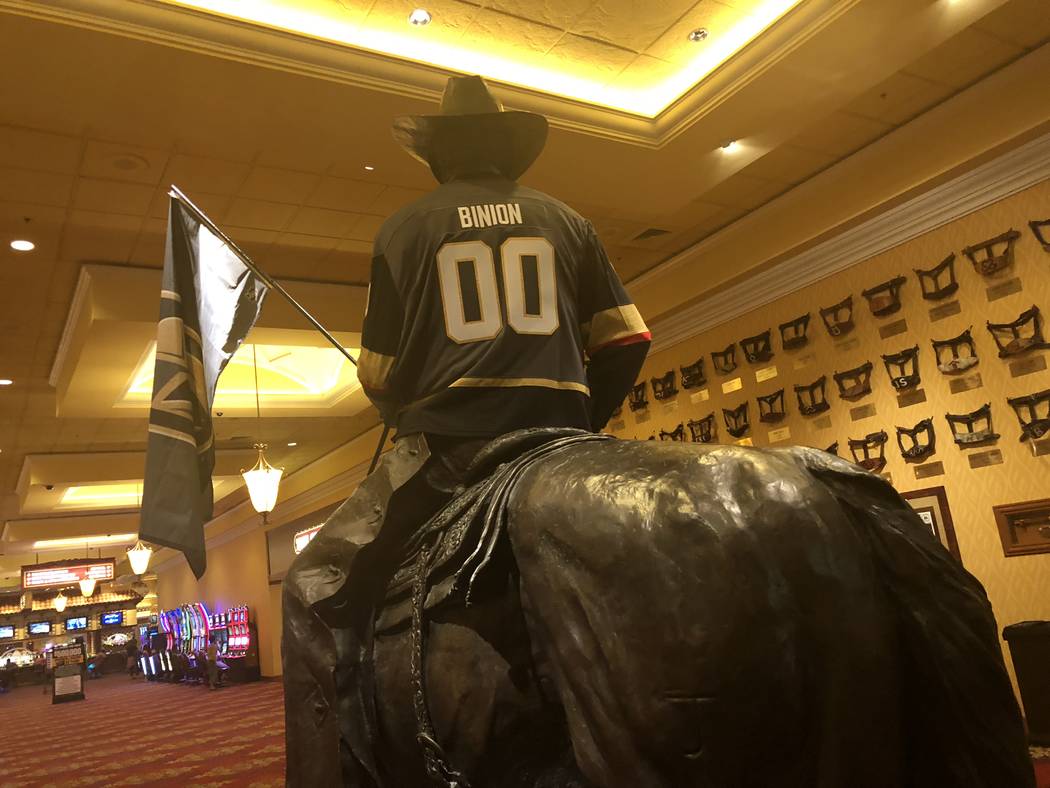 Benny Binion was a casino pioneer as founder of Binion's Horseshoe on Fremont Street and the long-running World Series of Poker. He also helped lure the National Finals Rodeo to Thomas & Mack Center in 1985, and is inarguably one of Las Vegas's founding fathers.
And today, the statue honoring the great Benny Binion is outfitted in a Vegas Golden Knights jersey.
The familiar statue of Binion riding tall in the saddle at South Point hotel-casino was dressed for the Stanley Cup Finals on Tuesday. You can find oversized Benny, also wielding a Golden Knights flag, on the walkway leading to the South Point Arena & Equestrian Center.
The decision to slip a sweater on Binion was made in true old-Vegas fashion. Hotel General Manager Ryan Growney was chatting with South Point Arena Director Steve Stallworth about the upcoming Finals.
Growney mentioned that he's spoken with hotel owner Michael Gaughan about possibly draping a VGK jersey over the statue.
The notoriously well-connected Stallworth heard that and said, "I got a guy! Lemme call my guy!"
That guy is Doug Verb of ActionSports of Las Vegas, a friend of Stallworth's dating to Stallworth's days as an executive for UNLV's sports marketing department and, later, Orleans Arena. Verb is one of these "start-up" people, who help launch the Major Indoor Soccer League and also the Arena Football League.
Verb graduated from Temple University and spent time as a sports journalist for the Philadelphia Inquirer, Philadelphia Daily News and Washington Post News Service before embarking on his career in starting up sports leagues. He moved to Las Vegas about 15 years ago, and his jersey business has provided giant attire for inflatable figures across the country — including the college hoops teams playing at the Orleans Arena.
Verb took Stallworth's call Monday. By Tuesday afternoon, with the stitching performed by seamstress Christina Rudigier (who works with Penn & Teller and has also worked with Celine Dion), the piece was on display.
"Steve has a bad habit of calling me when an idea is impossible," Verb says. "But this was interesting because the statue is maybe 10- 15-percent larger than normal size."
Binion's piece is actually two double-extra large jerseys stitched together (Verb's company did not develop the now-famous VGK jersey on the Statue of Liberty at New York-New York, which was furnished by Budweiser).
"We thought of just ordering a regular quadruple-extra large jersey," Growney says. "But what we have is a real jersey."
As for the jersey number, Binion's "00" is a nod to the "double-aught" shotgun shell, commonly used by frontiersmen of Binion's era (and by Binion himself).
"That was Mr. Gaughan's idea, too," Growney says. "Most of the great ideas around here are his."
Contact John Katsilometes at jkatsilometes@reviewjournal.com. Follow @johnnykats on Twitter, @JohnnyKats1 on Instagram.