Blake Shelton is ready to rock, for real, on the Strip
Updated January 21, 2023 - 12:59 pm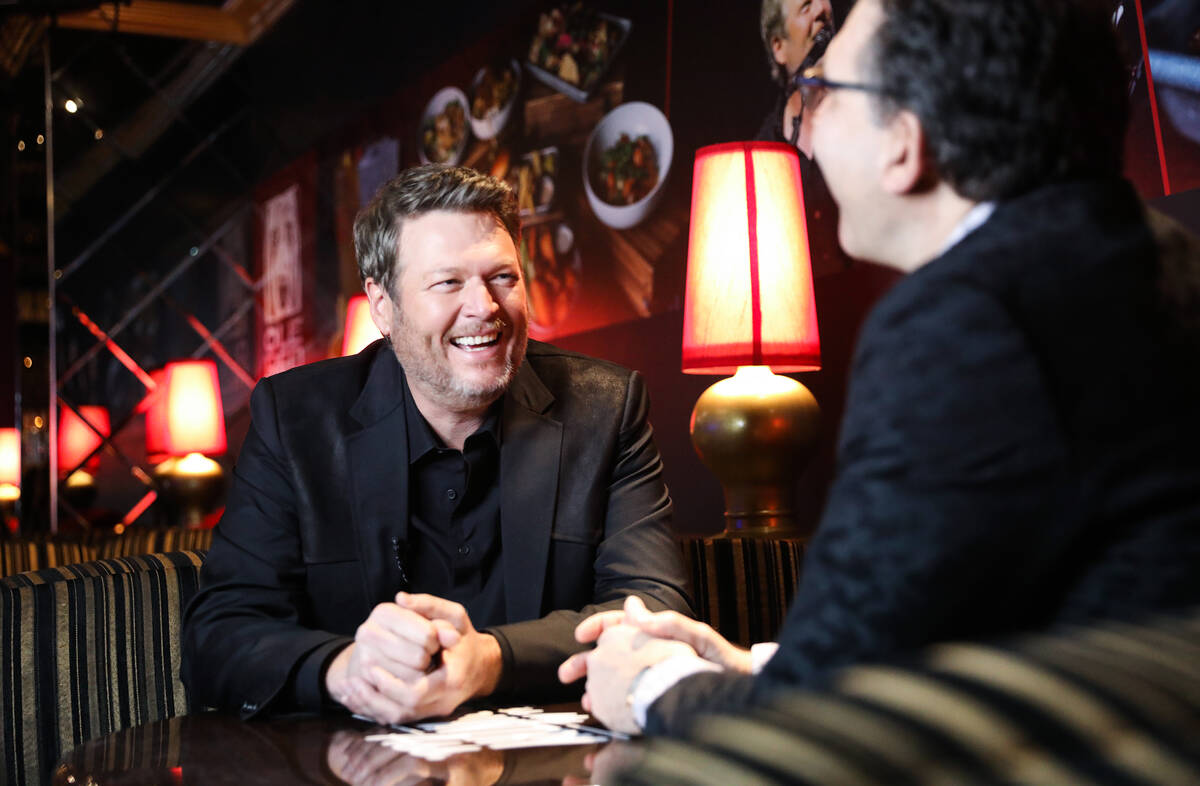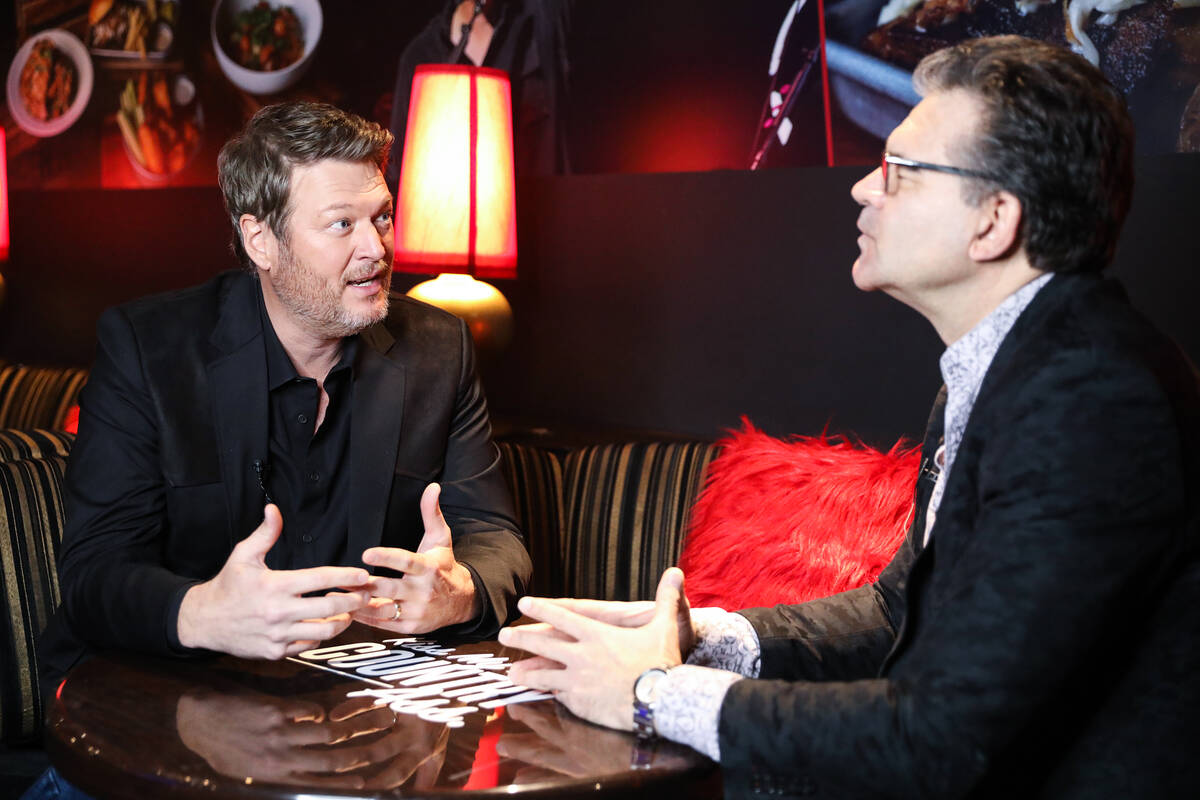 Blake Shelton plans to play pop-up shows at Ole Red Las Vegas, the country fortress being developed on the corner of Flamingo Road and the Strip.
All that needs to be worked out is … Every detail.
"Oh hell, yeah. I have no clue how, but I'll tell you right now, I'll be there on that stage," Shelton said during a chat Thursday morning in a booth at Jack Binion's Steak at Horseshoe Las Vegas. "I don't know how often, but the way we've handled it in the past with the other Ole Reds is, hey, I'm going to be on that side of the country anyway. Let's block off a couple of days and surprise people."
Shelton has popped in, unbilled, before in Las Vegas. About 15 years ago he unexpectedly joined Frankie Moreno's band at Rush Lounge at Golden Nugget.
Shelton didn't readily recall the song he unleashed, or even the night. "I probably had a few drinks by that point."
The superstar was given a hint that it was a Jerry Reed song.
"Oh, 'She Got The Gold Mine (I Got The Shaft)?'" he guessed. "Or, 'Amos Moses'?"
That's the one.
Shelton grinned and said, "All my good Vegas stories are back before I had paparazzi following me around."
But this moment, this event, was focused on the future and memories to be made. Shelton is the superstar partner in Ole Red, which is being developed at Grand Bazaar Shops at Horseshoe (known as ye ole Bally's, prior to rebranding last month). Thursday was Ole Red's groundbreaking, and Binion's Steak was used just for the media event. It is not part of the project.
Ole Red's target opening is the fall, before the Formula One Grand Prix in November. There is a lot of construction ahead, with crews working around the Strip-facing Horseshoe marquee.
The Vegas club joins Ole Red outposts in Orlando; Tishomingo, Oklahoma; downtown Nashville; at the Nashville International Airport; and Gatlinburg, Tennessee.
Standing four stories tall, Ole Red will rock with emerging country artists nightly on the Strip, and in a cracking 686-seat music club. The country artist has chimed in on the Vegas-inspired food and drink menu (Southern cuisine and drinks with hard liquor).
The project covers 27,000 square feet, total, the largest Ole Red in the country. Guests can check out the Strip from its 4,500-square-foot, rooftop platform. Taken together, Ole Red is a massive undertaking, in the very spot a similarly themed country-music club, Redneck Riviera, closed in little less than a year in February 2018.
But Shelton takes on this Strip-facing challenge with characteristic zeal.
"If you're going to come to Vegas, you're not going to have to just go big, you've got to go huge," Shelton said. "And I feel like that's what we're doing with this location. We have the things that you would expect when you come to Las Vegas, we have the private suites where the high rollers or VIPs can be a part of the scene and the party. You can't come here and without including the elements of Vegas."
Shelton is exiting "The Voice" after a dozen years, and some of that show's contestants are likely to play Ole Red Las Vegas. Departing the show will give him more time to tend to his own recording career and Ole Red.
When reminded that his friend and foil on "The Voice," Adam Levine, plays Las Vegas in a few months with Maroon 5, Shelton cut in with, "I'm sorry. I'm sorry that they're coming here. Not the other guys, just Adam."
But does plan to see the band, including Levine, at Dolby Live.
"I'd love to, because it's so close. I'm sure I will, at some point, come out and check out their show," Shelton said. "I've been to, I think, three of Adam Levine's Maroon Five concerts. Adam's never been to even one of my shows. He can't be bothered."
Ole Red places Shelton on the very doorstep of Caesars Entertainment, which owns Horseshoe and operates a few theaters that could host a Shelton residency. Of course, Shelton's wife, Gwen Stefani, enjoyed a lengthy relationship with the company with her great "Just a Girl" production at Zappos Theater.
Shelton loved the show, saying, "I probably saw it 12 or 13 times, up in the loft, and I was blown away, every time."
Shelton was asked if the existing Caesars partnership would serve as a stepping stone to his own residency, or a coupling of him and Stefani, as Ole Red moves forward.
"That's probably a good way to put it, a stepping stone," Shelton said. "I mean, it's not until now that I've ever even thought, 'Maybe I can do a Vegas residency.' I don't want to mislead you and say that something's on the table, but it's on the radar."
Having someone so close to him headline on the Strip has helped Shelton understand the specifics of an ongoing Vegas production.
"A lot of my friends are doing these things, and knowing the inside and outside of Gwen's show, I'm thinking, if there's a way that I could do it, I would have a blast," Shelton said. "So I'm definitely starting to think about it now. I've had a lot of thoughts over my career that never became anything, but this makes all the sense in the world."
Cool Hang Alert
Nashville singer-songwriter Jed Harrelson finishes his run at DawgHouse Saloon at Resorts World this Friday and Saturday. The Nashville-based recording artist blends soul R&B, blues and jazz. No cover, but a $25 per-person table minimum. Go to dawghouselasvegas.com for info.
John Katsilometes' column runs daily in the A section. His "PodKats!" podcast can be found at reviewjournal.com/podcasts. Contact him at jkatsilometes@reviewjournal.com. Follow @johnnykats on Twitter, @JohnnyKats1 on Instagram.
The Skinny on Ole Red Las Vegas
The specifics on the new Las Vegas Strip country-music project, for which Blake Shelton is the superstar partner:
— Ole Red Las Vegas is expected to open in the fourth quarter of 2023. Ole Red Las Vegas will join five existing locations in Orlando, Florida; Tishomingo, Oklahoma; Nashville, Tennessee; Nashville International Airport and Gatlinburg, Tennessee.
— Ole Red Las Vegas will be located in front of Caesars Entertainment's Horseshoe Las Vegas at the Grand Bazaar Shops on the southeast corner of Las Vegas Boulevard and Flamingo Road.
— Ole Red Las Vegas will have a made-from-scratch, Shelton-inspired menu with Vegas-inspired food and beverage menu items that are infused with southern hospitality.
— Ole Red Las Vegas will be 27,000 square feet and will be the largest Ole Red to date with 686 seats, concert-quality acoustics and a 4,500 square-foot rooftop where guests can take in striking views of the Las Vegas cityscape.
— The four-story building will feature a main dining floor and two additional guest floors overlooking a central stage with state-of-the-art video, acoustics and lighting for a concert-quality experience that showcases curated artist line-ups daily.
— First & Second Floors: Visitors can dig into our scratch-made dishes in a laid-back dining area and experience concert-caliber country music from their seats. When the sun goes down, the space transforms into a full-blown honky-tonk with dance floors and designated VIP areas for a Vegas-style Ole Red experience.
— Third Floor: Decked out with sophisticated lounge seating, advanced audio and visual technology, and high-end decor, the third floor is a versatile and flexible space to act as overflow for the restaurant, higher end VIP experiences, and a private event space for groups. Bottle service is available and the third floor menu includes elevated offerings on top of Ole Red favorites.
— Rooftop: The rooftop offers a casual but swanky restaurant environment during the day and a luxurious rooftop lounge at night. With premium cocktail flights, live music and DJ sets, and an unbeatable view of the Las Vegas Strip, this is a highly sought-after space for private events and VIP guests. The rooftop menu includes Ole Red classics during the day and shareable/handheld items in the evening.
— Ole Red Las Vegas will amplify the company's commitment to artist discovery and development by providing concert-quality production resources, promotion across the brand's platforms, and the opportunity to showcase original music alongside country's greatest hits to music lovers from around the world.