Blue Man Group still ageless (and earless) at 25
October 20, 2016 - 10:56 am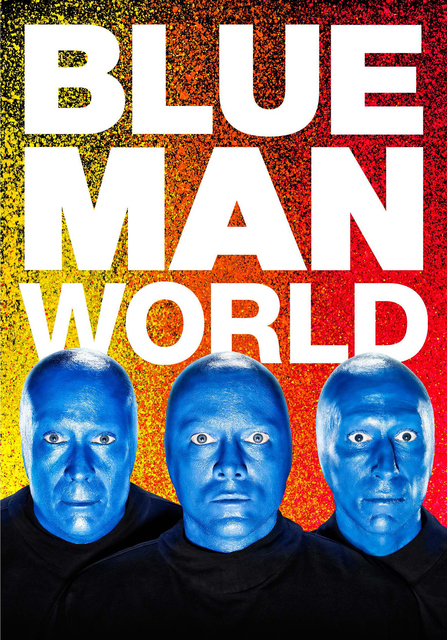 The Blue Men lack ears.
That might seem obvious to longtime fans of the three-man performance troupe, yet it is worth noting as Blue Man Group thunders toward its 25th anniversary as a production show next month.
The three characters' ears are covered by their ever-present skullcaps and gooey, blue paint. But their overall sensory-reception qualities are far ahead of the average person.
"We kind of say that they receive sound through the skin," Blue Man Group co-founder Phil Stanton says during a phone conversation from New York. "Covering the ears gives the Blue Man the look of an outsider, or an alien, but he is not that. If you look hard enough, he is not a truly earless character."
He's just a little, you know, different.
Our knowledge of the Blue Man has been enhanced by the release of the first authorized book about the troupe, titled "Blue Man World." Primarily a reference guide to the highly embellished history of the Blue Men, the tome charts the first unsubstantiated sighting of the Blue Men in Lascaux cave paintings in 15,000 B.C. The Blue Man's behavior traits (why they are mute and never smile, for example) are analyzed, and their myriad instruments — including PVC pipe and paint drums — are explained extensively.
In reality, the first verified Blue Man Group sighting was in 1988, a performance in Central Park where founders Stanton, Chris Wink and Matt Goldman staged a "Funeral for the Eighties" act, in which items representing such '80s icons as Rambo, music videos and "The Yuppie" were dropped into a metal drum and set aflame.
But the anniversary demarcation dates to the official launch of BMG as a ticketed show in New York in November 1991, when the troupe opened at New York's Astor Place Theatre. The Blue Men soon caught the fancy of Penn & Teller in New York, and Penn Jillette encouraged the founders to branch out as something of a performance-art franchise — developing multitudes of Blue Men — performing in theaters and on tour around the country.
Appealing to all ages, the Blue Men waded across the U.S., opening at Boston's Charles Playhouse in 1995 and Chicago's Briar Street Theater two years later and, finally, at Luxor in February 2000. They have moved around the Strip, to the Palazzo Theater, then to Monte Carlo and, finally a year ago, back to Luxor in the theater originally built for Jabbawockeez across from the Atrium Showroom.
Their current venue is about 800 seats, the smallest space the Blue Men have occupied on the Strip, but the cozier confines suit them well. At Luxor, you can really feel the impact of the Blue Men's PVC-pipe percussion, and in the first couple of rows audience members are offered plastic ponchos to protect from flying Twinkie cream.
The volume of the live band rumbles through the venue, and such acts as the famed marshmallow toss — when two Blue Men fire dozens of the spongy snacks across the stage and into each other's mouths — play out just feet from the fans.
"We're really happy, because this is a properly sized space for live theater in Las Vegas at this moment," Stanton said, realizing that the days when a relatively unknown performance-art production could open in a 1,200-seat Strip venue have passed. "The Blue Men are enjoying the ability to be aware of the people around them, hearing the crowd response, the laughter, is important when a show is so dependent on interactive and analog qualities."
Having issued a book and developed a production empire that spans the country, the architects of Blue Man Group are toying with ideas for a feature film. Ideas abound, of course, but not all of them are in line with BMG's avant-garde underpinnings. In fact, some hard-core fans argue the troupe lost its singular organic edge the moment it expanded to Las Vegas.
"I think that we have not done what a lot of people would have done to explode the brand and lose its soul," Stanton argues. "We have not turned the Blue Man into a real, fictional alien and sent him off to Hollywood with some sort of airbrushed, fantasylike backstory."
Any idea to bring the Blue Men to film has to remain in line with what fans have seen on the streets of New York, and on stage in venues such as Luxor. "We don't want to go the way of developing an 'Avatar'-ish show, but to remain consistently modern, with a sort of a tribal feel and ancient inspirations … . We are of this planet, we are just reflecting something that is unique in the way we behave and communicate."
Fortunately, the Blue Men remain ageless. They don't feel the effects of growing old. Nor are they of any particular culture, and they appear almost androgynous in their dismissive attitudes toward females in their airspace. The idea of bringing a busty female "Showbot" to the show four years ago faltered because the Blue Men simply didn't know how to respond to this shapely, ladylike character on stage.
As BMG creative director Michael Dahlen said at the time, "It seemed like it was going to work better than it did, but we sort of impose Showbot on the Blue Men. There was not a lot for them to do when she showed up. They just kind of looked at her, and we learned that even though it was a crazy, fun character, that what makes the Blue Men so interesting is just watching them behave."
But expect more innovative investigation of the Blue Man character. For years, Stanton and his creative partners have considered adapting Blue Man in animated form, or as the center of a documentary. But Stanton is steadfast that no additional character traits should be added or removed from a character who needs no augmentation.
"You know, it might seem like an odd comparison, but when I think of the Blue Man, I think of Bugs Bunny, in that you are always aware of the illustrator and artist when you watch Bugs Bunny," Stanton says. "You feel like the character is really underneath that fur and those gloves, and there is no fourth wall with Bugs Bunny. He's not trapped in any time and space, and that's true of the Blue Men, too."
One telling difference is the ears. Bugs has those long ears. But if the Blue Men are envious, we'll never know.
John Katsilometes' column runs Saturday, Sunday, Tuesday and Thursday in the A section and Friday in Neon. He also hosts "Kats! On The Radio" at 8 p.m. Wednesdays on KUNV-FM, 91.5, and appears at 11 a.m. Wednesday with Dayna Roselli on KTNV-TV, Channel 13. Contact him at jkatsilometes@reviewjournal.com. Follow @johnnykats on Twitter and @JohnnyKats1 on Instagram.