Bob Dylan electric, and electrifying, on Nobel night at the Cosmopolitan
October 14, 2016 - 5:52 pm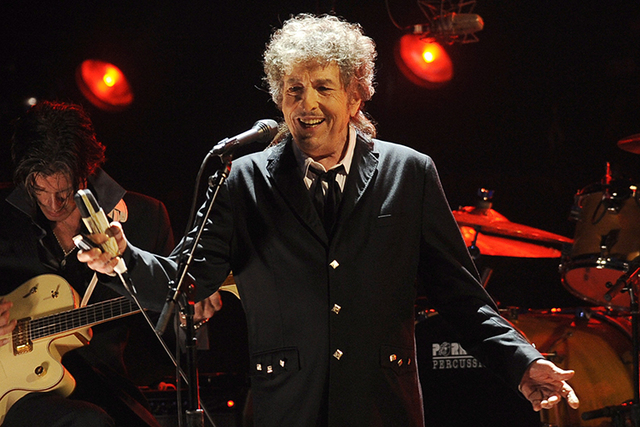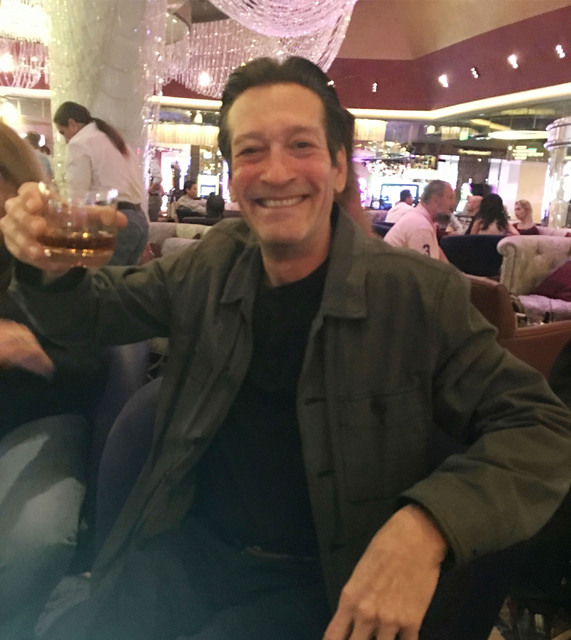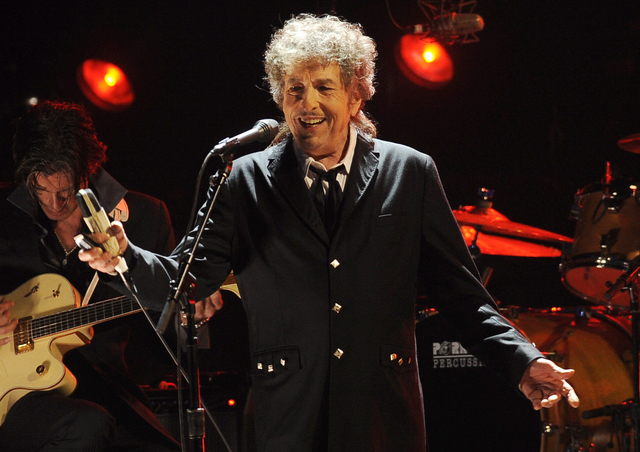 The moment Bob Dylan again "went electric" was an indication this was no ordinary performance.
It came as he broke into "Simple Twist of Fate" at the Chelsea at The Cosmopolitan of Las Vegas on Thursday night. Earlier in the day, Dylan was awarded the Nobel Prize for Literature. The decision to dust off the Fender Stratocaster, which some fans estimated he had not played onstage in some four years, might have been coincidental.
Or, maybe it was his way of adding some flair to a show that thrilled the 2,600 fans packed into the music hall. In another rare moment, Dylan actually grooved a bit, too, as he took to the mic at center stage for "Trust Yourself" and "Tangled Up in Blue." Longtime fans who are normally reserved in their admiration for Dylan strode out of the performance giddily recalling the moment.
"How great was that? I mean, how great was it?" said Penn Jillette, who regularly cites Dylan lyrics and moments in casual conversation. "The guitar. Finishing with '[Frank Sinatra's] "Why Try to Change Me Now." I mean, come on. It was as good as I've ever seen him."
Jillette added, "It's becoming clear that The Beatles and the Stones, for as great and wonderful as they were, are the ephemera, and Dylan is for all-time. He's Robert Burns. He's Shakespeare. He's one of the great English writers for all time."
George Lyons of "The Lyons Den," a KUNV 91.5-FM staple since 1998, also took in the show. He's lost count of how many times he has seen Dylan, saying, "I stopped counting at 90 in 1996. Since then, I have seen him about as much as I can see him." He added, "Bob Dylan has kind of picked up the mantle of Jerry Garcia and the Grateful Dead as the live performer you can see over and over." They have many of the same fans.
The show was sold out, thanks to a a late ticket-buying rush after news of the Nobel award was announced.
"We received an influx of media requests and phone calls after the news broke of Bob Dylan winning a Nobel Prize this morning," hotel spokeswoman Amy Rossetti said. "Inquiries have spanned from local news outlets to publications from Dylan's home state of Minneapolis to Swedish television, where the Nobel Prize originated along with journalists from Los Angeles, New York City, Tokyo and the United Kingdom."
How Dylan felt, specifically, was left to interpretation. He rarely speaks from the stage and said nothing at the Cosmo, allowing the poetry in music make the statement. Speaking for Dylan's legions of fans, Jillette said: "It's wonderful that the Nobel Prize committee realized that really is literature."
A BIG W
The marquee is up at W Las Vegas, and as Jimmy Durante noted in, "It's A Mad, Mad, Mad, Mad World," "It's a big W! You can't miss it!" The first W resort to hit the Strip, featuring just 289 guest rooms located in the former SLS Luxe Tower, opens Dec. 1. Some amenities, such as the WET Deck pool on the roof of the tower, are set to open in a roll out through next spring.
During a walk-through of the property Friday morning, W Las Vegas General Manager Mark Eberwein repeatedlyemphasized his resort's non-gaming, non-smoking appeal. The W Las Vegas-SLS Las Vegas relationship is similar to the partnership that Delano and Four Seasons have forged with Mandalay Bay. Both of those high-end hotels eschew gaming, but are connected to a Strip hotel-casino.
"Las Vegas has done an amazing job of transforming itself. It's no longer a casino first, and a hotel second," Eberwein said. "It's entertainment, nightlife, conventions — Las Vegas is a truly special place outside of gaming. We see ourselves as being sophisticated and really fun luxury, with a high energy to it … We've been dying to be part of this scene, and we're doing it in a very boutique way."
COMEDY HITS FOUNDRY
The first comedy production ever at the Foundry at SLS Las Vegas is upon us: "Saturday Night Live" vets Dana Carvey and Jon Lovitz will perform 20 co-headlining shows beginning in January.
Though not yet utilized as such, the Foundry has a variable capacity of 600 to 1,850, and in the original concept officials with the hotel and its booking partner, Live Nation, hoped for big-name comics to headline the room. Carvey has a busy history in VegasVille with his repeated performances at the Orleans Showroom; Lovitz has headlined the Orleans, the Flamingo Showroom and Excalibur.
John Katsilometes' column runs Saturday, Sunday, Tuesday and Thursday in the A section, and Fridays in Neon. He also hosts "Kats! On The Radio" Wednesdays at 8 p.m. on KUNV 91.5-FM and appears Wednesdays at 11 a.m. with Dayna Roselli on KTNV Channel 13. Contact him at jkatsilometes@reviewjournal.com. Follow @johnnykats on Twitter, @JohnnyKats1 on Instagram.