Brad Garrett calls out Bill Maher over 'Real Time' return: 'Nooooo, Bill!!'
Updated September 16, 2023 - 9:18 am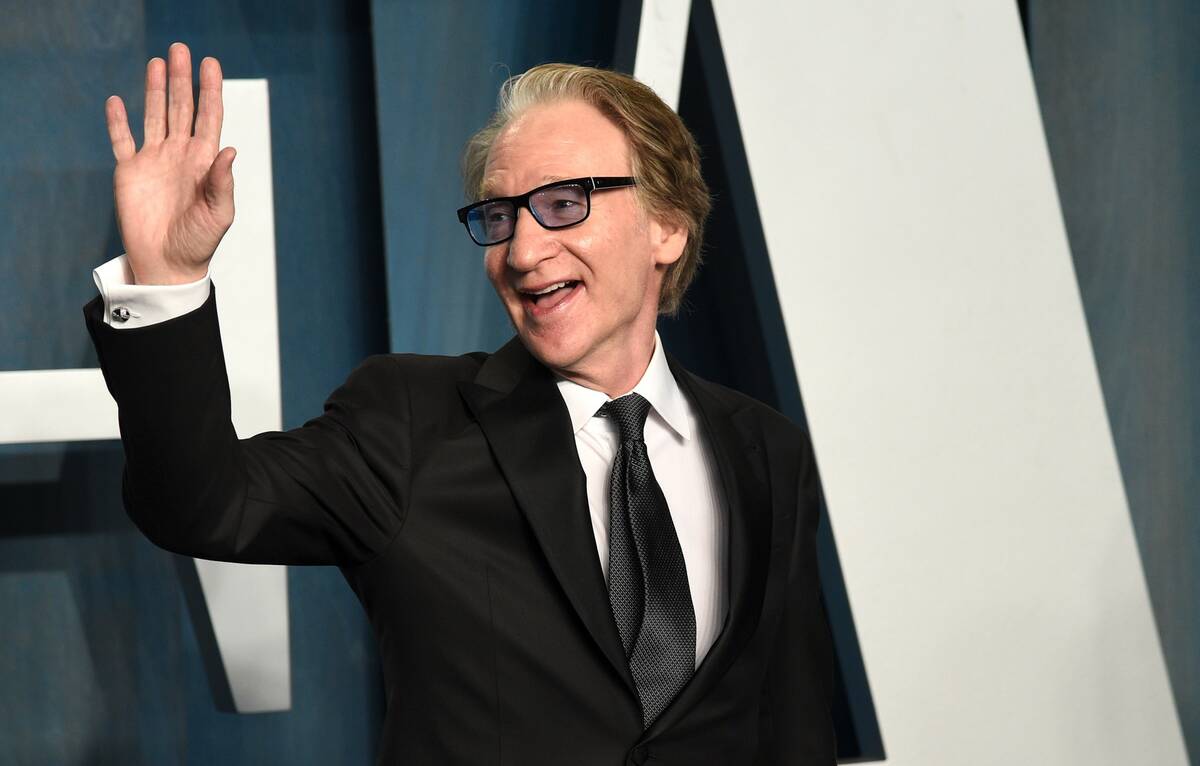 Bill Maher's "Real Time" is all about hitting the current news cycle. And his show at MGM Grand is at the center of breaking news, created by its host.
Maher is back at MGM Grand's David Copperfield Theater on Friday and Saturday. These are also Maher's first ticketed shows since announcing his HBO show will be back on the air, even as writers guild members are walking picket lines.
The show will proceed without writers, aside from Maher, who is one.
Maher posted his plans on social media.
"Real Time is coming back, unfortunately, sans writers or writing," Maher wrote. "The writers have important issues that I sympathize with, and hope they are addressed to their satisfaction, but they are not the only people with issues, problems, and concerns."
Brad Garrett has his own concerns in this tough time for writers. The proprietor of his self-named comedy club, also at MGM Grand and within walking distance (OK, it's bit of a hike) of Copperfield Theater.
After originally saying he's "not gonna beat a dead horse" on the issue Thursday, Garrett called out Maher on Instagram on Friday with message about two hours before Maher's show time:
"Nooooo, Bill!! You too?!?! Couldn't believe when I heard. A show known for its brilliant writing and you're (screwing) the folks who helped get you there? Such a drag. Your stance on so many issues are so highly regarded by millions especially by myself, and now you're screwing the folks who have everything on the line. Including the future of our writers and actors. What's the reasoning? What could be more important than the future of our unions compared to the shows early, unnecessary return? Greed? Lack of empathy? Shame."
The tension was heightened by none other than Carrot Top, who replied under Garrett's comment, "Congratulations @BillMaher" bracketing the note with a clapping emoji and a flaming emoji.
Garrett shot back, "@carrottoplive you friggin serious?! Dude. Wow."
Garrett is back on stage at MGM Grand on Sunday night. Maher's reps said he would not be interviewed regarding "Real Time" while in Las Vegas. Garrett said, "I'm not starting WW3 here, nor do I want to."
Both comedians have long histories in Vegas. Maher debuted Circus Maximus at Caesars Palace in 1982, opening for Diana Ross. Garrett premiered at Desert Inn in 1986, opening for Crystal Gayle.
Garrett has been walking the picket line himself throughout the strike, which is in its fourth month. Outside of the IG post, and in text, Garrett said Thursday, "I think it just comes down to morality and solidarity. Everyone spins it to fit their agenda. If your show has writers or actors and you return without them?? What is that?"
He and Carrot Top, legal name of Scott Thompson, have been friendly for years. Both work for MGM Resorts International (Carrot Top at Luxor), which, not so incidentally, is in the face of a cybersecurity crisis across its entire company.
Vincent John of Bronx Wanderers also leapt into the Maher-Garrett string with four hand-clapping emojis and the message, "The show must go on." That led to a lengthy argument about entertainment-union activities under Carrot Top's comment. Vegas comic Butch Bradley also "liked" Maher's message.
Garrett also mocked Drew Barrymore's video from Friday morning, in which she tearfully apologized for bringing her show back during the dual strikes.
"THAT deserves an Oscar," Garrett texted. "It's her best acting since 'E.T.'"
Barrymore later took down the video, with fellow stars Alyssa Milano and Bradley Whitford criticizing Barrymore for undermining the unions' efforts.
Back at MGM, Maher will be working with union personnel. Copperfield Theater is a union room, with about 25 International Alliance of Theatrical Stage Employees (IATSE) on the crew.
IATSE leadership is not planning any action or offering a statement about Maher's booking. But on Aug. 29, 13 members of IATSE Local 720 marched with SAG-AFTRA members at the Grant Sawyer Building in downtown Las Vegas.
Formerly a mainstay in the Mirage's "Aces of Comedy" series, Maher is now a recurring headliner at MGM Grand after Hard Rock International bought the Mirage. His next dates at Copperfield Theater are Nov. 3-4.
Maher said in his "Real Time" post he will "honor the spirit of the strike" but cutting all scripted segments. The monologue, desk commentary, New Rules and any prepared editorial commentary are out.
The 67-year-old talk-show conceded, "I'll say it upfront to the audience: the show I will be doing without my writers will not be as good as our normal show, full stop." But riffing on what happens in Vegas is still available to Maher, in real time.
John Katsilometes' column runs daily in the A section. His "PodKats!" podcast can be found at reviewjournal.com/podcasts. Contact him at jkatsilometes@reviewjournal.com. Follow @johnnykats on X, @JohnnyKats1 on Instagram.