Britney Spears sticks the landing in 'Piece of Me' finale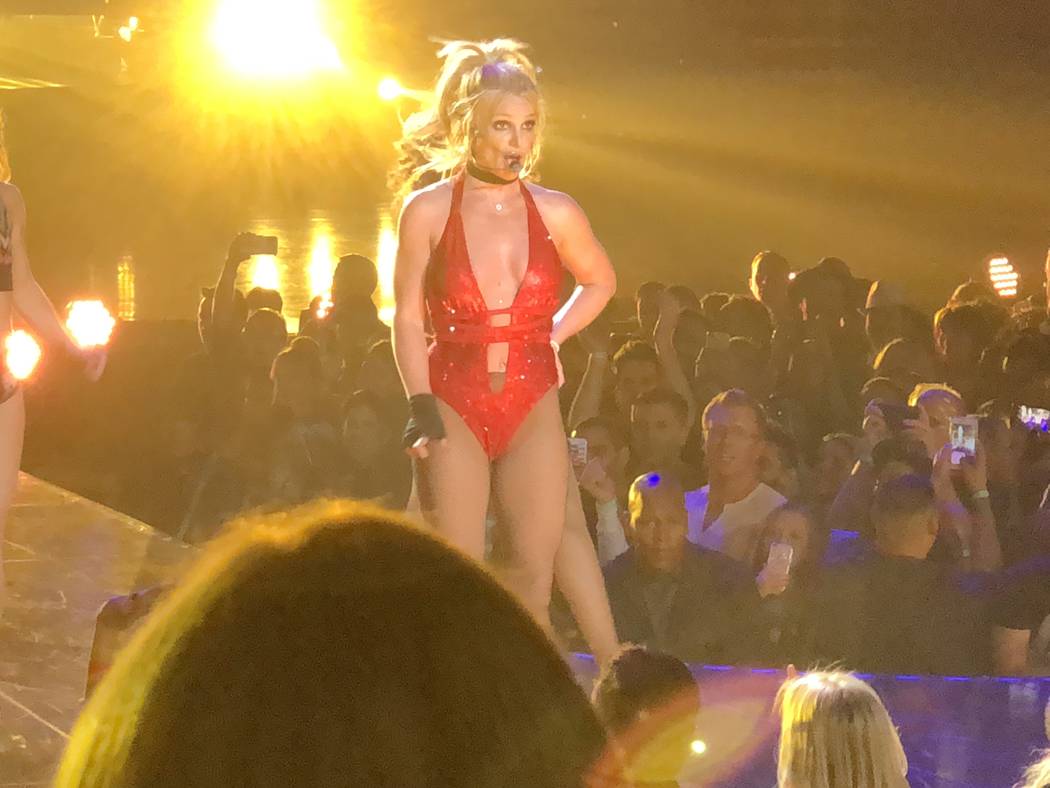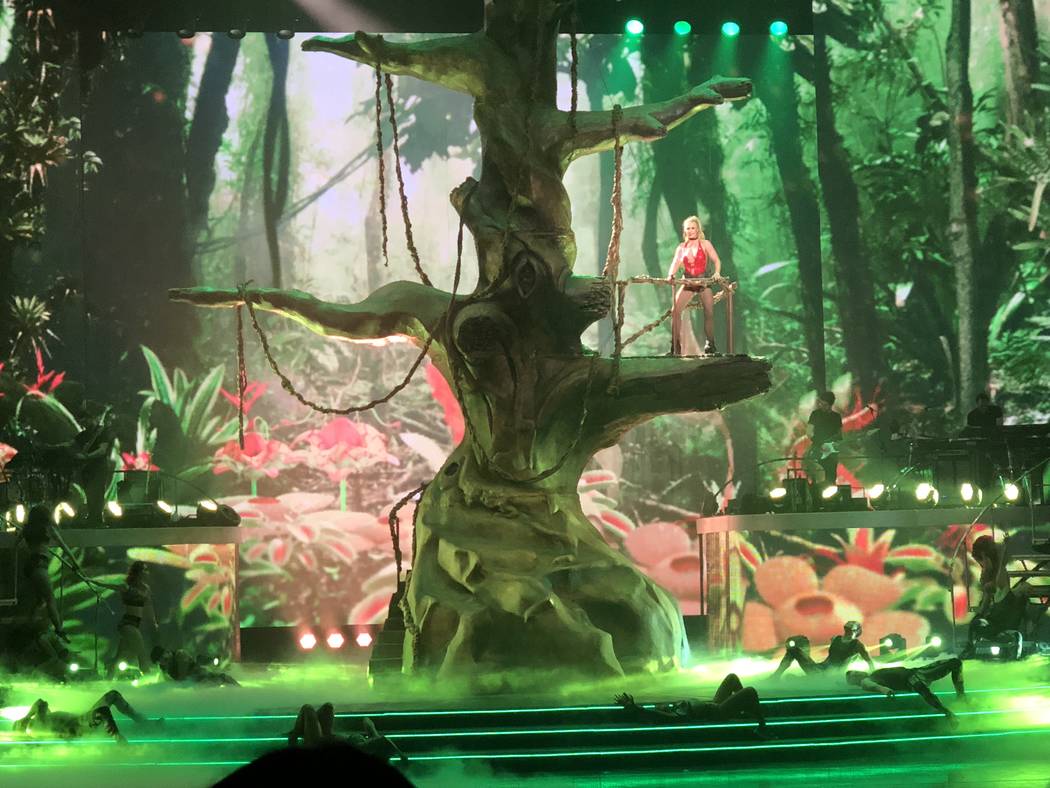 The two young fans were impossible to miss, happily posing for photos at the front of the line leading to Axis theater for Britney Spears' finale at Planet Hollywood.
Matthew Martinez, a resident of Albuquerque, N.M., donned soldier-style costume, with shorts and a leopard mask, inspired buy Spears' "Circus" world tour from 2009. Lael Sanford, visiting from Portland, wore a black two-piece, highlighting the requisite black fishnets and sparkly military headpiece worn by Spears in her "Piece of Me" performances.
Joined by their effectively non-costumed friend Juan Medina of Seattle, the two squatted on line at 10 p.m. Saturday, a full 23 hours before the show's scheduled start time. They were that eager to find spots close to the stage in Axis theater's two "party pit" standing-room-only sections.
"She has been a hero of mine since I was 6 or 7," Martinez said. "I would not have missed this."
The friends took turns vacating for restroom breaks as they waited for the final performance in Spears' four-year residency at Axis. Sanford had seen Spears perform eight times, Martinez had taken in 13 performances and Medina visited P.H. 10 times.
All for Britney.
"I would not do this for anyone else," said Sanford, who along with her friends spent several thousand dollars on these excursions. "I've never seen anyone perform as many times as her. I just love her."
"I'm hoping she'll tour next year, then come back with a different show in Las Vegas," Medina added.
Giant guitar action @britneyspears @phvegas #VegasNYE pic.twitter.com/zrhLK2Y7LA

— John Katsilometes (@johnnykats) January 1, 2018
That is likely. Spears' plans are still not specified, but she could well spend considerable time away from Las Vegas before returning to an extended engagement. The Park Theater has been held as her next venue by those who track Strip entertainment, but Spears' manager Larry Rudolph has only said that Team Britney is exploring all options.
In April, Rudolph even joked that Spears would take up residency at the needle of the Stratosphere, which would be a circus, indeed.
Pieces of Sunday's show were broadcast on ABC's annual party broadcast, "New Year's Rocking Eve with Ryan Seacrest." In her familiar black leotard, she performed "Work Bitch," and, after a swift change of attire to a red number, "Toxic." She shouted to the audience, "It's New Year's Las Vegas! I love you guys! Who wants to get naughty?" she peppered the call-out with an F-bomb, then performed her final highlight number, "Slave 4 U," where she leads an ostensibly randomly selected male fan across the stage by a leash.
Spears' sendoff drew a packed house in the 4,600-capacity theater, what the venue holds when the balcony is draped off. Spears has burned up the box office at Axis, there is no debate of that. Her 249 shows drew more than 900,000 paying customers since she opened Dec. 27, 2013. She has amassed about $135 million in ticket sales and entertained upwards of 2,000 bachelorette parties.
Spears, who turned 36 on Dec. 2, tweeted to her fans just before the show: "I just want to say thank you to the #PieceOfMe cast and crew, the city of Las Vegas, and all of the fans who came out to sing, dance and party!! What an incredible four years!! Love you all!!"
In capping her four-year run, Spears deserves credit for delivering a contemporary Las Vegas spectacle in a theater that was devoid of such a destination production. Prior to "Piece of Me," the most famous recurring event in the Planet Hollywood venue was the annual Miss America pageant. The venue was refurbished, allowing for 400 new lights, 60 high-definition projectors and 3,500 square feet of LED panels. Mix in a crack backing band and 16 dancers and you have a generous show that is — at the very least — a buoyant audio/video experience.
The show also forged a refresh of the old Aladdin Theater for the Performing Arts. Renamed Axis, the re-imagined party zone was thus ready for similarly splash productions by Backstreet Boys, Pitbull, Jennifer Lopez and Lionel Richie.
As a nod to her successful run at Axis, Jennifer Lopez in November sent Spears a pair of $2,000 pink suede Giuseppe Zanotti boots.
Whether the Spears and J-Lo shows ever overlap again on the Strip is unknown and unlikely, with Lopez closing next September. Expect Spears to come back with a revamped show, likely themed at least in part for the 20th anniversary her "Baby One More Time" album.
From @britneyspears a bit earlier … maybe we know this one … #VegasNYE pic.twitter.com/KSb08H8SvK

— John Katsilometes (@johnnykats) January 1, 2018
The fans who filled the chaotic New Year's Eve finale certainly acted as if they would not have the chance to see Spears groove again any time soon.
A pair of Britney backers who sat just next to me are familiar as headliners at Bugsy's Cabaret at Flamingo Las Vegas, if not readily recognized in their usual street attire. John Van der Put, who plays comic magician Piff the Magic Dragon, attended with his onstage sidekick and off-stage steady, Jade Simon. Both wore commemorative WORK BITCH Britney ball caps.
The two took the night off from their own stage show to catch this piece of history.
"I'm glad we finally got to see her," a grinning Van der Put said. "We saved the best for last."
So did the star of the show and circus ringleader, who expanded the possibilities of a concert on the Strip.
John Katsilometes' column runs daily in the A section. Contact him at jkatsilometes@reviewjournal.com. Follow @johnnykats on Twitter, @JohnnyKats1 on Instagram.