Bronson Band whips up tribute to Gregg Allman
Updated May 28, 2017 - 7:44 pm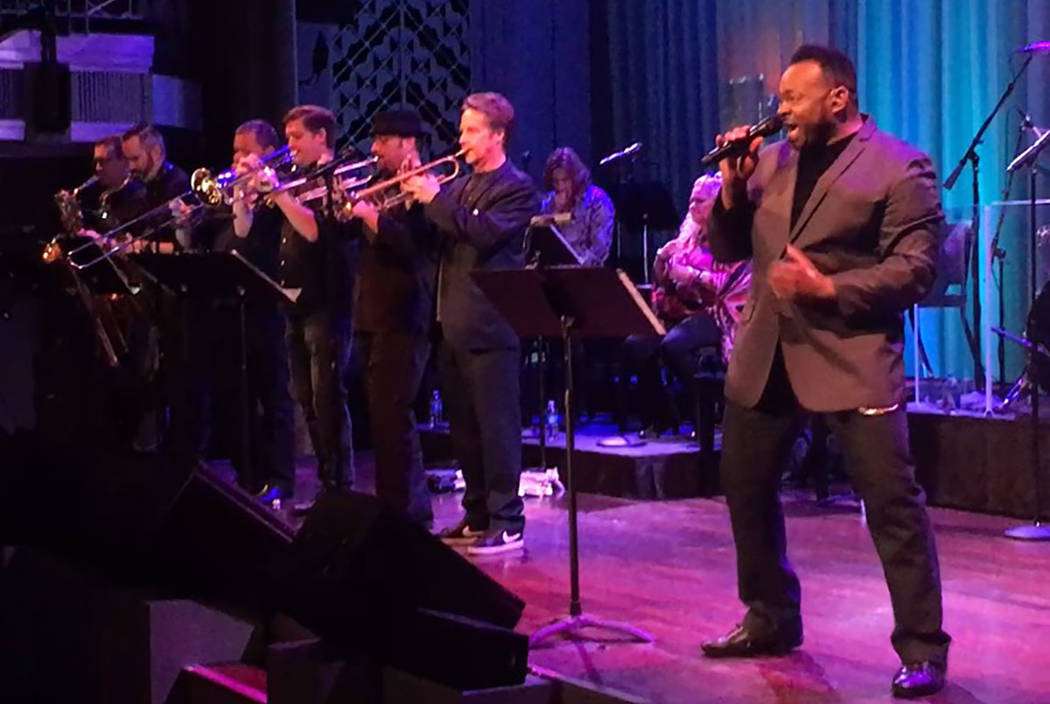 Lon Bronson heard of Gregg Allman's death Saturday afternoon as he glanced at a news update on his phone.
Bronson quickly called his friend and fellow musician Jim Buck.
"I know why you're calling," Buck said to Bronson. "I'll be there."
The unspoken message was that Bronson needed Buck to perform the Allman Brothers classic "Whipping Post" that night during the Lon Bronson Band show at Cabaret Jazz. A member of Bronson's band for more than a decade, Buck always sings that song — no, he destroys it — but had no plans to play it that night. Buck was busy backing Terry Fator at the Mirage, which is his regular gig.
The Fator show started at 7:30 p.m., a half-hour earlier than Bronson's performance.
"I'll make it work, somehow," Buck said. He followed through, showing up at about 9:30 p.m. — given added travel time because of a nifty, long-running solo by fellow guitarist Jimmy McIntosh.
Buck hopped onstage and told the sold-out audience, "Before I ever knew of the legend, the mighty Lon Bronson, I was playing with Michael Grimm at the Big Apple Bar at New York-New York. Lon watched us play and got up to leave, and we started 'Whipping Post.' And he sat back down."
Buck has been with Bronson ever since that night in 2008.
"That's extremely accurate," Bronson said later. "Probably the biggest reason I asked Jim to join the band was because I heard him sing and play 'Whipping Post' that night." And never with more passion than in tribute to Allman.
Perez and the Truth
Franky Perez and the Truth played probably the penultimate public performance (alliteration, always annoying) at the Lounge at the Palms on Friday. Perez is another Allman Brothers devotee who tore the place up with "Whipping Post." Perez says, "I've played the song since I was a kid and I've always anchored my live show with it."
The finale for the Lounge, at least in its current incarnation, is Santa Fe & The Fat City Horns at 10:30 p.m. Monday.
Kickstart their hearts
Vince Neil says he'd do it again.
Which means, he'd play the new 3rd Street Concert Venue at Downtown Grand. Neil opened that venue with a burst of light and sound Saturday night, playing to a capacity crowd of 5,000 packed between the Grand's twin towers.
Neil's Motley Crue lineage and the cost of the show (there was no cover charge) made it a night to remember.
"It was cool," Neil said Sunday. "They did it right. Staging, lights, everything." Neil, who lives in Las Vegas, is now off for a set of shows in similarly explosive rock city of Tulsa, Okla.
Alonzo, for his par …
Topgolf at MGM Grand was teeming — teeming, I tell you! — with ex-sports stars on Saturday night. Partying at the fourth-floor Chairman's Suite and the bungalows were ex-NFL greats Bo Jackson, Lawrence Taylor, Marcus Allen, Tony Dorsett, Richard Dent, Erik Dickerson, Marcellus Wiley, Terrell Owens and Jim McMahon. Former NBA stars Alonzo Mourning and Gary Payton were also on the scene.
This assembly of athletes was taking part in the Bo Jackson Invitational Golf Tournament on Friday and Saturday at Cascada Golf Course. The event was a benefit for Jackson's Give Me a Chance Foundation, which supports youth sports programs across the country.
Spade hearts Fogerty
The guy who looked like David Spade at John Fogerty's show at Encore Theater on Saturday night, was. Bronson also looks like Spade, but he was not there (see above).
Dan Tanna action
Decades cable channel (Cox Cable Channel 99) is airing a "Vega$" marathon this weekend. Not sure when it ends, but wow folks is it entertaining. Robert Urich. Convertible T-Bird car phone. Bart Braverman. Greg Morris. Desert Inn. "Paging Burton Cohen, paging Burton Cohen …" It's a great glimps of our city's 1970s heyday.
John Katsilometes' column runs daily in the A section. Contact him at jkatsilometes@reviewjournal.com. Follow @johnnykats on Twitter, @JohnnyKats1 on Instagram.