Bruno Mars-MGM Resorts ready for their wedding dance
October 11, 2016 - 7:32 am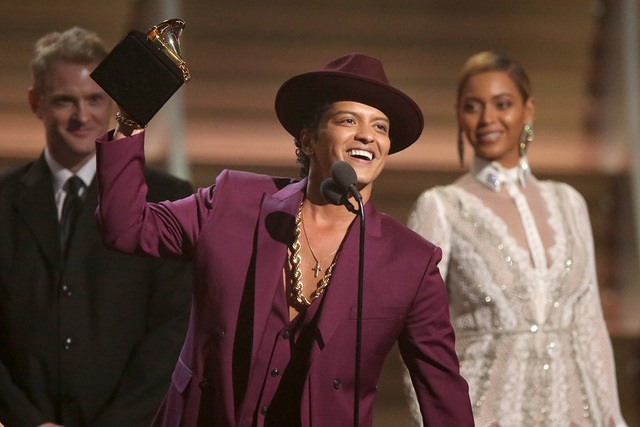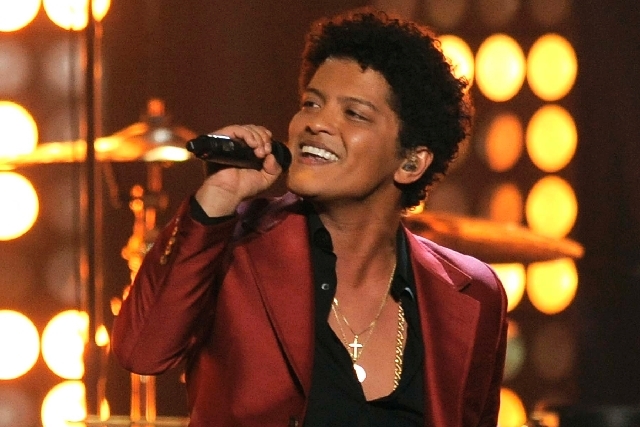 Rick Arpin was at a wedding in Los Angeles on Saturday night, and when the parents of the groom hit the dance floor, his belief in Bruno Mars was reinforced.
"They were singing, hopping around, mouthing the words to 'Uptown Funk,' " said Arpin, MGM senior vice president of entertainment and development, during a call from Nashville on Monday afternoon. "They were close to 70 years old, too."
The lesson is Mars has widespread appeal as he claims the first announced mini-residency (or recurring headliner, if you like) at Park Theater at Monte Carlo. Mars is scheduled to perform Dec. 30-31 and returns March 11-12.
As the pre-eminent live performer of his generation ( in my opinion, anyway) Mars is expected to fill a 5,300-seat venue for about a dozen shows in December and 2017. His additional dates in Las Vegas have yet to be locked in, and he's also scheduled to play a few dates at the Theater at MGM National Harbor in Maryland, opening at that venue Dec. 27.
Producers generally look for artists with fans across several generations and demographics. All of the artists at the Colosseum — Celine Dion, Rod Stewart, Elton John, Reba, and Brooks & Dunn — have recorded hits spanning many decades. At Axis theater at Planet Hollywood, Britney Spears' fans have known her for more than 15 years; Jennifer Lopez's career dates to the early 1990s. Lionel Richie was one of the hottest-selling artists (and most popular stars on MTV) throughout the 1980s.
Even at Park Theater, the show to open the venue Dec. 17 is Stevie Nicks with the Pretenders as the opener, also dating to the finer days of vinyl.
Mars? He turned 31 Saturday.
"You might not think of him in the same class as the quote-unquote legacy artists, but we are seeing a change in the trends of who can fill theaters and even arenas in our business," Arpin said. "Some of the more contemporary R&B artists can do great business. We just had Drake sell out the (T-Mobile) arena, and he also did great business in terms of merchandise sales. It used to be that you had to be a Rolling Stonesor Def Leppardto sell merch, but that's not necessarily the case."
Expect four additional headliners at or near Mars' strata to be announced by the end of the year. The Park is looking to effectively compete with the success Caesars Entertainment has had with the Colosseum and Axis. Arpin and MGM Resorts officials have already landed the artist who sets the standard for concert performances.
"His style, and the music his live band generates is a real strength, especially in a theater-type setting," Arpin said. "In some ways he's a throwback to the Motown era, and that is an era that older people do remember." Including that couple grooving last weekend to "Uptown Funk."
LEAVING AN IMPRESSION
The entertainment community felt another tremor over the weekend with the announcement that Gordie Brown is closing after a seven-year run at Golden Nugget. Brown has been so effectively ensconced in the hotel showroom that the venue was named for him. His closing date is Nov. 27, and no formal explanation as to why Brown is leaving has been given.
There are no plans to fill Brown's dates, which were nightly at 7:30 (dark Mondays and Fridays) and the hotel is continuing with its "52 Fridays" lineup with Foghat performing this week. "We are so appreciative of Gordie being part of the Golden Nugget family for so long and wish him only the best," said hotel spokeswoman Rikki Tanenbaum. "He's an amazing talent."
The great impressionist is now looking for a venue, and should attract significant interest around town. But it's a jammed field of talented performers on the hunt. "Take a number," is how one fellow headliner termed the widespread trend of Vegas entertainers seeking venues.
ZOWIE!
Congratulations are in order for a man who has long been the model of bachelor decorum, Chris Phillips of Zowie Bowie, and his gal, Jennifer Turco.
He proposed to her Sunday at the Palazzo. The couple returned to the hotel lobby, where they met three years ago, and plan to be married Oct. 24 in Las Vegas.
Before that, on Friday, Phillips turns 50. He's handling all these changes with his usual aplomb, which means he is weeping openly asking for hugs every 90 seconds …
A PINK-HUED EFFORT
I'm proud to be part of the American Cancer Society's Real Men Wear Pink breast-cancer awareness campaign. I've joined a host of gentlemen in Las Vegas raising money throughout October, which is Breast Cancer Awareness Month.
We've held a couple of fundraisers already, but we are not finished: On Oct. 25, during Kenny Davidsen's "Playlist" show featuring "Funny Songs" at Copa Room at the Tuscany, we are seeking to raise a minimum of $500.
If we hit that mark, I will sing a song in public for the second time ever. The first was last month when I sang, energetically if away from the preferred key, "Stray Cat Strut" by the Stray Cats. Admission to the show is free; the experience, as always, priceless.
John Katsilometes' column runs Saturday, Sunday, Tuesday and Thursday in the A section, and Fridays in Neon. He also hosts"Kats! On The Radio" Wednesdays at 8 p.m. on KUNV 91.5-FM and appears Wednesdays at 11 a.m. with Dayna Roselli onKTNV Channel 13. Contact him at jkatsilometes@reviewjournal.com. Follow @johnnykats on Twitter, @JohnnyKats1 on Instagram.