Buble, Bacharach bring power of music to 'Power of Love'
December 15, 2017 - 6:35 pm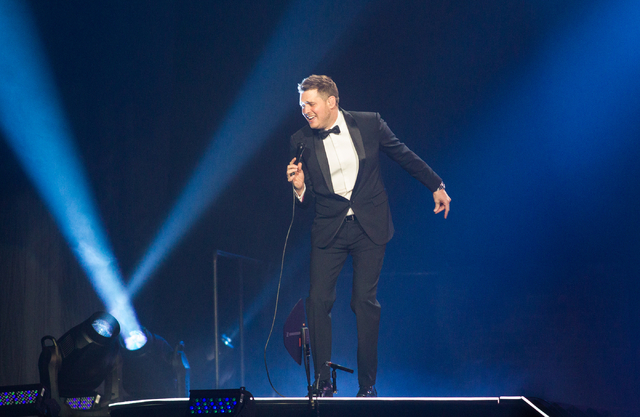 The Keep Memory Alive Power of Love gala annually delivers not just love but genuine power for the Las Vegas dignitaries in attendance. The entertainment lineup, too, is peppered with power players, and 2018 will be no exception.
Pop superstar Michael Buble is booked to headline the 22nd annual gala, the fundraiser for the Cleveland Clinic Lou Ruvo Center for Brain Health, which is set for April 28 at MGM Grand Garden.
Contemporary music legend Burt Bacharach is the evening's honoree, a righteous subject any year but singled out as the recipient of the first Power of Music Award. The honor is to shine a light on the Ruvo Center's music therapy program, which is instrumental (as it were) in the treatment of Alzheimer's patients.
Bacharach, of course, has a seemingly endless catalog of classic compositions, among them chart-toppers "Raindrops Keep Fallin' on My Head," "Arthur's Theme" and "On My Own."
Aside from Buble, other performers are to be added to the program. Past Power of Love headliners include Bono, Steven Tyler, Stevie Wonder, Celine Dion, Andrea Bocelli, Tony Bennett and, last year, Jon Bon Jovi and Jennifer Hudson. The latter stepped in for an ailing Gwen Stefani and saved the night with a terrific set highlighted by "Hallelujah," and "Love You I Do."
Tickets are on sale on the Keep Memory Alive website.
Bob, Broadway … and brunch
Ex-"Rock of Ages" co-star Bob Torti, distinguished in all of his artistic projects (and distinguished, wardrobe-wise) is back with the "Brunch to Broadway" holiday shows at noon and 2 p.m. Sunday at Rocks Lounge at Red Rock Resort.
Torti, whose credits include "Starlight Express," "Joseph and the Amazing Technicolor Dreamcoat" and "Smokey Joe's Cafe" heads up the show with his performing wife, DeLee Lively-Torti (whose credits include "A Chorus Line," "Grand Hotel" and "Smokey Joe's Cafe").
The Sunday show is a medley of famous holiday melodies re-arranged in a way that's fresh, yet true to the music's origin. The show is paired with a ticket to brunch at The Feast at Red Rock, costing $36, or you can just take in a performance for $24.
With its rotating setlist, "Broadway to Brunch" has gained legs, having secured dates at Red Rock on Jan. 14, Jan. 28, Feb. 11, Feb. 25, March 11 and March 25.
"When I had the idea, I thought Vegas had so many different things going, we wanted a locals-based show that out-of-towners can also see," Bob Torti said. "It moves along at 55 minutes, and you're getting a crowd that will go to church Sunday, come out for brunch and really love these performances."
The show has featured an impressive array of Vegas performers, among them Eric Jordan Young ("The Cocktail Cabaret"), Ashley Fuller ("Alice"), Brandon Nix (late of "Rock of Ages" and "Baz"), Nakaze Harris ("Sister Act 2" in film and "Hairspray" at Luxor). A budding star, Alize Cruz, a Sierra Vista High grad and student UNLV, is also cast in Sunday's shows.
Torti says he's working to expand the production to other Station Casinos' hotels next year.
"What's great is we're not interfering with our cast's other gigs," Torti says. "They can do this, and go off to their regular shows. Because of that flexibility, we have some great talent."
Here comes Randy!
Randal Keith, a former co-star of "Steve Wynn's Showstoppers" at Wynn Las Vegas who can rattle the room whenever he opens up that big voice, is swinging again, twice over. He's the new swing cast member in "Baz: A Musical Mash Up" at Palazzo Theater, and he's covering the male roles in "The Cocktail Cabaret" at Cleopatra's Barge at Caesars Palace.
Both shows are laden with talent, and just added one of the best. Keith became known in VegasVille for his performances in "Monty Python's Spamalot," also at the Wynn; and "Phantom — The Las Vegas Spectacular" at the then-Phantom Theater, renamed The Venetian Theater when that show closed in September 2012.
NBT's 'Nutcracker' gift
Nevada Ballet Theatre has staged "The Nutcracker" for 36 consecutive years, debuting in 1981, and its current version of the production is in its sixth year. Eight performances remain at the Smith Center's Reynolds Hall, with two Saturday, one Sunday, then Wednesday through Christmas Eve.
Again this year, NBT has set up "The Nutcracker Wonderland" pre-show experience at Troesh Studio Theater. The pre-show, walk-around visual experience tells the story behind the ballet. On select dates, special guests read the story aloud to the kids in attendance, and I'll be doing that at 1 p.m. Sunday. We'll go through the whole story to be performed at 2 p.m. by the ballet, so … spoiler alert!
All you need is … Lee!
Come for the prose. Stay for the love.
VegasVille's predominant "Love Poet," Lee Mallory, will host "Thai 'D 2 Love!" or, "Tied to Love," a night of poetry and live music, set for 10 p.m. Saturday at Thai D Restaurant at 860 E. Twain Ave., Suite 121.
Mallory will be joined by Vegas chanteuse Philena Carter, who is to deliver "an Oriental siren song to love and heartbreak," as Mallory effusively promises. As the "Love Poet" reasserts, "Heat cures the brick, but at night the water runs waist deep."
Barging in
Be on the lookout (a suggestion, not an order) for a new ticketed show at Cleopatra's Barge at Caesars Palace. This is an entertainment production starring folks who are not known for their stagecraft, yet are certainly entertaining.
Great problem to have
Santa Fe & The Fat City Horns have sold out their first two appearances at the Copa Room at Red Rock Resort. The response has been so strong that band leader Jerry Lopez is no longer taking reservations himself. Lopez has long handled reservations for friends, but he's got a lotta friends now. "The Healing," as we call the Santa Fe shows, are to resume 7:30 p.m. Monday.
John Katsilometes' column runs daily in the A section. Follow @johnnykatson Twitter, @JohnnyKats1 on Instagram.