Buffett's Vegas legacy: Parrothead parties, sellouts at MGM Grand
Updated September 2, 2023 - 2:49 pm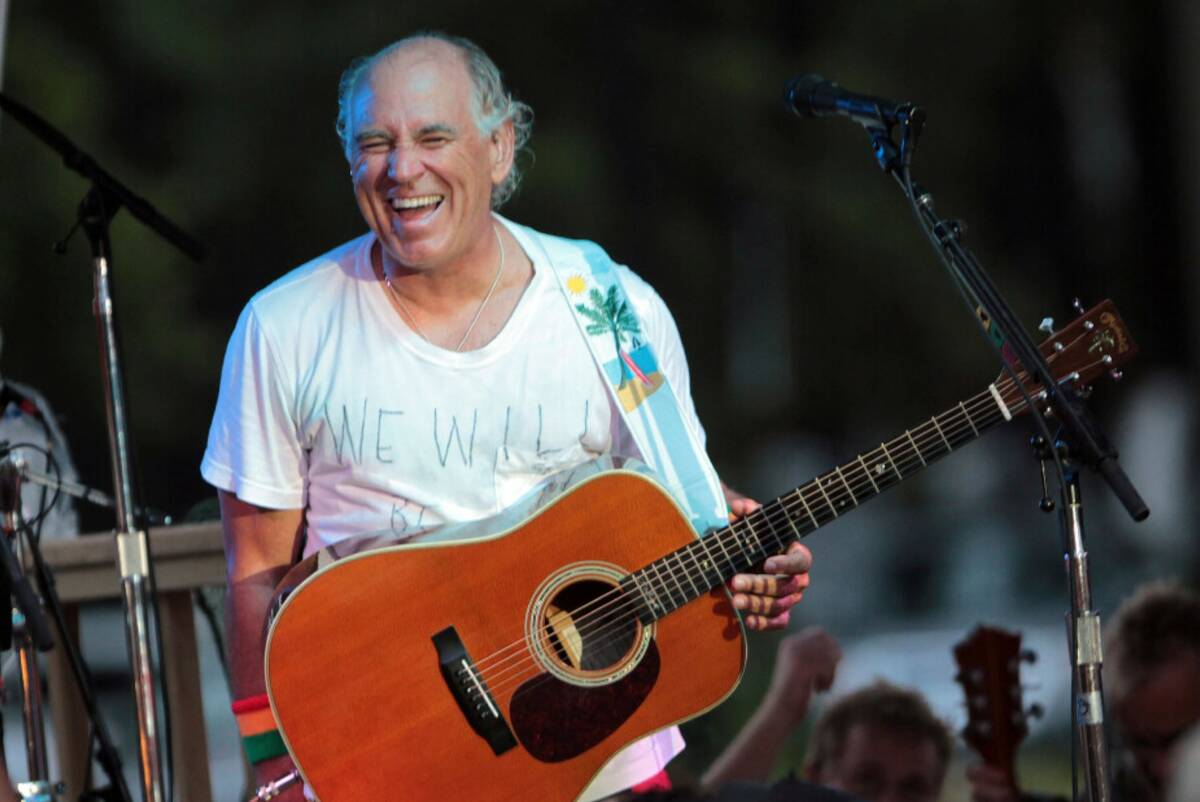 Jimmy Buffett was more than a recording star. He was the mayor of Margaritaville, forever an oasis for millions of Parrotheads.
"His music was an escape, and that's what everybody wants, an escape from their jobs and everything going on in the world," says Tommy Rocker, who built an iconic Las Vegas club around Buffett's beach-party vibe. "That's what was in his soul."
Buffett died Saturday at age 76. The official statement on his passing was posted to his social media pages, "Jimmy passed away peacefully on the night of September 1st surrounded by his family, friends, music and dogs. He lived his life like a song till the very last breath and will be missed beyond measure by so many."
The statement did not provide the location or cause of his death, though lymphoma brought on by skin cancer has been reported by multiple news agencies.
Buffett built an industry around his music. His reach extended prominently in Las Vegas, with his recurring performances at MGM Grand Garden, his Margaritaville restaurant and party annex at the Flamingo, and through the Phin City ParrotHead Club.
MGM Grand paid tribute to the rock hero on their marquee beginning Saturday afternoon. His final shows at the MGM Grand Garden were March 4 and March 11.
The Phin City Club was established in 1995, when Tommy Rocker's beach-fashioned club opened at 4275 Dean Martin Drive (Industrial Road, in those days). Tommy's wife, Donna Rocker, founded the organization. Today the dues-paying group hosts Phin City ParrotHead parties every other Thursday. The next is 7 p.m. Thursday at Rocker's club (no cover, parrot-head gear optional but suggested).
Buffett himself visited the club once. Well, kind of. Members of Buffett's Coral Reefer Band usually played Tommy Rocker's the night before his performances at MGM Grand. The event was so slammed even Buffett couldn't make it in.
"He came by one time and he looked into the front door, and the place was just packed with crazy fans, and barricades were up," Rocker recalls. "He looked around and said, 'Tell 'em I was here.' So, we can say that he at least walked in the door."
Buffett called Rocker to the stage during the opening of Margaritaville at the Flamingo in October 2011. Phin City ParrotHeads instigated that jam session.
"A bunch of the ParrotHead Club people were there and they said, 'Get Tommy up there!' And I'm going, 'Will you shut up!?' Rocker says, laughing. "But I got up there and did 'Margaritaville' with him."
Rocker, himself a musician and entrepreneur, has been inspired by Buffett's drive to create culture based on his music.
"Jimmy has worked as hard as anyone I've known," Rocker said. "He's been so smart about his message and marketing, and he's reached the right group of people who buy into all of it."
Longtime Buffett devotee Gregg Townsend has been the host of the Parrot Head parties as president of the club, off-and-on, for a dozen years.
"I have always just been drawn to his music," Townsend says. "It's the steel drums. That's the instrument. For some people it's a violin or guitar, but for me it's the steel drums that take me away."
Townsend remembers hearing of a Buffett show at MGM Grand in 1999 announced on the radio.
"I was driving at the time and they announced a Jimmy Buffett show coming to Las Vegas, so I pulled in to the nearest pay phone and started calling," Townsend says. "I started about 10 minutes before tickets were on sale, feeding the same dime into this phone. When I finally got through, the show was sold out."
Not coincidentally, Phin Club members have been afforded early on-sale openings for Buffett's Las Vegas concerts. The MGM Grand Garden was his performance home, with crowds overtaking the hotel and swaying, arms overhead, to the Parrot Head anthem "Fins."
MGM Resorts International issued a statement honoring Buffett's long career at the arena:
"For nearly three decades, we have looked forward to when Jimmy takes over MGM Grand and the whole resort becomes a place of celebration and joy. We'll be reminded of that joy through his music always."
The first line of Buffett's breakout hit, "Margaritaville," has captured millions of fans. "Livin' on spongecake, watchin' the sun bake, all of those tubers, covered with oil." Rocker, a musician for nearly 50 years, has appreciated Buffett's songwriting and music skills.
"I just really admired him. He's such a thoughtful, emotional songwriter," Rocker says. "It's not all about drinking and wearing leis. He made some serious music. He has been a hero of mine, from the beginning."
Cool Hang Alert
And act to admire and respect, Stanley Avenue, fires it up at from 10 p.m.-2 a.m. Monday at Sand Dollar Lounge on Polaris Avenue and Spring Mountain Road. Philena Carter leads this '90s alt-rock outfit. Carter suffered serious injuries when she was hit by a truck two years ago. "I was supposed to die, but I just woke up six days later, with a new fire lit that I've never had."
Carter has effectively fought back to health — I just saw her last Monday at Santa Fe's show at the Copa Room at Bootlegger Bistro. No cover at the OG Sand Dollar. As always, try the pizza.
John Katsilometes' column runs daily in the A section. His "PodKats!" podcast can be found at reviewjournal.com/podcasts. Contact him at jkatsilometes@reviewjournal.com. Follow @johnnykats on X, @JohnnyKats1 on Instagram.