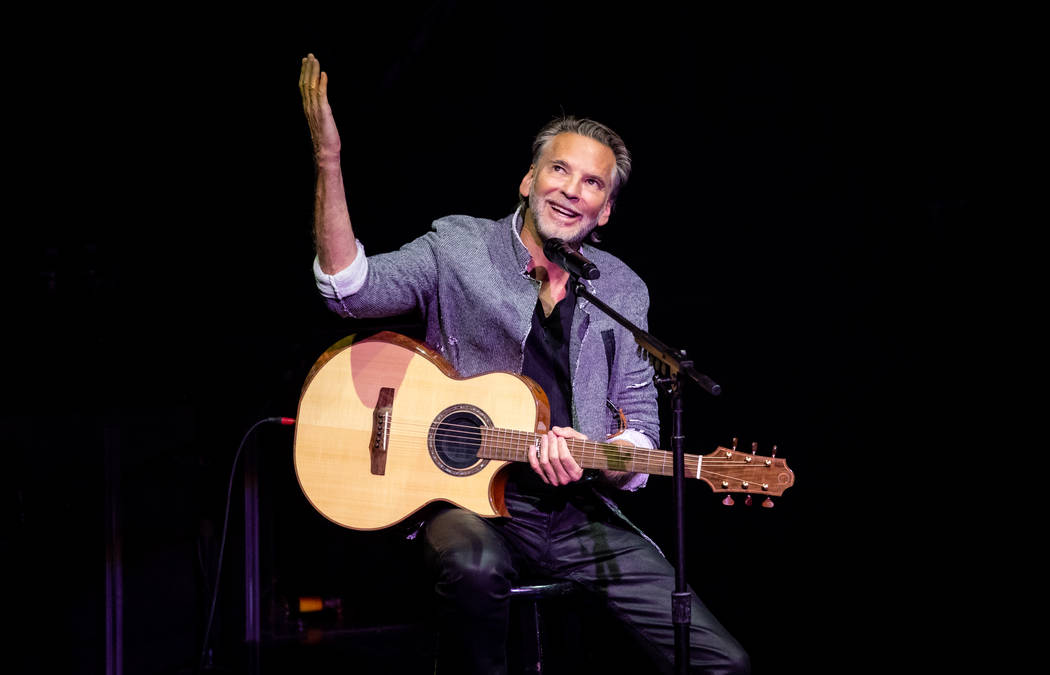 Somewhere between Danny Thomas in the late 1950s and Kenny Loggins this weekend, you will find Burt Reynolds' imprint on Las Vegas entertainment.
Reynolds headlined a storytelling show at the Orleans Showroom in the summer of 2002 titled "An Evening With …" The film legend, who died Thursday at age 82, unspooled his favorite stories from his career. As he told longtime Review-Journal entertainment journalist Mike Weatherford in the run-up to that show, "I keep having people say, 'What do you do?' "It's hard to tell them without doing 45 minutes of the act."
Reynolds reportedly didn't make it halfway through his many tales during that show, which was subtitled "The Laughs, The Loves, The Lies, The Legends, The Lies (Not Necessarily in That Order)." He might not have said all he wanted, but Reynolds did help establish a trend of stars staging similar storytelling shows.
Celebs who have adopted the yarn-spinning format in Vegas have included Sophia Loren at The Venetian, Al Pacino at The Mirage (and The Venetian) and blended entertainment-monologue performances from Garth Brooks (Encore Theater), Wayne Newton (Bally's), John Fogerty (at The Venetian and Encore Theater) and even Loggins, who's at Wynn Las Vegas through this weekend.
(In his life-and-times show, Loggins stitches his string of hits together with favorite stories: "Not many people remember that I toured with Fleetwood Mac in the 'Rumors' days and took that whole ride with them and became very close with Stevie Nicks." Then Loggins launches into "Whenever I Call You Friend.")
In 2002, Reynolds recalled one of the Strip's earliest headliners: Thomas at the Sands.
"Nobody's old enough to remember what Danny Thomas did," the movie star recalled, having seen Thomas in 1959. "He was a comedian, but he told stories about his family and his life."
Sadly, we never heard the rest of Reynolds' story from the Vegas stage.
Center square …
Penn & Teller have a loose connection to Reynolds. The two were among the stars on "Hollywood Squares Dynamic Duos Week" in October 2002. Reynolds and Dom DeLuise took center square. Other duos were Adam West and Burt Ward (or, Batman and Robin), Tim Conway and Harvey Korman, and Todd Bridges and Gary Coleman.
Also, Adam Rifkin, who directed Penn Jillette's latest movie, "Director's Cut," also directed Reynolds' final film, "The Last Movie Star."
A rhapsodic hang
Rami Malek, Gwilym Lee, Joseph Mazzello and Lucy Boynton from the upcoming Freddie Mercury biopic "Bohemian Rhapsody" were among the famous and fabulous to duck into Juniper Cocktail Lounge for a VIP shindig following Wednesday's Queen + Adam Lambert show at the Park Theater at Park MGM.
The film opens Nov. 2. Malek brought along his mother, Nelly; twin brother, Sami; and sister, Jasmine.
The event served as the latest get-to-know-'em event for On The Record operators (and new column faves) Jonnie and Mark Houston. Those boys know how to have a hang, no question. Lots of hugging and back-slapping as they move toward their New Year's Eve opening of the new club.
I'm especially eager to see how the Los Angeles nightlife kingpins can hook into a cross-promotion with Life is Beautiful — and if they will succeed in cutting the parking fees for locals who want to visit the club. That concept is among many ideas banging around the new club. Good luck with that, I say. But I'm betting on the Houston brothers.
Post-show vibes
Loggins and Paul Shaffer swapped "M&Gs" on Wednesday and Thursday ("M&G" is showbiz-speak for meet-and-greet). Shaffer made it to Loggins' opener at the Encore Theater; Loggins darted across the Strip on his off night Thursday to see Shaffer open his "Shaf-Shifters" residency at Cleopatra's Barge at Caesars Palace.
It's "Miss" Behave, thank you
Amy Saunders, star of the masterpiece parody "The Miss Behave Game Show" at the Back Room at Bally's, performed during the Provincetown (Massachusetts) Carnival last month. The event is famous for its LGBTQ parties, art fairs, costume ball and (of course) live performances.
Saunders, who is typically clad in a gold-sequined disco throwback jumpsuit and matching turban, was mistaken for a drag queen.
"I had to say, 'No, no — I'm a biological woman!' " said Saunders, a top sword-swallowing artist and cabaret performer. "This had to be, really, the gayest place I'd been to in my entire life. But I loved it, I really loved it, and I started thinking if I should start performing as a woman playing a man playing a woman. I might actually do that."
As it is, Miss Behave is co-hosting Saturday's Aid for AIDS of Nevada's 32nd annual Black & White Party. The event will take place at Daylight Beach Club inside Mandalay Bay from 8:30 to 11:30 p.m. Saunders joins returning host Norma Llyaman, aka "Empress of the '80s."
The event will feature the requisite ribald fashions and activity, performances from such entertainers as Tenors of Rock, Blue Man Group, Murray Sawchuck, David Goldrake and appearances by Penn & Teller and the casts of "Sexxy" and "Chippendales." For info, and tickets (starting at $65, minus fees), hit afanlv.org.
Saunders won't be doing her "Miss Behave" game-show routine, but count on some sword-swallowing. Otherwise, she says, "I'll stay on message, I promise." She'll be easy to find, as the host in the turban.
John Katsilometes' column runs daily in the A section. Contact him at jkatsilometes@reviewjournal.com. Follow @johnnykats on Twitter, @JohnnyKats1 on Instagram.
Related
Las Vegas wasn't always kind to late Burt Reynolds