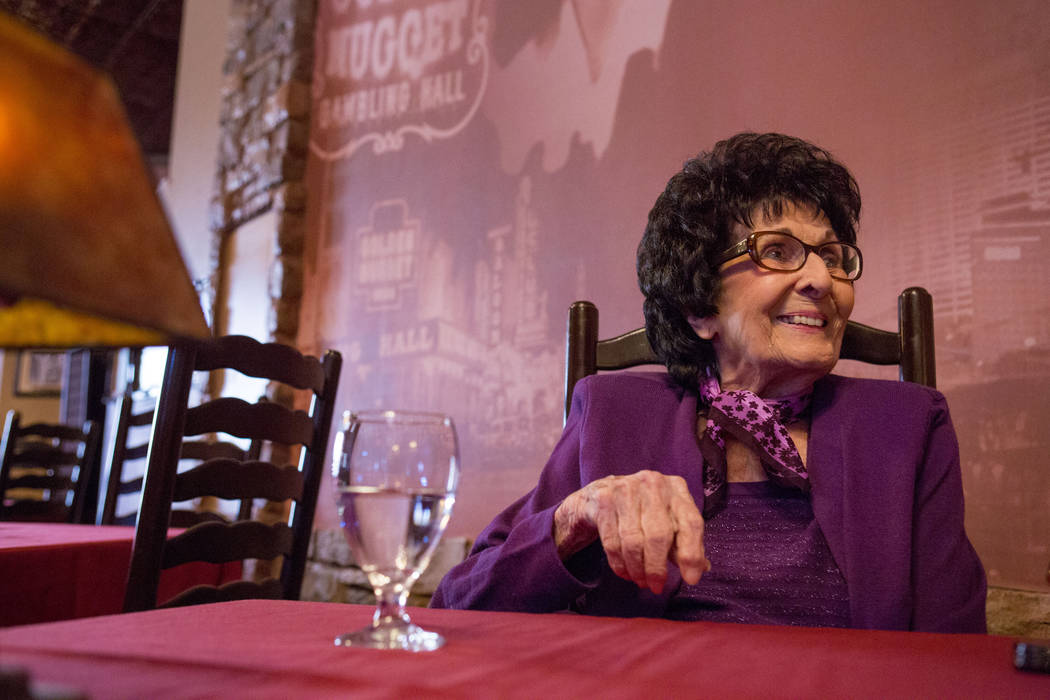 The history of "Mama Maria" Perry's life is told through her hands, her magic measuring instruments over the past 90 years.
"I just throw stuff together," Mama Maria says. "I just toss it in. I just know what to use, and how much to add."
It's not how one is taught in culinary school. But Mama Maria never went to culinary school.
"She's like a jazz musician," her daughter Lorraine Hunt-Bono says. "It's like, she doesn't read music, but boy can she play."
"Mama Maria," as she is known within her family around the community, turns 100 today. She is celebrating with family and friends at Bootlegger Bistro, the famed family restaurant at 7700 Las Vegas Blvd. South. Hunt-Bono, an accomplished singer and former Nevada lieutenant governor, remains the restaurant's owner and wife of venerable Vegas performer Dennis Bono, the couple representing a distinguished level of Vegas royalty.
The family matriarch, Mama Maria is still buoyant in conversation, smiling frequently and beautifully attired in a plum-colored dress for a lunchtime chat. She does, however, feel some of the inevitable physical concerns that come with being a centenarian.
"I broke my hip, about four years ago," Mama Maria says. "I had a bad dream, and I jumped awake!"
The unfortunate result: "I am not in the kitchen as much. Until just a few years ago, I was always working at the restaurant, five days a week."
Mama Maria began working her magic in Las Vegas restaurants more than 70 years ago, after the family moved to Las Vegas from Niagara Falls, Ontario, Canada. Her magnanimous husband, Albert, suffered from health issues that required moving to a drier climate.
"We got here on Dec. 11, 1943, and I'll never forget it. Las Vegas was just a little town, 6,000 people, and when we were driving in from Boulder City, all I could see was desert," Maria says, her eyes widening behind her big spectacles. "I thought, 'Are we going to make it here?' I don't know.' I looked at Albert, but didn't say anything. I really didn't want to make him feel bad."
Maria had already learned how to cook at the side of her grandmother, who ran a boarding house in Niagara Falls. She learned early to mix her passion with an acute sense of business.
"As a little kid, I loved to cook. I'd be making pies and cakes for the borders," she says. "On Saturdays, they would all give me 25 cents each or 50 cents. I'd say, 'You want pie or cake? Give me money!' And we'd take that money and put it in the bank for me. I always wanted my own place to cook."
Maria worked as a cafeteria waitress for a time, becoming cook when the restaurant was short-staffed and she had her loaves-and-fishes moment — feeding more than 100 diners with scant notice. She later worked at the old Sal Sagev Hotel and Casino on Fremont Street, where she was plucked by renowned chef Domenic Piscatelli to work at his Fiesta Villa Ristorante on the Strip.
American icons such as Bugsy Siegel, Jane Russell, Clara Bow and Clark Gable all dined on her fare. One night, two decades before he began snapping up Vegas hotel-casinos as if ordering room service, Howard Hughes pushed a $5 tip into Perry's hand. "He was very sweet," Maria says.
In later years, she recalls Marlene Dietrich arriving every Friday. "I would fill up her pot with sauce and meatballs and she'd take it home." Sammy Davis Jr., shadowed by a group of bodyguards, routinely showed up in a limousine to pick up stacks of pizzas. Frank Sinatra, Dean Martin, and many other superstars of the time sought out Mama Maria. "A lot of movie stars would come in and get the stuff. I was the only Italian woman cook that served Italian food."
By the mid-1950s, Mama Maria and Al, and sister and brother-in-law, Angie and Lou Ruvo (the parents of Cleveland Clinic Lou Ruvo Center for Brain Health founder Larry Ruvo), opened Venetian Pizzeria on Fremont Street. In 1962, with business booming, the tight-knit foursome opened Venetian Ristorante on West Sahara Avenue, which today is the site of Herbs & Rye. In the late-1960s, the group sold the business, with the Ruvos buying it back in the early '70s.
Lorraine built the Bootlegger Bistro at its original location on Tropicana and Eastern avenues in 1971, on land she had purchased at the age of 19 when she was performing at the Tropicana hotel-casino with the zany comic showman Jerry Colonna. She partnered with her mother and father, Mary and Al; and her cousins Lydia and Victor Scaramosino to open the Bootlegger in the summer of 1972. The family moved the Bootlegger to its current location in 2001.
Even today, many of the restaurant's recipes date to Mama Maria's childhood. Others were developed over time.
During her days as a singer, Lorraine brought home a sample of the scampi butter sauce from House of Lords at the Sahara. "Mama tasted it, and you could see the computer working in her head. Then she said, 'I can make it better.' "
That sauce is served, still, at the Bootlegger, the vision of a woman who says, "I just love to cook. It's what makes me happy." For that, the Vegas family institution will always be Mama Maria's place.
John Katsilometes' column runs daily in the A section, and Fridays in Neon. He also hosts "Kats! On The Radio" Wednesdays at 8 p.m. on KUNV 91.5-FM and appears Wednesdays at 11 a.m. with Dayna Roselli on KTNV Channel 13. Contact him at jkatsilometes@reviewjournal.com. Follow @johnnykats on Twitter, @JohnnyKats1 on Instagram.