Carlos Santana returns the hippie vibe to House of Blues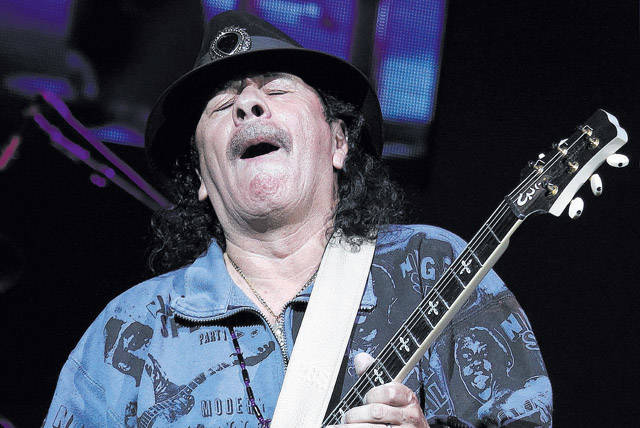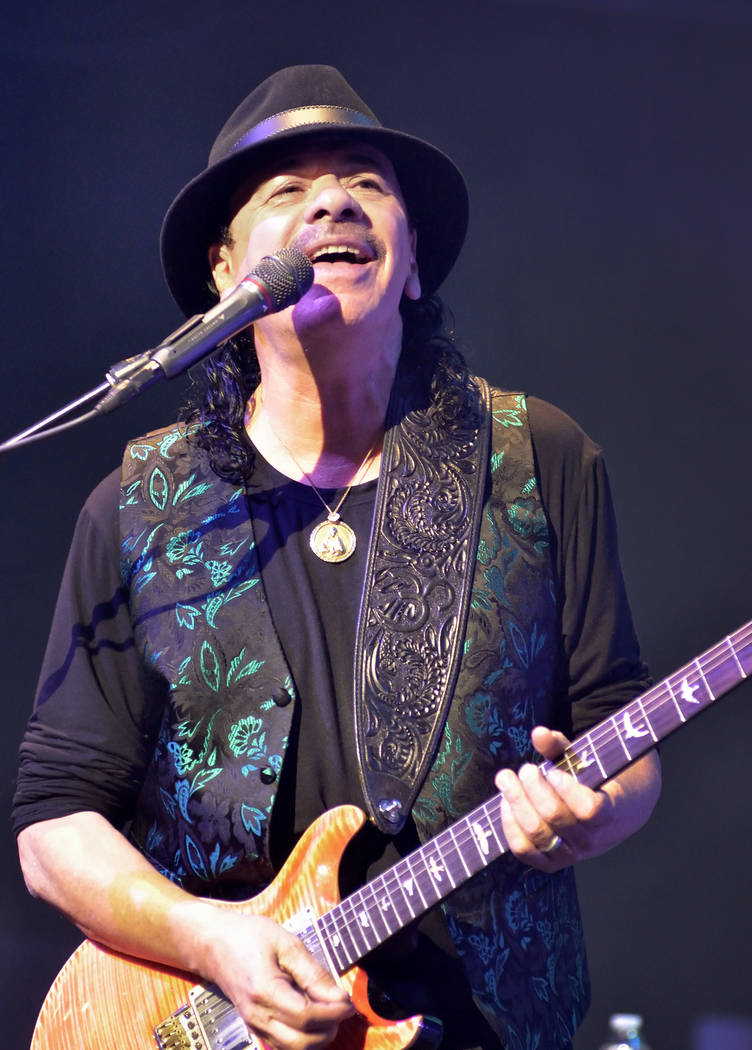 Carlos Santana often recites his greatest-hits catalog, stringing together the legends who have inspired him.
The list varies. But in any conversation, Santana can be relied upon to recall his favorite artists. He did it once more this week.
"I want to uphold a standard of those who taught me. Tito Puente, B.B. King, Miles Davis, John Lee Hooker, Jimi Hendrix, Stevie Ray Vaughan," Santana says, then quickly explains. "I'm not just drawing names; I am telling you who I am. I am John Lennon and I am Bob Marley, because I want the same thing they wanted.
"They wanted to heal the world and bring life and unity, and so do I."
Thus Santana's show is a fearless celebration of integration, mixed with rock 'n' roll and world rhythms, and the guitarist's spirituality infused monologues. A Las Vegas resident, Santana returned to the House of Blues at Mandalay Bay on Wednesday and plays seven dates through Sept. 23.
It's a trip through time with Santana, who is again backed by his wife, Cindy Blackman Santana, on drums. Santana is still riding high after his July 8 performance with one of the few living guitarists who share his strata, Eric Clapton, at the British Summer Time Series at Hyde Park in London.
"It was so, so hot," Santana says. "There were blue skies; this was not foggy London. I told the band, 'We're going to incinerate this place, make it even hotter. We're going to bring white heat, and we did. We almost passed out."
Clapton called Santana to the stage for the event's encore, where the two tore through a cover of Joe Cocker's "High Time We Went."
"My brother Eric and I have known each other since 1970, and we came up the same way playing music that stands for something," Santana says. "We have been comrades in arms since then, and our war is against corruption, fighting with music and notes. I've never seen Eric do anything less than play with high energy and the passion in his heart."
Santana says the experience was an inspiration. "People ask me about retiring. Shoot, man. No. I want to do even more concerts … I wake up every day with gratitude, before my feet even hit the floor. I have a long life. I'm 71. I don't feel it. Most people say I don't look like it, and I have energy all around me in my life."
Santana behaves much like the teenage phenom who exploded on the rock scene in the late 1960s.
"I'm still that hippie guy from the Fillmore and Woodstock who wants to end all the wars," he says, chuckling. "People say, 'Santana was great until he got political. I'm not (expletive) political. I'm someone who cares about human lives, about breaking down walls and experiencing the joy of adventure. Even if you know all my songs, I will never rubber-stamp it."
Mayor at the barrel
Las Vegas Mayor Carolyn Goodman and the Golden Knights broadcast team open Oktoberfest at the Hofbrauhaus Las Vegas at 7:30 p.m. Friday. It's the 15th year that the business on the corner of Harmon Avenue and Paradise Road has invited celebs to tap the keg each week of the celebration. Frankie Moreno (who has penned a theme song you'll be hearing soon) is Saturday.
Other well-known keg tappers are the cast of "Fantasy" at Luxor on Sept. 21; the stars of "Raiding the Rock Vault" at the Hard Rock Hotel on Sept. 22; Paris Las Vegas hypnotist Anthony Cools on Sept. 28; "Las Vegas Now" host Courtney Perna on Sept. 29; magician Murray Sawchuck on Oct. 6; "Magic Mike Live" and Golden Knights in-arena emcee Mark Shunock on Oct. 12; Chris Phillips of Zowie Bowie on Oct. 13; performers from "The Australian Bee Gees Show" at Excalibur on Oct. 19; the cast of "Chippendales" at the Rio on Oct. 20; All-4-One of "I Love the '90s — The Las Vegas Show" at the Paris Theater on Oct. 26; and BMX star Ricardo Laguna on Oct. 27.
We are missing someone famous, however. Las Vegas legends Siegfried & Roy, who have tapped the keg every year since this tradition started, are not participating. There has been no official explanation why they are not involved this year.
Update de la Bruno
I am at once expecting and pulling for new dates for Bruno Mars in 2019 at the Park Theater.
Update de la Steck
SPI Entertainment Chief Executive Officer Adam Steck traveled to the Royal Theatre Carre in Amsterdam a couple of weeks ago to catch magician Hans Klok's show. Steck had never seen Klok but has signed him and is assembling a Strip residency, ideally by the spring.
The two agreed on a 10-year deal for a Vegas residency. No venue contract has yet been signed.
Update de la Branden
The Golden Tiki and Evel Pie managing partner Branden Powers is casting an eye toward Downtown Summerlin for a new food/bar hangout. He says he's in "very early phases" of planning.
Femmes fan flames
Column fave Nina DiGregorio's blazing rock-violin band Femmes of Rock headlines shows at Myron's Cabaret Jazz at The Smith Center at 7 and 9:30 p.m. Saturday.
DiGregorio's adds lavishly customized arrangements to Led Zeppelin, Metallica, Queen, Pink Floyd and Electric Light Orchestra, among other class-rock icons. A top draw on the road, the Femmes are playing a serious gig Oct. 27 in Green Bay, Wisconsin, opening for Bad Company and Cheap Trick.
DiGregorio is also an avid — and, at the moment, seething — Buffalo Bills fan, which should add intensity to Saturday night's shows.
John Katsilometes' column runs daily in the A section. Contact him at jkatsilometes@reviewjournal.com. Follow @johnnykats on Twitter, @JohnnyKats1 on Instagram.