Carrie Underwood's fellow Vegas 'Idol' alums ready for anthem action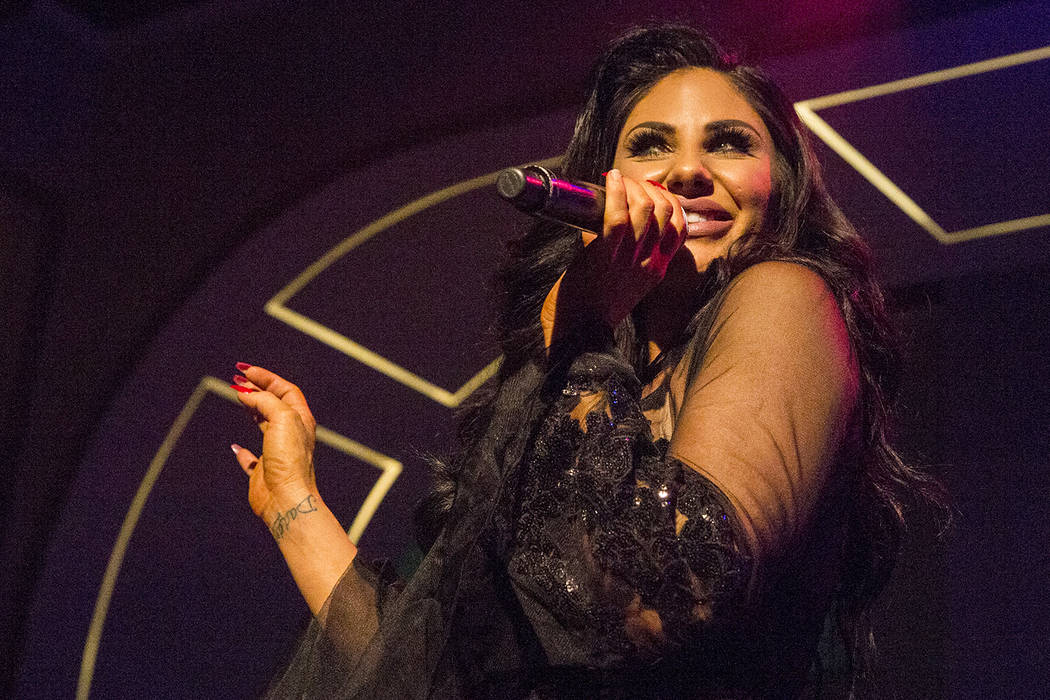 Vegas has a deep bench, and we're not talking about the city's NHL team at the moment.
Great singers abound in VegasVille. That reality was underscored by Carrie Underwood's offer, politely declined by a "very flattered" VGK front office, to sing the national anthem at a Golden Knights' playoff game at T-Mobile Arena.
Underwood's seemingly impulsive offer, conveyed on her Twitter page, forced the team's hand. Officials could either accept and send Carnell "Golden Pipes" Johnson, a man who is developing quite the cult following in town, to the sidelines.
Or, they could make the equally difficult — but correct — decision to gracefully explain to Underwood and her fans that the city already has an abundance of qualified vocalists. Like, hundreds, filling Vegas showrooms, theaters, lounges and also my contact list.
And in an only-in-Vegas coincidence, two busy singers who live in Las Vegas — Mikalah Gordon of Rose. Rabbit. Lie at The Cosmopolitan and Amanda Avila of Brio at Tivoli Village and also Terry Bradshaw's stage show at The Mirage a few years ago — were both finalists on Season 4 of "American Idol" in 2004. That's the year Underwood won the competition.
Neither Gordon nor Avila has sung the national anthem for the Golden Knights, but both are ready to answer the call. Gordon answered a text asking if she has taken the ice at T-Mobile Arena by saying, "No! But I want to!" Same for Avila, who answered the same question with, "I have not! But I really, really want to!"
Gordon most recently sang the national anthem at Cashman Field before a Cubs-Indians exhibition game during Big League Weekend in March. Avila once sang the anthem during a memorable doubleheader in July 2014.
Avila's night started with an anthem performance for 16,000 fight fans at the MGM Grand Garden Arena, prior to the Canelo Alvarez-Erislandy Lara superwelterweight bout. She ended by gigging at the Lounge at Excalibur with the rock band Venus Rising. From 2½ minutes for 16,000 to three hours for, maybe, 50 folks — in the same night. In VegasVille, it's what dreams are made of.
On that topic …
The Las Vegas Aces and Las Vegas Bowl have offered to present Underwood as an anthem singer. The Aces reminded, "Our inagural season opener is May 27." The Las Vegas Bowl's enticing pitch for the Dec. 15 NCAA football tilt: "It's nationally televised on ABC." Underwood appeared on the network Sunday night on "American Idol," as a mentor.
👋 @carrieunderwood
Our inaugural season home opener is May 27 😅 https://t.co/q0eDyEwFOb

— Las Vegas Aces (@LVAces) May 14, 2018
Wynn's Picasso follies
For the second time in his career as a predominant art collector, Steve Wynn is dealing with a damaged Pablo Picasso painting.
A Picasso expected to fetch a $70 million bid at auction was inadvertently damaged Friday, according to published reports and a statement by Christie's auction house. Titled "Le Marlin," or "The Sailor," the piece was damaged as it was being prepared to be presented during the auction house's exhibition, which began Saturday and ends Tuesday. Wynn has pulled the piece from auction so conservators can get to work on restoration.
In 2006, Wynn damaged his own "Le Reve" by poking his elbow through the 1932 piece during a party at Wynn Las Vegas. Wynn had that painting repaired, and the work later sold for $155 million at auction.
What was booked
The oft-reported Widespread Panic run at the Park Theater was announced Monday. The band returns to its Halloween time slot Oct. 26, 27 and 28. The band sold out three nights last Halloween weekend at the venue. Tickets are on sale 10 a.m. Friday.
Also announced Monday, rock legend Van Morrison is back at the Colosseum at Caesars Palace for five shows Jan. 25 to Feb. 2. On-sale is noon Friday.
The 'Opium' honor
The inventive ad campaign for "Opium" at Caesars Palace has earned the show the Rose Gold Award in the Advertising and Integrated Marketing categories by Muse Creative Awards. The prestigious international design contest celebrates inventive communication efforts and is judged by ad industry reps. "Opium" features a liquidlike, psychedelic design that reflects the show's fluid roll-out of raunchy humor and eye-popping specialty acts.
The work was created by Los Angeles creative agency Leroy & Rose, which also worked with Spiegelworld to create the campaign for "Absinthe" at Caesars Palace.
Contact John Katsilometes at jkatsilometes@reviewjournal.com. Follow @johnnykats on Twitter, @JohnnyKats1 on Instagram.