CeeLo Green takes Caesars to another dimension
Updated July 23, 2017 - 7:50 pm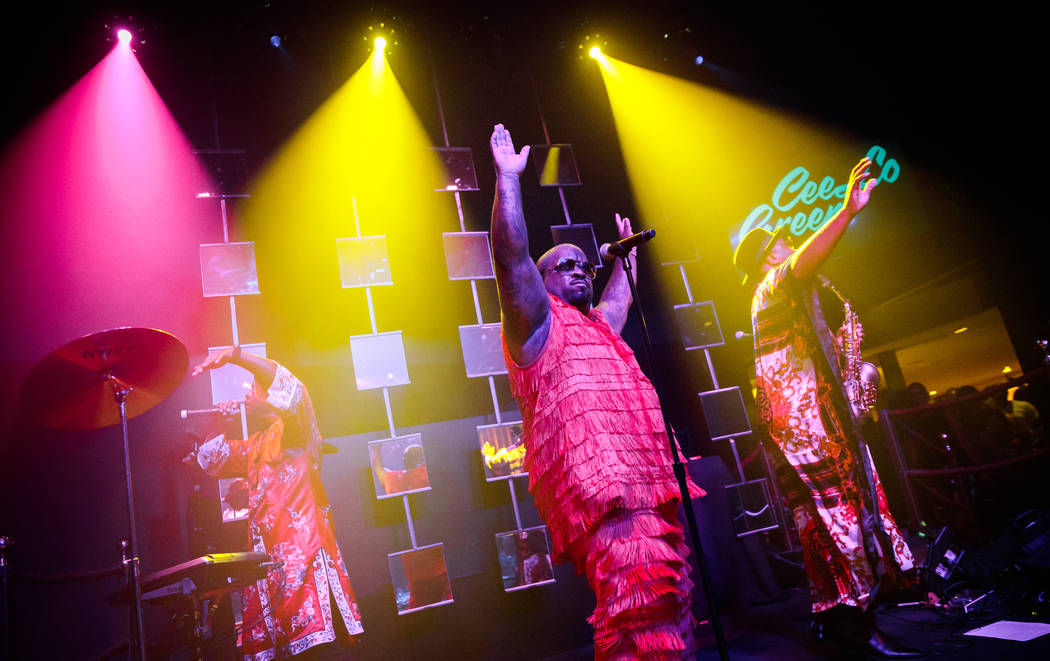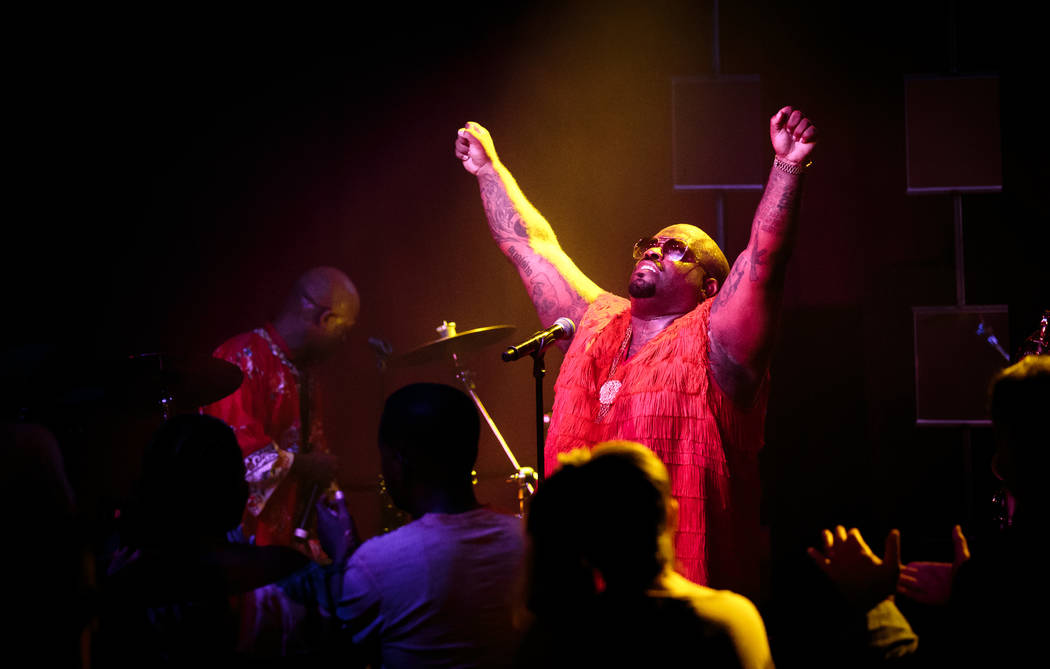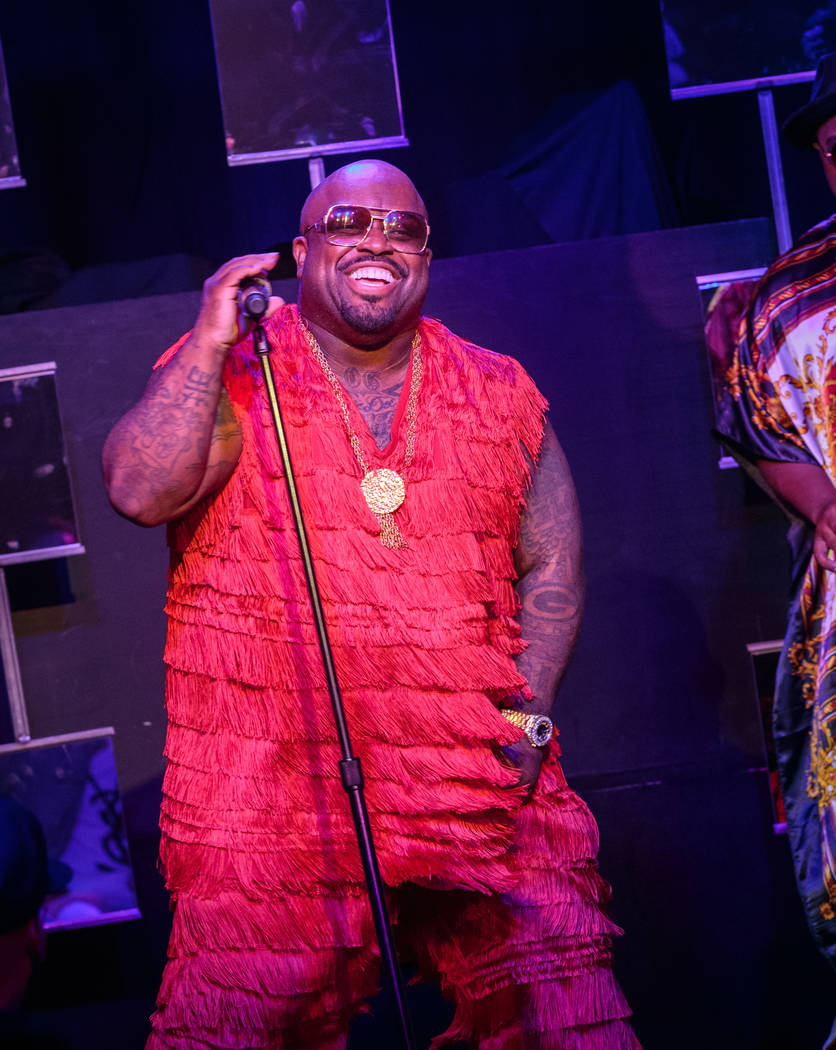 Deep into his set at Cleopatra's Barge on Saturday night, CeeLo Green sang a segment of the 5th Dimension classic "Let the Sunshine In." In that moment, I recalled Marilyn McCoo, who fronted that classic band with her husband, Billy Davis Jr., telling me that 5th Dimension played an "intimate" venue at Caesars Palace at the peak of the band's fame.
This was in 1967, when "Up, Up and Away" was a Top 10 Billboard hit. The lounge was the mirrored, 250-seat Nero's Nook. The show marked the group's first gig in Las Vegas, appearing onstage following legendary Checkmates.
As McCoo recalled in a 2013 interview, "The Checkmates were burning up the place, and we were just cocky enough to think we could do it, too, and we blew the place away just like they were."
CeeLo's Friday and Saturday performances at the cozy Caesars lounge made it easy to imagine what that night must have felt like for the 5th Dimension. The boat on the moat rocked as CeeLo, a superstar whose career dates to the early 1990s, ran through his own familiar hits. Crowd-pleasers included "Crazy," "(Forget) You" and a rowdy take of "Don't Cha," which he reminded the crowd he wrote for the Pussycat Dolls.
Another moment that got the crowd up and grooving was CeeLo's rendition of Michael Jackson's "The Way You Make me Feel," and Morris Day & The Time's dance classic "The Bird."
The show was not quite like the old days, of course. CeeLo is no lounge performer, commanding a between $119 to $199 per ticket. The Barge today is more a mini-showroom than an open lounge, with recently installed glass panels that contain the sound inside the room more effectively than when it was open to the masses.
And skeptics will not like that CeeLo incorporates tracks throughout his performance. I'd love to see him with a full rhythm section and a robust horn lineup, similar to what Matt Goss produced for 6-1/2 years in that same venue. Even so, CeeLo's able sidemen — sax great Marcus Anderson and percussionist Menta Williams — blend live musicianship with powerhouse, pre-recorded music. It's a club show, thunderous and high-energy, with Cee Lo (dressed in a fully-frilly suit and his trademark shades) orchestrating the action.
CeeLo has two more shows Friday and Saturday. As he said after last Saturday's performance, he's open to tinkering with the format and adding more improvisational moments to the set. But the stage vet figured out long ago how to hold a crowd. It was an inspired, superstar performance in a famous Strip venue. You can't ask for more than that.
DLV for the decades
While CeeLo held forth at Caesars Saturday, Downtown Las Vegas Events Center hosted the "Retro Futura" tour with Katrina and the Waves, Paul Young, Modern English, Men Without Hats, The English Beat and Howard Jones. The event was paired with the "I Love the 90s" tour Friday for a DLV throwback doubleheader.
The Friday show drew about 4,000, slightly better than Saturday's 80s lineup, but as D Las Vegas Vice President Jeff Victor, who programs the space, said, "We turned the radio dial again to expose another audience to the venue, and to downtown."
'Heroes' links to Alon
Alon is to "Heroes" as Fontainebleau is to "Absinthe."
Follow along: The latter show was intended to perform in a lavishly appointed showroom at Fontainebleau until construction halted in 2009. "Heroes," the latest production from Spiegelworld, was intended to be the resident show at Alon, the Crown Resorts hotel-casino planned for the Strip across from Wynn/Encore. Work there was suspended last year and the land is now for sale. "Heroes," which showcases next weekend in New York, still hopes to find a suitable home on the Strip, just as "Absinthe" did when it landed at Caesars Palace.
Who Was Where
Kevin Durant, DeAndre Jordan, Matt Byrnes andMarcus Camby took no bench time in their weekend run through VegasVille. Jordan, a Los Angeles Clipper, celebrated his 29th birthday Saturday with a group of 40 cohorts (who do these guys think they are, the Raiders?) hitting Encore Beach Club at Wynn Las Vegas. Jordan and Durant were later spotted at a VIP table Tao Nightclub at the Venetian … Also at Tao, and the later at Beauty & Essex at the Cosmopolitan: Actress and frequent Vegas visitor AnnaLynneMcCord, notching her 30th birthday.
John Katsilometes' column runs daily in the A section. Contact him at jkatsilometes@reviewjournal.com. Follow @johnnykats on Twitter, @JohnnyKats1 on Instagram.