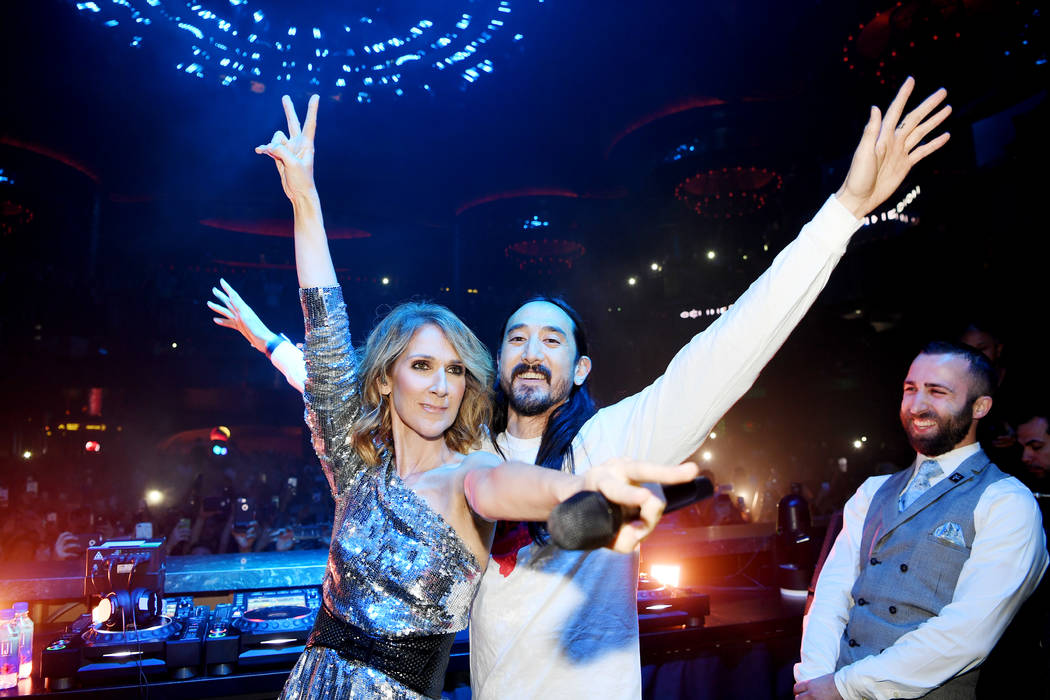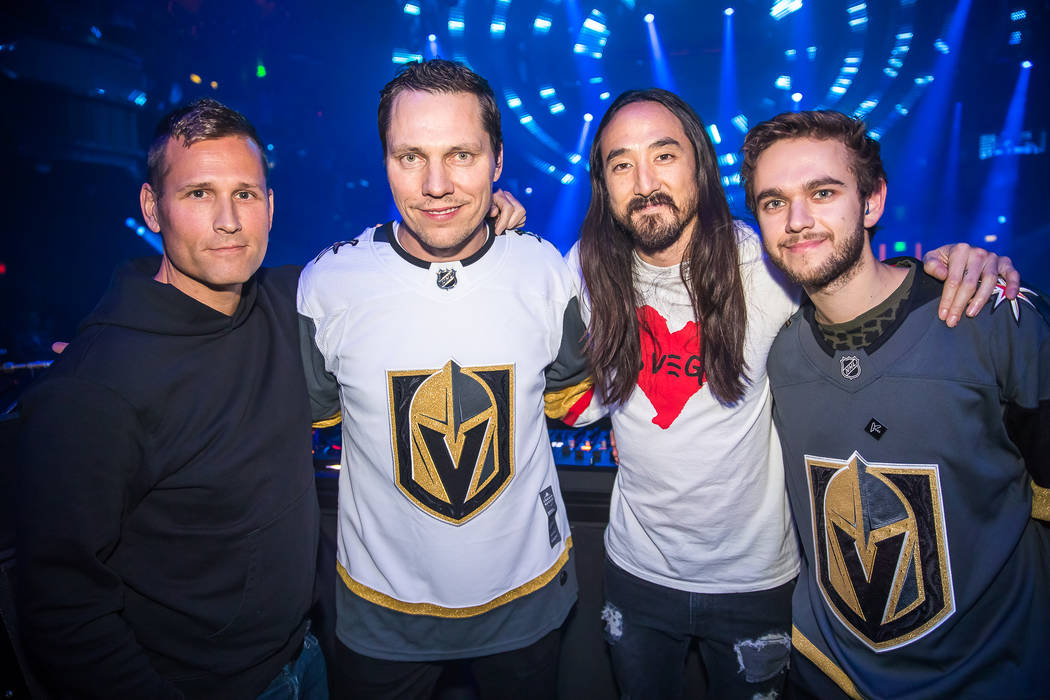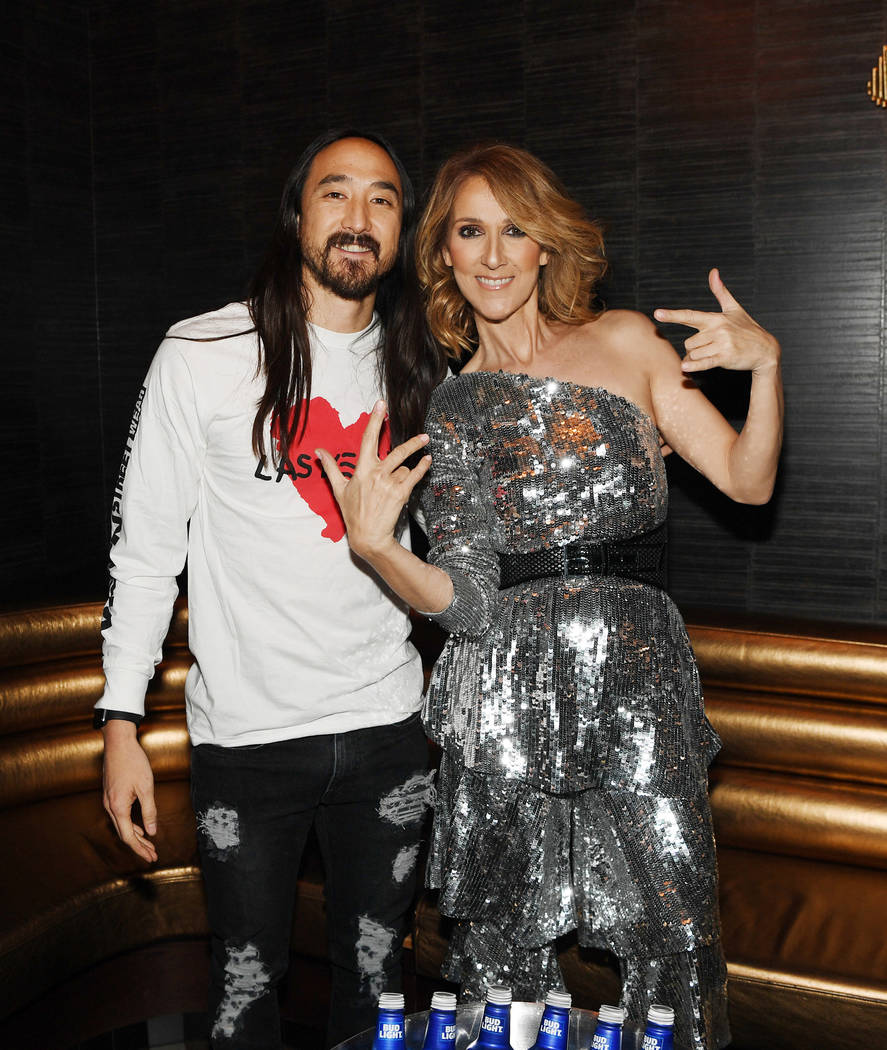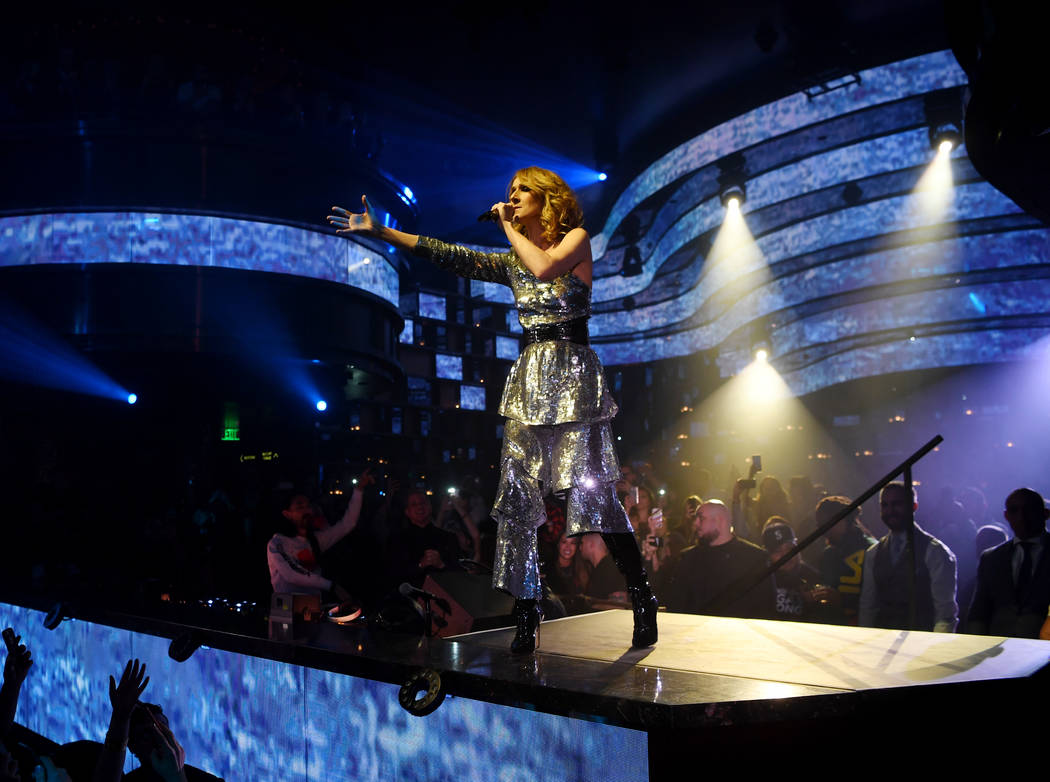 As the line formed at Omnia Nightclub at Caesars Palace on Tuesday night, a friend asked me, "Is this going to be amazing? Is Celine going to show up?"
"Yes, and I highly doubt it," I answered, sensing it was unlikely Celine Dion would venture into a DJ booth at a mega-club, regardless of the cause.
Well, Celine did just that — materializing just before midnight at the club's Benefit Concert for Oct. 1. After performing her own show at The Colosseum, Celine joined Steve Aoki for a reverberating mix of the classic Titanic theme song "My Heart Will Go On."
And go on it did. The unlikely duo powered their way through an extended, five-minute version of the Oscar-winning song, as the crowd roared in thunderous approval.
Afterward, the two artists, disparate in musical genres but united in their passion for charity, danced together on the lighted deck above the crowd. Celine sat, then reclined, at the song's culmination, as if soaking in the goodwill.
The moment punctuated a show that also featured EDM heavyweights Tiesto, Zedd, Kaskade, Cash Cash, Party Favor, and Nghtmre in Omnia's main club. Lil Jon, FAED, Turbulence, Crooked, NEVA and OB held court in the Heart of Omnia lounge and club, the party roaring until after 4 a.m.
Thus, the event was a genuine overnight success. When all the ticket and VIP table receipts, bar revenue and individual DJ donations were tabulated, the night raised $1,019,691. The money was donated to the Las Vegas Victims fund through the Direct Impact Fund.
Many of those who performed under the pulsating lights have developed tight ties to Las Vegas. Aoki makes his home here, as does Dion. Tiesto, an original groundbreaking artist in the EDM world who has performed at mega-clubs for more than 20 years, calls the city "my second home."
"You know, Vegas has been very good for me, and I've always been grateful for all of the support," the star DJ said a few hours before his 1:30 a.m. set. "This definitely happened on my doorstep. I feel I know everyone affected by it, and I had to help out."
Tiesto was among the DJs who answered Diplo's Twitter challenge to donate $100,000 to the Victims Fund, giving twice that amount and his time to Tuesday's event. He and Kaskade also donated undisclosed amounts to a separate GoFundMe account created for the event, helping push it over the million-dollar mark.
"This came down to the collective industry wanting to do this," said James Algate, vice president of entertainment for Hakkasan, which organized the event. "The stars have benefited, honestly, from what they do in the city, but they also drive a lot of tourism to the city. It was time to give something back and remind us that they are really part of the community."
Tiesto is a veteran of mass gatherings, including appearances at Electric Daisy Carnival at Las Vegas Motor Speedway, and said he will not curtail his appearances because of what happened Oct. 1.
"This has been going on in Europe for a while, and it's crazy, what has happened," said the artist, born in the Netherlands. "But you've got to live your life and you've got to enjoy your life. People who do this want you to be scared, want you to stay home, but you have to go out and enjoy the world, and that's what we're doing tonight."
Backstreet's back
On the topic of club action, and due to unrelenting demand (my term), Backstreet Boys will host post-show "Larger Than Life" parties at Chateau at Paris Las Vegas on Nov. 11 and 18. Nick Carter, Howie Dorough, Brian Littrell, AJ McLean and Kevin Richardson are expected to arrive around 10:30 p.m. after grooving through their set at Axis theater at Planet Hollywood. Admission is $40, the view of the Strip is free, the experience … priceless.
The Britney piece
A spur-of-the-moment photo of my colleague and frequent running mate Robin Leach holding the Britney Spears painting he nabbed for $10,000 at Sunday's "Vegas Cares" show has whipped its way around cyberspace (even famed celeb reporter Perez Hilton commented "Iconic" on the shot).
The postmortem on that painting, a playful collection of multicolored flowers, is that Leach accidentally left it backstage at The Venetian Theatre, next to my familiar Pan Am computer bag.
He has since asked me to hold on to it so I do have possession of one of the more famous artworks on Instagram. I've become attached to it. Check my feed in the next day or so for a new pic.
John Katsilometes' column runs daily in the A section. Contact him at jkatsilometes@reviewjournal.com. Follow @johnnykats on Twitter, @JohnnyKats1 on Instagram.