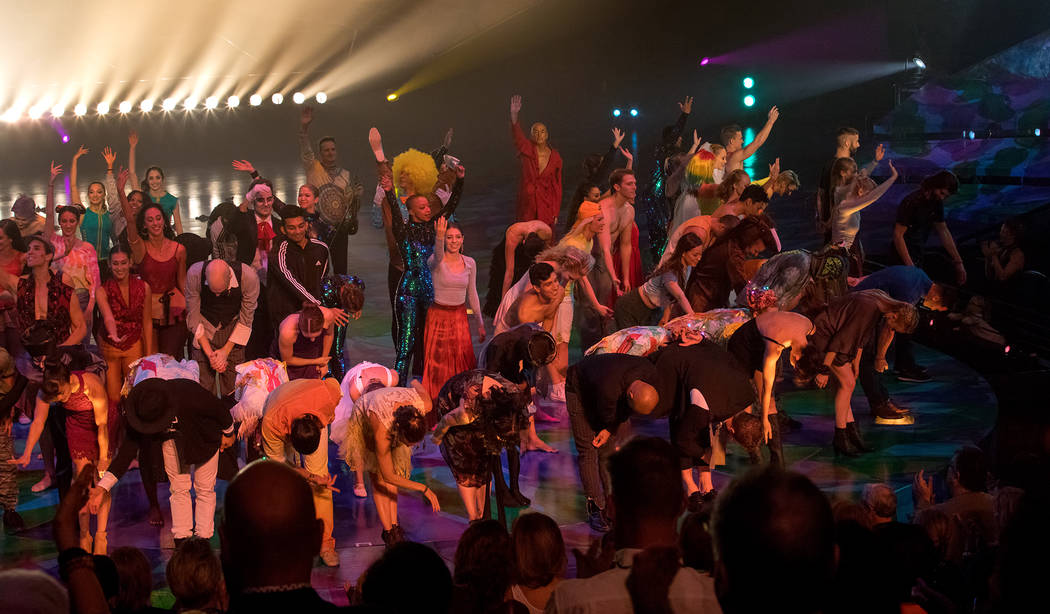 The Kats Bureau at this writing is Starbucks across from Mystere Theater, where "A Choreographers' Showcase" has just bowed out. The annual creative collaboration of two vaunted Las Vegas artistic institutions — Cirque du Soleil and Nevada Ballet Theatre — is celebrating its 10th anniversary.
The format has never wavered: Cirque and NBT artists team for a series of themed dance numbers. The event served as a welcome party of sorts for incoming NBT Artistic Director Roy Kaiser, arriving from Pennsylvania Ballet. Kaiser flew into Las Vegas on Sunday morning. "This is the first time I have ever seen the dancers perform outside the studio," Kaiser said. "I'm really impressed."
The new NBT director is also eager to plug into the Las Vegas arts community and says he's impressed with the high concentration of talent in the city. It shouldn't take him long to acclimate. He has great convo.
From the stage, a highlight was Mix Master Mike (real name Michael Schwartz) of Beastie Boys laying the tracks for "Zumanity" at New York-New York artist Jonas Woolverton's "Breaker's Revenge."
Turns out Mix Master and Woolverton are fast friends, having met at the NAB convention in April and developing a creative interest in hip-hop mixed with circus acts. Mix Master soon agreed to put a new spin on "Breaker's Revenge," from the 1984 film, "Beat Street."
The mix will be used in the two remaining "Choreographers' Showcase" performances at 1 p.m. Saturday and next Sunday. Mix Master Mike will not be in the room, but his mix, a video, and his inescapable vibe, will be.
More from our scene:
O.J. to the fore
Combining sourced reports and published accounts, O.J. Simpson is now residing in a 5,500-square-foot home at Red Rock Country Club. The estate is owned by a friend of Simpson's in town and located on a private, gated circle near the Red Rock golf course.
TMZ has published an aerial shot of the estate, which features a putting green in the backyard, five bedrooms, five baths and is worth about $1.9 million. The celeb website also showed video of Simpson hanging at Wahoo's Fish Taco on Rampart Boulevard on Saturday. If you see a person who looks like O.J. around town, he probably is.
'Michael Jackson One' returns
Nearly lost in the shuffle of shows that went dark last week, the Cirque show near the epicenter of Sunday's shootings — "Michael Jackson One" at Mandalay Bay, returned Friday night. All other Cirque productions were dark Monday but returned to a normal schedule Tuesday. But the "MJ One" cast and crew needed the week to recover from a particularly haunting night, when the show and audience members were kept inside the Mandalay Bay theater until 6:30 a.m., when they were allowed to leave.
Back to Nature
Venetian headliners Human Nature are donating proceeds from tickets sold to their "Jukebox" groove-fest to the Las Vegas Victims' Fund. The act is a swift seller at Sands Showroom, and the donations run through Oct. 14.
Cocktails en route
Expect an announcement soon — like, this week — from Caesars Entertainment on the opening of "The Cocktail Cabaret." The death of comic Ralphie May, a headliner at Harrah's (owned by Caesars Entertainment) on Friday reportedly delayed the final signing and announcement of this show, but I anticipate it will happen ASAP.
As it is, "Cabaret" has been kind of half-announced, with Keith Thompson ("Jersey Boys" and The Composers Showcase) in place as music director and a cast of Eric Jordan Young ("Rock of Ages" and "Vegas! The Show"), Nicole Kaplan ("Steve Wynn's Showstoppers"), Niki Scalera ("Peepshow" and her own Shirley Bassey tribute), Vegas vocalist Daniel Emmet and piano virtuoso Philip Fortenberry. Not a big show, but big talent.
New name on the horizon
A bit of buzz around Mizuya Lounge at Mandalay Bay: Expect a new name for that venue, something like Rock and Riffs, early next year. A rebranding effort is en route for a really cool live-music spot that happens to be named for a sushi restaurant.
John Katsilometes' column runs daily in the A section. Contact him at jkatsilometes@reviewjournal.com. Follow @johnnykats on Twitter, @JohnnyKats1 on Instagram.