Cirque's 'One Night' is a late night on the Strip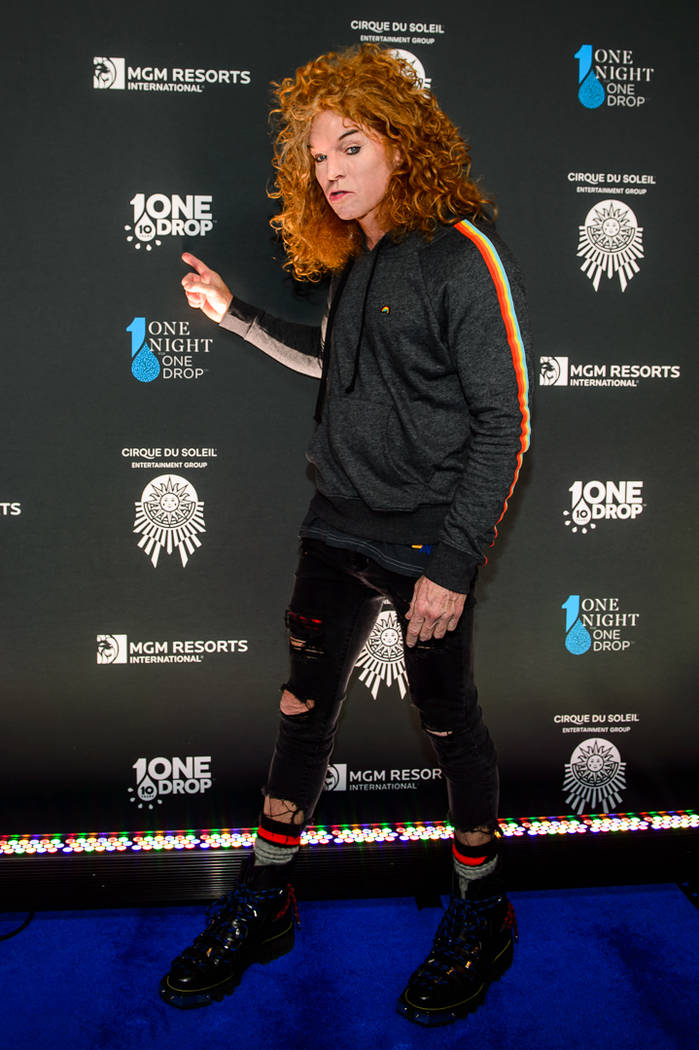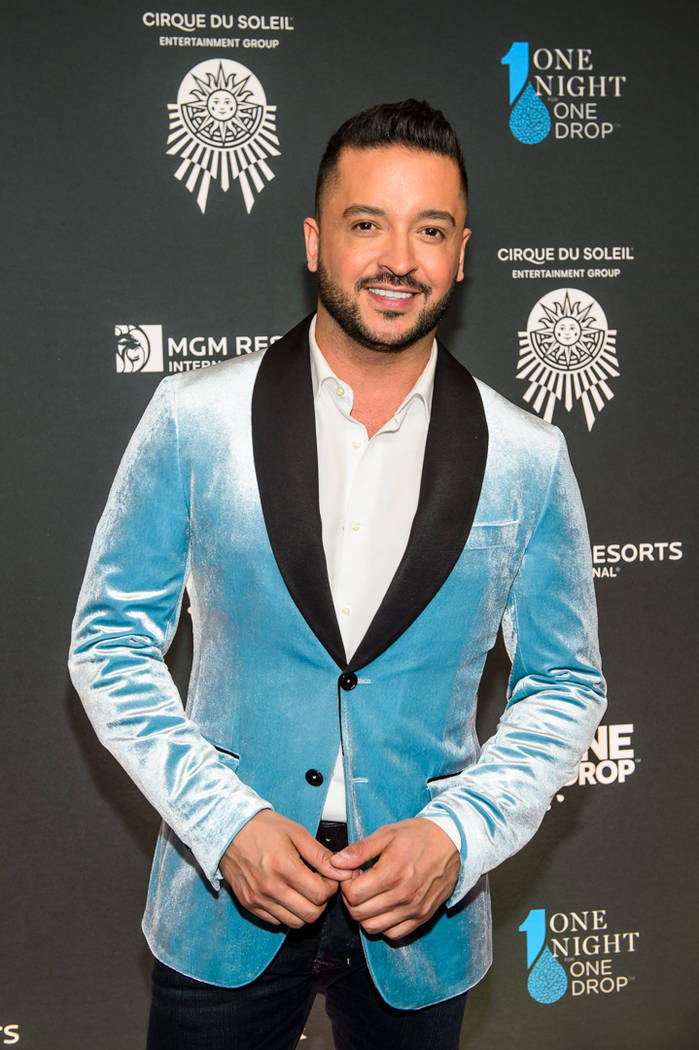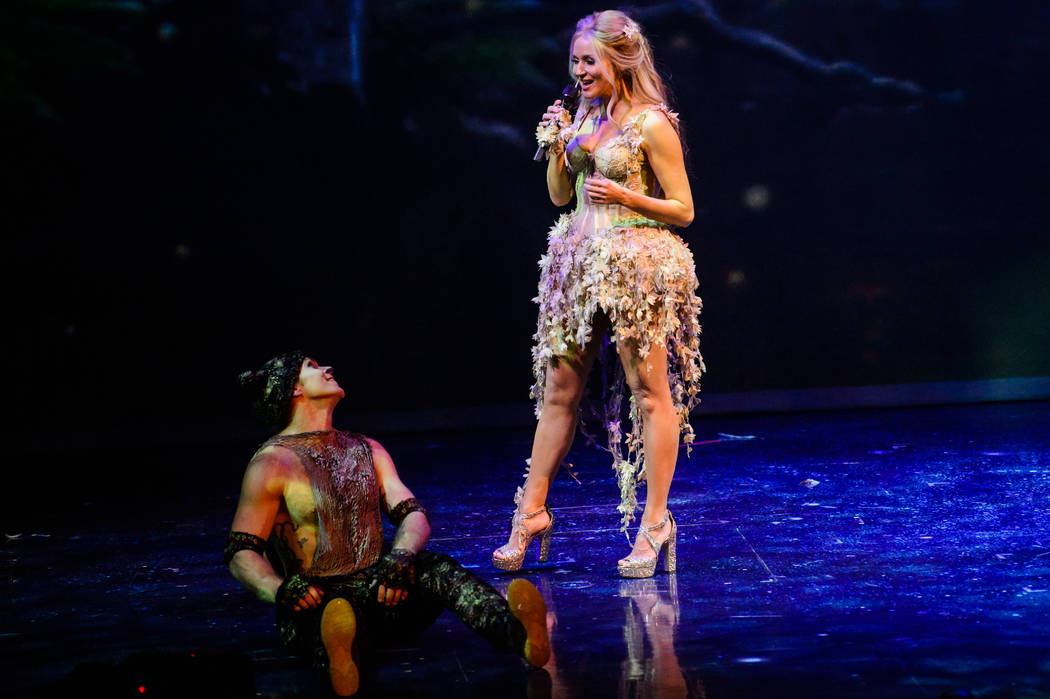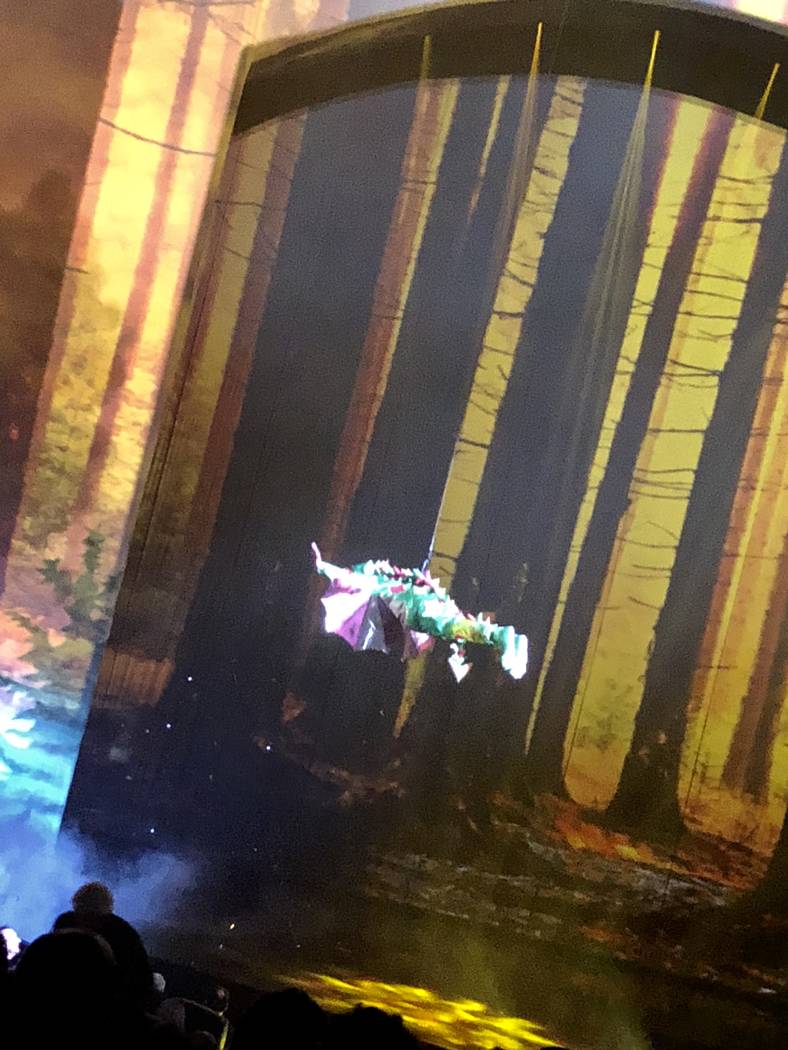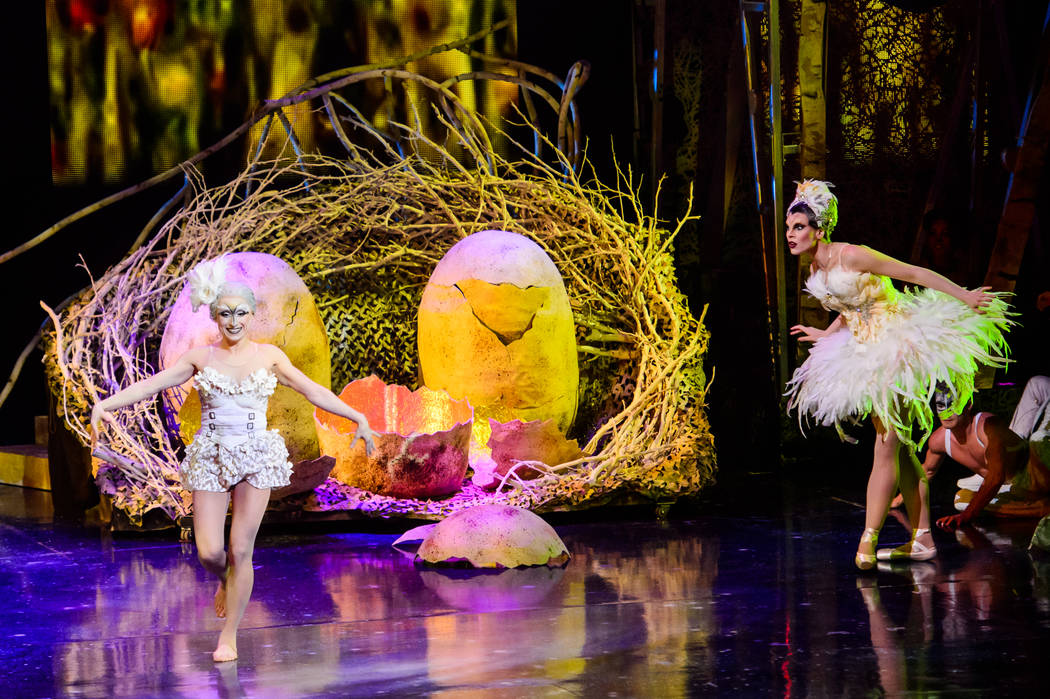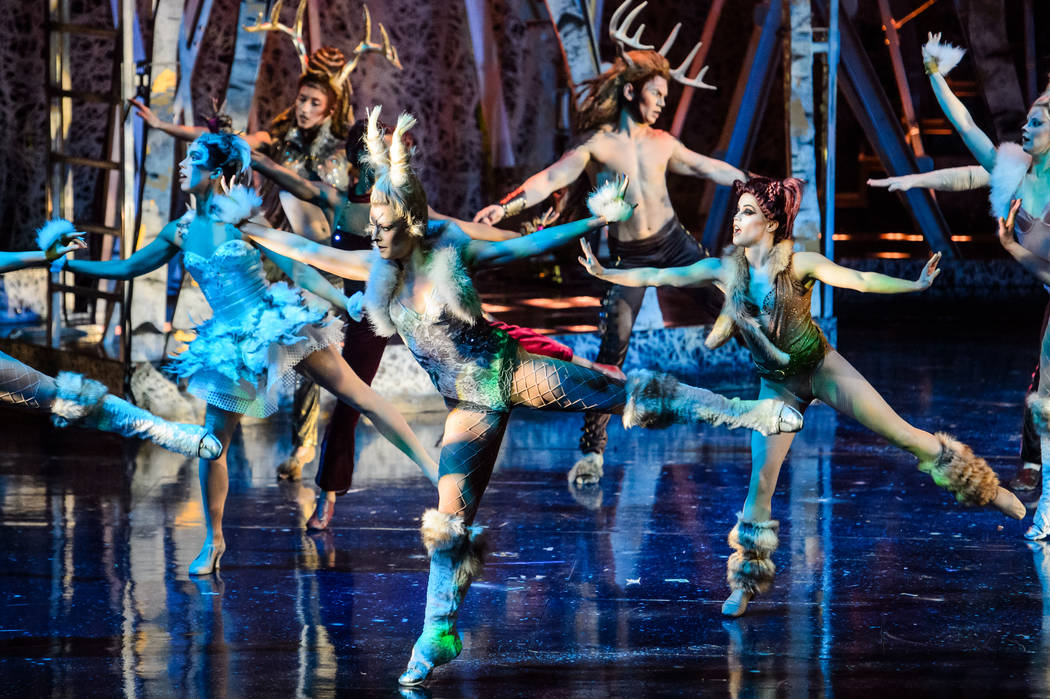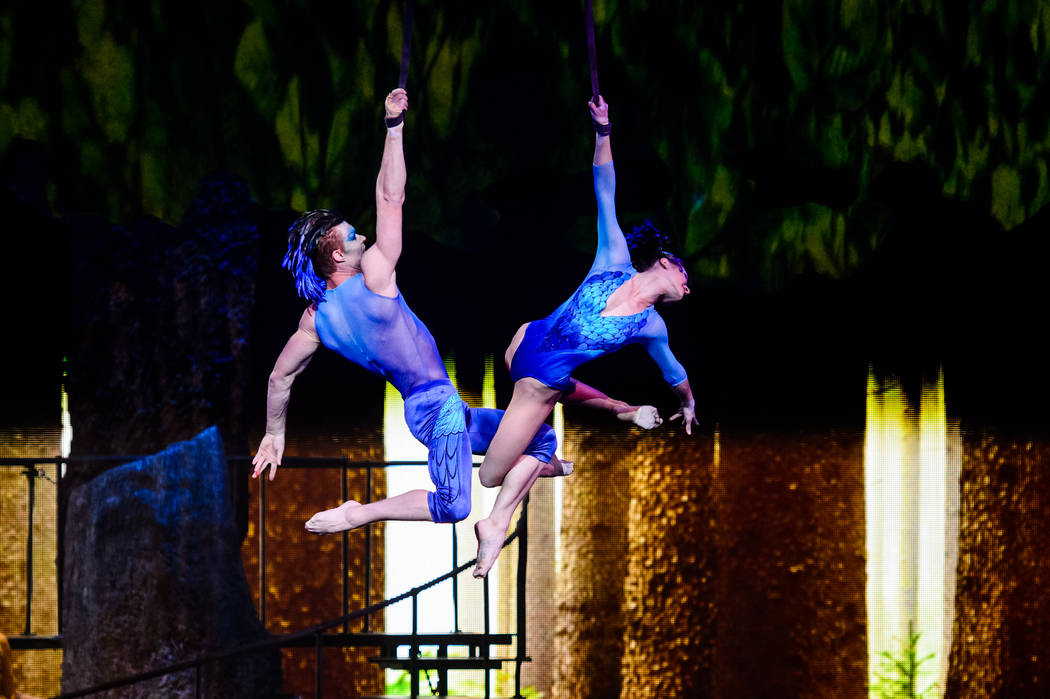 About the moment Piff the Magic Dragon descended to the stage while hooked to an aerial harness, we knew this was a show uncommon even by Cirque standards.
"I'm Piff the Magic Dragon," said the performer whose legal name is Jon van der Put. "You might have heard of my brother … Steve."
The line always kills, especially during a sold-out charity show.
The dragon-costumed Piff and his sidekick, the performing (well, kind of) chihuahua Mr. Piffles were among the featured artists who performed Friday in "One Night For One Drop" at Michael Jackson One Theater at Mandalay Bay. Inspired by and starring folk star, author and impassioned philanthropist Jewel, the one-off production raised money and awareness for Cirque's One Drop worldwide clean-water campaign.
The founder of the artistic company, Guy Laliberte, launched One Drop in 2007. Saturday was its sixth performance, dedicated to Jewel's life, music and message of giving. She performed throughout, beautifully costumed while singing "Foolish Games," "Hands," "Standing Still," "Save Your Soul," "Intuition" and "Mercy" amid vaulting Cirque acrobats.
Jewel, who has a home in Lake Las Vegas, plays Encore Theater on March 30-31.
More drops from the "One Night" scene:
A lift of spirits
Mandalay Bay President and Chief Operating Officer Chuck Bowling was in the mix throughout the evening. I caught up with him at the pre-party at roof-level Skyfall Lounge, where he spoke to the timing of the event.
"One Night" shows rotate among MGM Resorts properties, and the first production after the Oct. 1 shootings was coincidentally set for Mandalay Bay.
"It's fate," Bowling said, as the hotel's theater was selected soon after the 2017 "One Night" show at Zumanity Theater at New York-New York. "We needed a boost, and Cirque has given us one."
Nothing but net
Cirque artists performed a dazzling trampoline act, dunking after launching from trampolines on either side of the stage. It was familiar fare for those who remember the Bud Light Daredevils, who performed at halftime of NBA games in the 1980s and '90s. Cirque President and Chief Executive Officer Daniel Lamarre said at the lavish post-show party that "One Night" is a great testing ground for acts that might be inserted into permanent shows.
"We could use that act in one of our shows, from what I saw tonight," he said. "It was inspiring."
Already, we see cross-promotion possibilities. By happy coincidence, Las Vegas's new WNBA team begins play in May at — yep — Mandalay Bay Events Center.
The Jewel crew
As anticipated Jewel's family joined her onstage — including her father, Atz Kilcher; and 6-year-old son, Kase, who made his first stage appearance, costumed as a critter from Homer, Alaska and crawling at his mother's feet as she sang "Mercy."
About that music
Post-show, I asked Cirque artist Jean-Francois Blais, this year's "One Night" music director and composer, for his takeaway from the show.
"Working with Jewel, getting to know her," he said. "She's not just an amazing artist, but a very humble and gracious person. She's just very normal, but a brilliant person. I wasn't sure, at first, how this would go when they told me she would be so involved in the production, but it was great."
Dewhurst action
The husband-wife tandem of Nicky and Laetitia Dewhurst again directed a performance that was at least strong enough to perform in residency on the Strip. They also found a spot for the esteemed Brian Dewhurst, Nicky's 86-year-old father who portrays "Mystere's" clown character, Brian Le Petit. The elder Dewhurst has been a featured performer in past "One Night" shows, including last year's, but there were no plans for him to participate this year.
But as Nicky said, "I could tell he wanted to be in it, I asked him about it and he was like, 'Nah, not really.' But I could feel he was eager to do something." So on Wednesday, the Dewhursts conjured a cameo for the elder clown, purchasing a pair of long johns online with Nicky asking, "Dad, do you have any cowboy boots?" Brian wound up in a cowboy costume (in long johns) dancing a jig during the show's scene set in Thirsty Moose tavern.
"I found my way in!" he said afterward. "Was there ever a doubt?"
Penn's performance
Not everyone realized, at first, Penn Jillette was among the performers in the tavern scene. He juggled with the Cirque artists and even did a bit of dancing (best described as "freestyle choreography"). Apple co-founder Steve Wozniak, hanging at the bar, was also an unbilled performer in the scene.
Penn and Piff are planning to tour their "Piff & Pops" routine — they have developed more than an hour of material — later this year.
Oh, that party
Cee Lo Green performed a medley of "Crazy" and "Forget You" for a characteristically crazy Cirque after-party, set up in a reinforced tent behind Mandalay Place. The show sold out the 1,800-seat MJ One Theater; the turnout at the tent seemed to surpass even that number. The event was co-hosted by Edie of "Zumanity" (who just celebrated her 10th year in the show and is approaching 5,000 performances) and Jai Rodriquez, late of "Sex Tips" at Paris Las Vegas. Cast members of "Magic Mike Live" at Hard Rock Hotel also showed up, at around 1 a.m., to swing to Ginuine's "Pony."
John Katsilometes' column runs daily in the A section. Contact him at jkatsilometes@reviewjournal.com. Follow @johnnykats on Twitter, @JohnnyKats1 on Instagram.