Civillico garners an audience for Vegas, one weekend at a time
August 22, 2016 - 6:42 pm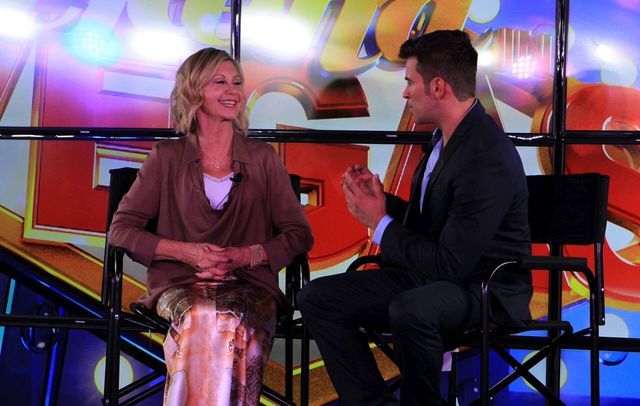 Introducing Las Vegas headliner Jeff Civillico at his annual Win-Win Entertainment "Headliners Bash" at Penn & Teller Theater at the Rio two years ago, Penn Jillette referred to the event's founder as, "one of the two most-successful jugglers in the world."
Jillette added, "I am the other."
Civillico laughed, because his 5:30 p.m. show at Bugsy's Cabaret in the Flamingo is not focused solely on juggling — he's a great comic and unicycle stunt artist, too. But he cannot escape that juggling description, as his latest away-from-stage project has him keeping multiple projects in the air.
He's just launched "The Weekend in Vegas," an hourlong show recorded each Thursday at 9 p.m. at the fountain at The Linq Promenade. The guest list for the Aug. 18 premiere was both robust and rangy, featuring Flamingo star Olivia Newton-John and Venetian headliners Human Nature and hip-hop icon Flavor Flav, who enlivened proceedings by bringing an order of Flavor Flav chicken from the Rockhouse in the Grand Canal Shoppes.
"Flav made me a little nervous," Civillico says. "I was looking out into the audience at the execs from Caesars. I think they were a little nervous, too."
"The Weekend in Vegas" tapings are free and open to the public, with the stage abutting the fountains and a live band positioned high on a scaffold above the set. The show streams on "The Weekend in Vegas" Facebook page, and a 30-minute version airs on KTNV-TV, Channel 13 at 2:35 a.m. Saturday, which is great if you happen to be rolling in from a night of revelry in VegasVille.
Otherwise, DVR it.
The show is backed by Las Vegas-based INS Productions, with an extensive history of film, concert, TV and live-event production. As Executive Producer Gary Harmon said in a statement: "Since we're in the Entertainment Capital of the World, we knew we had to create a show to highlight all the great things happening in this city. 'The Weekend in Vegas' captures red carpets, celebrity sightings, concerts, shows, restaurant and nightclub openings, and brings the Vegas experience to our viewers around the world."
Civillico is an apt helmsman for such a project. The venerable entertainer has earned a reputation as one of the city's more adept marketing minds and wide-ranging performers since arriving in Vegas in 2009 as a guest of magician Nathan Burton's comedy-magic show at V Theater at the Miracle Mile Shops.
The segments, recorded on location all around town, include the "Lucky 7," (a listing of weekend entertainment options), a "Music Minute" promoted by Live Nation, a "60-Second Wedding" focused on quickie nuptials, the "Taste of Vegas" restaurant spotlight and a "Give a Darn" Las Vegas charity feature (last week's episode featured ARTTEC, the INS-supported nonprofit that mentors high school students in production and provides professional on-the-job experience and training).
If it sounds like a whole pile of work, it is. Saturday, Civillico and his film crew interviewed Pablo Cruise (which is a band and not a person, kids) at Silverton, hit the Nevada Broadcasters Association awards event at Four Seasons, took in the AFAN Black & White Party at Aria, swung into Eva Longoria's Padres charity event at The Venetian honoring Carlos Santana.
And that high-RPM schedule did not include his own "Comedy in Action" show at Flamingo.
"It's nuts," Civillico says. "But we want to make sure this is not just a commercial for Caesars (Entertainment). Yes, I am at the Flamingo and it is my home, and we record at The Linq with the High Roller in the background, but we will have all properties represented."
The goal for "The Weekend in Vegas" seems simple enough.
"We're confident we'll have an hour spot in the fall, somewhere," Civillico says. "We took the half-hour opening with Channel 13 and (plan to) build from there. But we're not sold on network TV. We're looking at Netflix, AXS TV, distribution channels like that."
The content is abundant. That's a certainty. And if anyone can pull this off, it is the expert juggler.
John Katsilometes' column runs Saturday, Sunday, Tuesday and Thursday in the A section, and Fridays in Neon. Contact him at jkatsilometes@reviewjournal.com. Follow @johnnykats on Twitter.