Cleaners to the stars: Tiffany Couture changes hands after 50 years
Updated March 18, 2023 - 1:54 pm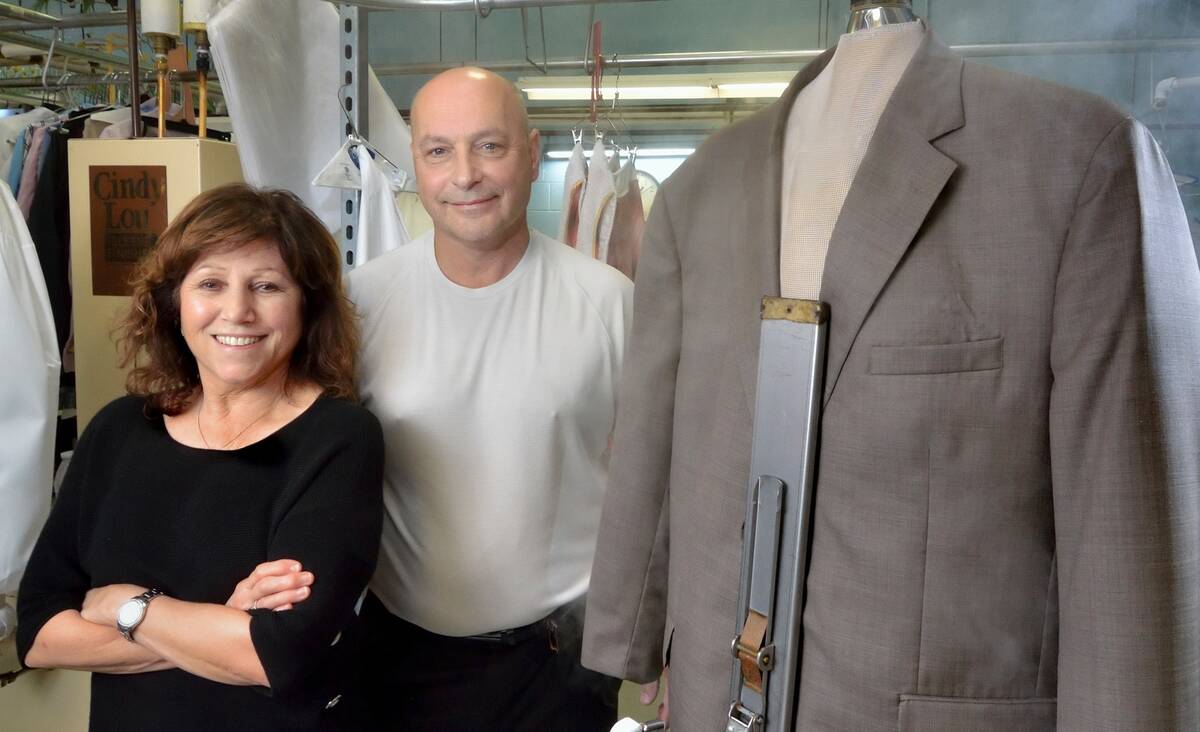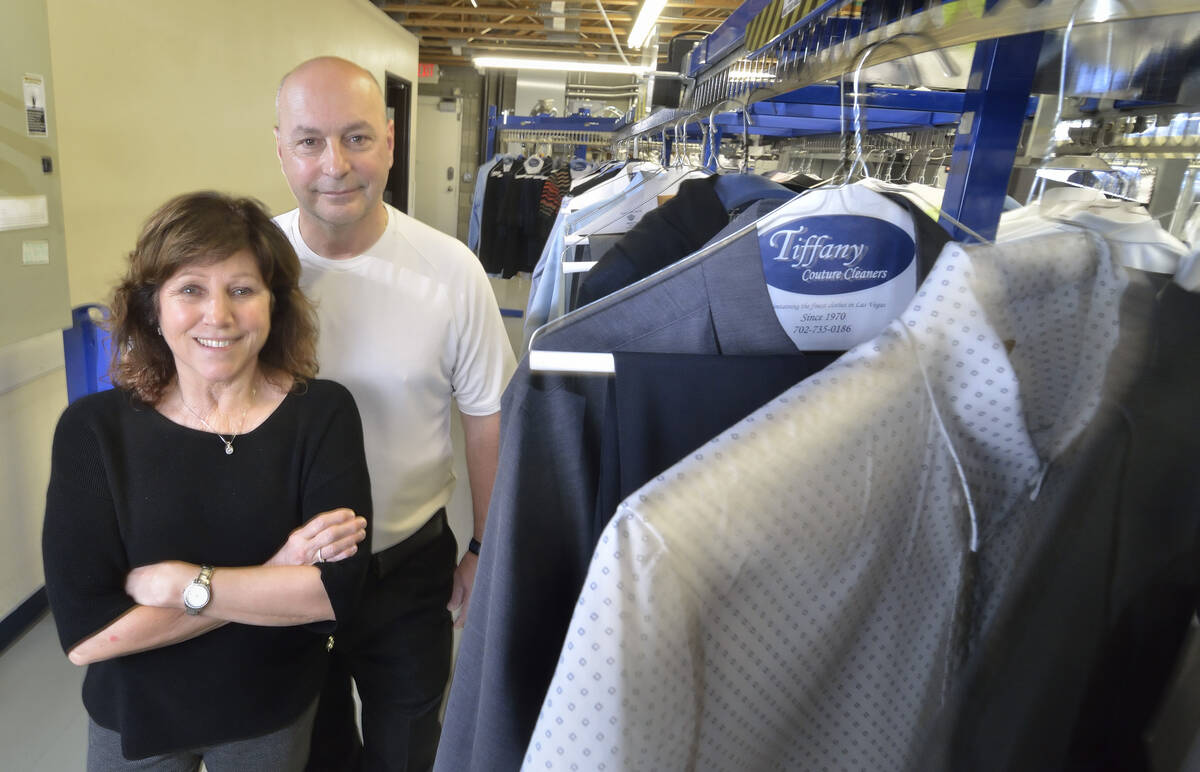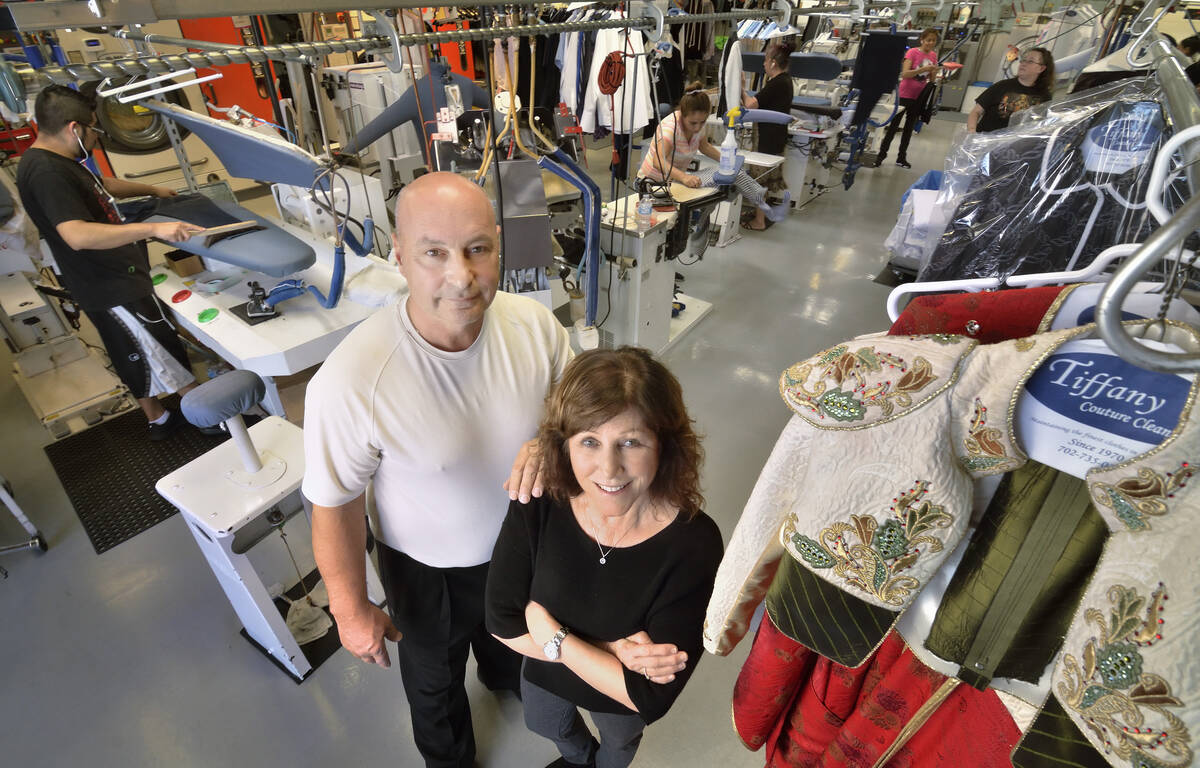 We return to the story, even today, of how I met Dan and Judy Del Rossi. It was some 21 years ago. I had walked the then-under construction Colosseum at Caesars Palace with a group of architects.
I wore a black-leather jacket that day. The rep who organized the tour, who was a friend of mine, stuck a name tag on the right-front of the jacket. I hadn't thought much of it until we finished the walk-through.
I peeled off that sticker, causing a clear, rectangular mark where the ink had been pulled up.
I asked a colleague how to repair this blemish. This was someone known to wear high-end clothes with high-end maintenance requirements. "Take it to Tiffany. Ask for Dan or Judy." I ventured to the Commercial Center, and ducked into the storefront next to John Fish Jewelers and just down the sidewalk from then-Onyx Theater.
Cut to the quick, Dan actually handled the jacket himself, working like an artist with fresh ink to make it like new. I've been a loyal Tiffany customer and friend of the Del Rossis ever since.
As such, it is with a hint of bittersweet nostalgia to report the Del Rossis have sold the family business, effective Feb. 28.
For the Del Rossis, it was simply a time to turn the business, and its history, over to someone new.
"We're both 64 this year, we're caring for ourselves, and we're still working hard because we don't know any other way," Dan Del Rossi said in a phone chat this week. "It came to a point where it didn't really make sense, we didn't really need it anymore. We just kept doing it just to keep things happening the way they were. We said, 'Let's see if there's any interest in it,' and there was."
About the buyers
The buyers are a pair of Air Force pilots and entrepreneurs, Ricardo Torres and Patrick Reven, who invested more than seven figures in the Tiffany Couture Cleaners buildings, equipment and property (the business uprooted from its Commercial Center location in 2015).
Torres flies the EC-130; Reven is an F-16 fighter pilot. Both are still active duty, captains in the Air Force. Reven is stationed at Shaw Air Force Base in Sumpter, S.C. Torres is stationed in Davis–Monthan Air Force Base in Tucson.
Torres and Reven met in pilot training about eight years ago. They share a passion for finance and real-estate investment. The entered into a business partnership, and delved into the real-estate industry about three years ago. Today, they own a couple of apartment complexes and a laundromat in Tucson (which will get a chuckle from hardcore Steve Martin fans). Now they own a Las Vegas institution.
"We're kind of a bit of a strange breed. We've gotten our hands involved in a lot of different things," Torres said in a phone chat Friday. "Now our heart and soul is in Tiffany."
Reven and his wife, Kristin, plan moving to Vegas in two months. Torres will work remotely. His wife, Abby, has an IT background and runs that department for the business.
"I'm just super privileged to be in this position. Dan and Judy have essentially allowed for us to be the buyers, because I know there were lots of competing offers on the table," Torres said. "And the the approach that we took was that this is a family affair for all of us."
The buyers will keep all the Del Rossi family photos and their many "Best of Las Vegas" awards on the walls of the production plant.
Long-running business
The sale closes out a five-decade run for the Del Rossis with the familiar, scripted Tiffany moniker. The family bought the business, with its existing name, in 1973. Judy's father, Ed Germano, and her uncle Emilio Germano were the original operators. Dan and Judy took over in 2005.
The idea was for Emilio to stay on indefinitely and teach Dan and Judy the family business. But he died suddenly of a heart attack in July 2007. The Del Rossis assumed full control of a business they felt they weren't quite ready to run.
"It was sink-or-swim for us for a while after Emilio died," Judy Del Rossi said. "But we have always worked very hard and believed in what we were doing, serving the community."
The Del Rossis were not only the community's dry cleaners, but also the cleaners to the stars. Over the decades, they've cleaned and repaired costumes from Cirque du Soleil productions, "Absinthe" at Caesars Palace, "Jersey Boys," "Monty Python's Spamalot" at Wynn Las Vegas and "The Producers" at Paris Las Vegas. Once, my own order was hanging next to the Lady of the Lake and King Arthur costumes from "Spamalot," and Wayne Newton's tux from his show at the Flamingo.
More recently, they were delivered Mariah Carey's gown she wore in her Christmas show. Touring shows at the Smith Center bring their items to Tiffany. And Bruno Mars' stage clothers are in the plant, right now.
The Del Rossis say all of the shows and entertainers hold a special memory, in each unique way.
"For me, it was many years ago getting to clean for the Donny & Marie show," Judy Del Rossi said. "Donny was a teenage idol to me, and I became star struck and had to try his jacket on. I eventually went to his show and was invited backstage to meet him and Marie, and he was the most genuine, down-to-earth entertainer we ever meet. He made us feel like the superstar, not him, just for cleaning his clothes."
Dan was impressed when he received a few items from a Paul McCartney tour stop. "Nothing special about the clothes, just about the legend who was wearing them," he said.
The new owners love these stories. They've gotten to know the Del Rossis, and are eager to take their position in the Vegas community. The families celebrated with a dinner at Italian American Club on Feb. 27, with the Del Rossis passing the torch — an actual trophy — to the incoming owners.
"My wife and I, and Pat and his wife, will do everything in our power to provide the same care that Dan and Judy have provided to the employees and to the customers at Tiffany," Torres said. "We're super-excited. It's the start of a beautiful journey."
John Katsilometes' column runs daily in the A section. His "PodKats!" podcast can be found at reviewjournal.com/podcasts. Contact him at jkatsilometes@reviewjournal.com. Follow @johnnykats on Twitter, @JohnnyKats1 on Instagram.