Clint Holmes, Earl Turner open 'Soundtrack' at Westgate
Updated January 17, 2018 - 6:32 pm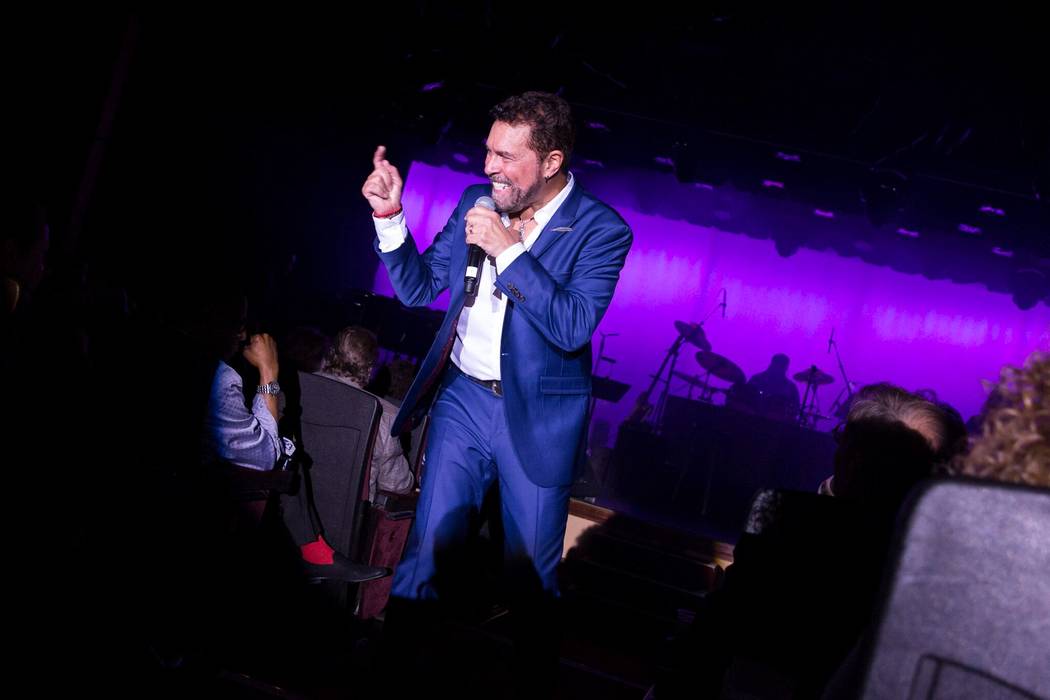 This soundtrack has passed "The Rainbow Test."
Earl Turner explains.
"A few weeks ago we were talking about what a set list for this show would be, and Clint started singing, 'Somewhere Over the Rainbow,' kind of randomly," Turner says, referring to his close friend and, now performing partner Clint Holmes. "It's a song everyone knows that touches everyone. We decided then that every song we do for the show must pass 'The Rainbow' test."
Thus is the template for "Soundtrack: Your Songs. Our Story. The Show," the latest production show booked at International Theater at Westgate Las Vegas.
The open-ended production launches Feb. 14 and runs at 7 p.m. Thursdays through Saturdays. Tickets are $48, $58, $78 and $98 (not including fees) and are on sale at the Westgate box office at 800-222-5361, online at westgatelasvegas.com.
Though Holmes and Turner are doubtless kindred spirits, they have not co-headlined a residency show in Las Vegas. They've long bounced the idea around, and the general idea for "Soundtrack" was hatched about four years ago. At the time, Holmes and Turner had just performed together for a single weekend at Myron's Cabaret Jazz at the Smith Center, where they showcased their natural banter and innate capacity to interpret familiar songs.
So expect the two to share the International stage, and the spotlight, through most of this show.
"With these types of shows, you get one person doing a few songs, then leaves, then the other person does a few songs, then leaves," Turner says. This is not that, at all. We'll probably do 80 percent of the show together."
The duo have been working on material for about six weeks, and the tweaking and fine-tuning will certainly continue after the show opens.
"Earl and I are friends, great friends, we respected each other's work ethic for a long time," Holmes says. "For all of our careers, we have been on our own, and now it feels like we're ready to do this."
Holmes says the two will need to allow space for the other to be at the center of the stage.
"We don't plan to be in each other's way," Holmes says. "We do plan to complement each other, and play off each other."
The duo met in the early 1990s, when Holmes was opening for Don Rickles at Golden Nugget Showroom and Turner was in the audience. The two showmen share a deep passion for traditional live performance in all of its forms and admire many of the same artists.
The show's inspirations reflect that passion. Holmes and Turner will perform hits from an array of artists, with Michael Jackson, Al Green, Bruno Mars, Blake Shelton, Bill Withers and Irving Berlin in play. Expert arranger and multi-instrumentalist Christian Tamburr, who has helmed Holmes' bands in recent productions at Palazzo Theater and Golden Nugget, is directs the show's eight-piece lineup. Serena Henry, who has toured with Smokey Robinson and Gladys Knight, is the highlighted backing vocalist.
As Turner notes, the pairing fits into Westgate's plans to return more traditional star headliners to the venue Elvis helped make famous. Any day now, Barry Manilow is expected to finally be announced as the hotel's resident superstar attraction, performing three weekends a month through 2018.
The return to star policy at the International Theater is a clear departure from such madcap adventures as "Twisted Vegas," a parody show that never caught on in that same venue, closing a four-month run in May 2016. Purple Rain, the popular Prince tribute act, did have some success at the International before pulling out and moving into Tropicana Theater in November.
The venue is big, for sure — 1,500 total capacity, but will seat 650 for "Soundtrack."
The "Soundtrack" announcement arrives at a particularly percolating time for Holmes, nominated for a pair of Grammy Awards for arrangements from his "Rendezvous" release. Holmes is currently headlining road dates in Florida, ahead of the Grammys telecast Jan. 28 from Madison Square Garden.
Holmes has headlined at a host of Vegas venues since opening at Golden Nugget for Steve Wynn in 1999. His stops have included a six-year run at Harrah's, followed by engagements at the Smith Center, Palazzo, Suncoast Showroom, South Point Showroom, and M Resort, where he performs again Feb. 17 — just three days after "Soundtrack" opens.
Turner's career dates to the days of the Dunes. He headlined that hotel's lounge in 1989, and jokes, "A lot of the places I've played are not around anymore." He's performed at Desert Inn, Luxor, Excalibur, Caesars Palace, Riviera, Rio, Las Vegas Hilton (now Westgate), Suncoast, South Point and Smith Center. In other words, the usual Vegas haunts, past and present.
"I joke that a lot of the places I've played don't exist anymore," Turner says. "But this is a show about two guys who have known what it's been like, over the years, in Las Vegas. Because we were there, and we're here now."
John Katsilometes' column runs daily in the A section. Contact him at jkatsilometes@reviewjournal.com. Follow @johnnykats on Twitter, @JohnnyKats1 on Instagram.