Clint Holmes-Frankie Moreno: Great for fans, a challenge for the stars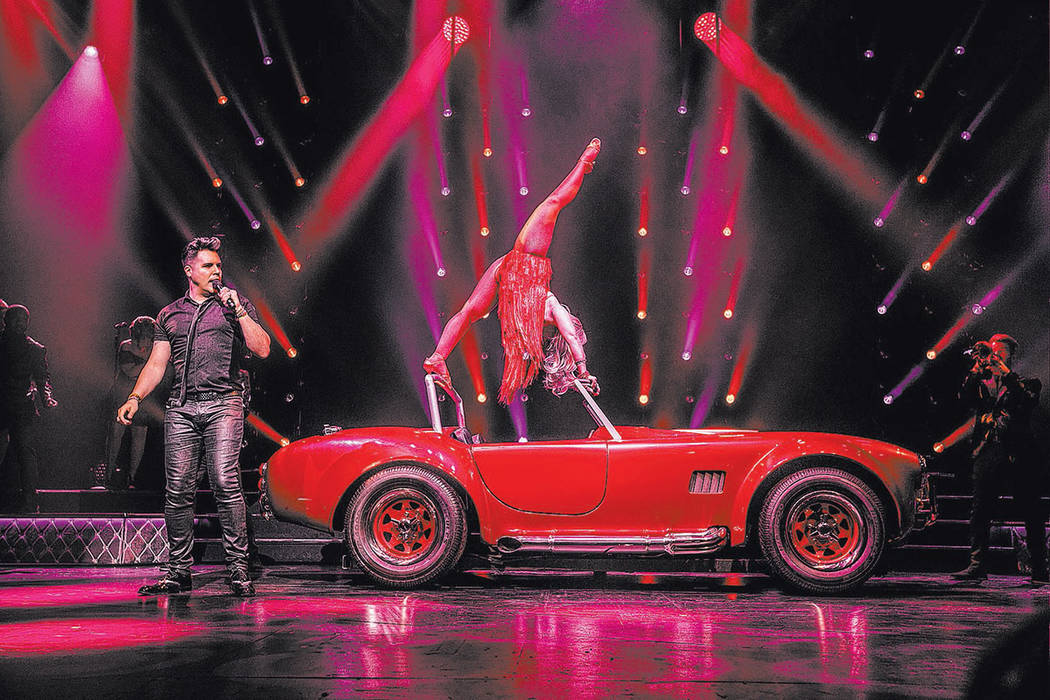 Notes, news and the muse from around VegasVille:
Take Two at Golden Nugget
It's great for fans and the hotel, but a real test of logistics and marketing for two top showmen.
We speak of the Clint Holmes-Frankie Moreno dual occupancy of the Showroom at Golden Nugget. On May 9, marking his 71st birthday, Holmes is back at the hotel where his Las Vegas residency began in 1999. He's to play 8 p.m. Tuesdays and Wednesdays, with something of a birthday celebration marking his opening night.
Meanwhile, Moreno has just added Saturdays to his schedule. He's at 8 p.m. Thursdays and Saturdays, the shows straddling the 52 Fridays concert series (with The Association headlining this Friday and The Romantics on April 21).
The Holmes move to Golden Nugget was fast developing and caught most observers, including Moreno, by surprise. Before Wednesday's stunner, he'd been talking of expanding his schedule in the venue; he could conceivably take the Friday slot if and when 52 Fridays times out, or add Sundays, if sales warrant.
Holmes' camp, too, is already reviewing the schedule — hypothetically and over the long term — to build on his new two-show-per-week rotation. Holmes' manager who brokered the contract at Golden Nugget, Ken Henderson of Best Agency, is clearly establishing the foundation for Holmes to expand his shows at the Showroom.
"Clint has name recognition downtown, and also fits the demographic of the Golden Nugget very well," Henderson says. "This will come down to how these shows perform."
Holmes and Henderson were actually close to locking in a deal at Sands Showroom at The Venetian for performances on Sundays and Mondays before Henderson initiated talks at Golden Nugget (Holmes' current contract with the hotel runs through the end of August). But the shift of strategies has led to a double-headliner lineup at the Showroom, an unexpected outcome. How the venue will be utilized by these two top performers, will ultimately be dictated by ticket sales.
These are two very marketable artists, of course. There are great cross-promotional opportunities, as Moreno and Holmes have joined each other onstage at the Smith Center and elsewhere, and also happen to be friends. But this is a business, as we are reminded, and those who buy tickets to the Showroom will determine the ultimate verdict in this uncommon arrangement.
Comedy inaction
Jeff Civillico was to have re-opened his show at Paris Las Vegas about 10 days ago. He hasn't, and the status of his show is unannounced at the moment.
Civillico, the master juggler and unicyclist who pilots the highly entertaining "Comedy in Action" production, left Bugsy's Theater at Flamingo Las Vegas after undergoing knee surgery on Halloween.
Upon recovery, Civillico had planned an early February return to the Flamingo. He then announced he'd ended his run at Bugsy's and was to move into Anthony Cools' cozy theater at Paris, with an April 4 opening announced. But no tickets are onsale, and no official word yet from anyone involved on what, if anything, is happening with "Comedy In Action."
Visit from the 'Vette
The Prince tribute act Purple Reign is hosting a special, VIP-media performance at Westgate Las Vegas' International Theater on Friday night. Nearing the one-year anniversary of Prince's death on April 21, the show is a way to remind fans, VIPs, media types and would-be entourage members that the act is a killer. Jason Tenner has performed as Prince for 20 years in VegasVille and has this stuff down.
You'll notice, likely, a vehicle related to the show in the Westgate lobby. It's a red Corvette, on loan from Planet Hollywood "Celebrity Magician" Murray Sawchuck. It's a 1973 Stingray, a beautiful vehicle that Sawchuck purchased five years ago when he started his run at Tropicana.
It's a sweet ride, worth writing a song about …
Early Britney wax action
A newly outfitted wax figure of Britney Spears is being unveiled at 6:30 a.m. at the Welcome to Fabulous Las Vegas sign on Friday morning. Madame Tussauds Las Vegas is showing off a statue in an outfit inspired by Spears' "Piece of Me" shows at Axis theater at Planet Hollywood. The updated figure is a way to remind fans that just 18 performances remain for Spears in her Axis residency. "Piece of Me" closes on New Year's Eve.
John Katsilometes' column runs daily in the A section, and Fridays in Neon. Contact him at jkatsilometes@reviewjournal.com. Follow @johnnykats on Twitter, @JohnnyKats1 on Instagram.