Criss Angel returned to the Luxor stage Saturday night after faltering during Friday show
March 10, 2017 - 11:53 pm
Updated March 12, 2017 - 11:35 am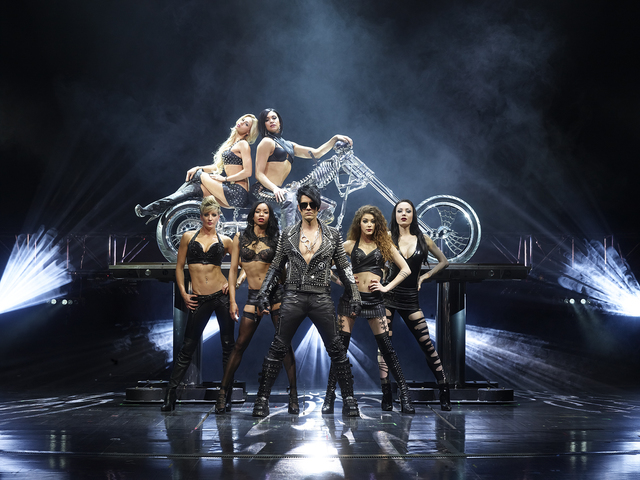 "MindFreak Live!" performances resumed Saturday at the Luxor, a day after the show was abruptly canceled after magician Criss Angel faltered during one of his signature acts.
A statement issued Saturday on Angel's behalf said the star lost consciousness about 15 minutes into the performance, while suspended above the audience wearing a straitjacket and hanging by his feet. His body reportedly stopped moving and he was slowly lowered from his position. The show was then canceled.
Angel was evaluated overnight at Spring Valley Hospital Medical Center and released Saturday morning.
An email sent to the "Mindfreak" cast and crew said that the shows would continue as scheduled, with performances set at 7 p.m. and 9:30 Saturday, according to a source familiar with the communication.
"I'm gonna try it again," Angel texted later. "I'll give it 100 percent."
An unconfirmed report from a source close to the production suggested that Angel suffered dehydration and suffered what magicians and acrobats call a "head rush."
The cancellation and subsequent reports of Angel's trip to the hospital touched off a swirl of activity across social media. No statement was issued by Angel, his production partner Cirque du Soleil, or MGM Resorts International until just after 2 p.m. Saturday.
"He is grateful for the outpouring of love and concern from his fans around the world," the statement read.
Because of Friday's events, Angel and his young son, Johnny Crisstopher, did not attend a scheduled appearance Saturday morning at a Walk for Wishes charity event.
Angel had planned to donate $100,000 in-person to Make‐A‐Wish of Southern Nevada during the Town Square event hosted by Dana Wagner of KSNV Channel 3. Instead, a donation was made in his absence by a representative from Angel's HELP nonprofit organization that helps fight pediatric cancer.
The 49-year-old headliner has struggled with his straitjacket act before. He suffered a shoulder injury while performing a similar routineabove Times Square in New York in October 2013. Angel underwent surgery the following January to repair torn muscles in that shoulder, forcing a 10-week hiatus of his stage show, at the time named "Believe."
Angel prides himself on his fitness, work ethic and durability. Before he was sidelined with his shoulder injury, he had performed more than 2,100 shows over five years without canceling a performance.
FATOR'S ALL-STARS
Celebrating his eighth anniversary at the Mirage on Monday, Terry Fator has added Sir Elton John to his lineup of puppets. Expectmore superstars, living and otherwise, to join Fator's cast of characters.
"I'm being asked to perform in China, Japan, and I know no other language than English," Fator says. "I need to have a show thatreaches audiences that don't speak English, and that's why I added Elton and am thinking of some others, too."
Fator is planning a Michael Jackson puppet, hearkening to the pop icon's "Thriller" period. Fator already unveiled a David Bowie character over the holidays to resurrect "Little Drummer Boy" with his puppet Bing Crosby. "If you look at someone like a Bruce Springsteen, their music is universal," Fator said. "It makes it so much easier to reach an overseas audience."
Fator is also changing his format, performing a "Terry Fator Show" similar to Johnny Carson's " Tonight Show." The ventriloquist-impressionist will invite his puppets to the stage as guests, with bandleader Bill Zappia as Fator's Ed McMahon.
"I learned how to do ventriloquism by impersonating Johnny Carson," Fator says. "I've come full circle."
A REAL RUSH
Guitar great Brad Gillis of Night Ranger and, prior to that, Ozzy Osbourne's backing band, ducked into Rush Lounge at Golden Nugget on Friday nightand raged through Ozzy's classic "Crazy Train." Gillis and Night Ranger played a free show at Third Street Stage for RaceJam.
The backing band was the Rush Lounge house band, Rock This Town, which is always a rockin' time, even when Gillis is not in the room.
WHO WAS WHERE
A bit late but worth the wait: On March 4, comedy legend (and a wonderful breakfast companion) Shecky Greene at Marilyn Maye's show at Cabaret Jazz at the Smith Center … "Dirty Jobs" TV series host Mike Rowe at the 8 p.m. show Friday night at "Absinthe." …Penn & Teller, performing "The World's Most Expensive Card Trick" Saturday on the Strip in front of Caesars Palace. The trick was broadcast on the marquee of "Bally's" for an upcoming episode of "Fool Us."
Note: This versoin of the column corrects KSNV-TV's channel number, which is channel 3.
John Katsilometes' column runs daily in the A section, and Fridays in Neon. He also hosts "Kats! On The Radio" Wednesdays at 8 p.m. onKUNV 91.5-FM and appears Wednesdays at 11 a.m. with Dayna Roselli on KTNV Channel 13. Contact him atjkatsilometes@reviewjournal.com. Follow @johnnykats on Twitter, @JohnnyKats1 on Instagram.