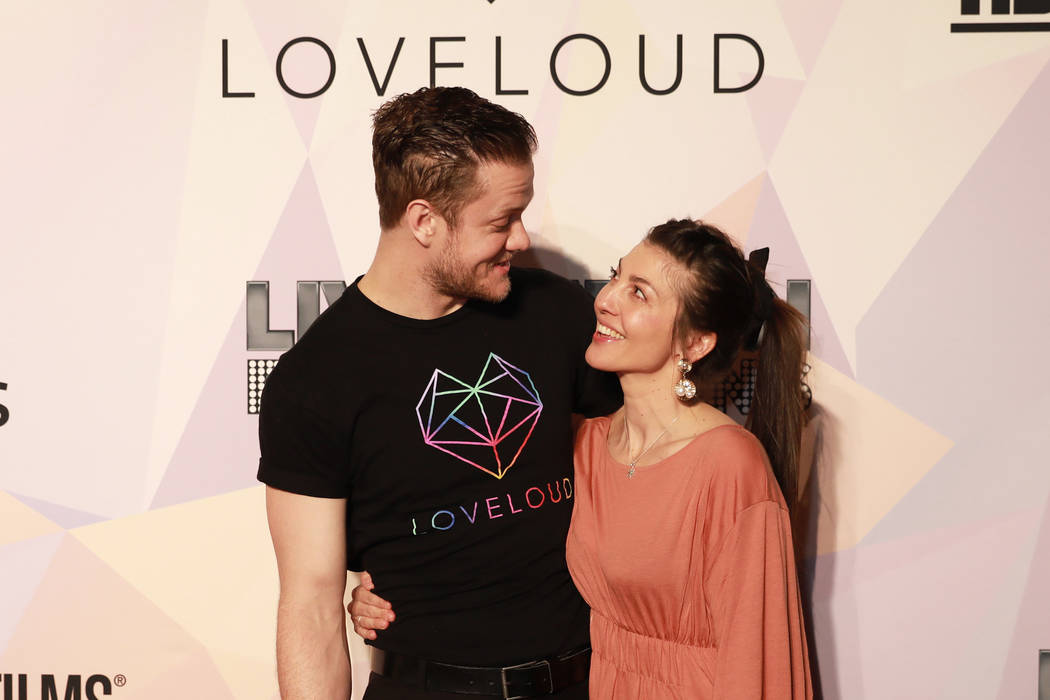 During Imagine Dragons' thunderous live performances, frontman Dan Reynolds often slams a giant bass drum.
Reynolds is beating the drum again, with love and louder than ever.
Reynolds is rolling out his new documentary, "Believer," which screened Thursday night at KÀ, Theatre at MGM Grand. The film premiered at Sundance Film Festival in January and will be shown on HBO in June. HBO Documentaries acquired the film's TV rights from original producer Live Nation Productions.
The film brazenly chronicles Reynolds' experiences wrestling with his faith as a member of the LDS Church, as his personal beliefs run counter to the religious organization's well-documented opposition to gay couples and same-sex marriage.
"Believer" was directed by veteran filmmaker and musician Don Argott, with Dan's brother Robert Reynolds a co-producer. The film effectively examines LDS Church policies regarding same-sex attraction, and allows viewers to hear and see the stories of disaffected Mormon youth. The movie also spends significant time on the development of the LoveLoud Fest, held in August at Utah Valley University in Orem. Reynolds friend Tyler Glenn of Neon Trees, who was raised Mormon but is no longer active in the church, is featured prominently in the film (including Neon Trees' performance at LoveLoud).
The film was met with a standing ovation Thursday at the MGM Grand, just as it had been at Sundance. Before the screening, Reynolds and his wife, Aja Volkman, talked about the film's development and message. Highlights of that chat:
The "re-knocking" of the door: Reynolds spent two years in Nebraska on his Mormon mission. Thus, as a teenager, he promoted the very church positions he opposes in his film.
"I opened a little white handbook and taught out of it that God said it was a sin to be gay," Reynolds said. "Of course, I have so much regret about those two years in that specific regard. There was also a lot of beauty that came out of those two years, though. So, do I wish I could re-knock on those doors and tell them that God loves them and they are accepted and if there is a God, then their love is just as valid."
"This is not an attack." Even by enforcing a clear opposition to some long-held LDS Church policies, Reynolds says, "It's not an attack on any religion; it's just a coming together to say we need to do better. It's not about religion. There are still people with no religion who don't accept LGBT youth."
No fear in repercussions: Both Reynolds and Volkman, herself a top-flight artist as a member of the alt-rock band Nico Vega, say they are not afraid of public backlash. " You can't please everyone anyway. If you live life that way, you're just a miserable person," Volkman said. "You have to do what's right in your heart and stand up for people that don't have that platform for themselves."
Reynolds added, "I'd rather offend people and make change and save a life along the way than sit back and eat vanilla ice cream and be a rock star."
"What do I do now?" Reynolds and Volkman met in 2010 when Imagine Dragons and Nico Vega co-headlined a show at the since-closed Wasted Space rock club at Hard Rock Hotel. Neither felt they would become famous. "We didn't get into this to make bucketloads of money and party at clubs and do things like that," Reynolds said. "It just so happened that Imagine Dragons blew the hell up in this crazy unexpected way. It was like hitting Megabucks or something. So, the question was, 'What do I do now?' and this is what we're doing."
Arrow's flight: The couple's 5-year-old daughter, Arrow, has already seen the movie three times.
"She doesn't fully understand it, but she understands some of it and that will come in time," Volkman said. Reynolds added, "This film is a film for families to watch together. There's no age your child needs to be to watch this, and I think it's pretty essential conversation, no matter how you go about it."
A PR quandary: Reynolds says he still considers Mormonism his religion, culture and life. During Thursday's post-screening Q&A, he was asked if releasing a film that disagrees with LDS doctrine might get him excommunicated from the church.
"To be honest, they would never do it," Reynolds said, "because it would cause a PR nightmare."
John Katsilometes' column runs daily in the A section. Contact him at jkatsilometes@reviewjournal.com. Follow@johnnykats on Twitter, @JohnnyKats1 on Instagram.