Daniel Emmet's duet with Placido Domingo is operatic finale to 'AGT'
Updated September 20, 2018 - 5:05 pm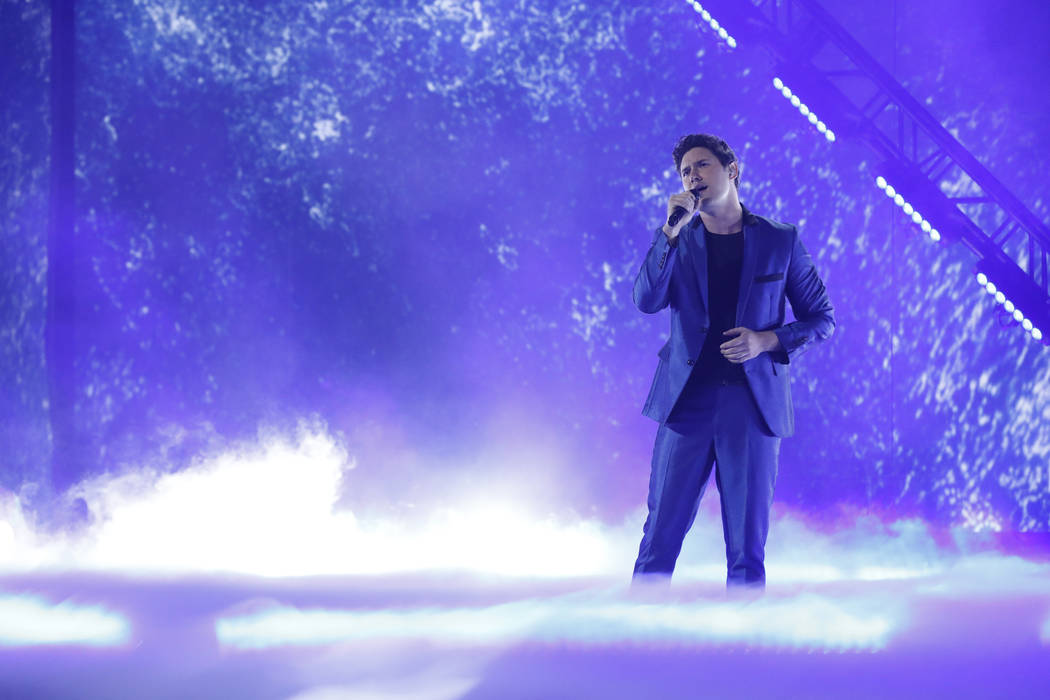 Well, this was some consolation prize.
Daniel Emmet did not win the championship "America's Got Talent" on Wednesday night. But as he said in a phone chat late in the evening, "I got to sing with Placido Domingo in front of millions of people on the Dolby Theater stage. I'm sitting here and I still can't believe that happened tonight."
"This has been an unforgettable, incredible ride of a lifetime."
Shin Lim, a dazzling, 26-year-old magician (who has twice performed on Penn & Teller's "Fool Us" series, with his first appearance drawing more than 52 million YouTube views), was named the Season 13 champion. Singer Michael Ketterrer came in fifth; comic Samuel J. Comroe, fourth; violinist Brian King Joseph, third; and acrobatic dance troupe Zurcaroh, second. In a moment of triumph and solidarity, the dancer hoisted Lim after Tyra Banks announced him as the Season 13 champ.
Aside form reaching millions of viewers over the summer, Lim earns the first-place prize of $1 million and a show in Las Vegas. An "America's Got Talent" all-star series, fronted by the new champion, is scheduled for Paris Theater on Nov. 2-4. Emmet is not in that lineup, which will also showcase comic Vicki Barbolak, Comroe, Joseph, funk/rock favorite Courtney Hadwin and acrobats Duo Transcend. Tickets go on sale Friday at Ticketmaster.
Emmet, a performer in "The Cocktail Cabaret" at Cleopatra's Barge at Caesars Palace, officially placed in the top 10 finalists and did not move on to the top five in Wednesday's finals broadcast.
No matter. The 25-year-old pop-opera vocalist was paired with an artist who is a legend among opera singers. The two sang the "Pearlfishers Duet" from the opera of the same name.
"I grew up listening to Placido Domingo, I grew up listening to him," Emmet said. "He is one of the people I grew up listening the most to."
Sung in French (Emmet famously sings in seven languages), the two voices blended magnificently even as Emmet had trouble holding character during the song's opening stanza.
"The song starts out seriously, but I had a big ol' smile on my face," Emmet said. "I couldn't help it. Having him be next to me supporting me meant everything to me. It was a dream."
Emmet survived a thrill ride to make it through to Wednesday's finals. In his auditions, he was cut off midway through his original song "Amante" as judge Simon Cowell directed him to learn and perform "Passera" (by Il Divo) in an hour. He was later dismissed in the quarterfinals after singing a stellar "Caruso," in traditional Italian, only to be brought back as a wild card after a viewers across the nation protested his ouster on social media.
Two weeks ago he held on through a Dunkin' Save, where viewers can vote for an act to during the telecast to be held through to the semifinals. Emmet was saved once more by the judges last week, the decision announced theatrically on the air by Howie Mandel, to reach the final 10.
"I had some serious ups and downs," he said, "but it was worth every minute of it."
Admittedly not an overly melodramatic person, Emmet was asked if all those theatrics were created for the broadcasts to add tension for the TV audience.
"Being in the heat of the moment, I don't know if it was created, but I have worked very hard to showcase my talent," he said. "They threw every obstacle in the book at me and I overcame them to make it to the finals."
Emmet was especially, and consistently, grateful to the producers of "AGT" for giving a Las Vegas talent a chance to soar on a network TV show.
"I have the drive, the fight and my dream," he said. "I'm grateful to have learned that about myself in this process. I'm grateful for everyone across America who carried me through."
What's next?
"I'm going to keep hustling and working," Emmet said. "I've got a taste of it now. I'm not going to let it go."
John Katsilometes' column runs daily in the A section. Contact him at jkatsilometes@reviewjournal.com. Follow @johnnykats on Twitter, @JohnnyKats1 on Instagram