Daytime Stage delivers the goods at iHeartRadio Music Festival
Updated September 23, 2018 - 6:18 pm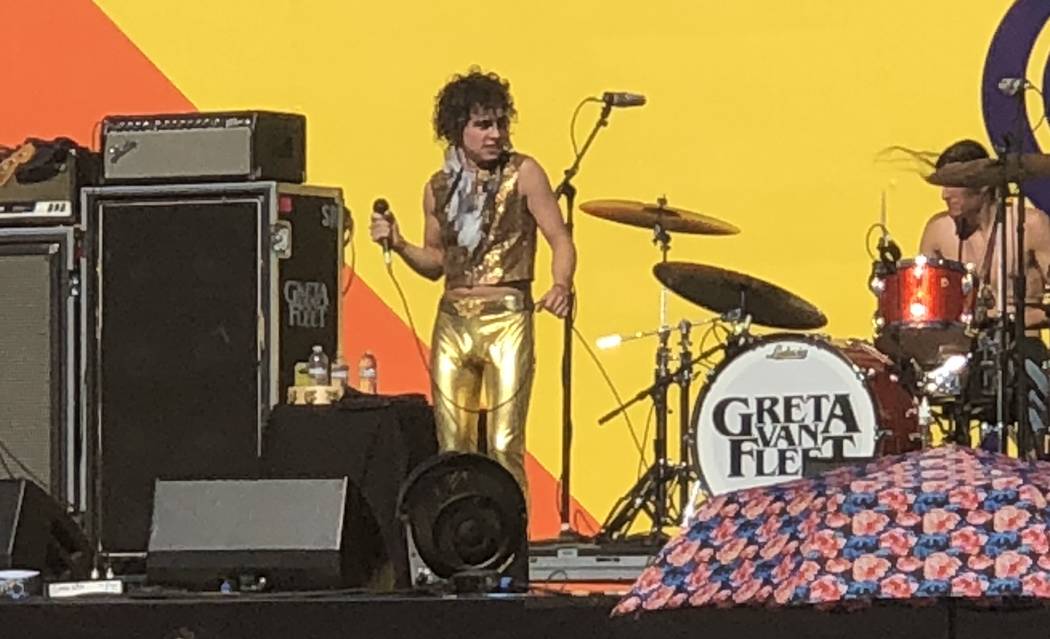 The Kats! Bureau at this writing is the bowels of T-Mobile Arena. That sounds far more harrowing than it actually is. It's just a padded folding chair in the media center for the second and final night of iHeartRadio Music Festival.
Earlier in the afternoon I waded into the festival's Daytime Stage at the Las Vegas Festival Grounds, on a hunt for music, newsmakers and water. I found it all.
Daytime Stage was the first large-scale music festival on the Strip since Oct. 1, and the first such event at the Festival Grounds since the Academy of Country Music Awards Party for a Cause in April 2016.
The parcel on the corner of Sahara Avenue and the Strip is only going to get busier. Owner MGM Resorts International is redoubling its efforts on that site, which is still closely identified as the Rock in Rio site, and away from Las Vegas Village. The Route 91 Harvest is likely the last festival ever to be held on that 15-acre venue, which MGM Resorts also still owns.
MGM Resorts Vice President of Entertainment Chris Baldizan has been piecing together a long-term plan to make the Festival Grounds the predominant outdoor event venue on the Strip. The next events are the Martha Stewart Food and Wine Experience on Oct. 13 and the FIVB Beach Volleyball World Tour the following week.
"We are looking to diversify and have a lot of bigger festivals, and more of them," Baldizan said Saturday. "The versatility of the space makes it possible to have many events. I say it all the time, but we are always looking for new programming."
The scene
About half of the Festival Grounds' 40 acres was used Saturday. About 10,000 fans turned out to see Logic, Dua Lipa, 5 Seconds of Summer, Lil Uzi Vert, Dustin Lynch, Bazzi, Belly, Bobby Bones and The Raging Idiots, Greta Van Fleet, Bad Bunny, Grandson, Leon Bridges, MAX,Badflower, Evvie, The Vamps and Drax Project.
Temperatures easily surpassed 100 degrees. Fighting the burn were folks in blue Progressive insurance shirts handing out tubes of SPF 30 sunscreen. Elsewhere, T-Mobile sponsored a Ferris wheel, an amusement bungee ride was set up, and the lines snaked to an observation lounge and food vendors (including the suddenly high-in-demand pineapple whip smoothies). The environment was open, pedestrian, and similar to Rock in Rio and Party for a Cause.
Unsolicited, yet educated, advice: Organizers need to sharpen their parking directives (the on-site staff remains confused about where festivalgoers are actually permitted to park their vehicles). Also, specify how fans (especially those from out of town) are supposed to take advantage of the Las Vegas Monorail stops on on the eastern side of the Strip and walk across from SLS Las Vegas or even Westgate. That's a hike. Let people know that.
Also, the fake grass has worn down and hardened over the past three years since Rock in Rio opened the venue. In 100-degree temperatures, hard equals hot. It needs to be replaced.
Trend setters
The Park Theater has benefited from some unplanned film activity with its resident headliners. Cher's series coincided with the reboot of "Mamma Mia!" (Even bad movies are still movies). Lady Gaga has generated ample hype in the upcoming remake of "A Star is Born," and Queen is the focus of of the hotly anticipated "Bohemian Rhapsody."
Also, after Lady Gaga (opening in December) and Aerosmith (next April) announced their residencies at the theater, interest perked among superstars around the world. Tagging this thought, the next announced headliner at Zappos Theater is expected to be in Gaga's strata as a trailblazing live artist.
Greta's strong turn
The Daytime Stage crowd had its mind blown by Frankenmuth, Michigan rock band Greta Van Fleet.
A musician friend had told me on Friday night to be sure to make this band's set. These guys just bring it. Vocalist Josh Kiszka is a modern-day synthesis of Bon Scott and Robert Plant, but cuts loose with an even higher voice than either of those legends.
This guy sings as hard between songs as he does during the numbers. Maybe he's easily bored.
But Greta Van Fleet (loosely named for a woman the band had known in their hometown, similar to how Lynyrd Skynyrd was named for one Leonard Skinner) made every moment count in their Vegas debut. The raging sound bounced off Allure tower across Sahara Avenue, as the band's loyal legions were easy to spot in the crowd of about 10,000.
Many sang along; one couple told me they traveled all the way from Mexico City to see these guys perform for fewer than 30 minutes.
A guy next to me who had not seen the band before commented on Kiszka's snug, glimmering-gold ensemble and said, "When you can sing like him, you can dress like that."
John Katsilometes' column runs daily in the A section. Contact him at jkatsilometes@reviewjournal.com. Follow @johnnykats on Twitter, @JohnnyKats1 on Instagram.