Deepak Chopra and Kanye West: A pair of Vegas headliners in total command
October 30, 2016 - 7:02 pm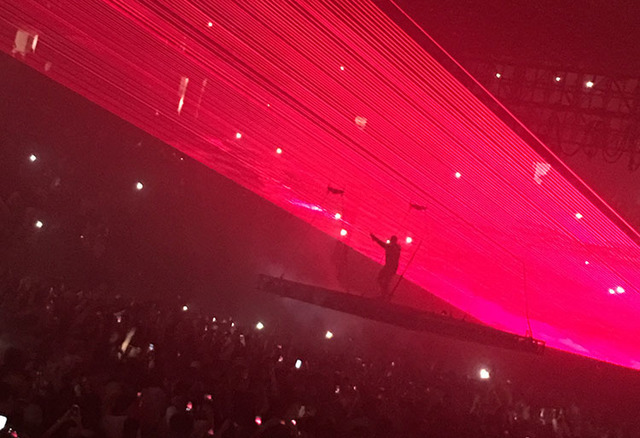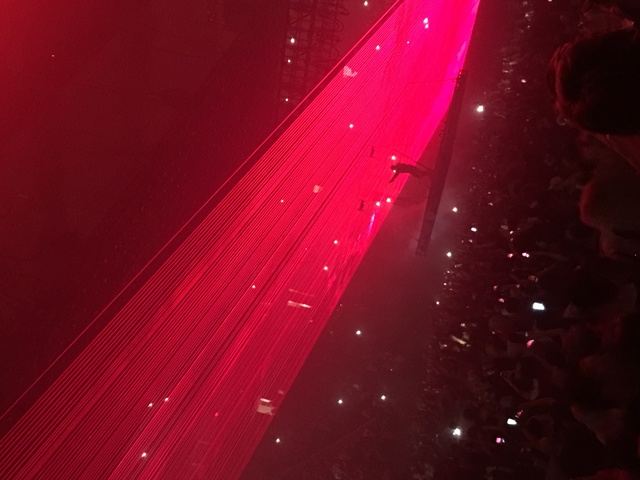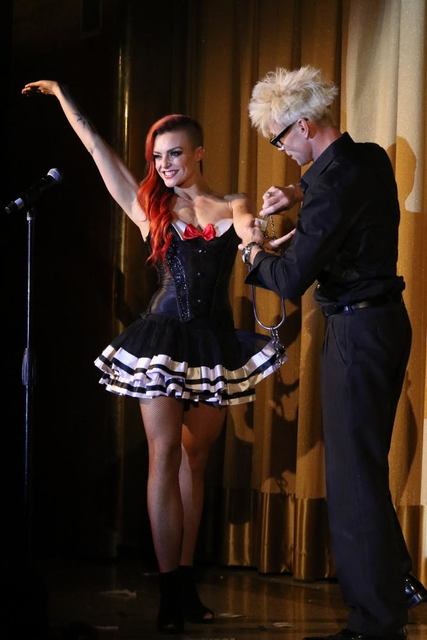 The weekend doubleheader in VegasVille was the uncommon pairing of Deepak Chopra at the Smith Center on Friday, and Kanye West at T-Mobile Arena on Saturday.
One has achieved a cult-like following of devotees who respond en masse to their leader's directives, devouring his message to create a spellbinding and even perplexing pop-culture phenomenon.
The other is Deepak Chopra.
Headlining, if we can call it that, for the first time at Reynolds Hall, Chopra drew just a few dozen short of a sellout at the 2,050-seat venue, where just last weekend Nevada Ballet Theatre performed "Sleeping Beauty." Thus, it was apt that Chopra led the audience on what must be the largest ever group meditation in Las Vegas.
About 2,000 people fell systemically silent as Chopra instructed us to become conscious of the sounds in the hall (including the occasional cough, clearing of the throat and the low hum of the air conditioning), and to recall moments of our childhood. So I remembered playing Wiffle ball, running through sprinklers and playing the 45 of "King Tut."
Booked to perform in Vegas by Smith Center's Glen Meades and Adam Steck's and SPI Entertainment production company, Chopra spent ample time and attention on his new book, "Radical Beauty," written with nutritionist Kimberly Snyder. His latest release offers a full range of wellness advice, covering medical, dietary, fitness and spiritual concerns. Chopra is teaming with Oprah Winfrey on a series of 21 meditation sessions you can follow online at chopracentermeditation.com. Those sessions begin Monday.
It's easy to see how Chopra has established such widespread influence. He comes at his audience with extensive medical education and training. He showed that gift by describing a human's evolutionary process in sensibly scientific detail but also humor, telling his audience that early in his residency a nurse asked him to awaken a patient so he could give him a sleeping pill.
That made no sense until the nurse explained, "If I don't give him the pill now, he will wake up in 15 minutes, wake me up, the I'll wake you up." Chopra answered: "Give him the pill."
He is a proponent of yoga, a healthy sleep schedule and a sensible diet. He's friends with Oprah, and put a couple thousand people in a ticketed show in Las Vegas under his spell. I'm sold.
West also held an audience in his hand, but moshing took the place of mediation. The unquestioned leader of T-Mobile Arena drew 18,000 paid to the venue. I'll allow that I own no Kanye West music and can barely recite any of his lyrics (just wanted you to know, Swizz told me let the beat rock). But the crowd could, and the ripple of activity beneath West — who performed on an elevated stage that floated above the hoards throughout the show — was as entertaining as anything West was chanting.
The volume and intensity of that crowd produced as idolatry a response for an artist I've ever seen at a show in Las Vegas. I am remembering the response Ricky Martin received at his "Livin' La Vida Loca" tour stop at Mandalay Bay in 1999, or One Direction's appearance in 2012 at Axis theater — both were crazy.
The folks wearing the "Saint Pablo" tour seem to have found their messiah. In a way that only enhanced his onstage mystique, West thundered forth in the dark, above the lighted stage, his physical form almost unidentifiable. He could have been a performer portraying Kanye in "Legends in Concert," if there were such a thing. But the power of the performance was unmistakable. Maybe I'll download some of West's studio work, and play it during my next yoga class.
HOUSE SEATS SWINGS
A Las Vegas ticket brokerage and a major resort golfing attraction might seem an unlikely partnership for a wild adaptation of "Rocky Horror Picture Show." But this is VegasVille, and that sort of thing can happen, even on a weeknight.
That night was Thursday, the ticket-selling company is House Seats, and the site the open stage at Top Golf at MGM Grand. The "Rocky Horror" performance started – started – just after 11 p.m., and was a celebration of House Seats' 11th anniversary. Under the governance of House Seats owner Bryce Krausman, the company stages regular themed productions in its "Setlist" series.
We've had Michael Jackson-themed shows, a recounting of "Slippery When Wet" by Bon Jovi, and Amy Winehouse's "Back to Black." The caterwauling from the stage dominated one end of the venue, while golfers teeing off toward illuminated targets populated the other.
As always, Andrew Wright directed this show, filled with artists who have appeared on and off the Strip. Name-checking the performers: Enoch Augustus Scott as Frank N Furter, Rachel Dudt as Janet, Ayler Evan as Brad, Ashley Fuller (showing off her pregnant belly to great response) as Riff Raff, Amanda Kraft as Columbia, Cheryl Daro as Magenta, Michael Mahaney as Rocky, Mickey Roark as Dr. Scott, Steve Judkins as Eddie, and Kim Wood narrating. The crowd rejoiced in the requisite Transylvanians – Michael Posa, Aimee Wade, April Sauline and Janelle Magbtay – and pole artist Karley Cottrell. The band was made up of Andrew Chute on guitar, Dave Ostrem on bass, Susan Easter on piano, and Vince Verderame on drums.
It was a late show, but a great show, and the next "Setlist" shows are two performances of Green Day's "American Idiot" on Nov. 7 at Vinyl at Hard Rock Hotel. Column faves Rockie Brown, Anne Martinez, Paul Johnson and Brandon Nix are lined up for that one. The start times at 7 p.m. and 10 p.m. Get there.
MAGIC AT THE CASTLE
Murray Sawchuck, the Celebrity Magician at Planet Hollywood's Sin City Theater, took a week away to appear at the vaunted Magic Castle in Los Angeles last week. Sawchuck performed a total of 28 shows, 45-minute sets, in the weeklong limited engagement. A very Beatles-in-Hamburg-paced run, and as usual Sawchuck needed to return to his regular gig on the Strip to take a break.
A Vegas resident since 2002, Sawchuck is still a mainstay at Sin City Theater with his 4 p.m. show, but the venue is attracting attention otherwise. Read on …
TAPE NOT DELAYED
In town for the quartet of "America's Got Talent" stage shows at Planet Hollywood over the weekend, "AGT" finalist Tape Face was spotted surveying both the Sin City Theater and The Cabaret spaces at P.H. On Thursday, Mr. Face, whose legal name is Sam Wills, was spotted at the Mezzanine level where those venues are located, and also at Bugsy's Cabaret at Flamingo Las Vegas. Joining him was Greg Young, producer for Donny & Marie Osmond.
The Bugsy's Cabaret interest is of particular interest, as Monday the room's 5:30 p.m. headliner, Jeff Civillico, is going dark through February to undergo knee surgery. Thus, there is an opening in that room that might be (wait for it) taped over (boom).
John Katsilometes' column runs Saturday, Sunday, Tuesday and Thursday in the A section, and Fridays in Neon. He also hosts "Kats! On The Radio" Wednesdays at 8 p.m. on KUNV 91.5-FM and appears Wednesdays at 11 a.m. with Dayna Roselli on KTNV Channel 13. Contact him at jkatsilometes@reviewjournal.com. Follow @johnnykats on Twitter, @JohnnyKats1 on Instagram.