Derek Stevens basks in the scene as he celebrates 'G05' at D Las Vegas
September 17, 2016 - 4:34 pm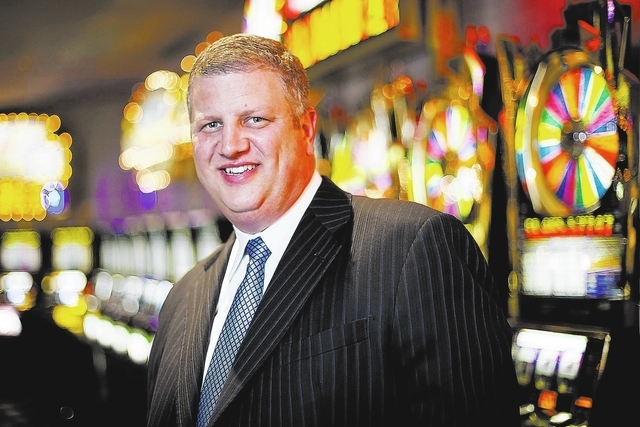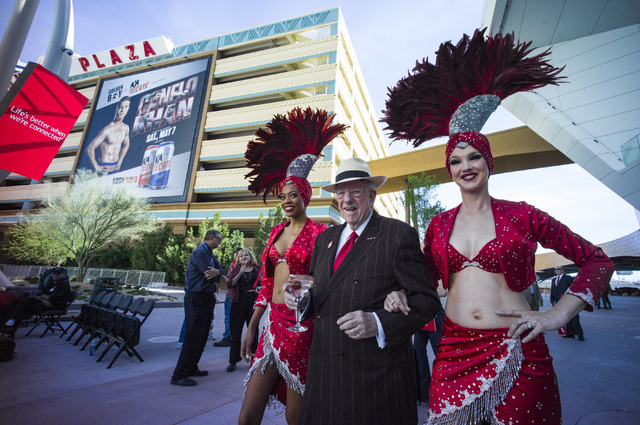 The Kats! Bureau at this writing is Vue Bar on the second level of D Las Vegas, which today is celebrating "G05," acronym for Grand Opening 5. This is the fifth grand opening of the hotel, formerly Fitzgeralds, since it was purchased by Derek Stevens and his brother, Greg, in 2012.
Not long ago I met up with Derek Stevens, not hard to spot in his cherry-red trench coat with the D Las Vegas logo stitched to the right breast pocket. He and Jeff Victor, vice president of the Stevens collection of downtown hotels, have spent this "G05" entertaining about 10,000 merrymakers at DLV Event Center, About 5,000 ticket-holders turned out for Goo Goo Dolls with Collective Soul on Friday night. A few hundred more than that were expected for Saturday's Rob Thomas/Counting Crows show.
Inside the hotel, dozens of customers are milling at the Longbar, the 100-foot-long social hang where you can often find Stephens and his wife, Nicole, mingling with the clientele.
In our back-and-forth in Stevens' office at the D, he noted that he doesn't put a high priority on names. He never even purchased the name Fitzgeralds and says he has no plans to name any of his new properties – including Las Vegas Club, Golden Gate and the buildings that were once La Bayou and Glitter Gulch – for himself. Nor will he use those former names.
"Look at Bellagio, how it has evolved, since the time it opened," he said. "You have a feeling of what it means, high class, high standards. That name evolved from how wonderful the property is. I think our properties will have new elements and will mean something to people, and the name will also mean something as a result."
Among the names Stevens owns is Grandissimo, the name of the never-realized, 5,000-room resort envisioned by original Caesars Palace and Circus Circus fouder, Jay Sarno. "I'm a guy who loves seeing how Las Vegas has evolved over history," Stevens said. "Guys like Jay Sarno, (Stratosphere original owner) Bob Stupak, Steve Wynn and more currently (Aria President) Bobby Baldwin. Over the years, (El Cortez founder) Jackie Gaughan and Benny Binion (who built the original Horseshow) downtown. (Boyd Gaming founder) Bill Boyd … These are all people I admire."
Stevens requests and receives advice from customers in the casino, especially at the Longbar. When female guests at the D told Stevens they wanted a short ledge in the hotel's showers so they could more easily shave their legs, he responded by ordering that amenity in all of the hotel's 638 rooms. The rooms' safes were replaced by those shaped in a way that could store laptop comutures, also a result of Stevens' personal contact with customers.
"We have always wanted direct contact with the customers," he said. "We wanted the place to be fun, and when you walk in here, you feel that." When the owner wears a customized trench coat, you know he feels it, too.
GOODMAN SHARPENS HIS SHTICK
Famed "Mob Lawyer" and former Las Vegas Mayor Oscar Goodman is hosting another of his dinner talks Thursday night at Oscar's Beef, Booze & Broads at the Plaza. The title: "The Hidden Owners of Las Vegas." The talk is to center on "Mob chieftains in Chicago, Milwaukee and Cleveland who infiltrated the casino industry by using straw men (or women) to front their interests," as Goodman states.
In a phone chat Saturday, Goodman said, "This is going to be a good one, about some people you thought were good people who were not, and about people you thought were bad who were actually good."
I asked if he might one day run out of topics for these dinners, which are staged every other month or so (and this one is sold out, sad to say). Goodman has been the host of these events for a little more than two years.
"Never," he said. "I've got endless stories. I could go on and on about guys who were falling down drunk while they were cheating on their wives. In fact, I could do all of next year's series just on that topic."
SELLING OUT
All right, upon further review, the aforementioned George Strait shows from last weekend at T-Mobile Arena are indeed considered sellouts. This, even as Strait sold more tickets in his sold-out shows in April than he did in this month in his return to the Strip. The reason: The seating configuration was drawn down, slightly, to allow for staging equipment in Strait's second set of shows (which sold about 17,000 tickets per night). He is expected to sell out again in two dates in September.
Meantime, Mana was a quick sellout for its Friday show at MGM Grand Garden Arena. The enormously popular rock outfit from Mexico sold a little less than 13,000 in a week for a performance coinciding with Mexican Independence Day.
John Katsilometes' column runs Saturday, Sunday, Tuesday and Thursday in the A section, and Fridays in Neon. He also hosts "Kats! On The Radio" Wednesdays at 8 p.m. on KUNV 91.5-FM and appears Wednesdays at 11 a.m. with Dayna Roselli on KTNV Channel 13. Contact him at jkatsilometes@reviewjournal.com. Follow @johnnykats on Twitter, @JohnnyKats1 on Instagram.