DJ Khaled, other stars energize 2nd day of iHeartRadio
September 24, 2017 - 12:36 am
Updated September 24, 2017 - 12:43 am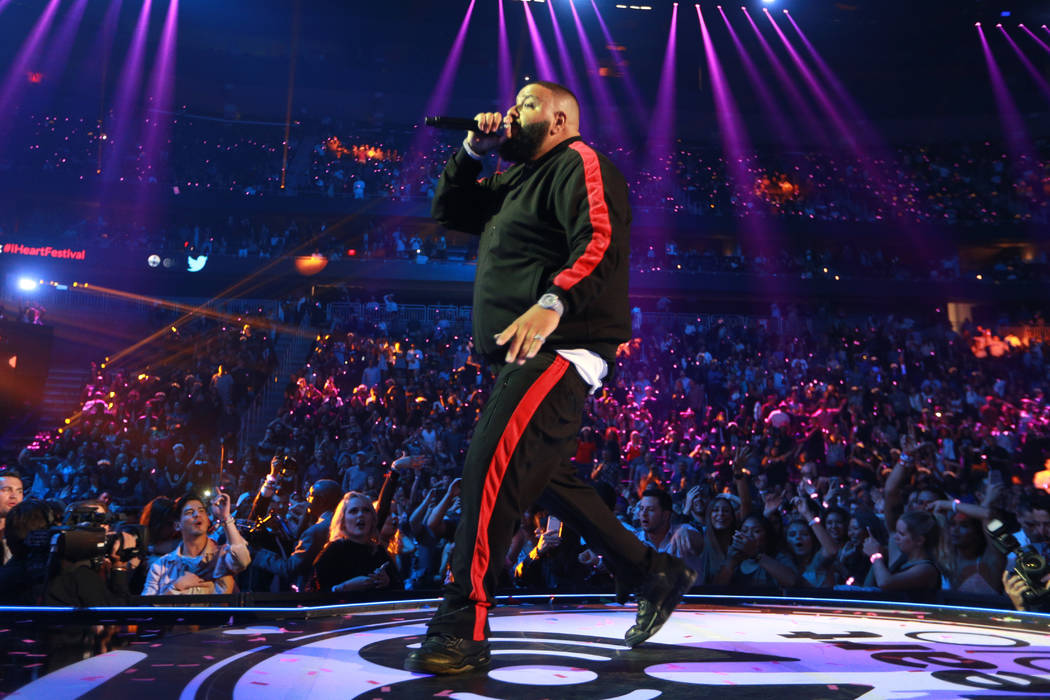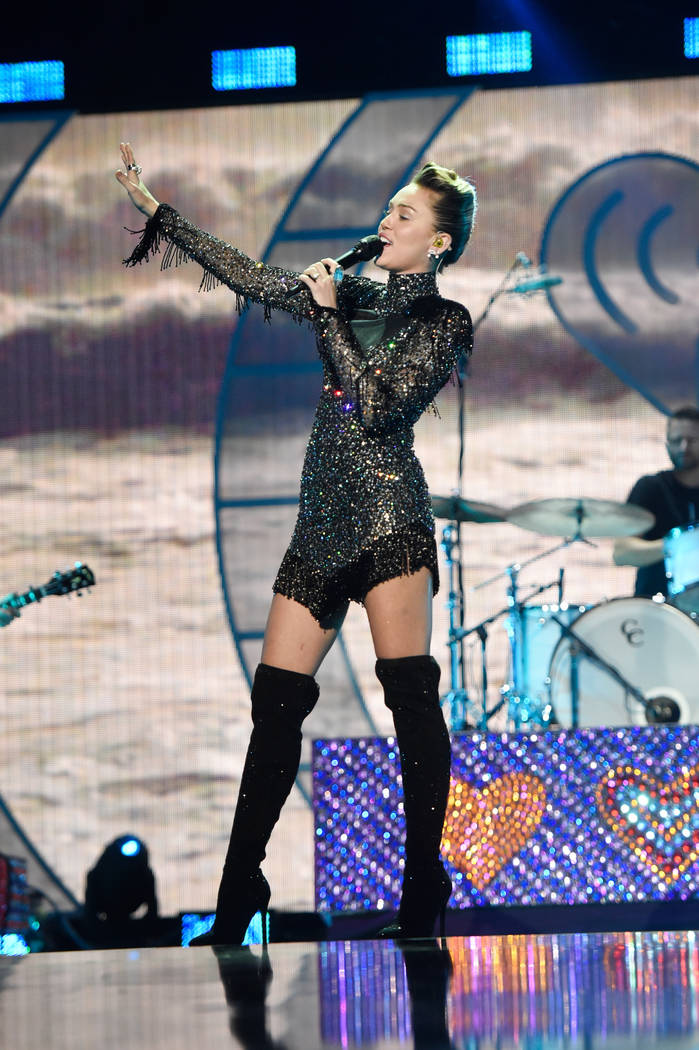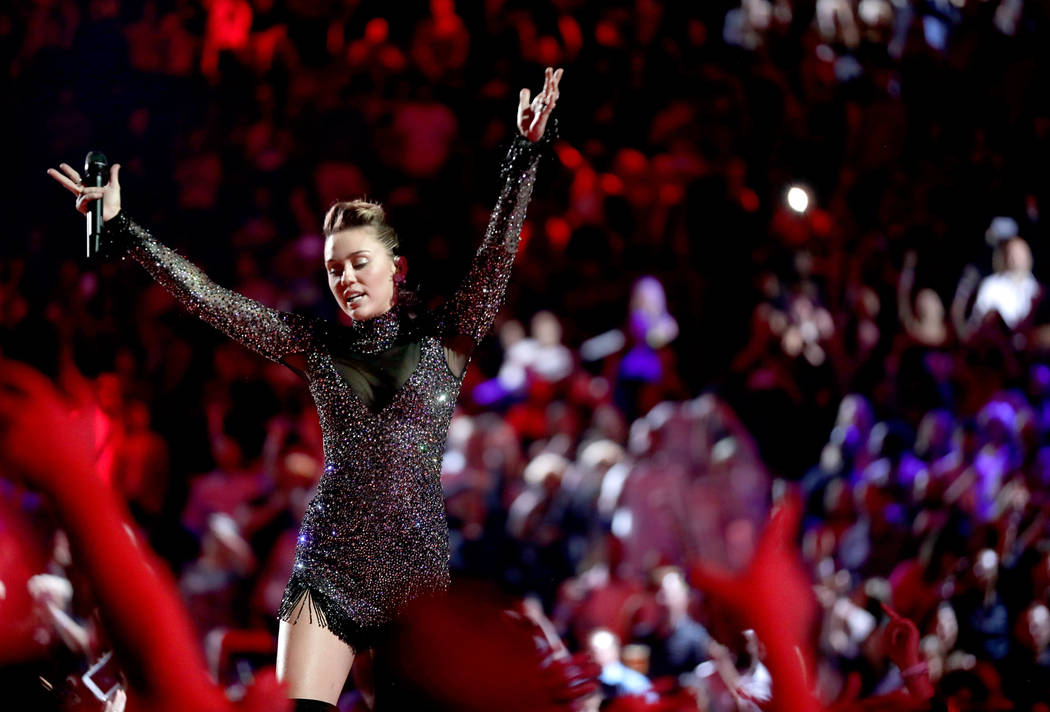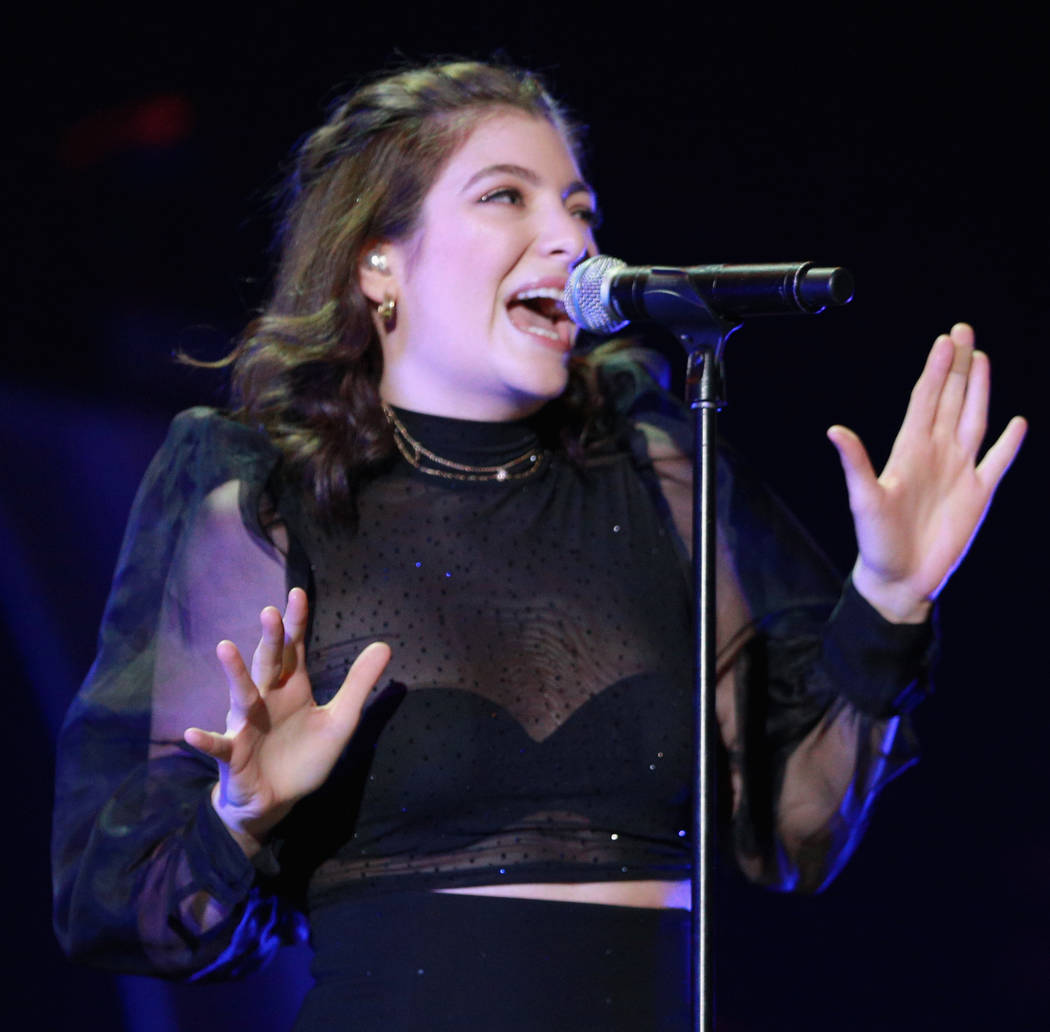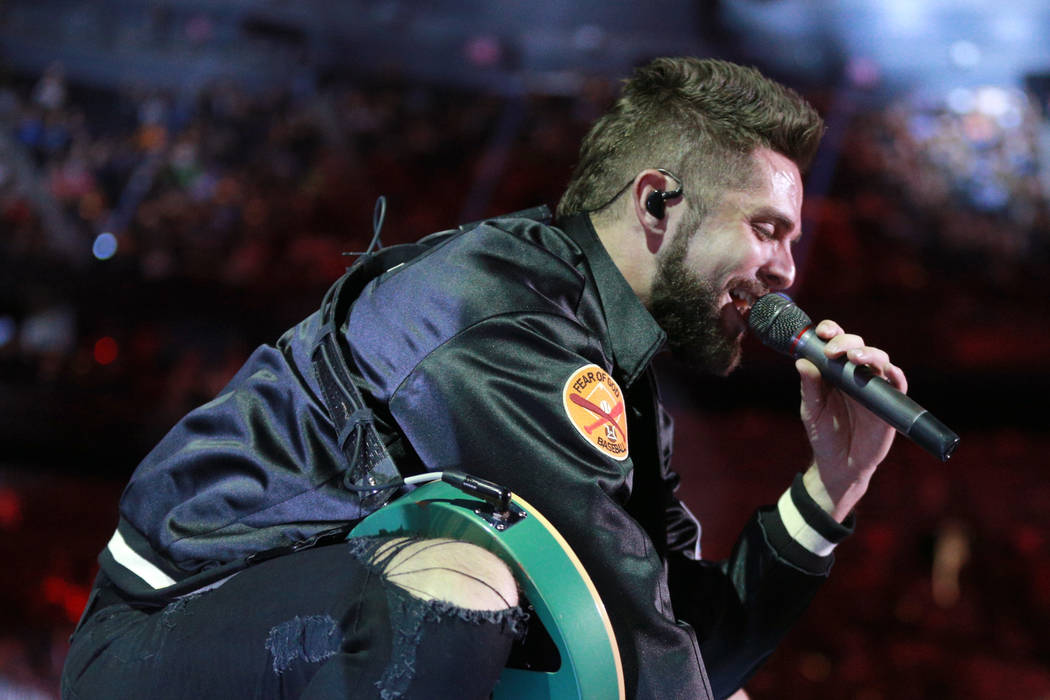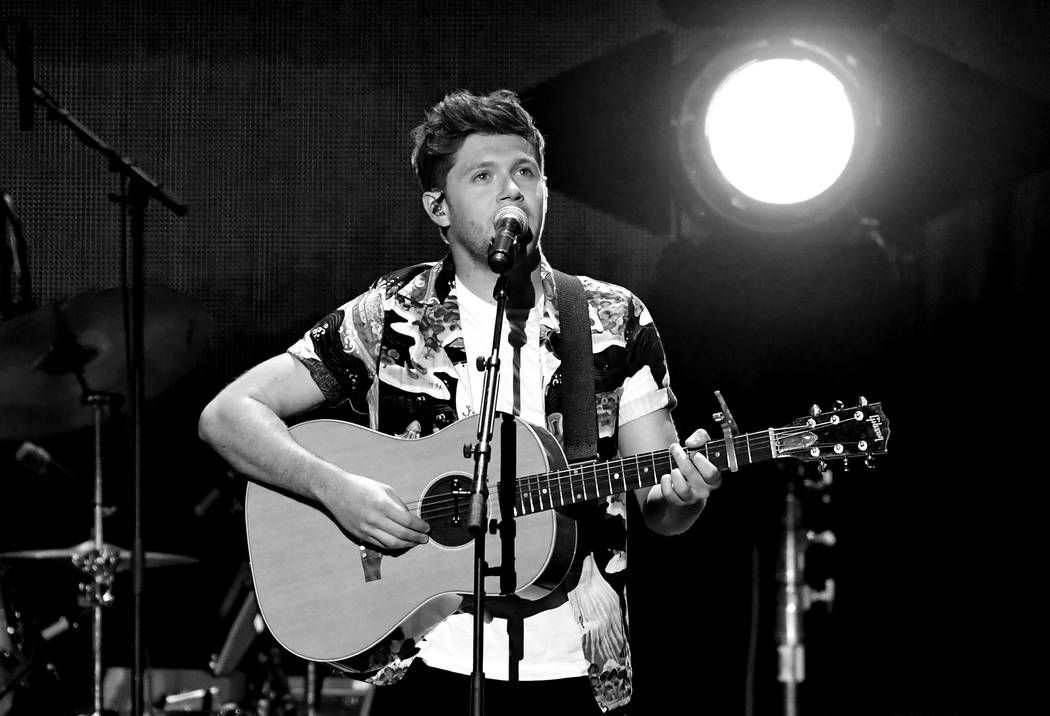 The Kats! Bureau is once more on my perch at T-Mobile Arena. Same as last night, Section 14 (the number of NFL legend Y.A. Tittle), Row J (as in Johnny) Seat 3 (for the Bambino).
Night 2 of iHeartRadio Music Festival is thumping to a thrilling culmination — thrilling if you are a fan of DJ Khaled, Chance the Rapper, Demi Lovato, French Montana, Travis Scott and Quavo of the band Migos.
That lively bunch combined to give the crowd (not a capacity show on this night) a final adrenaline push.
Khaled was the announced closer, and buzz around the arena was that Mariah Carey would turn up to help Khaled close the festival. The loud, quasi-structured closing mash was set in the stage's extended walkway and the crowd blew up at the sight of the all-stars performing to close the two-day, three-show event.
More from this star-studded, and now exhausted, scene:
Horning in
If you want to get some attention out of this seat, bring the horns. All the musical advancements in rock, pop, EDM, hip-hip over the years don't match a gritty horn section. I think of this in Kesha's set. Looks like two baritone saxes and a trumpet blaring through "Woman."
The platinum-blond vocalist just called up Macklemore — surprise, y'all! — for "Good Ole' Days." She closed with "Praying," saying, "It's a tough song for me to sing," speaking apparently of her emotions. She performed it powerfully, singing, "I'll bring thunder, I'll bring rain, oh. When I'm finished, they won't even know your name." She says the song is all about healing, even the healing of someone who has caused pain.
It seems the song is about the producer and songwriter Dr. Luke, with whom Kesha has been famously fighting in court for the past four years. She has accused the record-industry vet of physical and emotional abuse and just this year returned to recording and performing.
Given all that, I'd bet a five-spot Dr. Luke inspired "Praying."
Spade suits us
Recurring Strip headliner David Spade refers to the iHeart Village show earlier in the day. "Part of this concert is filmed outdoors, across the Strip," Spade says. "On every ticket for an outdoor concert, it always says, 'The show will go, on rain or shine.' Do you know of any concerts being cancelled because of shine? Because it's too sunny outside?"
No laughing. Spade notices the silence and says, "We'll add a laugh track later."
Dealing the Kings
Years ago I was told that Kings of Leon rehearses the heck out of everything. Real sticklers. "Use Somebody" and "Sex is On Fire" are played as spot-on as the record, or CD, or download. Whichever.
Our Lorde
She just played Life is Beautiful on Friday night, and is popular in downtown Las Vegas, always, as "Royals" is performed regularly at Don't Tell Mama. Lorde also brought out her friends, including Khalid on "Homemade Dynamite" and Jack Antonoff (of the bands Bleachers and Fun) on piano for "Liability."
She also played the requisite, aforementioned, "Royals," with a single, and quite large, video image of a candle on the big screen.
Rhett alert
Some of these "country" artists (quotes are mine) are actually rock stars, and Jason Aldean I am also talking about you, cowboy. We'll see J.A. next weekend at Route 91 Harvest. Tonight it's Thomas Rhett. He has a twang to him, yes, but Rhett is rocking this place, Springsteen-style.
Loved the Rhett landing, introducing, "Die a Happy Man" with, "This song changed my life, it changed my career. I've been married five years and I'm so lucky." The key lyric, carried by a smoldering sax: "Oh, if all I got is your hand in my hand, baby, I could die a happy man." Sweet, sweet stuff from the bearded icon.
Acoustic Direction
Niall Horan filled the solo-One Direction role occupied by Harry Styles on Friday, opened curiously: With the acoustic ballad "This Town," which is not about this town (otherwise it would be noisy and uptempo and the place would be on fire). The big screens showed the upstart soloist in black-and-white, maybe to add a few years of maturity. He closed with "Slow Hand," which he announced has reached No. 1 on the Billboard + Twitter Trending 140 charts. I didn't realize Horan had that kind of reach as a soloist.
Horan's got a nice voice, give him that, and his debut album "Flicker," scheduled to be released Oct. 20, should be a hit. But this drowsy set isn't exactly making anyone miss Coldplay.
Miley a minute
We'd seen Miley Cyrus debut "Malibu" in May during the Billboard Music Awards, and she performs that number again tonight. She led with the great "Younger Now," and something Anita Mann said sticks with me. Mann, the producer of "Fantasy" at Luxor and a top-level choreographer and dancer since the early 1960s, danced with Cyrus during a performance of that song last month at the MTV Video Music Awards.
"She is so talented," Mann said. "There were no backing tracks. There were live vocals, live orchestra. She was so kind and worked so hard. I'm blown away."
Cyrus refers to her footwear. "We've never done this song before, but I am wearing these boots …" and launches into "These Boots Were Made for Walking," and the crowd eats that one up. Cyrus's massage unity is the glorious, set-closing "Party In The U.S.A."
Bebe's back
Bebe Rexha and Louis Tomlinson of One Direction reprised an act they'd performed, oh, about five hours earlier at iHeart Village's afternoon show. The doubled up on "Back to You," Tomlinson's solo single released in December. Rexha, a robust live performer, was featured in all three iHeartFestival shows on Friday and tonight.
Sean to the Big
The rap acts were sparse at this year's iHeartRadio Festival, but Big Sean's set made up for the dearth. "This year isn't over for us yet," he said, referring to his band and support system. "But it's been a great year." The unbroken set included covers of Kanye West's "Mercy" and "Clique" and ended with a rousing "Bounce Back," followed requisitely by pyrotechnics. Again, iHeartFestival blew it up, real good.
John Katsilometes' column runs daily in the A section. Contact him at jkatsilometes@reviewjournal.com. Follow @johnnykats on Twitter, @JohnnyKats1 on Instagram.