Donny Osmond preaches patience, tenacity in Harrah's extension
Updated February 22, 2023 - 4:32 pm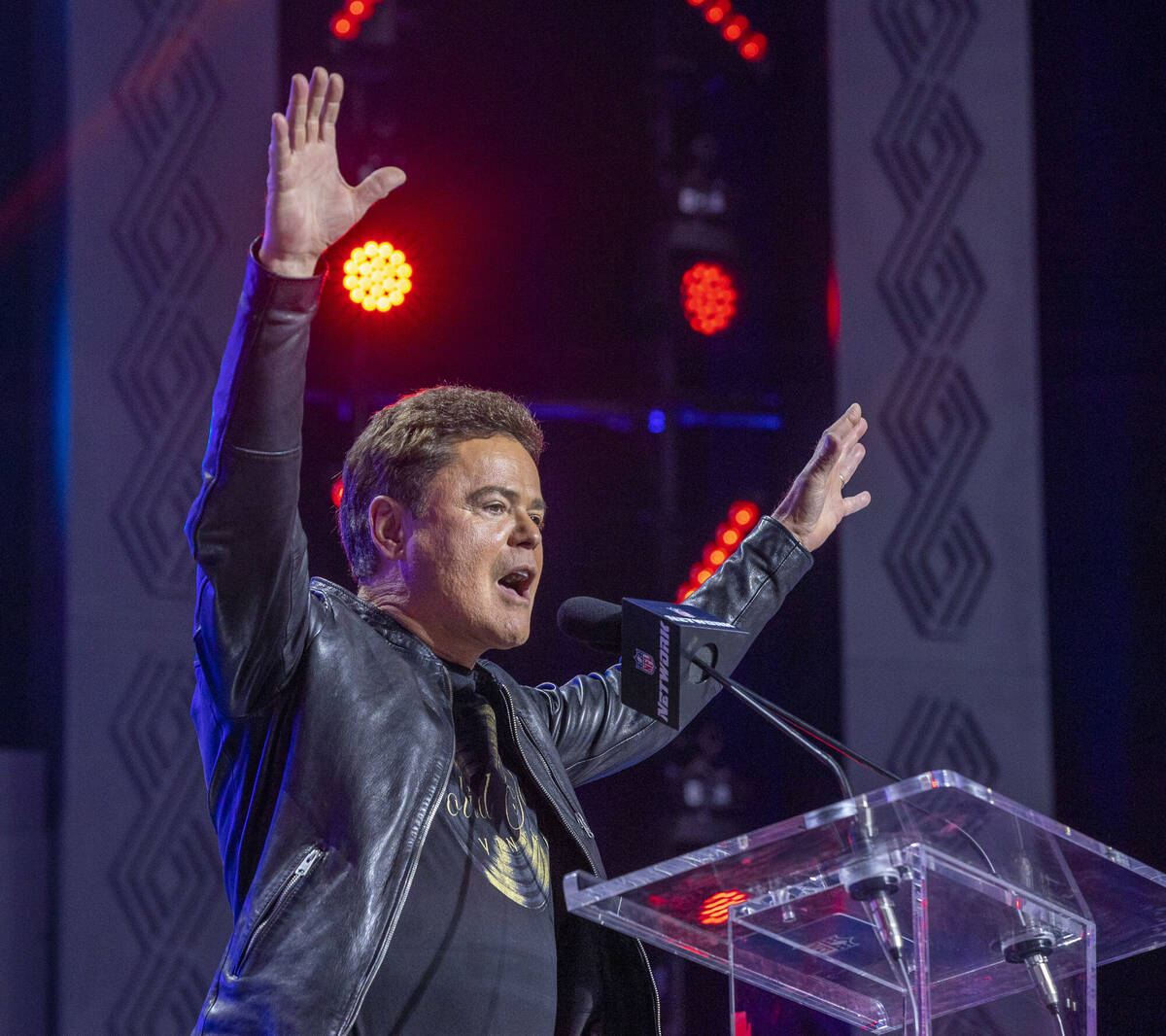 In August 2021, Donny Osmond hung up the ampersand and overhauled a showroom for is first solo show on the Strip.
Shutting down the Donny & Marie show was a gamble for the star who doesn't. But the "Donny" show is taking hold at Harrah's Showroom. Osmond has extended his passion project by 46 shows running Sept. 5-Nov. 11. Osmond is performing at 7:30 p.m. Tuesdays through Saturdays.
"If you want to know the secret, giving 110 percent every show," Osmond says during a phone chat. "That is the secret."
Osmond is onstage this weekend through May 27, when he breaks for the summer (for information and to purchase, go to ticketmaster.com/donny).
At age 65, Osmond is fronting a fun, fiery showcase that re-introduces his 5-year-old self and covers the six decades of his career — through his "Auto-rap-ography" bit. Yep, an 10-minute Wikipedia entry, fully rapped, by an Osmond brother.
Osmond also takes a video spin through time with his sister, Marie Osmond, from their days TV-variety show. Osmond is nodding to the unqualified success of Donny & Marie on the Strip, and welcomed Marie back to the show in November.
But times have changed for such shows as "Donny," which regularly competes to sell tickets against superstar theater headliners. The show has dipped and spiked since opening in the fall of '21. His tickets have occasionally wound up on seat-filler sites. Osmond says, "We're in a room that's just over 500 seats," Osmond says. "I'd be worrying my pants off if I had to fill 4,000 seats."
But the showman produced great numbers the week of his "Donny's High School Reunion" event at Linq Hotel on Jan. 26.
Those Osmond devotees were happy to take part in the $350 faux-high school reunion (because Osmond himself never attended a traditional high school), then hoof it to Harrah's for his stage show.
"I think it's the natural bell curve that every show goes through, where you have the initial hype, advertising is working great, and then it drops," Osmond says. "And then, it's the realistic build."
While performing a fast-paced show, Osmond knows not to be in a rush.
"You need to be patient. I've seen this with a lot of artists, they're just not patient," Osmond says. They want the success right now. It seems like it's the natural mindset these days, 'I want it all on a silver platter,' versus really putting in the work."
Osmond is at work, alongside producer and director Raj Kapoor, on the show's quality control.
"The show, right now, is pretty set," Osmond says. "We've tweaked it a little bit here and there, but I trust what Raj and I have put together. I don't want to touch it too much, because it works."
Upper-level jazz scene
The incomprarable UNLV Jazz Ensemble I, under the direction of Dave Loeb and Nathan Tanouye, returns with its Joe Williams Scholarship concert at 3 p.m. Sunday at UNLV's Ham Hall.
Guest artists include the esteemed comic and fine musician Pete Barbutti, Clint Holmes, Naomi Mauro, Clint Holmes, Laura Taylor, Don Cunningham, JoBelle Yonely, Patrick Hogan, Michelle Johnson, Gary Fowler and Lara Vivian Smith. Tickets are $10 general admission (just a ridiculous value, folks) through the UNLV PAC Box Office, by calling 702-895-2787 or at unlv.edu.
Loeb has played the keys the TV series "Family Guy," "Quantum Leap," the Emmy Awards telecast, such feature films as "Ted," "The Birdcage" and "Pocahontas." He also backed trumpet legend Arturo Sandoval, sax star Tom Scott and Williams himself. Tanouye, a member of Santa Fe & The Fat City Horns, has backed Celine Dion, Lady Gaga, Lady Gaga and Tony Bennett (separately and together), Johnny Mathis and Natalie Cole.
The Jazz Ensemble band has won enough DownBeat Magazine awards to fill Ham Hall. When you hear these musicians, you'll know why.
Inspire(d) in DTLV
Sometimes I meander past Inspire on the corner of Fremont Street and Las Vegas Boulevard and wonder what it the vision at this venue. We are now finidng out. The multilevel venue is has converted its first floor from theater and bar to a nightclub and dance floof with VIP tables. Upstairs are upgradeed bars, and balcony cocktail lounges.
The remodel also features new lighting, lasers, special effects (maybe a party cannon) and art installations in a 14,000-square-foot party space. The renovation debuts 8 p.m. Friday. This is all to bring "a Strip nightclub atmosphere to DTLV," as the news release says. This, we gotta see. Pass the sparklers.
What Works In Vegas
Luenell at Jimmy Kimmel's Comedy Club at Linq Promenade. The wicked-funny headliner is adding 7:30 p.m. Monday shows beginning March 6. This is along with her 9:30 p.m. Sunday shows. Club operator Damian Costa of Pompey Entertainment says all of this is due purely to demand. The market-testing has been achieved.
Mondays at 7:30 p.m.
Cool Hang Alert
On the topic of JKCC … "Trailer Park Parties" hosted by comic Vicki Barbolak, have become a thing at Kimmel's club. There's comedy, music, "Trailer Park Trivia" and drink specials. Barbolak is often on the promenade milling with tourists. The scene starts at 7:30 p.m. Tuesdays. Prepare for two hours of frivolity. Go to Caesars.com for information.
John Katsilometes' column runs daily in the A section. His "PodKats!" podcast can be found at reviewjournal.com/podcasts. Contact him at jkatsilometes@reviewjournal.com. Follow @johnnykats on Twitter, @JohnnyKats1 on Instagram.
"DONNY" AT HARRAH'S
Newly announced performance schedule:
September 2023: 5 – 9, 12 – 16, 19 – 23, 26 – 30
October 2023: 10 – 14, 17 – 21, 24 – 28, 31
November 2023: 1 – 4, 7 – 11
Previously announced dates: Tuesdays through Saturdays through May 27.
Information: ticketmaster.com/donny