Ed Sheeran says 'safety issue' caused last-minute Allegiant show cancellation
Updated September 10, 2023 - 2:45 pm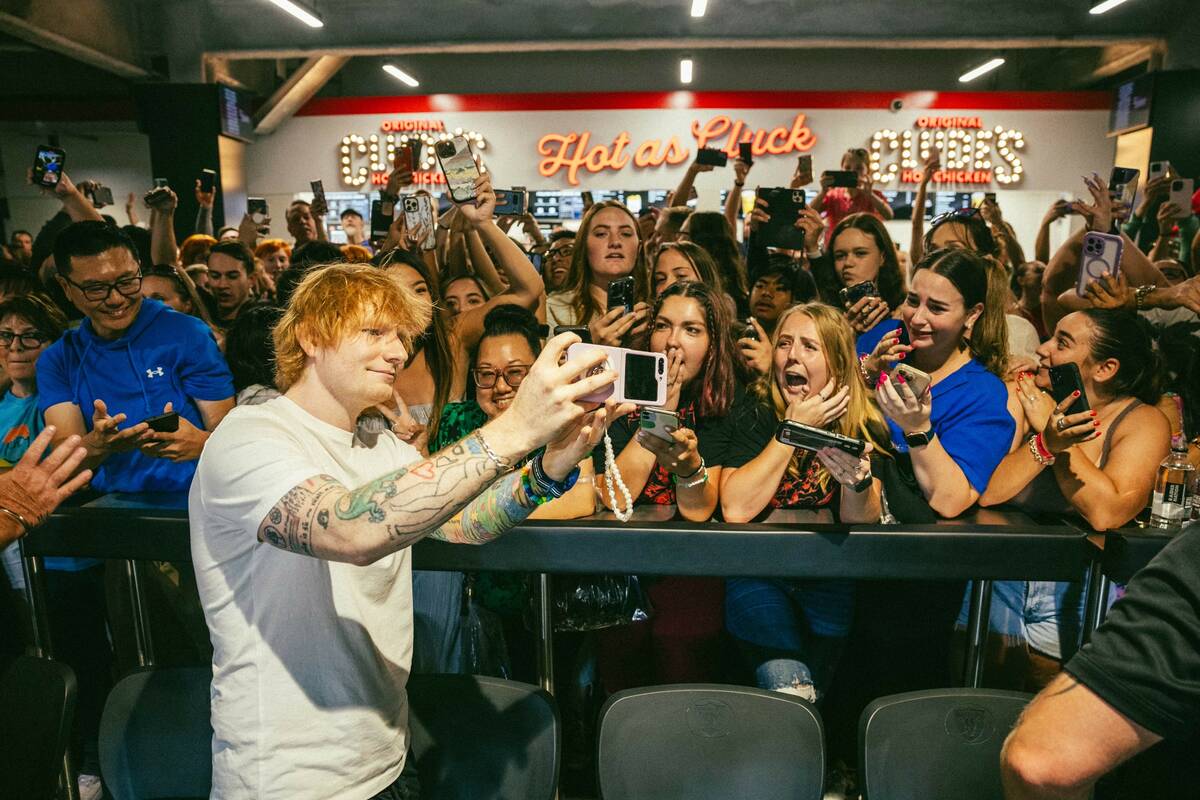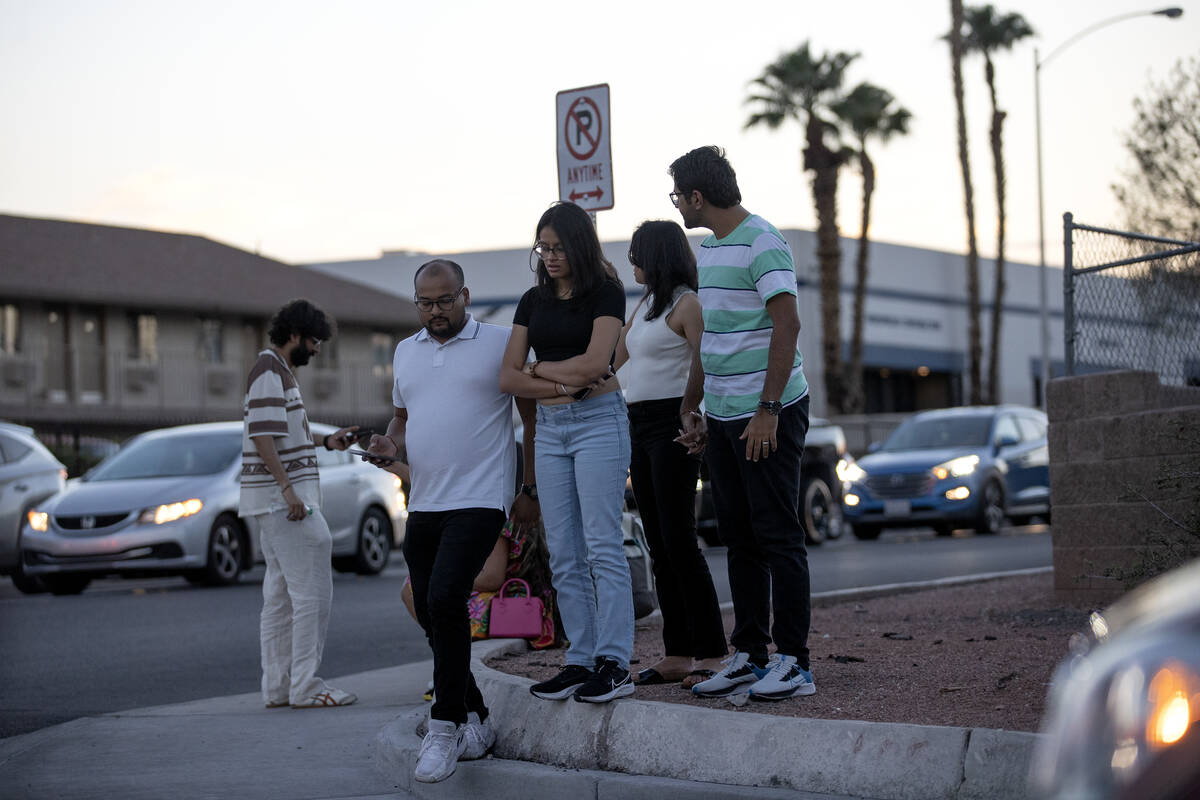 Ed Sheeran called out of his Allegiant Stadium show about an hour and a half before its scheduled start Saturday, leaving fans who had waited inside and outside the stadium — some for hours — confused and frustrated.
Sheeran stated Sunday afternoon the official reason for the late call was "a safety issue" caused by problem flooring for his audio towers. The 32-year-old superstar posted an unspecified media report on his Instagram page, "Rubber Tiling had become unstuck — causing two tall towers to slip overnight about a foot each. Engineers tore the rig apart and reinforced the rebuild, but both towers were still found to be shifting … Leading to the cancellation."
Sheeran posted in his own words, "It was a safety issue, and we really tried to do the best we could to make the show happen but I'm not gonna risk the safety of my fans for anything. I really am gutted, this was very much out of my control but I do take full responsibility for everyone that was put out from the cancellation." (Adele fans will remember her saying she was also "gutted" when pushing back her Caesars Palace shows in January 2022.)
Sheeran said his return show Oct. 28 "will be something special." And apologized for the late notice given to thousands of fans who had tickets to his "Mathematics Tour" show, many of whom were filing into the stadium when the call was made.
"Nothing will take away from the effort people went to to get to vegas though and I'm sorry it wasn't communicated sooner to the people waiting outside," he wrote. "We really thought the show was going to happen up until the very last moment but it just couldn't for safety reasons. Sorry again to everyone affected, and hopefully see you in October x."
One source with knowledge of Sheeran's staging reported the issue arose from the singer's five audio towers, which were slipping on the Allegiant Stadium during install. Workers were unable to sufficiently "re-tension" the pieces.
Those towers are connected by cables. When one is off, the structural integrity of the entire auto setup is compromised.
Sheeran posted to social media around 5:30 p.m. saying there were challenges encountered during the load in of the show.
"It's impossible to go forward with the show. I'm so sorry," Sheeran wrote in an Instagram post. "I know everyone has travelled in for this and I wish I could change it."
That same Instagram post is how many of the thousands of fans in and around Allegiant Stadium found out about the cancellation of Sheeran's "Mathematics" tour stop.
After seeing the post, CJ Fuentes turned around and told everyone in line that the show had been canceled. Fuentes' announcement was how Steve Polevoi and his daughter, who were also in line, found out about the cancellation.
"This is egg on the face of the promoter and I think on Sheeran for a lack of communication," Polevoi said.
Rachael Johnson and Alex Newill, who came from Phoenix to see the show, said they also had their phones open to Sheeran's Instagram post so they could alert fellow attendees about the cancellation.
In a statement Saturday night, Allegiant Stadium said it was sorry for the delays and inconvenience caused to fans.
"Updates were communicated as quickly as possible to those waiting outside and via our social channels, website, and venue app," the stadium wrote. "Stadium doors were opened at 5:05 PM to get fans out of the heat and we have ensured that anyone requiring assistance has received it."
The concert will be postponed to Saturday, Oct. 28, with all purchased tickets valid for the new date.
But for Matt Wenet and Raeann Schneider, a Canadian couple who spent $400 on tickets and traveled to Las Vegas from Saskatchewan to celebrate Schneider's 28th birthday, the rescheduled date rings hollow.
"It just sucks because now we're not going to see him because we're obviously not spending all of that money to come back to Vegas," Schneider said.
"This was the reason we came to Vegas," she said. "Like we wouldn't have come here otherwise."
Production issues, attendees passing out
Word from inside the show was that "production issues" forced the move. There was no significant structural incident or accident reported.
In a statement posted online ahead of the cancellation, Allegiant Stadium said door times had been significantly delayed and that updated door times would be posted to the stadium's social media accounts.
EVENT UPDATE❗

This evening's Ed Sheeran concert has been rescheduled for Saturday, October 28. Previously purchased tickets will be valid for the rescheduled date.

— Allegiant Stadium (@AllegiantStadm) September 10, 2023
Sheeran and his band perform in the round, with a giant, 360-degree, interlocking video display overhead. The design is unique, complex with multiple sound towers leaning over the audience and ringing the LED display.
Allegiant crew were told that 65,000 tickets for the show were sold, which would have made it the biggest concert ever at Allegiant Stadium. The show was not quite totally sold out at the time of the announcement, with brokers reporting some GA floor seats were still available.
Sheeran stayed back and signed autographs and posed for selfies inside the stadium until about 6:30 p.m.
But fans said people were passing out from the heat and lack of water outside and just inside the stadium before Sheeran's announcement.
The Clark County Fire Department did not respond to a request for comment Saturday about responding to medical issues outside the stadium.
Johnson and Newill said they had to carry a woman who passed out to the stadium's medical tent, and a pregnant woman in front of them in line stepped out to get shade because she was afraid of going into labor.
Fuentes said he saw at least five people taken out of the stadium in wheelchairs.
"We were just worried about safety and communication," Newill said. "Us having to be the ones who had to carry the people to medics, having to tell people it was canceled, it was unacceptable."