EDC founder Pasquale Rotella hasn't lost love for 'connecting with people'
Updated June 15, 2017 - 8:20 pm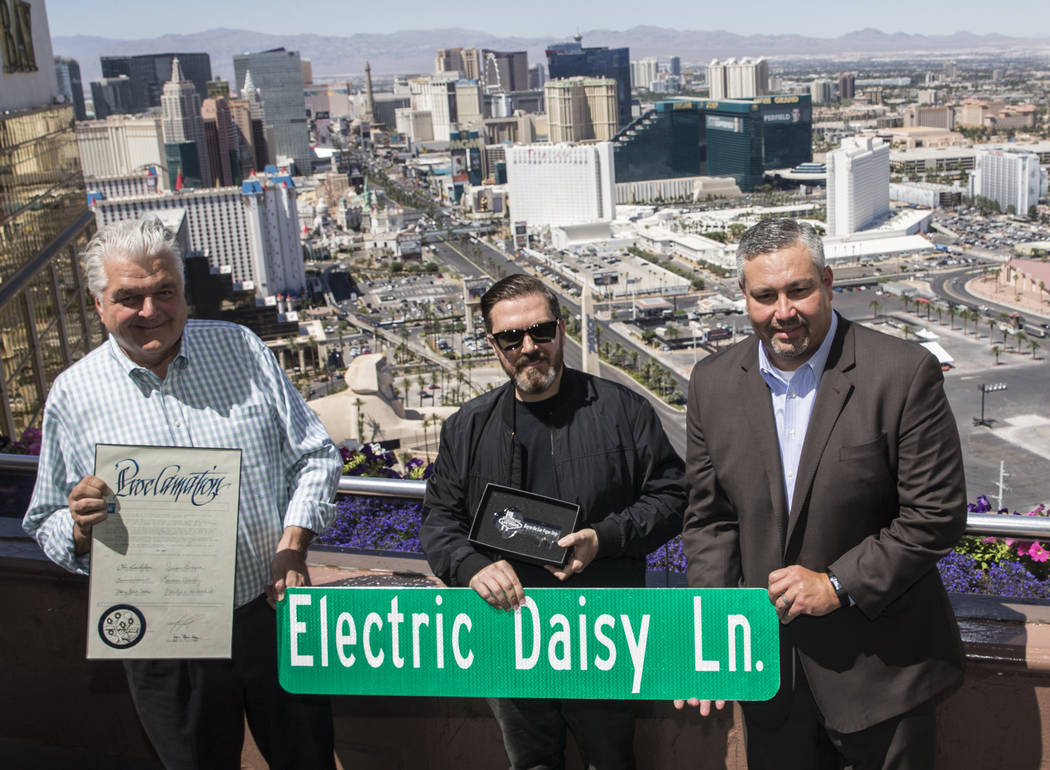 The guy with the Key to the Strip unlocked Las Vegas a long time ago.
Nonetheless, on a bright Wednesday afternoon on the sky-high deck of the Foundation Room at Mandalay Bay, Pasquale Rotella gladly accepted that crystal memento. He was also given a proclamation of appreciation for the success of Electric Daisy Carnival, along with the street sign Electric Daisy Ln., re-naming the Strip through the duration of EDC. The commendations were presented by Clark County Commissioner Steve Sisolak with a hand from MGM Resorts entertainment exec Chris Baldizan.
Rotella, of course, is a force in the festival universe as the spin-master of Insomniac Events and founder of the EDC. The neon-hued electronic dance music party, arts festival and amusement park again overtakes Las Vegas Motor Speedway this weekend, drawing 140,000 fans per day and night. It is the largest EDM festival in the country. The "community," as Rotella frequently describes attendees, are the real headliners. But such EDM stalwarts as as Armin van Burren, Martin Garrix, Major Label, RL Grime, Galantis, Paul Van Dyk, Zedd and Marshmello are among the fan favorites.
Rotella has been married to Vegas celeb favorite Holly Madison for five years, and the family — daughter Rainbow and son Forest — live in the tony, historic Rancho Circle neighborhood of Las Vegas. Simply, he says, "I love Vegas."
Rotella sat for a one-on-one chat after adding Sisolak's key to his ring:
What has to happen, the baseline requirements, for this year's EDC to be considered a success?
"Having a safe and memorable event is the most important thing. You know, I believe these music events, the way the world is now, it's important for the world to gather, feel safe and celebrate life. We just need some positivity and connection with other humans."
Safety is always a concern at mass gatherings, now more than ever. Have you taken any additional safety measures this year, compared with last year?
"I could say this about every EDC. We step it up every year. We've learned through several post-meetings what we can do better, and we also take into account what is happening in the world to change our plans. Some events happen that made us want to focus more on safety."
More personnel? A change in the items you can and can't bring into the event?
"I'll tell you most of the work is behind the scenes. We have thousands of staff looking out for anything that might be a little off, or feel wrong, look suspicious. But we have 140,000 people coming to the show, and we are ramping up our messaging to the public. We've asked them, 'If you see something, say something.' It's not just our staff on alert. It's the whole community, everyone coming to the show, communicating on social media about their experiences, including what might seem out of the ordinary."
You talk about making a personal connection, but isn't it difficult to connect viscerally with an event of this scope?
"What we do is create a community to bring people together. I love connecting with people personally. … It's so gratifying to hear, 'I met someone at EDC five years ago, and I've scheduled for us to tie the knot at EDC this year.' I don't want to come across as too positive or cheesy, but it's real. People need love. They want to connect. They want to be happy. I am trying to to deliver that opportunity, as much as I can."
What was the event that shaped your vision for creating these experiences?
"It was when I went to my first underground party. That's where I had this moment where I wanted to do this for the rest of my life. I connected to my early days as a kid, 8-9-10 years old, being on the Venice (Beach) boardwalk, watching the street performers and artists doing their thing. Walking along the boardwalk, you'd see skateboarding, surfing, graffiti art, music performers, roller skaters, muscle builders, freaks (laughs) … it was just crazy down there.
"But I wanted to know everyone's story. I was the most curious kid — I am still a curious person — later I put it together near all the art and music and expression of individuality. Then as I got older, I went to my first underground warehouse party, and it was like Venice Beach, but with a soundtrack. It was beautiful, watching people express themselves. I want to bring that to other people, and I also still get a lot out of it myself. I still like to run around and meet people. I have not lost that love for it."
John Katsilometes' column runs daily in the A section. Contact him at jkatsilometes@reviewjournal.com. Follow @johnnykats on Twitter, @JohnnyKats1 on Instagram.