Elvis cruises Vegas with the boys from Florida Georgia Line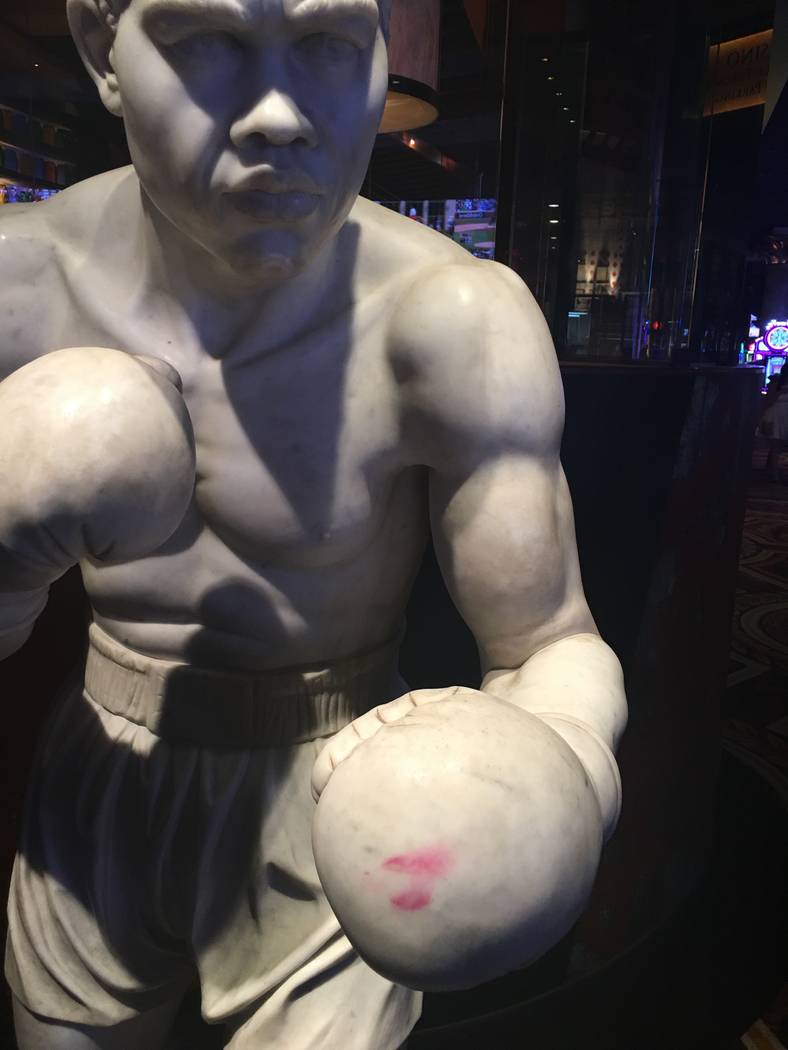 The Kats! Bureau at this writing is the new sports book at Wynn Las Vegas. It's a beautiful thing. Actually, it's 22 beautiful things. That's how many screens are currently showing various sporting events on the 140-foot-wide LED screen.
The place is palatial, decked out a color best described as "Wynn Red," a shade lighter than blood, about the same color as the 49ers' home jerseys.
We could use a boost in the volume, especially in the VIP area (because, you know …) but overall the new book is a vast improvement. Wynn Sports Book Director Johnny Avello gave me a quick tour of the space, including a sweep through the refashioned deli Charlie's Bar + Grill, and it's so bright in here I might actually have a tan.
Which reminds, congrats to Chris Phillips of Zowie Bowie for celebrating his 12th anniversary in Las Vegas on Friday. He was all aglow, as always, promoting the maverick spirit of Las Vegas.
More from the scene:
Viva FGL
Florida Georgia Line's filmed-in-Las Vegas video for "Smooth" was released this week. The clip co-stars Jesse Garon, the city's go-to Elvis impersonator for such formal events as ribbon cuttings, mayoral arrivals, and choreographed dance numbers with Opportunity Village's OV Elvi.
The video shows Garon-as-Elvis being scooped up while hitchhiking in the desert and joining FGLs Brian Kelley and Tyler Hubbard for a Vegas-centric bachelor party for the great songwriter Craig "Cat Daddy" Wiseman. "Cat Daddy" owns Big Loud Shirt record label, and is a longtime friend of FGL who is featured prominently in the clip.
Downtown hotels Golden Nugget, Four Queens and the California also have cameos as the guys cruise Fremont Street in Garon's ubiquitous, cotton-candy pink 1955 Cadillac Series '62 convertible. The Neon Boneyard, with the old Stardust sign in the background, makes an appearance as well.
The rolling party culminates in vow renewals – real and binding, I'm told – for Wiseman and his wife, KK Wiseman.
"It was good time, but it was exhausting," Garon says. "Eleven-hour days for the King, and all the King's men."
Lassiter remembered
Lane Lassiter, one of the city's great tribute artists and famous for his portrayal of Michael Jackson, died last month of a lengthy illness. Lassiter was featured in "An Evening at La Cage" at the Riviera for 20 years until just before the show closed in 2009.
Lassiter will be remembered at a Sunday fundraiser dubbed "Remembering Lane" (6:30 p.m. at Flair Nightclub at 1700 E. Flamingo Rd.). Many of Lassiter's friends and co-performers are set to appear (using many stage names here), including host Jimmy Emerson, Steven Wayne, Crystal Woods, Logan Walker, Lawanda Jackson, John Bloss, Brent Allen, Shawn M. and Carlos Rodriguez.A suggested donation of $10 at the door will go to Lassiter's family to help pay for burial and medical costs.
"Lane was, without a doubt, the most talented, kind, gentle, and loving person," said Emerson, a friend of Lassiter's for 30 years. Lassiter was a father of two and, as Emerson says, "He was always was there for anyone in need."
Afternoon delights
I finally caught David Goldrake's show at Tropicana Theater last week. His "Imaginarium" steampunk illusion show fits a mini-trend of new family friendly productions in VegasVille. Another one is "Circus 1903" at Paris Las Vegas, which is worth seeing principally for the brilliance of comic magician David Williamson as ringmaster Willy Whipsnade.
In his early run at the Trop, Goldrake has shown he is an experienced showman, impressively resourced and boasting several vital stage elements, including video walls, aerial effects and a cast of four acrobats. He's also seized a nifty marketing strategy by giving out free tickets to kids ages 12 and under for each adult ticket purchased. The discount boosts the audience, the experience and buzz about his show.
An idea tossed around that I like: Adding at least one matinee show in his schedule.
Frank Marino of "Divas Las Vegas" recently added 4 p.m. shows at the newly dubbed Mat Franco Theater at The Linq Hotel. The new schedule was not Marino's idea for his long-running drag revue (the new name for the theater was not exactly his first choice either), but the dean of Strip headliners has handled it with characteristic aplomb. He tweeted a couple of weeks ago, "I was thinking about cleaning up the language for my early shows, but then I said f$&k that! See you at 4 for some real fun!"
Marino's friends in the entertainment community – and he has scores – certainly loved that.
John Katsilometes' column runs daily in the A section. Contact him at jkatsilometes@reviewjournal.com. Follow @johnnykats on Twitter, @JohnnyKats1 on Instagram.