Ertz so good: Vegas agent thrilled at tight end's TD
Updated February 6, 2018 - 6:36 pm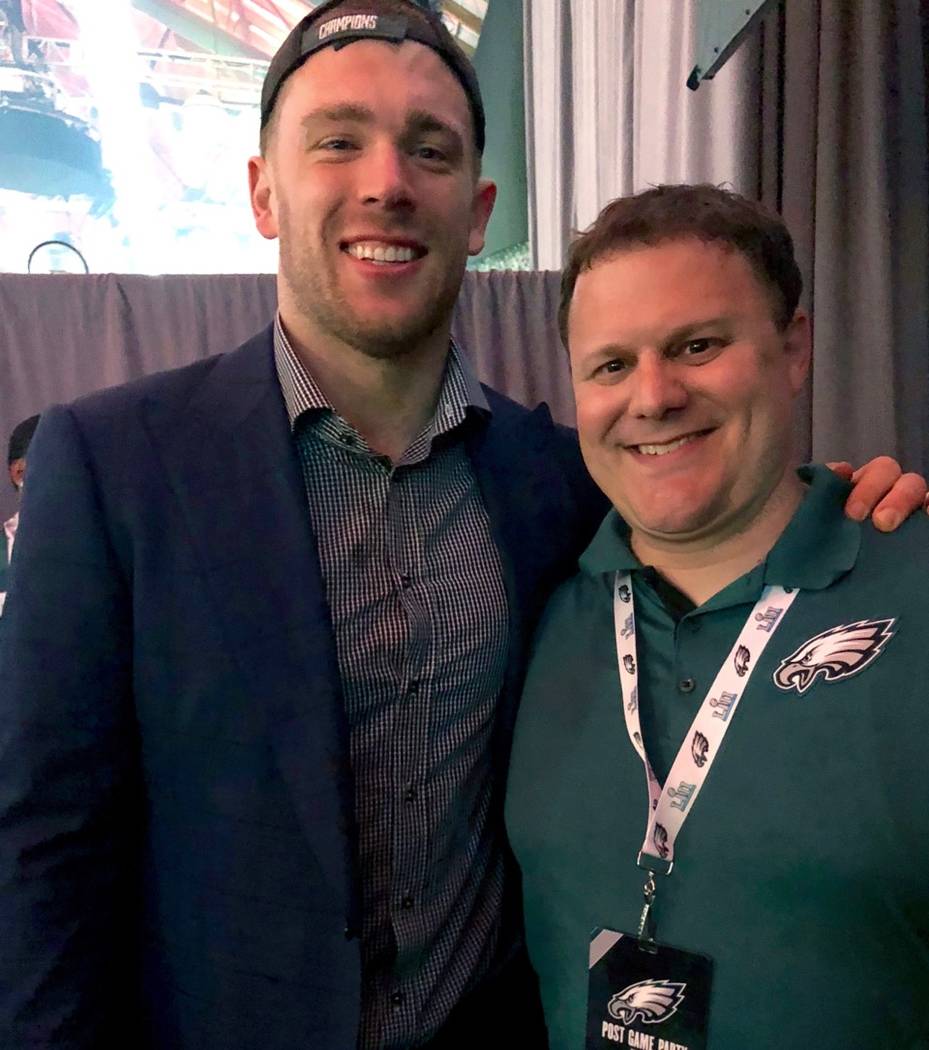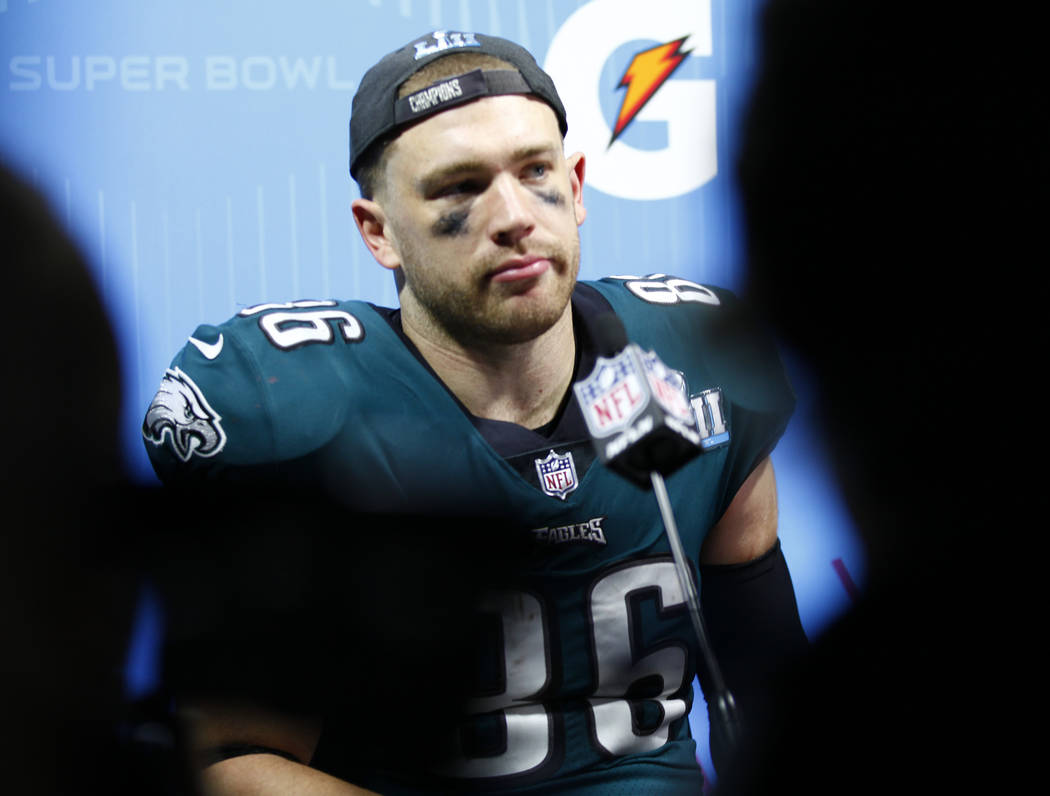 As NBC color man Cris Collinsworth lamented the officials' decision, saying, "I think they have to overturn this call!" Zach Ertz's entourage remained resolute.
That was a touchdown, Philly fans, clear as a bell.
"We were just wondering what they were looking at," Steve Caric of Caric Sports Management of Las Vegas said Monday. "I saw Zach scoring two touchdowns on the same play, actually — one as he broke the plane as a runner, and again when the ball popped out and he caught it again."
Nonetheless, officials took a look to make sure Ertz controlled the ball as he dove into the end zone. After the call on the field was confirmed, Caric said, "You never know what's a catch or what isn't but we were confident it was."
Caric is more than a might biased, of course, as he represents Ertz and is the only Vegas agent to manage a member of the Super Bowl champion Eagles.
Ertz's touchdown at the 2:21 mark of the fourth quarter proved the game-winning score, pushing Philadelphia to a 38-33 lead on its way to a 41-33 victory. Caric watched the game with a group of 15 of Ertz's friends and family members, including his wife, Julie, a midfielder for the United States World Cup-champion soccer team, whom Caric also represents.
Caric has managed another NFL star, Eldorado High graduate Stephen Jackson, who played for the Rams, Falcons and Patriots from 2004-2015. But Ertz is his first Super Bowl champ, whose market value instantly vaulted far beyond his 11-yard TDreception from Nick Foles .
"When you score a touchdown in the Super Bowl, it can create a legendary status for you," said Caric, whose wife, Natalie Mounier, is a top PR rep for Kirvin Doak Communications. "You look at Adam Vinatieri, who is now considered the best kicker in the history of the NFL, but before he won the Super Bowl for the Patriots (No. XXXVI in 2002, beating the Rams), he was just a kicker out of South Dakota.
"What you can achieve in terms of being voted into Pro Bowls, future marketing opportunities — Zach's life has changed because of that catch."
Suspension at Fox 5
In an odyssey that has played out primarily on social media, KVVU Fox 5 News Director Cristi Jessee was suspended by the station on Monday. The station staff was reportedly notified of the decision by KVVU General Manager Todd Brown on Monday afternoon.
No specific reason or timeline was offered, though Brown told the staff an internal investigation was pending. Brown did not return a call seeking comment or clarification. Multiple sources said Jessee had been planning to bring controversial freelance broadcaster Laura Loomer on board at KVVU, which reportedly alarmed the station's staff.
The right-leaning Loomer is known to be a flame-thrower on Twitter, and as noted on the TV-industry website FTVLive.com (and other media outlets), she is banned from using Uber and Lyft because of posting an anti-Islamic message on social media about the ride share companies. She also reportedly entered a polling place wearing a burqa and asked for a ballot under the name, "Huma Abedin."
Last week, Loomer accused Fox 5 anchor Cyndi Lundeberg, who recently married a man of Muslim faith, of carrying out a "sham green card marriage to an Islamic immigrant." Loomer blamed that marriage in the station's decision not to hire her.
On Friday, Lundeberg posted a photo on her Twitter page of her kissing her husband on their wedding day with the message, "Here's me kissing my beautiful husband. Does it make you sick? Good." That post, which tagged Loomer and Fox 5 Vegas, has since been taken down.
Massive tailgating
The turnout for the second "Big Game" party at Downtown Las Vegas Events Center exceeded 7,000, twice the number that attended last year's event. "It was way bigger than we could have expected," said The D Las Vegas Las Vegas Vice President of Operations Jeff Victor, who oversees the event.
The MD report
Gotta make this right; on Sunday I said Ronnie Foster was music director of "Opium," opening March 13 at The Cosmopolitan of Las Vegas. The great keyboard player, who was MD for Human Nature at The Venetian is indeed in the band. But the music director duties are handled by bassist David Ostrem, a member of Clint Holmes' band and also the original MD for "Baz" when it opened at Light at Mandalay Bay in 2015.
John Katsilometes' column runs daily in the A section. Contact him atjkatsilometes@reviewjournal.com. Follow @johnnykats on Twitter, @JohnnyKats1 on Instagram.