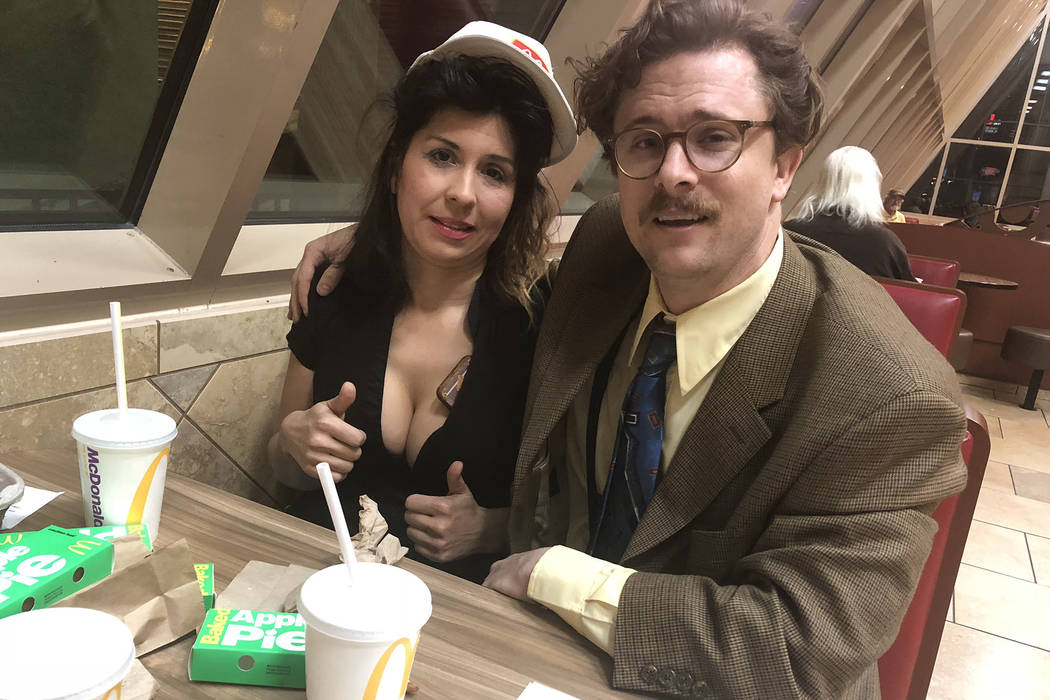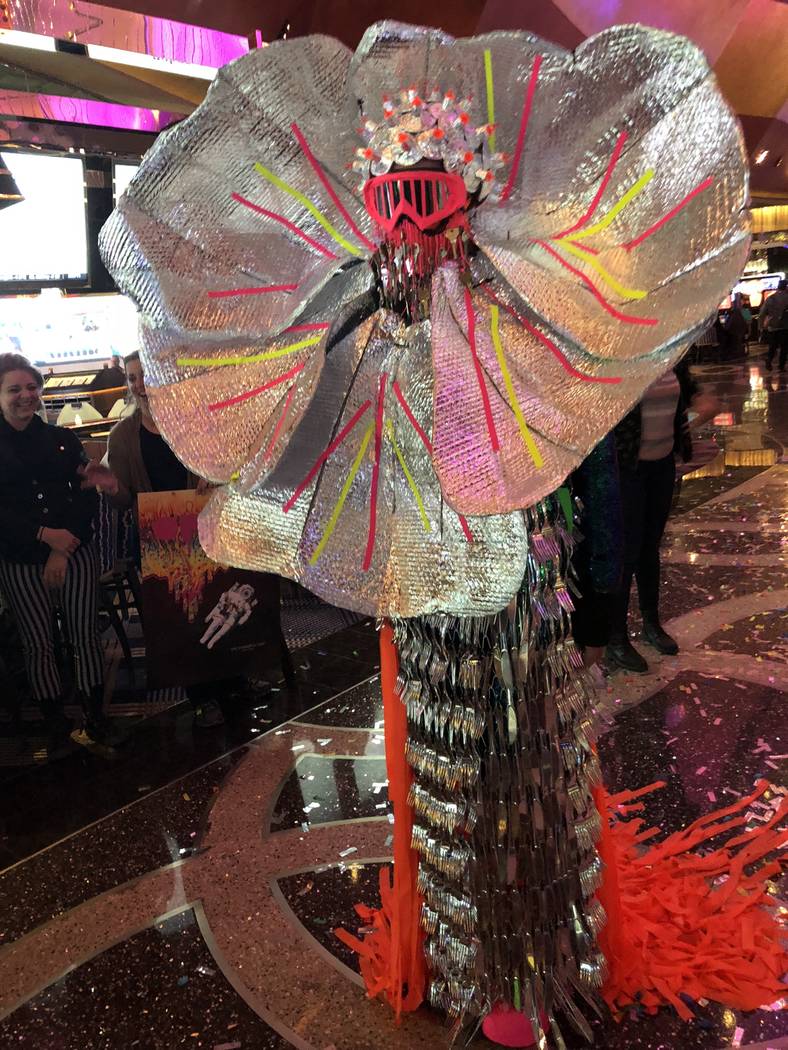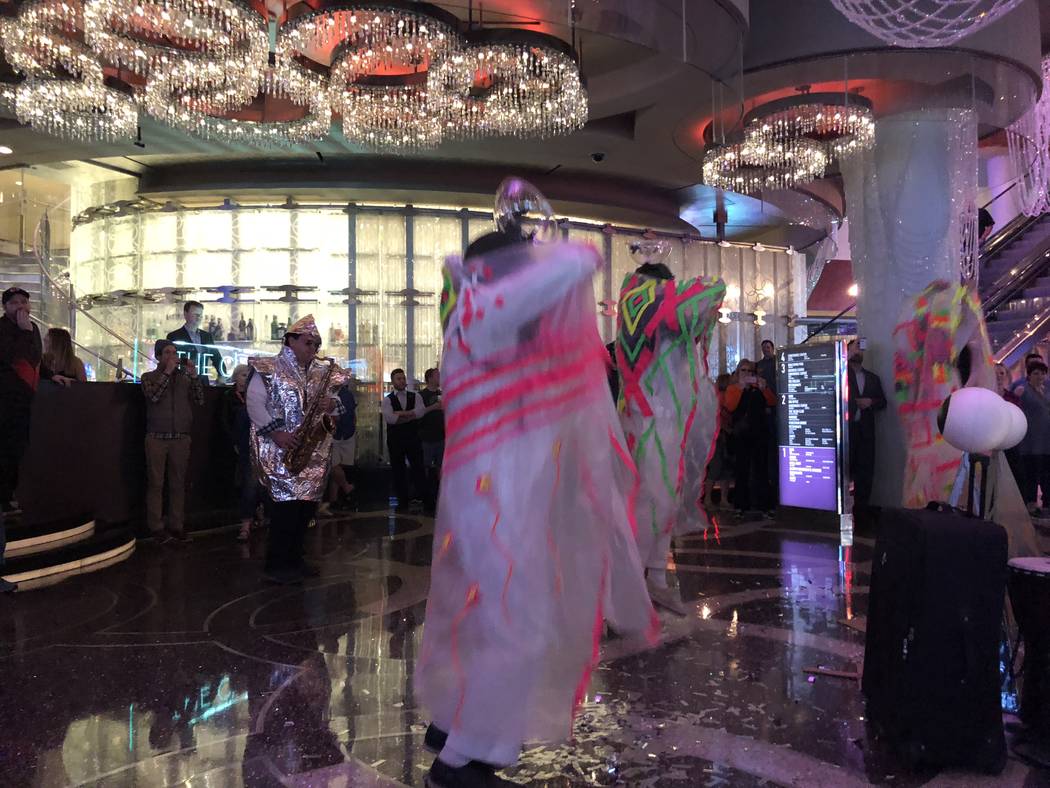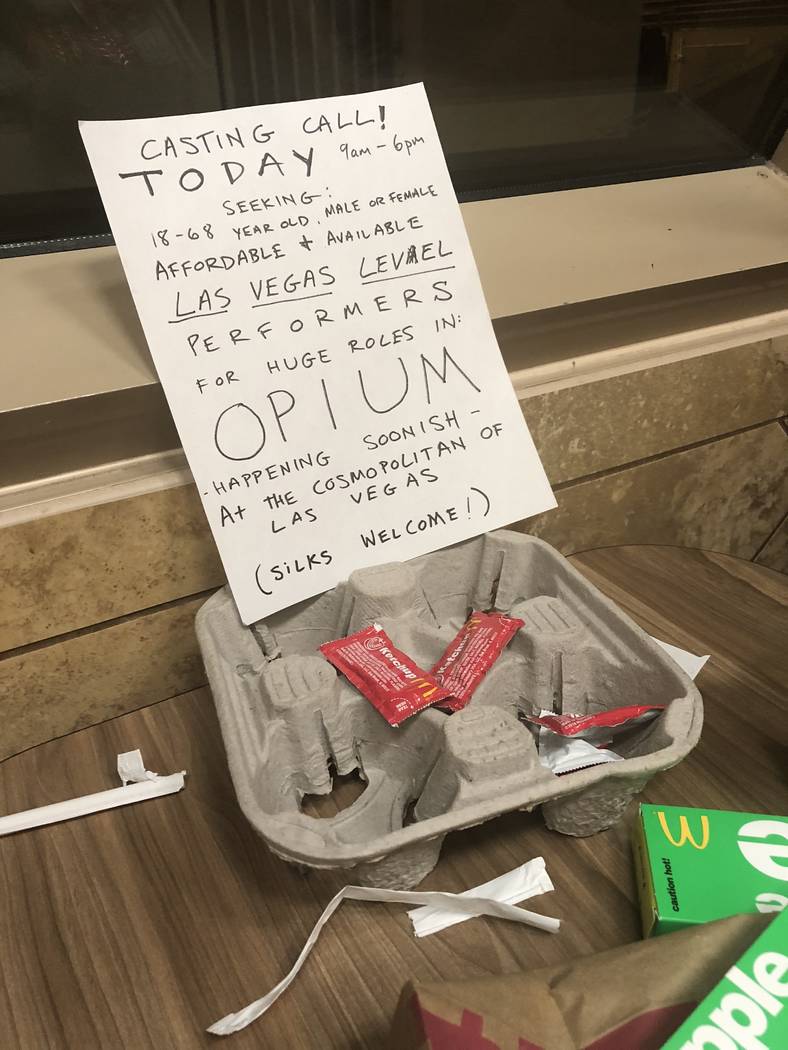 "Opium" is unreal, for real.
The variety/comedy/acrobatic production, which is still under development for the freshly named Opium Theatre at Rose. Rabbit. Lie. at The Cosmopolitan of Las Vegas, is scheduled to open for previews March 13.
The "Opium" cast is led by a fictional character, the PR guru/producer Harry M. Howie, and a collection of similarly aliased co-stars. But the production is driven by real visionaries, among them Spiegelworld founder Ross Mollison; Spiegelworld CEO David Foster; and creative contributors Matt Donnelly, Matt Hodges, Julie Richardson and Eli Weinberg.
Splicing the artificial from the authentic is the challenge of "Opium." Just this week, I've twice encountered Mr. Howie in staged events that felt kind of real.
Monday we met at McDonald's at The D Las Vegas, where he energetically introduced me to new cast member Tammy Babcock. When Harry met Tammy, she was working the counter at The D's McD's and was serving him a hot apple pie — "Opium's" unofficial snack food.
There was a spark, and soon Mr. Howie was calling so I could meet this promising character. "She's a triple threat!" Howie explained, listing Tammy's threats as karaoke, telling jokes … and a third "threat" to be revealed.
One of Tammy's jokes: "What did the snail say when riding on the back of a turtle?
"Wheeeeeee!"
"Great, isn't she?" Howie gushed. He soon handed out (totally bogus) copies of handwritten audition announcements to highly confused diners.
Thursday was the official unveiling of the show at the Cosmo, in the open space between the sports book and Chandelier bar. Dancers wearing eyeball-designed headpieces and draped in multicolored robes spun around a drum circle of show's musicians —the performance was evidently inspired by the early days of First Friday.
At the end of the number, the hotel's glass elevator opened for the debut of costume designer Machine Dazzle, who would appear to be another show character — but no.
"Machine Dazzle is a real thing," I was reminded by a PR rep on hand. "It's a big 'get' for the show." I was then handed a real news release about Dazzle, who has outfitted such artists as Taylor Mac, Justin Vivian Band, Joey Arias, Julie Atlas Muz, Big Art Group, The Crystal Ark The Dazzle Dancers, Stanley Performance Group. The Pixie Harlots and others.
Point is, Dazzle is busy, highly regarded, and uniquely attired, wearing a floor-length dress made mostly of flatwear (forks and knives, specifically). "I met these crazy people here, on my way to the ladies' room, who said they worked in the desert and wanted me to join the show," Dazzle says. "I asked, 'What does opium have to do with the show?' And they said, 'Nothing!' So I was in."
Dazzle's costume was topped by a giant opium poppy blossom, and if that's confusing to you, good. Team "Opium" likes it that way.
Chicago's find
Neil Donell, the vocalist for Chicago during its extended engagement at The Venetian Theater, might look familiar to fans of the Lon Bronson Band. Donell has performed two of Bronson's sold-out, Chicago-themed shows at Myron's Cabaret Jazz over the past couple of years. Donell was the featured vocalist in July 2015, and again last April.
Bronson was led to Donell by drummer Mark Barrett, who knew Donell as the singer in the Chicago tribute band Brass Transit, which has played Orleans Showroom. The versatile Donell can sing from any Chicago era, and also performs a touring James Taylor tribute.
As Bronson says, "We went to see him and he just blew us away." Chicago's run continues Friday and Saturday, and also Feb. 14, 16, 17, 21, 23 and 24.
What of this 'Marilyn?'
The long-anticipated stage show "Marilyn: A New Musical" is all but certain to open in late spring or early summer at Paris Theater. One of the great challenges of that show is how it would coexist in the same venue as the torridly staged "Inferno."
Both shows have unique production requirements — "Inferno's" team has actually cut into the stage for its fuel apparatus. "Marilyn," too, is a fully realized, Broadway stage show with a high volume of period costumes and an extensive set. Similar to Marilyn's famous dresses, it's going to be a snug fit.
Cool hang alert
Among our all-time favorite Vegas haunts, Italian American Club is hosting the great singer and pianist Jimmy Hopper at 8 p.m. Friday. Hopper has an extensive history in VegasVille, dating to the opening of VooDoo Lounge at Rio and Fontana Room at Bellagio. Hopper samples from Frank Sinatra, Nat Cole, Tony Bennett, Michael Bublé, Michael Crawford and other famed artists. Tickets are $30 and available through the club.
IAC also is partnering with the National Italian American Foundation of Washington, D.C. for its annual scholarship drive. The club will award $30,000 in scholarships to Clark County's students of Italian ancestry who are planning to further their education beyond high school. Deadline to apply is March 9; go to iacvegas.com for more info. Selected students will be awarded at a luncheon at the club on April 22.
John Katsilometes' column runs daily in the A section. Contact him at jkatsilometes@reviewjournal.com. Follow @johnnykats on Twitter.