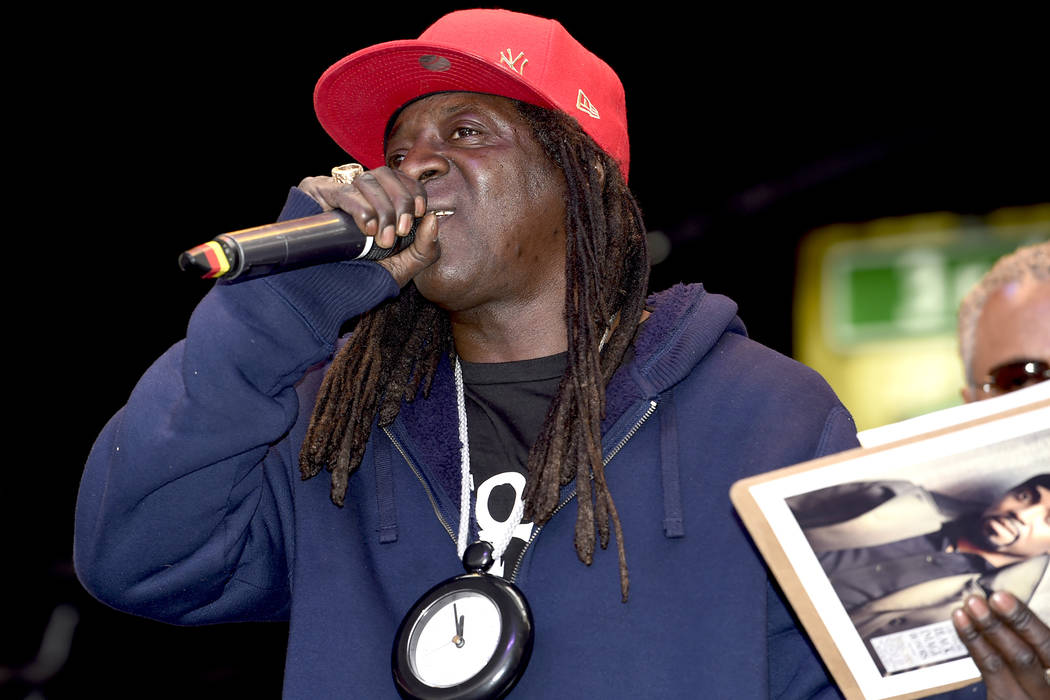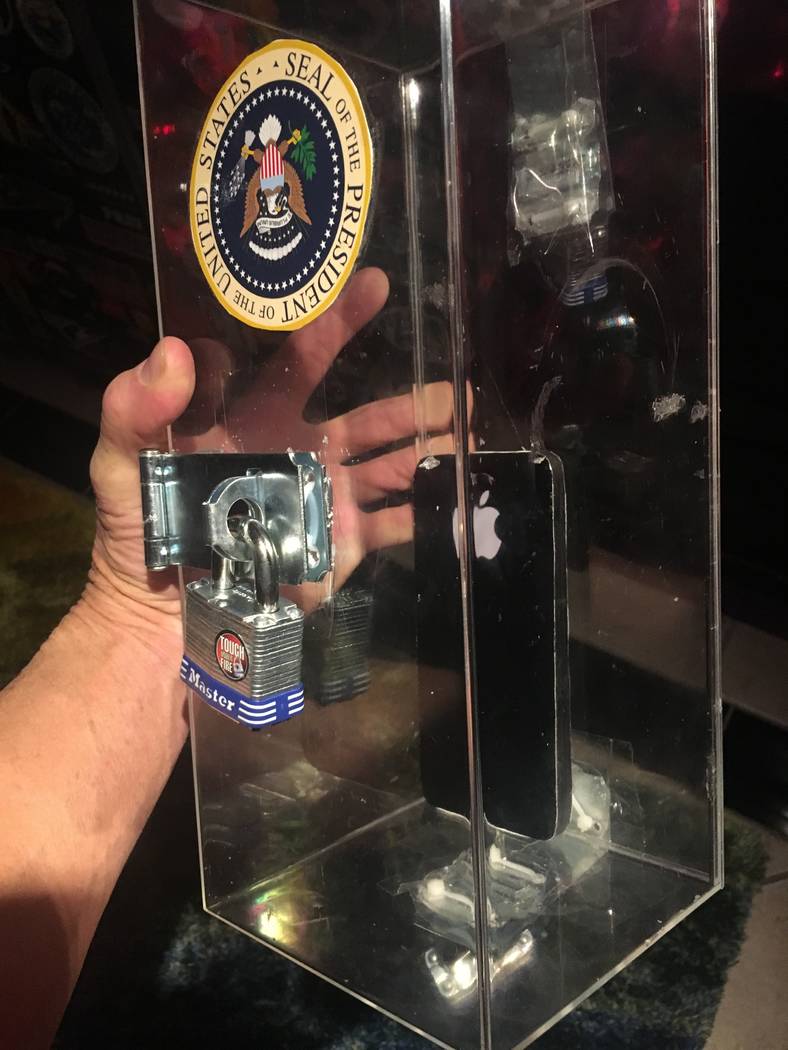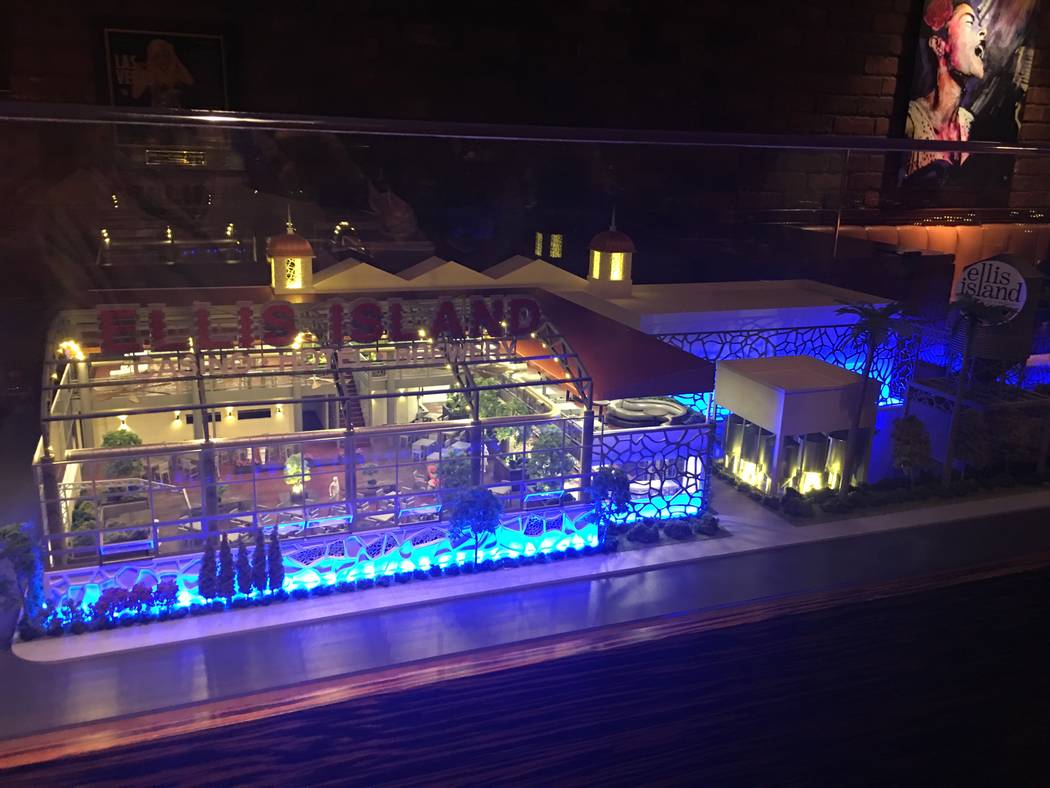 The Kats! Bureau at this writing is Omaha Lounge at Plaza hotel-casino. Saturday night proved was electrifying at the hotel with its fireworks spectacular at its fifth-level pool and amusement deck.
The amusement in this instance was furnished by Flavor Flav, who turned up on time — his oversized clock necklace is usually accurate — and engaged in the widespread frivolity. Shortly before the hotel's wild fireworks show, Flav spoke energetically of a new talk show he plans to host at the hotel.
"Is this a traditional talk show?" I asked. "Like, with you at a desk, with guests?"
"Yes!" said Flav, dressed in a red UNLV T-shirt, and matching ball cap and shorts. "Remember Arsenio Hall? It's going to be like Arsenio Hall."
Standing a few feet away, Plaza Chief Executive Officer Jonathan Jossel said, "I have no comment. Please put that I have no comment."
Jossel was far more interested in the pyrotechnics, and they were at once impressive, percussive and inventive. Hotel headliner Frankie Scinta and his family were among the crew enjoying the fireworks, and also the spectacle that is Flavor Flav.
Top of the prop
Carrot Top (real name Scott Thompson) unveiled his latest bit Friday night, and this might be the top of the props: The President Trump Phone Case. This an iPhone locked inside a plexiglass box stamped with the presidential seal. As Carrot Top said after Friday's show, "It killed." Unlike some other news-pegged props (such as the Balloon Boy effect from 2009), this one will stick around a while …
No man is an island
I have been faaaar behind the curve in appreciating Ellis Island on Koval Lane, just east of the Strip and facing such resorts as MGM Grand, Planet Hollywood, Paris and Bally's. The employees of those resorts are the life blood of Ellis Island's business. The off-shift service workers hit the little hotel-casino for great value at its restaurants (especially Village Pub and Ellis Island BBQ), bars, and gaming tables. Ellis Island's Karaoke Lounge is also a safe haven to sing poorly in public.
As reported earlier, the family owned resort operated by Gary Ellis is developing the Front Yard entertainment venue, breaking ground on the indoor-outdoor annex on Wednesday. Presented as a casual hang, the Front Yard is to offer a brewpub, bar games, live entertainment and a view of the Strip. The two-story hot spot will boast a capacity of 300 and should be open by January.
Following a visit to the hotel last week, Ellis Island Director of Marketing Christine Ellis (daughter of Gary) noted the following fun facts about the family business:
* Ellis Island opened in 1968, as Village Pub.
* The Village Pub and BBQ combine for about 1,700 "covers" (or, "meals") each day.
* The on-site brewery turns 20 years old next year.
* The sign, which looks like a replica of a grain silo, is actually a grain silo.
* The hotel serves more than one million draft beers every year (hic).
* To date, this year Village Pub has served more than 40,000 sirloin-steak specials (served with soup or salad, garlic green beans and choice of potato). Very good numbers for an item not listed on the menu. Ya gotta call it out.
Killer idea
Returning to the topic of the Plaza, the hotel's showroom is one of the few classically appointed, old-Vegas venues remaining in the city and the only such showroom operating on Fremont Street. Brandon Flowers performed scenes in The Killers' new video "The Man" in the Plaza Showroom — he was the only member of the band who took part in the clip, in fact. But a pop-up show by The Killers in that showroom would be what we call a great civic moment.
Who Was Where
The Backstreet Boys waded into several Cirque shows on the Strip over the past several days. Kevin Richardson and his family hit "Michael Jackson One" at Mandalay Bay last Monday. On Tuesday, Brian Littrell visited the show, also with his family. Littrell and A.J. then attended Thursday's performance of "Love" at The Mirage. Their entourage topped out at 20, and that is some serious entourage action … On Saturday, comic great Louie Anderson at Rob Schneider's show at Tropicana Theater; one portrays a matronly mother of twins, the other has played a luckless gigolo … Saturday, Brody Jenner at Topgolf at MGM Grand, taking over the Owner's Suite to watch Steve Aoki's set at adjacent Wet Republic. Also Saturday at Topgolf, in the Chairman's Suite, Los Angeles Lakers owner Jeanie Buss.
John Katsilometes' column runs daily in the A section. Contact him at jkatsilometes@reviewjournal.com. Follow @johnnykats on Twitter, @JohnnyKats1 on Instagram.