Florida Georgia Line lights up Zappos Theater in Las Vegas
Updated December 6, 2018 - 6:46 pm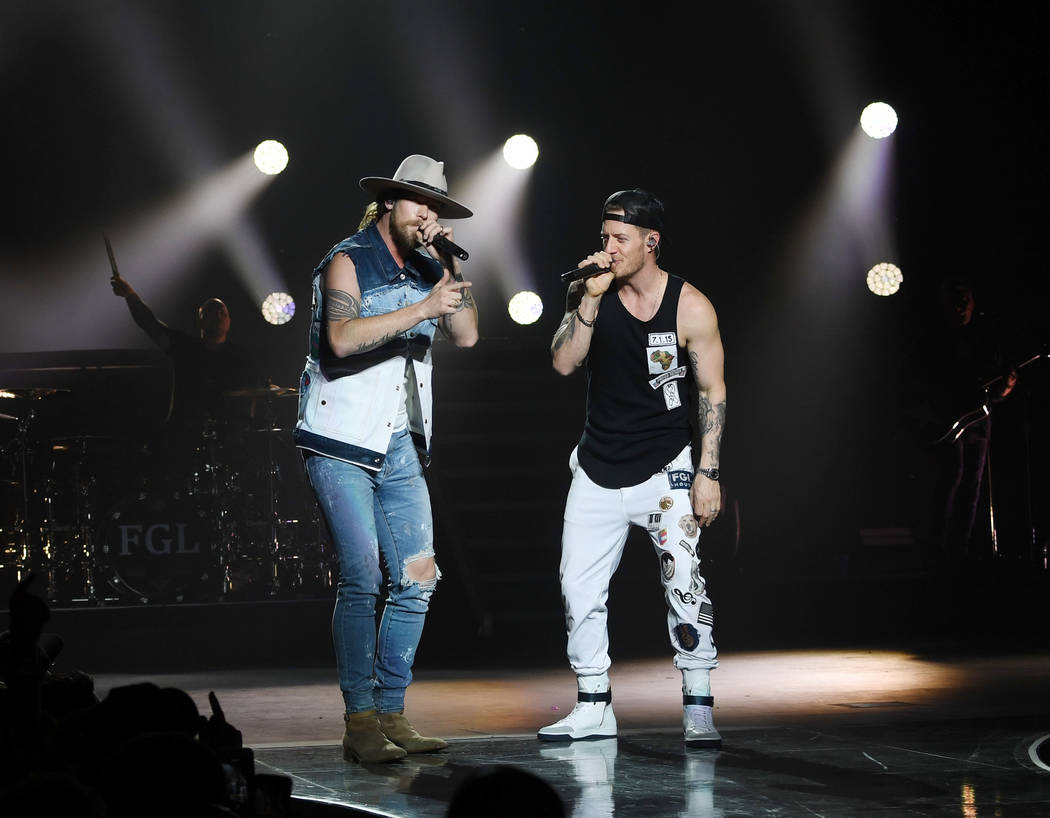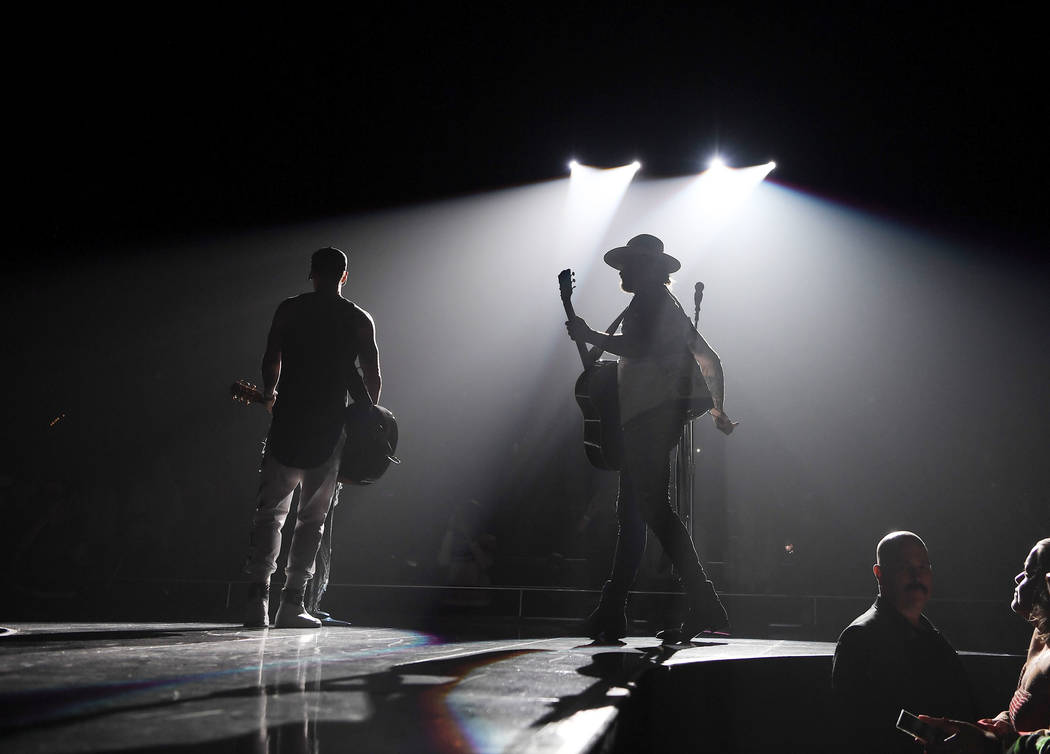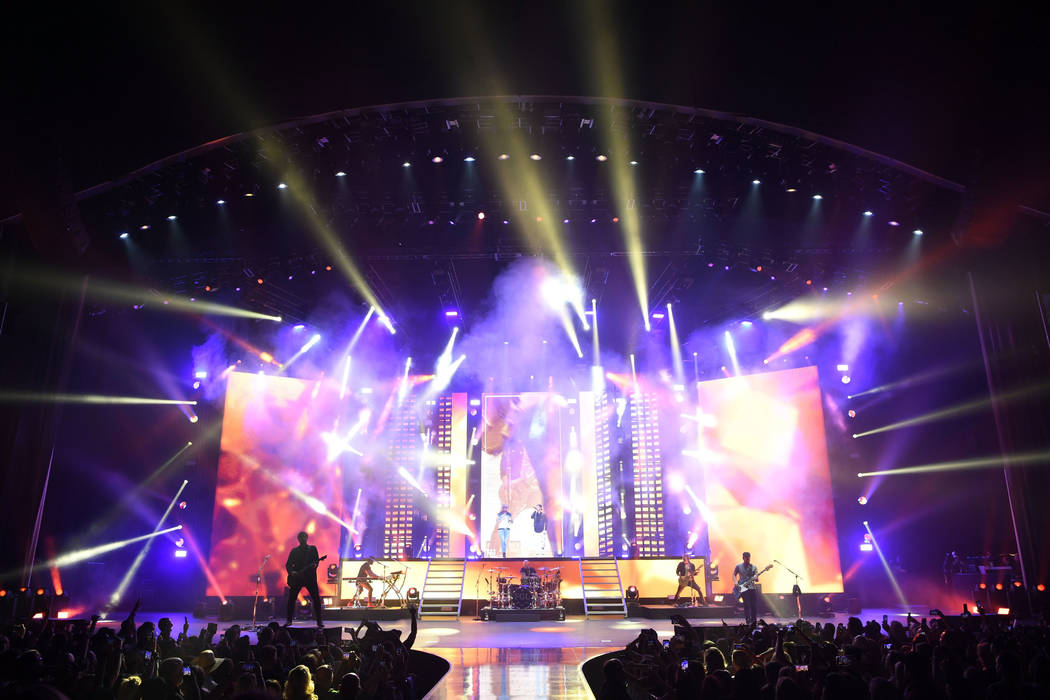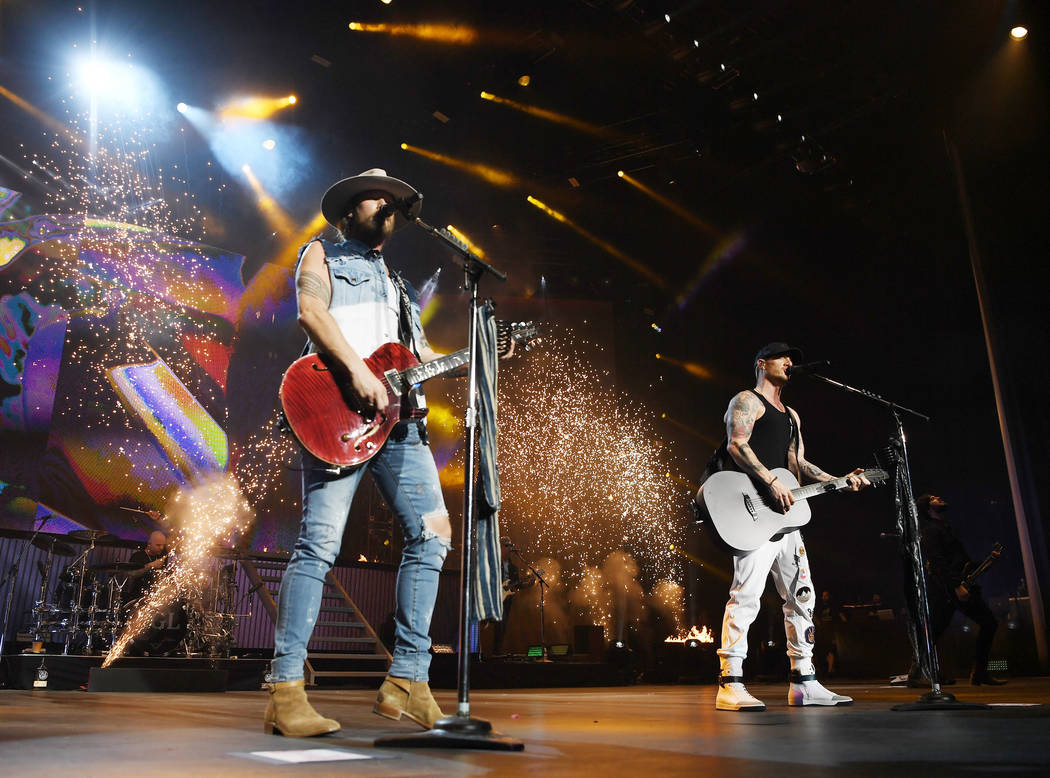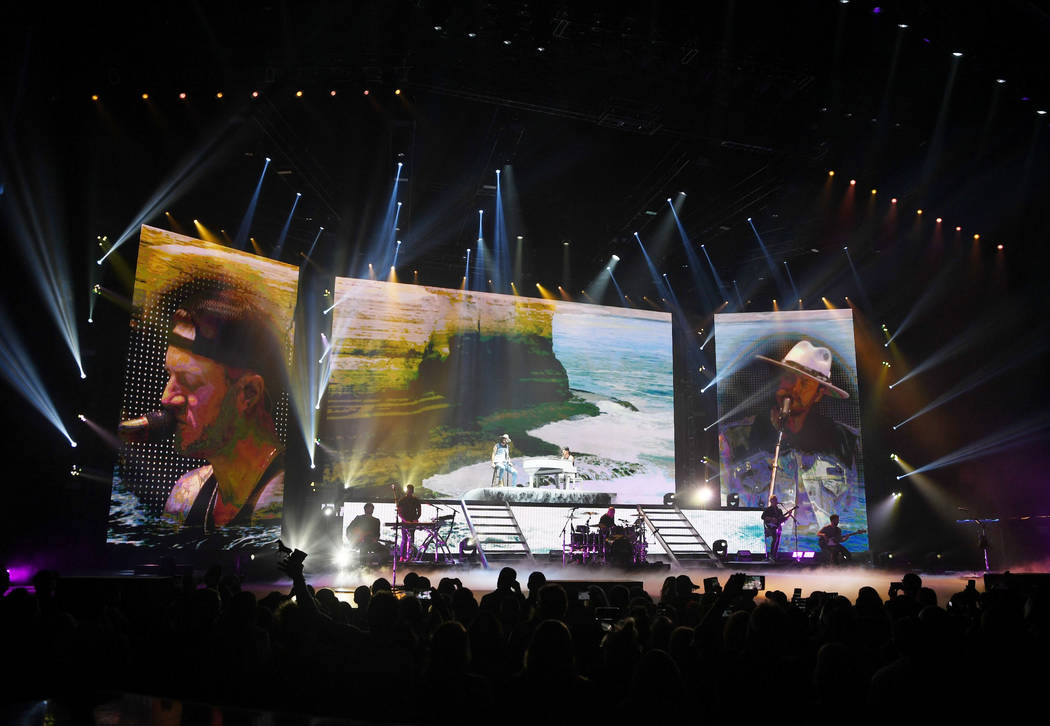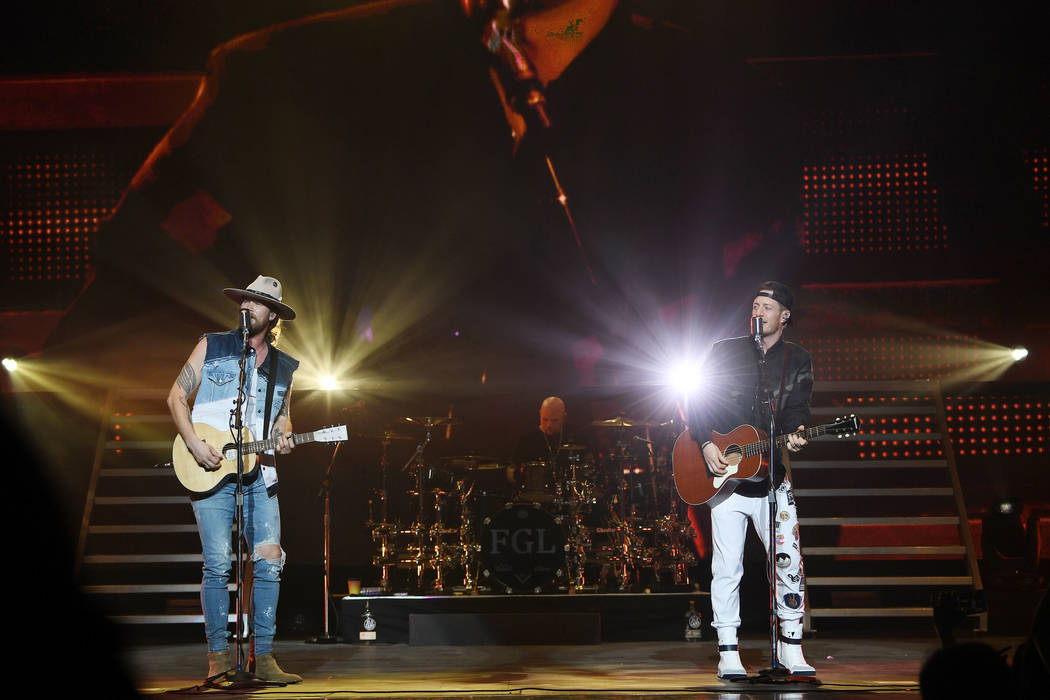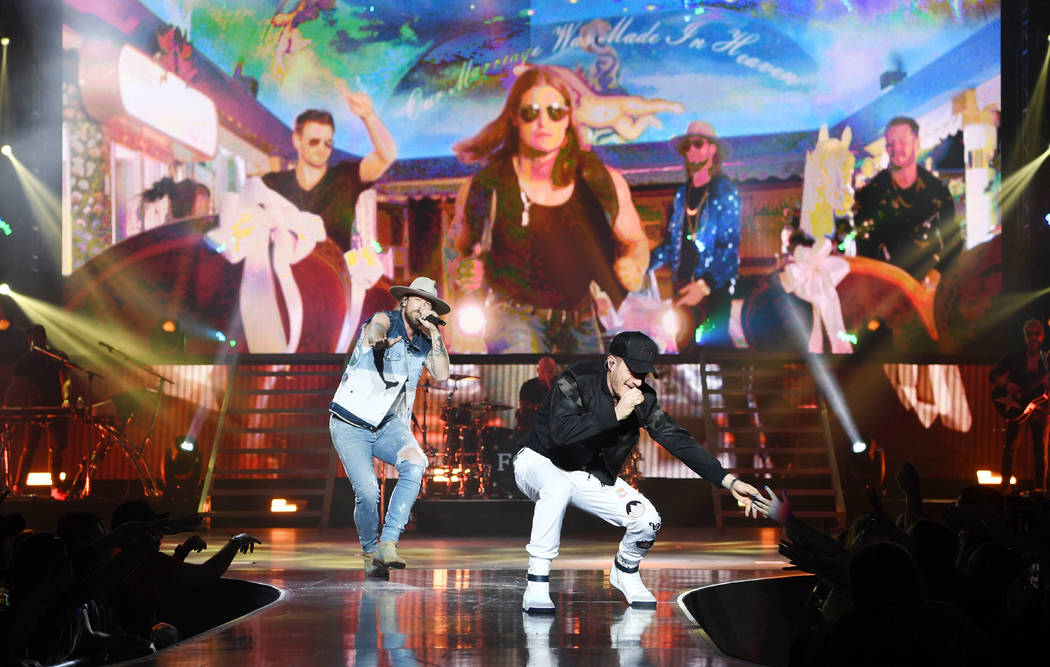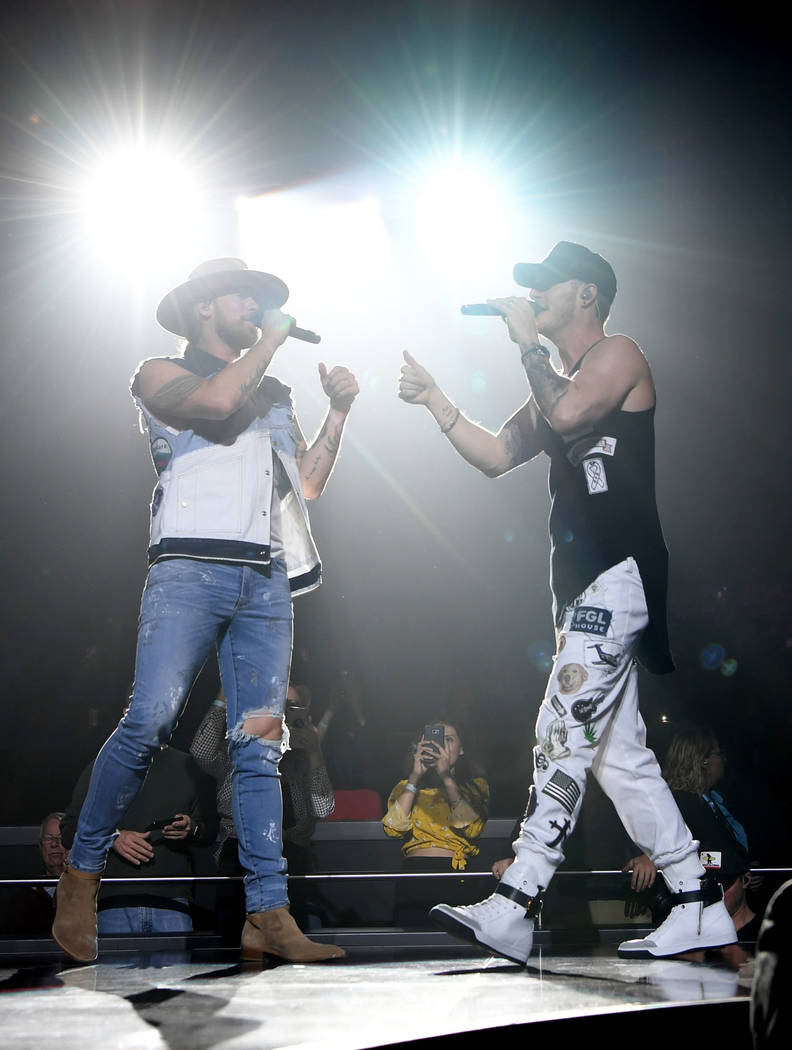 Florida Georgia Line gets it. Of course, "it" is a pliant concept for riding pardners Tyler Hubbard and Brian Kelley.
Sometimes "it" is slamming shots of Pendleton whiskey onstage. Or, routinely extolling the virtues of marijuana ("It's legal in Nevada now, isn't it?"). Or, especially, putting on a Vegas show amid extensive pyro and LED power while clad in cowboy boots, sleeveless shirts and myriad tattoos.
FGL has opened its extended engagement at Zappos Theater at Planet Hollywood. The first two shows have reportedly sold out, including Wednesday's performance, which Hubbard said was played to "the loudest Wednesday night crowd ever." Maybe, at least in the Strip-theater category. The series also runs Friday, Saturday and Tuesday.
A favorite at nationally televised awards shows, FGL has 'em some fans, and most stood through Wednesday's snappy, 75-minute performance (Mason Ramsey, famous as the kid on YouTube who yodeled Hank Williams' "Lovesick Blues" at Wal-Mart, opened). Their appearance arrives just in time for the National Finals Rodeo, and reminds that a band in its hit-making prime can perform to packed houses over multiple dates on the Strip.
FGL is not a "legacy" act, following headliner residents who have built bases of loyal fans over several decades. This band is in the here and now, with the new single "Simple" in Wednesday's set list. Though targeting a primarily country audience (hence the timing with the NFR), FGL's show is akin to a rock concert. The live show is an audio-visual force, with its slamming rhythm section, vast video panels and frequent (and surprising) complement of pyrotechnics.
Full videos of singles played along with the guys' hard-edged vocals as they strutted along the theater's walkway that cuts into the crowd. A run of "Meant to Be," FGL's collaboration with Bebe Rexha; and "Cruise," during which the duo rapped Nelly's part in the song, were in the mix.
These two obviously enjoy Vegas and all of its well-established trappings. "Smooth" was a highlight midway through the performance. This is the video that co-stars Jesse Garon, who has long been the city of Las Vegas' chosen Elvis tribute artist for official events. Garon-as-Elvis is picked up as a hitchhiker to start that video, climbing into the same 1955 pink Cadillac convertible he piloted to deliver FGL to the 52nd annual Country Music Awards show at T-Mobile Arena in August 2017.
FGL and our faux Elvis are to be reunited at 2:30 p.m. Tuesday at City Hall, as Las Vegas Mayor Carolyn Goodman issues a proclamation making that day Florida Georgia Line Day in Las Vegas. Toast it, or light up, or stand and dance. FGL is good with all of it.
New clip joint
Hearing on good authority that Barbershop Cuts and Cocktails is opening at Cosmopolitan of Las Vegas in the spring. The space is operated by Clique Hospitality founder Andy Masi, along with his partners Ryan Labbe and Jason "JRoc" Craig. Clique also operates its eponymous nightclub on the casino level of Cosmopolitan.
BC & C (already using that in shorthand) is to be a classic grooming salon coupled with a cocktail lounge. They'll have accomplished barbers offering haircuts and straight-edge shaves. And over there, somewhere, have a post- or pre-groom cocktail. This seems such a "guy" thing, I might actually return to shaving every day.
Close's call
Lawrence Close, late of Palm Restaurant at the Forum Shops at Caesars, is now general manager of Eldorado Cantina. He started about a week and a half ago.
Donny & Marie's outreach
Donny & Marie might not be in tandem when announcing the future of their production show, but they're lockstep on recruiting late-night talk show hosts. While on their annual holiday break from Vegas, the sibling Strip stars are tag-teaming Jimmy Fallon for a visit to Flamingo Las Vegas when their stage show returns in February.
Marie opened Thursday by tweeting a clip of Andy Cohen with Fallon "The Tonight Show." "Come to Vegas and see our @FlamingoVegasShow and I'll get you both on stage!" Donny re-tweeted his sister's message, posting, "Let's make this happen … Marie and I will show you #Vegas at its finest!" This seems a concerted effort.
Let's make this happen, @jimmyfallon & @andy! Marie and I will show you #Vegas at it's very finest. 🕺🏻💃🏻 https://t.co/NCYjjparhR

— Donny Osmond (@donnyosmond) December 6, 2018
Not-so-wasted-space
New York-New York Entertainment Director Stephanie Sanchez has opened a new live-music venue — inside the hotel's food court. It was all a happy accident.
Because of Thursday's rains, the Park tailgate party hosted by the Pop Country lineup of Lily Perrico (formerly Arce), Lyssa Baker, Joe Spraker, Jeff Zinn, Rich Taylor and Cameron Tyler was moved inside.
Pop Country, which is produced by column fave David Perrico, effectively opened that space for music, cranking out country hits in time for NFR's opening night.
If nothing else, the band, and Sanchez, are forever adaptable.
John Katsilometes' column runs daily in the A section. His PodKats podcast is posted on the R-J website. Contact him atjkatsilometes@reviewjournal.com. Follow @johnnykats on Twitter, @JohnnyKats1 on Instagram.