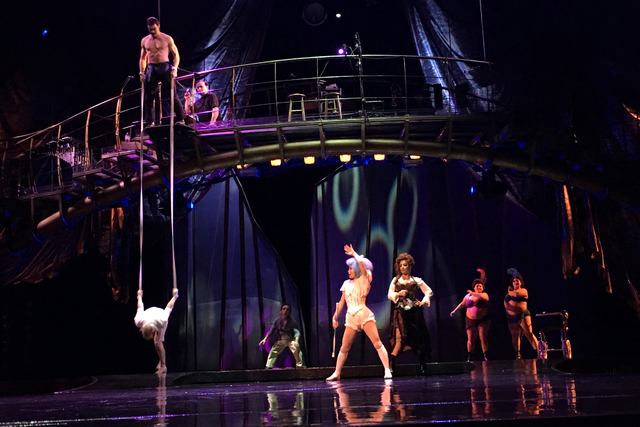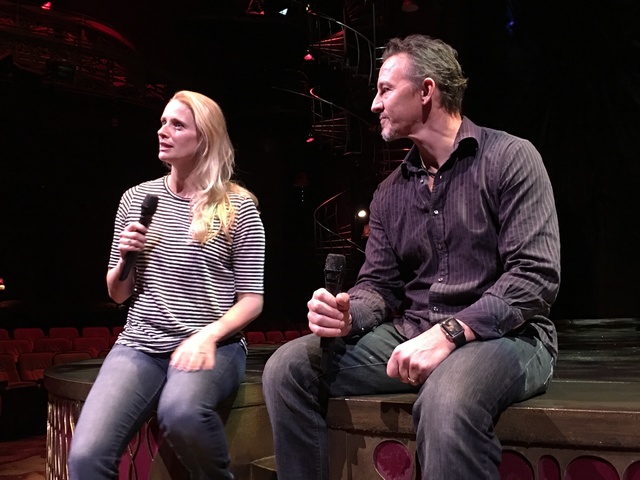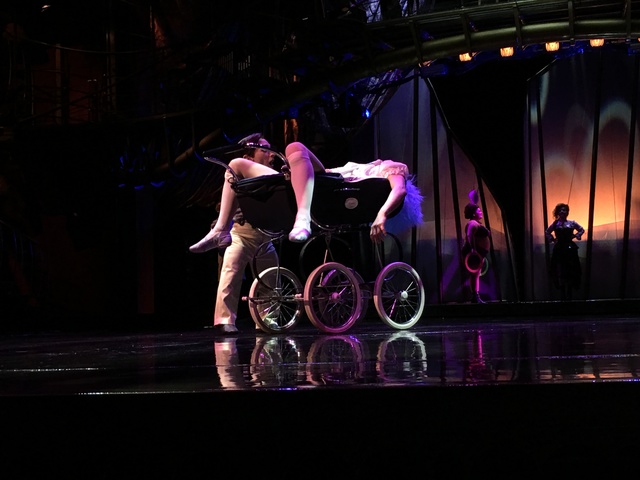 The scene is that of a little boy, gazing from the wings of an old vaudevillian theater. Through the lights descending on that stage, he watches in fascination as the ringmaster introduces an act in that night's circus.
For now, this act exists only in the memories of Nicky Dewhurst. But it will be performed for the masses soon enough at New York-New York's Zumanity Theater on March 3 during the annual "One Night for One Drop" charity production. A segment of the show, its first costumed rehearsal, was unveiled Wednesday at NY-NY.
"The idea is to go back into a vintage circus, and a lot of those memories are definitely from my childhood," said Dewhurst, the son of circus-clown legend Brian Dewhurst, who at age 84 still performs regularly as the clown character in "Mystère" at TI. "One moment in the show, we have a little boy almost peeking through the curtains, looking out at the show. We are still figuring out how to achieve that image, but that was from my childhood, sitting on the stage, looking out at the world."
Brian Dewhurst joined his family's circus troupe when he was 13. Nicky was even younger when he began hanging around the stage. He currently plays the smarmy co-host of "Zumanity" and has been summoned to co-direct the fifth annual "One Night For One Drop" show with his wife, Laetitia Dewhurst.
The storyline follows an aged ringmaster, played by Brian Dewhurst himself, looking back on his life in the circus, along with his onstage assistant (played by Alan Silva of "Zumanity"). The elder Dewhurst was not onstage the segment of the show performed Wednesday, but he will be the lead performer on March 3.
Thus, the "One Drop" show is a family endeavor, for Cirque (with dozens of performers from the Strip's seven Cirque shows volunteering their time and talent) and also for the Dewhursts . Laetitia Dewhurst and the Dewhurst boys opened the show at New York-New York. Her brother, Ray Perry, plays "The Timekeeper" in the show, and Sally Dewhurst (daughter of Brian, sister of Nicky) is also on the "One Night For One Drop" events committee.
Nicky and Laetitia also are developing an under-the-carriage look at circus acts for this production.
"We're trying to create some of the drama backstage that doesn't come onstage," Laetitia said. "We have a teeter-board act performed backstage, like a rehearsal, so it is more free. The guys are bantering, egging each other on, and that is beautiful to see."
Nicky, who has seen that act played out countless times, says of the co-directing partnership with Laetitia, "We have worked very well together."
SANTANA'S BACK
What works in Vegas? Carlos Santana at House of Blues. His run at the Mandalay Bay music hall has been extended through November, it was announced Wednesday. A total of 23 shows from May 17 through Nov. 12 have been added. Tickets start at $99.50 (minus fees) and will go on sale at 10 a.m. Friday at the hotel box office at 800-745-3000 andTicketmaster.com.
'SEINFELD' LIVES FOREVER
Steve Hytneris co-headlining with "Stuttering John" Melendez (best known for his appearances on "The Howard Stern Show" and "The Tonight Show With Jay Leno" through Sunday at the Laugh Factory.
Hytner remains recognizable for his portrayal of the annoying comic Kenny Bania on "Seinfeld," a role that debuted in 1989. Hytner played the character in just six episodes (including the legendary "Soup Nazi" episode), ending with the series finale in 1998. But as he says, "'Seinfeld' never dies."
For years, Hytner had declined to mention Bania during his act, but he has finally relented and now asks audiences — including Tuesday's at the late show at the Trop — if they know the character. They always do.
The problem is on cruise ships. Hytner hits the seas occasionally, and when they recognize him as Bania, "There's nowhere to go," as he says. "There's nowhere to hide."
MORE ON THE TROP FRONT
The Tropicana Theater is currently without a show, but that is a temporary reality. Expect an outside operator to take over that venue and bring some "content" – what we used to call "shows" – by the end of the year.
GUY'S MONEY
Where golf and circus meet: A big investor in the Golfstream laser golf attraction, set to open Friday at MGM Grand's Level Up tavern and game-playing center, is Cirque du Soleil co-founder Guy Laliberté.
WHO WAS WHERE
Pitching legend Orel Hershiser, who has a home in VegasVille, Tuesday night at La Cave at Wynn Las Vegas; also Tuesday, Raiders wide receiver Michael Crabtree at STK at the Cosmopolitan; on Friday five (yes, five) members of the Tennessee Titans hit SpeedVegas (just south of the Welcome to Fabulous Las Vegas sign on Las Vegas Boulevard South). The Titans at play were tight end Delanie Walker, defensive end Jurrell Casey and linebackers Avery Williamson, Brian Orakpo and Sean Spence.
John Katsilometes' column runs daily in the A section, and Fridays in Neon. He also hosts "Kats! On The Radio" Wednesdays at 8 p.m. on KUNV 91.5-FM and appears Wednesdays at 11 a.m. with Dayna Roselli on KTNV Channel 13. Contact him at jkatsilometes@reviewjournal.com. Follow @johnnykats on Twitter, @JohnnyKats1 on Instagram.