For Mr. Las Vegas, George H.W. Bush was just a phone call away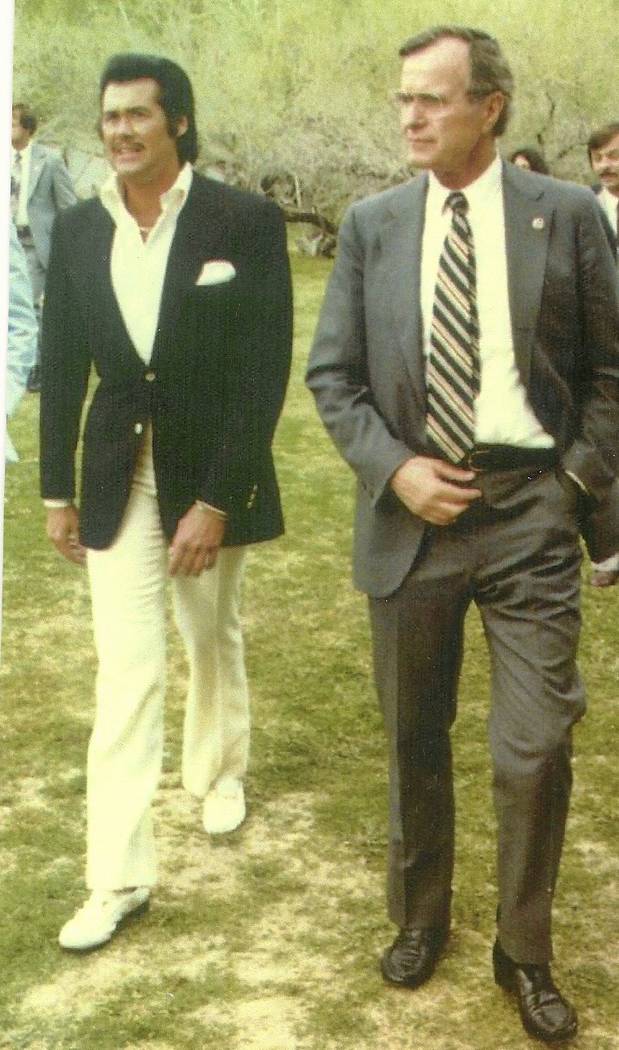 George H.W. Bush was known to be impulsive when reaching out to his friends. When the mood struck, he'd hop on the phone and chat it up.
Wayne Newton learned of this characteristic. Once, Bush tracked down Newton while Newton was on tour in Palm Beach, Florida. The Bushes — George and Barbara — had watched an airing of Newton's biography on A&E. Bush, who by then had known Newton for nearly 20 years, so enjoyed the broadcast he needed to tell Wayne himself.
So he called Mr. Las Vegas in Las Vegas and reached a member of Newton's staff at Casa de Shenandoah. "This is George Bush and I'm trying to reach Wayne Newton," he said. The staffer, nonplussed, took Bush's number and called the Newtons in Florida, saying that someone claiming to be President Bush was trying to find out where he was staying.
"Absolutely!" Newton said Saturday, laughing at the memory. "So President Bush finally gets to us, and all he wanted to tell me, 'I'm so proud to call you a friend.' I said, 'Me, too, Mr. President.' What a kind, kind man."
Newton had met Bush, who died Friday at age 94, when Bush was campaigning in 1979 as Ronald Reagan's vice presidential candidate. During Reagan's first term, Bush visited Shenandoah in his long, black limousine and asked if Newton's daughter Erin (then age 9) wanted to check it out.
"He said, 'How'd you like to play in my car? Check it out, see how it works,'" Newton said. "Erin was over the moon. He was that kind of guy."
He also called Newton again, around 2008, after Newton appeared on a cable news show to defend George W. Bush's presidential record.
"I had said that history would show that George W. Bush would be remembered as a great president and a great man," Newton said. "We were at the Peninsula hotel in New York. Same thing, he called and said, 'I can't thank you enough for what you said about my boy.' That's how he was, so kind and genuine."
Wayne's wife, Kathleen, had for years heard of Bush's sense of humor after she and Wayne were married in 1994. "I finally got to spend time with this man, and I fell absolutely in love with him. I wish all of the American people could have seen that side of him. I told Wayne, 'You're so right, so right about him.'"
Bush recorded a video clip to play during the public tours of Casa de Shenandoah. "When you get older, and I'm older, you realize how important friendships are," he said. "I've great respect and friendship for Wayne Newton. He's a good man, he's done so much for the entertainment business, and he's done so much for others."
Clearly and uniformly, the same is said of the departed 41st president.
A Santa sea
A few moments caught from Saturday's Opportunity Village Great Santa Run on Fremont Street in downtown Las Vegas:
— Mayor Carolyn Goodman sidling up to the (naturally) shirtless "Chippendales" cast and the guys from Human Nature as Oscar Goodman complained, "Look at my wife! Look at her! I can't get her away from these guys! When is this going to stop? She drives me to drink! Where are my showgirls?"
Oscar was carrying a martini, and it was loaded.
Grand Marshal Lance Burton with Rocky, the doggy owned by him and his longtime significant other, Gabriella Versace of "Sexxy." Burton took ownership about eight years ago as he was closing his run at the Monte Carlo. And I mean "took," as one of Burton's fellow performers had found the puppy and brought him backstage. Lance said, "Are you fostering this dog?" When he was told, "Yes," Burton took Rocky … forever. The mixed-breed pooch dog is named for Rocky Balboa, because Versace is originally from Philadelphia.
*Fox 5 anchor and co-emcee Jason Feinberg locked his bike to the fence behind 3rd Street Stage. He then slipped into his Santa suit and hustled to the stage. Within minutes, a security officer took a disc grinder to the lock and was about to impound Feinberg's mode of transportation. I actually was one who stepped in and said, "Wait! That bike belongs to the guy onstage right now!" But Feinberg had inadvertently violated security protocol by locking his bike on that fence, so we hid it in the stage's storage room.
When I told Feinberg what had happened, he said, "No big deal. It's only a $10 lock."
Worth every penny.
Jingle some of the way
Travis Cloer was in characteristically fine voice at Saturday's soaring matinee performance of the Las Vegas Philharmonic's "Classic Holidays" performance at The Smith Center for the Performing Arts. But Cloer's sleigh went off-course during "Jingle Bells." He simply forgot the song's second verse (yes, there is a second verse), which starts with, "A day or two ago, I thought I'd take a ride. And soon, Miss Fanny Bright, was seated by my side."
As conductor Dick McGee led the orchestra into that uncharted territory, Cloer's eyebrows raised and his jaw dropped. His singing partner, Kristen Hertzenberg, hit him with a hip bump as she continued to sing.
Gathering his composure, Cloer simply led the audience, laughing at this point, into an impromptu singalong. The guy's a pro …
Cool Hang Alert
Putting a bow on all of this, Cloer is headlining his annual "Christmas at My Place" show at Italian American Club's showroom at 7:30 p.m. Monday. The cost is $30 (a mere pittance). Cloer is great. See him. Hear him. And, if need be, sing with him …
John Katsilometes' column runs daily in the A section. His PodKats podcast is posted on the R-J website. Contact him at jkatsilometes@reviewjournal.com. Follow @johnnykats on Twitter, @JohnnyKats1 on Instagram.