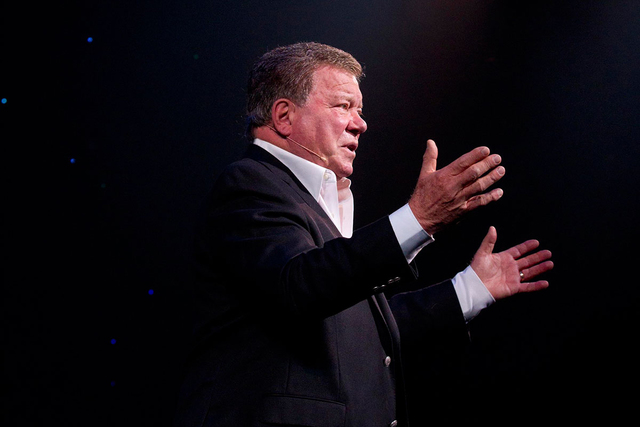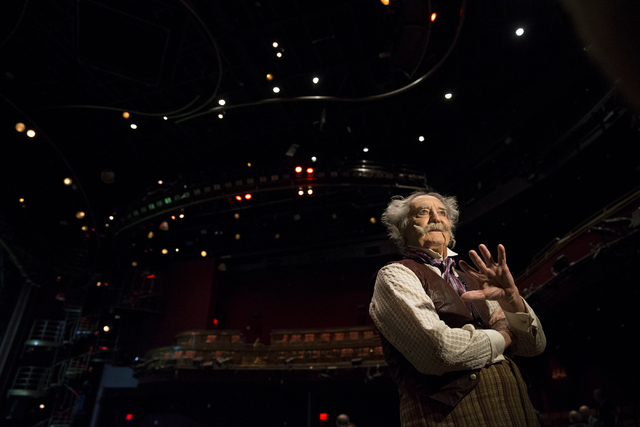 Cirque du Soleil has finally found an 80-something artist to join Brian Dewhurst onstage. The newcomer is an accomplished thespian and, fortuitously, is from Cirque's city of origin, Montreal.
Welcome to a Strip production, William Shatner.
Shatner is among the latest additions to the fifth anniversary performance of the "One Night For One Drop" show at New York-New York's Zumanity Theater on March 3. His participation will mark a rare moment for Dewhurst, who has played the usher-clown role in "Mystere" for the past 17 years, because he will not be the elder statesman onstage. Shatner's 85th birthday is March 22; Dewhurst will turn 85 May 22.
"We love the fact that Dad will not be the oldest person in the show," says Nicky Dewhurst, Brian's son and a cast member in "Zumanity" who is co-directing "One Night" with his wife and fellow "Zumanity" artist, Laetitia Dewhurst. "For him, it's been a while. A long while."
"One Night" will also incorporate rapper Redfoo from LMFAO, "America's Got Talent" champ Grace VanderWaal, the acrobatic tandem Duo Sky Angels and Malevo, an Argentinian dance group and "AGT" finalist.
Dewhurst portrays the lead character, an aging ringmaster named Mortales in "One Night's" circus-themed story line. Shatner arrives late in the production, joined by The Tenors, in a crucial, emotionally jarring turn of plot (the moment augmented by Shatner's reliably theatrical delivery).
"He is a real thespian," says Cirque stage director Krista Monson, who contacted Shatner via an e-mail sent to one of his associates. "When (Shatner) heard about the show, he was very interested and started asking all about the arc of the story. He really wants to act in this show."
'ABSINTHE' STAYING — FOR NOW
The latest on the "Absinthe"-Base Entertainment-Caesars Palace odyssey is that the show will be staying at Caesars' Roman Plaza for at least the next four months. In Clark County District Court on Monday morning, Judge Elizabeth Gonzalez granted the request from Caesars Palace attorneys for a 90-day "discovery" period to collect and review materials for their case against the show's move to the Cosmopolitan. The next court date is June 5.
"Absinthe" lawyers have argued that the lease signed with Base at Caesars Palace expired Oct. 21; Base and Caesars lawyers contend that the agreement automatically rolls over to October 2018. Waiting in the wings is the Cosmopolitan of Las Vegas, which wants the show to move into a renovated Rose. Rabbit. Lie. theater, ASAP.
'MILLION DOLLAR' PICKUP
Fans who filed into Suncoast Showroom on Saturday night for Frankie Moreno's first performance at the venue were in for a surprise: Rob Lyons on guitar. He was most recently onstage at the closing of "Million Dollar Quartet" at Harrah's, portraying Carl Perkins, a role he originated a decade ago. Lyons shares guitar duties with Alec Zeilon in Moreno's new lineup.
Also new to the band: baritone sax vet James D'Arrigo (a member of "The Scintas" show at Plaza), trumpet master Pete Bresciani ("Frank, The Man, The Music" at Palazzo Theater and also a studio musician for Imagine Dragons); and drummer Mike Zerbe (late of Gordie Brown's band, Air Supply and, long ago, Moreno's band at Golden Nugget). Expect more dates at Suncoast and also a return to Golden Nugget's showroom for Moreno.
'LAS VEGAS NOW' LAUNCHES
Wayne Newton was the first guest Monday afternoon on the new KLAS Channel 8 entertainment-lifestyle show "Las Vegas Now." Mr. Las Vegas was interviewed by longtime Newton family friend (and column friend, for that matter) Mercedes Martinez. He barely made it to the live 4 p.m. hit time after speaking at about 3:30 at Tony Sacca's celebration of life at Stratosphere Showroom.
The show has already experienced its first change in its on-air lineup: Stacey Gualandi, late of "Entertainment Tonight," "Extra," "Inside Edition" and "Extra," left the show prior to its debut. The decision is described by a spokeswoman as "a personnel matter," and a yet-to-be-announced host will join the team in the interim. Along with Martinez, Lindsey Simon and Kendall Tenney remain. Martinez will continue in her role as co-host of "Mercedes in the Morning" with JC Fernandez on 94.1-FM The Mix.
John Katsilometes' column runs daily in the A section, and Fridays in Neon. He also hosts "Kats! On The Radio" Wednesdays at 8 p.m. on KUNV 91.5-FM and appears Wednesdays at 11 a.m. with Dayna Roselli on KTNV Channel 13. Contact him at jkatsilometes@reviewjournal.com. Follow @johnnykats on Twitter, @JohnnyKats1 on Instagram.