Former 'Rock of Ages' star joins 'Tournament of Kings'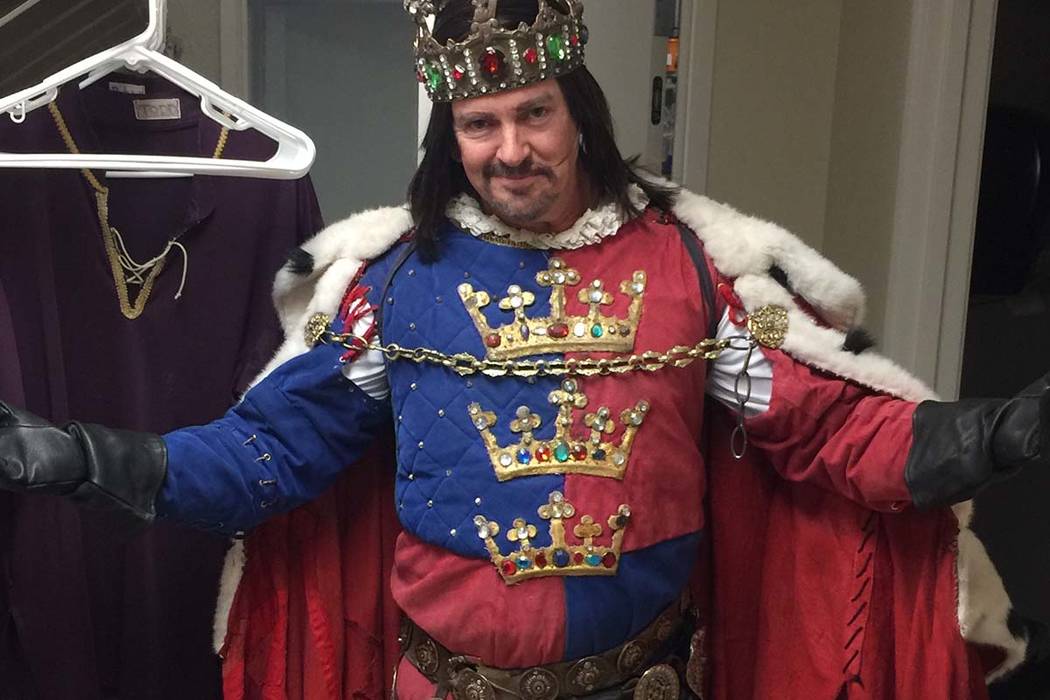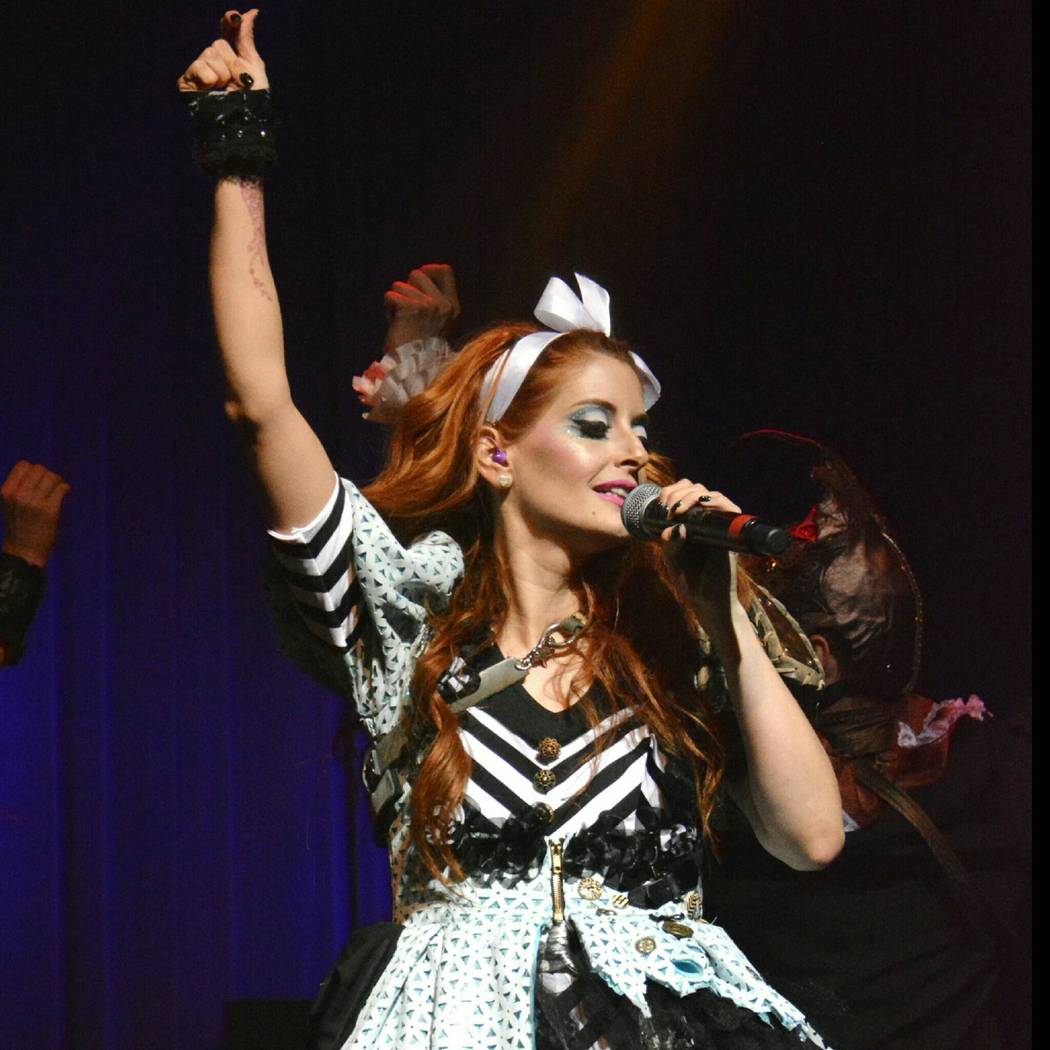 Troy Burgess has answered the call of the Cornish hen.
The former co-star of "Rock of Ages" is performing the dual/duel roles of King Arthur and Merlin the Wizard in "Tournament of Kings" at Excalibur. The show has delighted families in its underground, dirt-floor arena since opening in 1990 as "King Arthur's Tournament." The show changed to "Tournament of Kings" in 1999, still with live jousting from actors mounted on horses, and serves dinners of the above-mentioned fowl.
Among Strip production shows still running, only "Legends in Concert" (1983) and "Crazy Girls" (1987) predate "ToK." Burgess, who played Bourbon Room operator Dennis DuPree in the Vegas production of "Rock of Ages," has certainly mounted a Vegas institution.
But he was was cast only after he curiously checked the Vegas Auditions website and spotted a listing for the show.
"At my age, and with my background, when the phone rings, it could literally be for anything," says the 52-year-old Burgess, who is also an accomplished musician and songwriter and has starred in Johnny Cash tributes. "I saw this call for the show, and it was for a swing role, and I really wasn't interested in that. But when I got down there in the dirt of the arena, I thought, 'This would be pretty fun.' "
Two weeks later, director Philip Shelburne called Burgess offering a full-time role, portraying the key King Arthur and Merlin characters. Russ Benton, who had previously played those characters, announced he was leaving the cast after 17 years.
The King and Wizard are a long flight from Burgess' stoner/rocker character in "Rock of Ages," which he opened at The Venetian on Jan. 5, 2013, and closed at the Rio on Jan. 1, 2017.
"There are many firsts for me with this show," Burgess says. "I've never been the new guy. I've never been the guy replacing anyone. And never joined a show that has already been running, and for so long. I will say this about the experience, though, I wouldn't hesitate to do it again if it is anything like this."
Manilow extends
Barry Manilow has announced a dozen new Thursday-through-Saturday dates at the International Theater at the Westgate Las Vegas, six in November and another six in February. Manilow is back Sept. 27 to 29.
Elsewhere in the theater, "Soundtrack" starring Clint Holmes and Earl Turner, closes Sept. 22. And the rock show starring Dee Snider, once targeted for the International Theater, is being shopped elsewhere for 2019. Snider had fronted "Monster Circus" in that room in 2009 and reportedly hopes to reignite that flame in a Strip venue. It takes a long time to make a venue deal at the Westgate, about a year for Manilow's. Some stars are not so patient.
En Vogue en route
En Vogue has been added to the cast of hitmakers at the "I Love the '90s — The Vegas Show" at Paris Theater. The show opens Oct. 12 to 27 with Salt-N-Pepa, Rob Base and All-4-One and rotates its headliners.
En Vogue joins Base and Kid 'n Play from Nov. 8 to 12. From Nov. 15 to 19, it's En Vogue, Mark McGrath and Kid 'n Play. The schedule continues its carousel through the end of the year.
From Nov. 22 to Dec. 3, it's Salt-N-Pepa, McGrath and Kid 'n Play. From Dec. 6 to 17, it's Salt-N-Pepa, Base and All-4-One. The show is open-ended, with more acts and combinations to be announced.
Curiouser and curiouser
"Alice," the original steampunk-rock adaptation of Lewis Carroll's "Alice's Adventures in Wonderland" has closed retroactive to the show's last performance Aug. 13. The show was to perform Oct. 10 and Dec. 10.
"Alice" creator and co-star Anne Martinez was informed by Red Rock Resort officials Tuesday that the show would close. When asked if she was given a reason, Martinez said, "Nope!"
But Martinez did say that both sides treated each other amicably throughout the show's 18-month run. "It was a very positive experience, we are very happy with the way the show has evolved and it sold really well," Martinez said Tuesday. "Our last show was soldout."
Nonetheless, Martinez is scouting a new home. In the past five years, "Alice" has performed at the Tuscany, Club Madrid at Sunset Station, Vinyl at the Hard Rock Hotel, Brooklyn Bowl and finally Rocks Lounge.
Cassidy, Thompson as guests
Beau Cassidy, son of the late entertainment star David Cassidy, and composer-piano great Keith Thompson are guest-starring in "Bronx Wanderers" this week. The show is also bringing in a pair of backup singers.
The reason for this revamp: Vinny "Vin. A." Adinolfi is taking a vacation — at last — this week. It is his first break from the show, which runs nightly (8 p.m. this week) at Bally's Windows Showroom. The show opened in September 2016, and the only night that Adinolfi has missed was to open for Bon Jovi at T-Mobile Arena in March.
John Katsilometes' column runs daily in the A section. Contact him at jkatsilometes@reviewjournal.com. Follow @johnnykats on Twitter, @JohnnyKats1 on Instagram.