From 'Sex Tips' to 'Circus 1903,' a fans' guide to new Vegas shows
Updated August 6, 2017 - 10:25 pm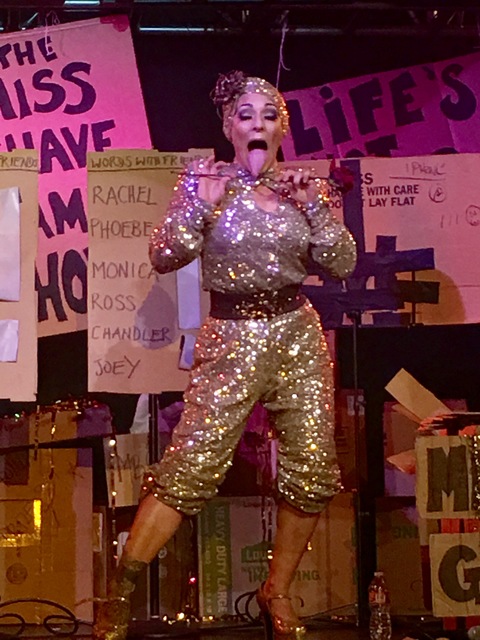 It's been a spirited summer on the VegasVille entertainment scene. To recount: Three shows have opened on the Strip over the past several weeks. A couple of shows have been refreshed or are returning. "Baz: Star Crossed Love" celebrated one full year at Palazzo Theater last week. The original Vegas production "Alice" at Rocks Lounge at Red Rock Resort, returned in July after a year away from the stage.
And, we must note "Sex Tips For a Straight Woman from a Gay Man," co-starring Kendra Wilkinson and Jai Rodriguez at Paris Las Vegas. The stage show opened in May and has been renewed through the end of the year at the Anthony Cools Experience Theater.
The new triumvirate of shows on the Strip is "Circus 1903" at Paris Las Vegas, David Goldrake's "Imaginarium" at Tropicana Theater, and "Miss Behave Gameshow" at Bally's new Back Room (next to Indigo Lounge).
In this fickle ticket-buying market, we'll identify the target audiences for all these dissimilar shows:
"Alice": Monthly at 9 p.m. on the second Monday of each month (aside from Sept. 25) through the end of the year. Fit for fans of: Advanced, aggressive choreography (including aerial acts). Live, recharted rock music. "Alice's Adventures in Wonderland." Dark themes and such powerful images as a frenetic Alice character in smeared makeup and a stilted Red Queen spinning on a stripper pole. Steer clear if: You're averse to dark themes, immersive dancing, music played at high volume, and scenes of hookah smoking.
"Circus 1903": 7 p.m. Tuesdays through Sundays (additional 3 p.m. shows on Wednesdays, Saturdays and Sundays) at Paris Theater. Fit for fans of: Traditional circus acts, sideshow performers (including a bicycle-unicyclist, a contortionist, a high-wire trio, juggler, teeter board acrobats, and a pair of acrobats who flip and spin one another airborne). Magic-comedy from lead character Willy Whipsnade. Children as part of the show (as assistants to Whipsnade). Elephants-as-puppets. Steer clear if: You fear fake elephants and find circus acts trite and/or tiresome.
"Miss Behave Gameshow": 8 p.m. Wednesdays through Sundays at Back Door at Bally's. Fit for fans of: Loose structure. Impov comedy. Randomly selected competition ("Stand if you have health insurance!) among two randomly placed teams (iPhones and Others). Audience participation. Singalongs to such songs as "Uptown Girl." Plastic ball fights. Performance art from an actor dressed as a monkey, a man named Tiffany (who, in an unsettling way, looks like Prince Harry) and a hula-hoop master named Marawa the Amazing (who has spun a world-record 180 hoops). Steer clear if: You fear flying objects (especially banana chunks and colored plastic balls), adult terms and humor (one contest is "Porn You'll Admit To"), shouting from, and toward, the stage.
"Baz: Star Crossed Love:" 7 p.m. Tuesdays through Sundays at Palazzo Theater. Fit for fans of: Baz Luhrmann and the inspiration of "Moulin Rouge," "Romeo + Juliet" and "The Great Gatsby." Famous films adapted to musical theater and film. Live music. Ballroom dancing. Inventive staging and theater design. Steer clear if: You have zero interest in Lurhmann, or the components of top-notch live theater.
"Imaginarium": 7 p.m. Tuesdays through Sundays at Tropicana Theater. Fit for fans of: Traditional magic – sub "magic" for "circus" in the "Circus 1903" template. Such steampunk-influenced effects as pulleys, giant gears, chains, and leather costumes with big zippers. Straitjacket-escape numbers. Aerial acts. A showman who disappears from inside a machine, and reappears in the row behind you. Steer clear if: You've seen any other big-effect magic production in the previous week.
"Sex Tips for a Straight Woman from a Gay Man": 7 p.m. nightly (dark Wednesdays) with additional shows 11 p.m. Saturdays, Anthony Cools Theater, Paris Las Vegas: Fit for fans of: Sexual advice that is real, performed satirically. Unique seminars. Innovative banana-prop application. The comic chops of Rodriguez and the addled, whimsical delivery of Wilkinson. Wilkinson's "Kendra on Top" reality show, which airs scenes from the show. Steer clear if: You blush at sexual advice couched in a conference-room atmosphere. You think you've figured it all out in the bedroom.
John Katsilometes' column runs daily in the A section. Contact him at jkatsilometes@reviewjournal.com. Follow @johnnykats on Twitter, @JohnnyKats1 on Instagram.