Future of Donny & Marie's Las Vegas Strip show unknown
Updated November 10, 2018 - 11:20 am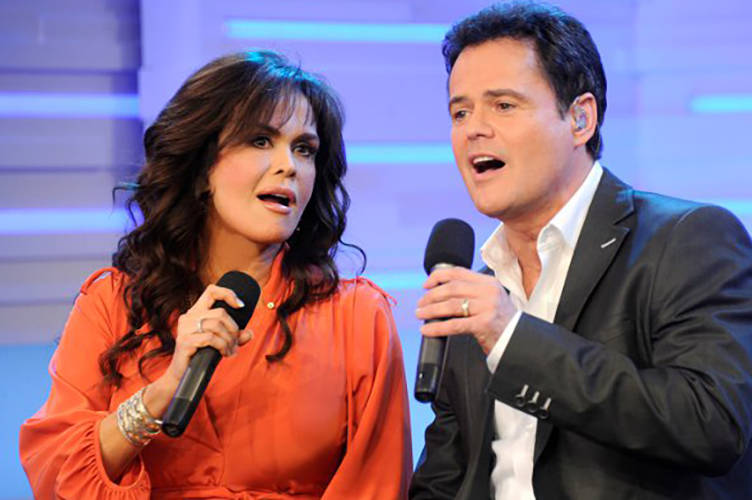 There is a moment in the Donny & Marie show at Flamingo Las Vegas when Donny Osmond sings "Happy Birthday to You" to an audience member. A video is played with the guest's name, produced on the spot, and Donny soars through the song.
He then strides into the audience to find the celebrant and says, "After the show, see one of our ushers, and they'll take you back for a meet-and-greet."
He pauses, then adds, "And, I'm taking you to dinner!"
The crowd cheers. But as he walks off, Osmond says off-handedly, "I'm just kidding about the dinner."
The line kills, as it's a unique glimpse into the Osmond brother's cagey sense of humor. His family and friends recognize his edge even when his fans don't. It's now important to note that same person announced, three weeks ago and totally out of the dark, that Donny & Marie were closing their hit stage show at the end of next year.
Not so fast. Hold those dinner plans, fans.
Caesars Entertainment, which holds the contract for the Donny & Marie production, has offset Osmond's comments by saying through a company spokeswoman: "Our partnership with Donny & Marie started as a six-week engagement and has grown into 11 successful years at Flamingo Las Vegas. We continue to work with Donny & Marie regarding future developments."
What that means, simply, is there has been no official confirmation from the company that the superstar siblings will halt their show after its current contract expires. The production is running at least through Nov. 16, 2019.
As a matter of business, the show can't change terms of its contract unless Caesars Entertainment signs off on the agreement— regardless of what one of the performers says on TV. Until further notice, this show is status quo.
To recount, D&M's future was thrown into uncertainty when Osmond appeared on KTNV Channel 13's "Morning Blend" show on Oct. 19. That morning, he told the evidently stunned co-hosts J.J. Snyder and Shawn Tempesta, "We've been talking about it for quite a while, but definitely, our countdown has started." Osmond also said the same thing to KTNV "Midday" host Dayna Roselli as Roselli recorded the moment on an Instagram story.
Marie Osmond, meantime, was not involved in any announcement, nor was the company. In a backstage chat at the Flamingo after Tuesday's performance, Donny Osmond offered no further official comment.
In a separate conversation, Marie joked of the show's future, "It ain't over 'til the fat lady sings, and I'm on NutriSystem." She otherwise shrugged off any follow-up on the matter, referring questions about the episode back to her brother.
This is not the first time a loose comment has created confusion around the D&M show. Donny Osmond has been known to joke that the upcoming year of the duo's residency would by "our last," whatever year it might be. But he's usually made such comments at personal appearances or charity events, or even during meet-and-greets, not on a major network affiliate in Las Vegas.
It's also possible that Osmond is anticipating a major career move in the show's final year that would forge the end of the residency. Owning a powerful entertainment brand, Donny & Marie frequently field overtures about outside projects. They co-hosted their own talk show in the late-1990s, and Donny hosted the syndicated game show "Pyramid" in the early 2000s, before the duo opened at Flamingo.
The siblings are reassured, as usual, that the show remains a hit on the Strip. Shows have been selling out — even before Osmond's comments that it would be closing — and has been revamped with several new numbers. The duo perform as effectively and as energetically as ever.
No show lasts forever, though, and when Donny & Marie finally shut down at Flamingo, we'll have a serious celebration. Maybe a big dinner party.
John Katsilometes' column runs daily in the A section. Contact him at jkatsilometes@reviewjournal.com. Follow @johnnykats on Twitter, @JohnnyKats1 on Instagram.