George Wallace returning to Las Vegas stage at Westgate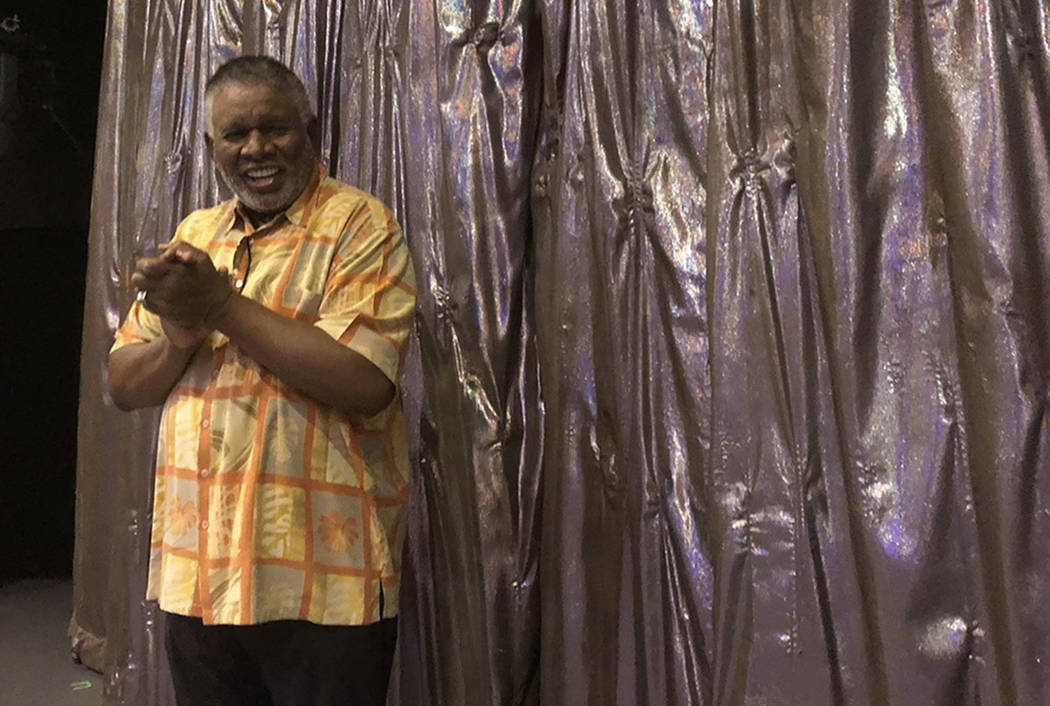 The chairs at Westgate Cabaret are silver. So is George Wallace's hair.
"I'm a little more gray today," Wallace says as he scans the venue that will be home to his upcoming residency starting this summer. "But it'll be black again by the time I'm ready to start; you can count on that."
The veteran stand-up comedian is ready for his first Vegas residency since his show at the Flamingo ended in April 2014. "Wallace @ Westgate" opens June 26, with shows at 8 p.m Tuesdays, Wednesdays and Thursdays. Tickets start at $65 and go on sale June 1.
Wallace anticipates using his proven formula, which is to have no formula, other than to pull material from that morning's newspaper and have it ready for that night's show. Typical of Wallace's observational approach, he asks, "How is it that I see Sunday morning's paper in my driveway on Saturday night? Can they see into the future? I check the obits to see if my name is there." He owns an endless supply of "Yo mama" jokes and uses the catchphrase, "I be thinkin'" to set up the shtick.
But there are differences today for Wallace, on and off the stage. He's going "blue" in this series, saying he wants to give more of an edge to his set. "I've never cursed onstage before, and I'll use that language in my act," he says.
He's also finished leasing the room himself, the "four wall" concept he employed (and mastered) during his decade at the Flamingo.
"All I have to do is show up and be funny," he says of his partnership with Westgate Las Vegas. "I'm not responsible for putting (butts) in the seats."
Wallace remains a strong draw on the road, and he is keeping his weekends open to tour.
He was awarded awarded $1.3 million in damages in April 2014. Wallace sued Bellagio following a tumble at the hotel during a 2007 corporate gig. He joked at the time, "I'm going to eat at Bellagio tonight. It's a beautiful place."
Now, he says, "I don't need the money. I do this because I like comedy, and I love Las Vegas."
The Picasso poke
As they say in the art world, there is no good time to drop a paint pole on a Picasso. That is the reported explanation of how Steve Wynn's "Le Marin" (or, "The Sailor"), a piece worth an estimated $70 million, was damaged just before it was presented at a Christie's exhibition last week.
According to reports citing information from Wynn's attorney, Michael Kosnitzky, a paint roller attached to an extension pole operated by a contractor was leaning on a wall. The pole toppled over and punctured the lower right corner of the canvas (it was clear if the painting was hanging at the time).
The event took place as Wynn is refocusing on his career as an art dealer. As reported by Artnet.com, Wynn has launched the website Sierra Fine Art, where he is advertising works from Andy Warhol, Henri Matisse and, yes, Pablo Picasso.
Commitment to entrees
Raiders owner Mark Davis and Golden Knights minority partners Gavin and George Maloof turned up at Piero's Italian Cuisine on Friday night after the Knights' 3-2 victory over Winnipeg in Game 4 of the Western Conference final at T-Mobile Arena. On Wednesday, Davis and Gavin Maloof were part of a group of 11 that also dined at the restaurant after the Golden Knights' 4-2 victory in Game 3.
Piero's owner Freddie Glusman is trumpeting that Davis has dubbed the place the official restaurant of the Las Vegas Raiders.
Greatweet
From comic Nancy Ryan of "X Burlesque" at the Flamingo, @NancyRyanComic: "44 million dollars spent on the Royal Wedding. All three of mine came to 3 grand. #RoyalFamily #RoyalWeddding #MeghanMarkle."
Cool Hang Alert
Mondays Dark returns this week with a "Broadway Rocks" theme, benefiting Positively Arts. The show will feature vocalists including Lisa Marie Smith, Travis Cloer and Anne Martinez and a burning band featuring Kenny Davidsen on keys and Jassen Allen on background vocals and general grooving. Doors at 8, show at 9, tickets are $20-$50.
Contact John Katsilometes at jkatsilometes@reviewjournal.com. Follow @johnnykats on Twitter, @JohnnyKats1 on Instagram.