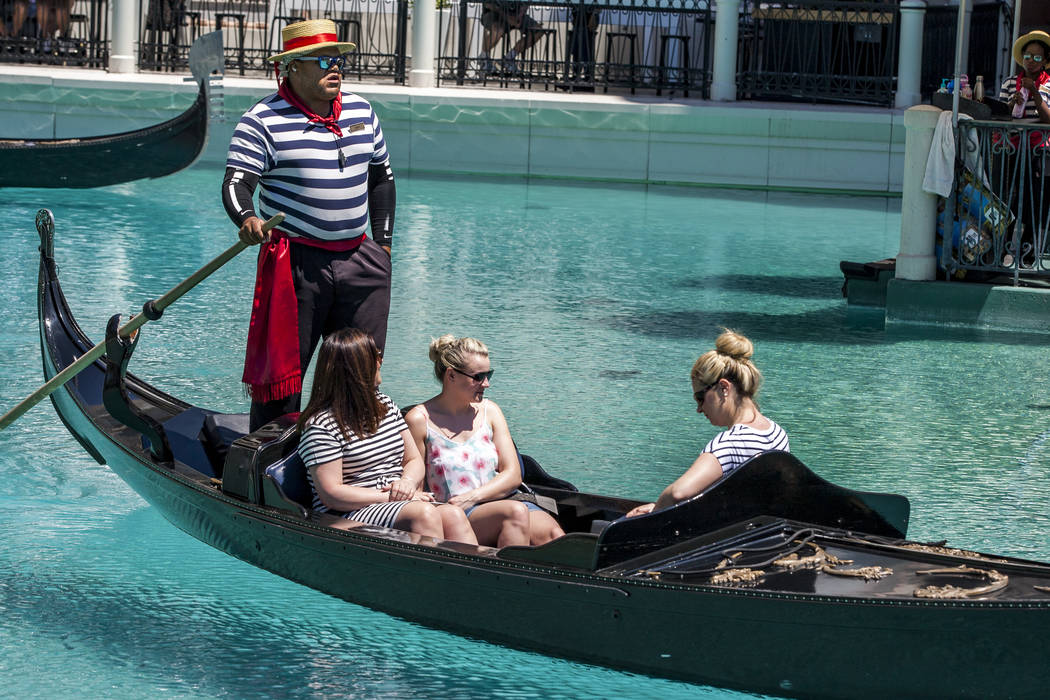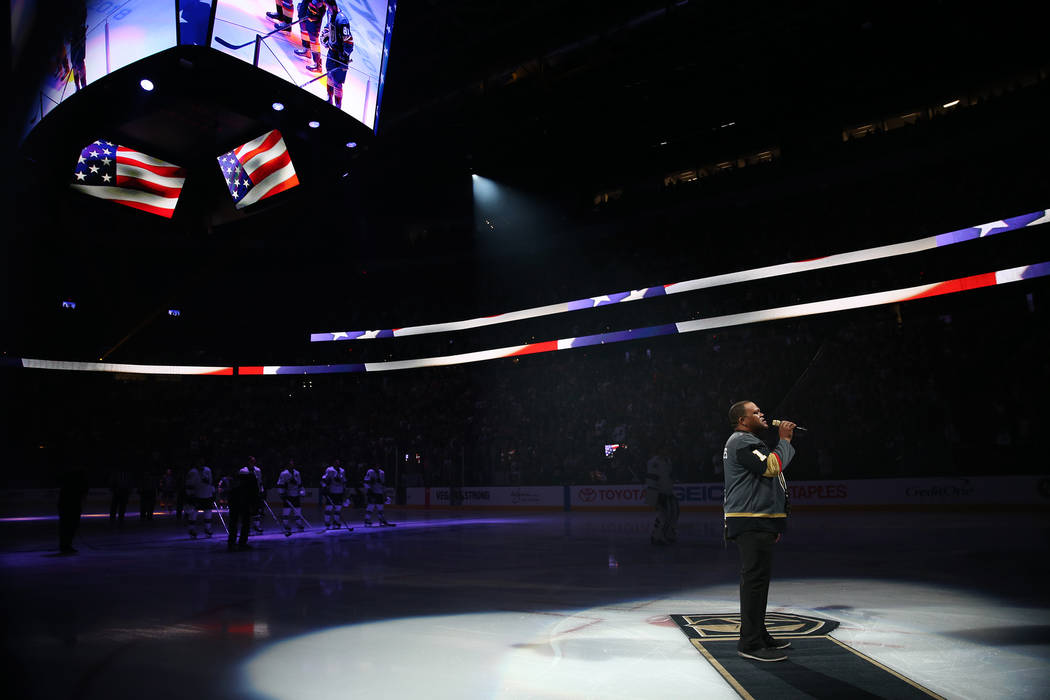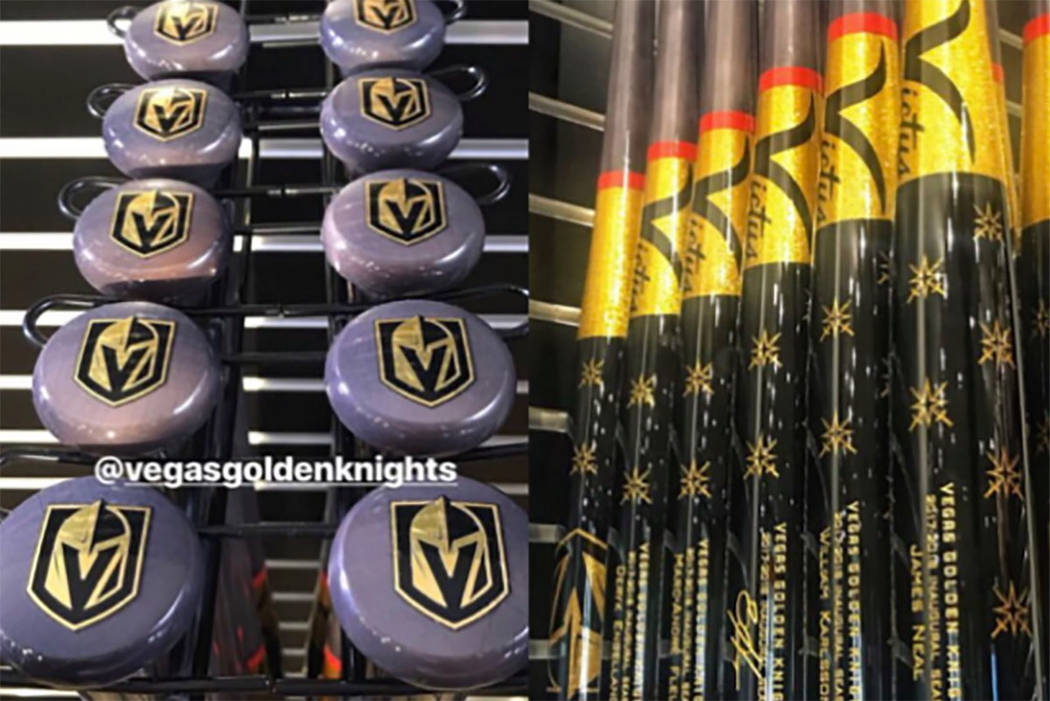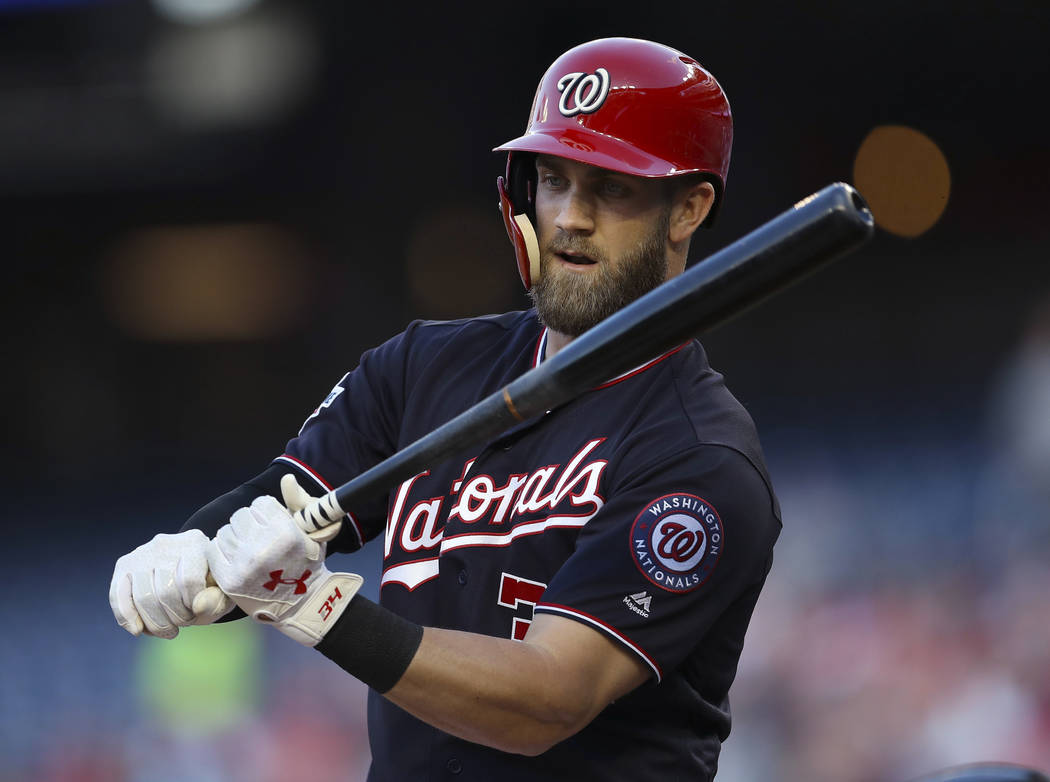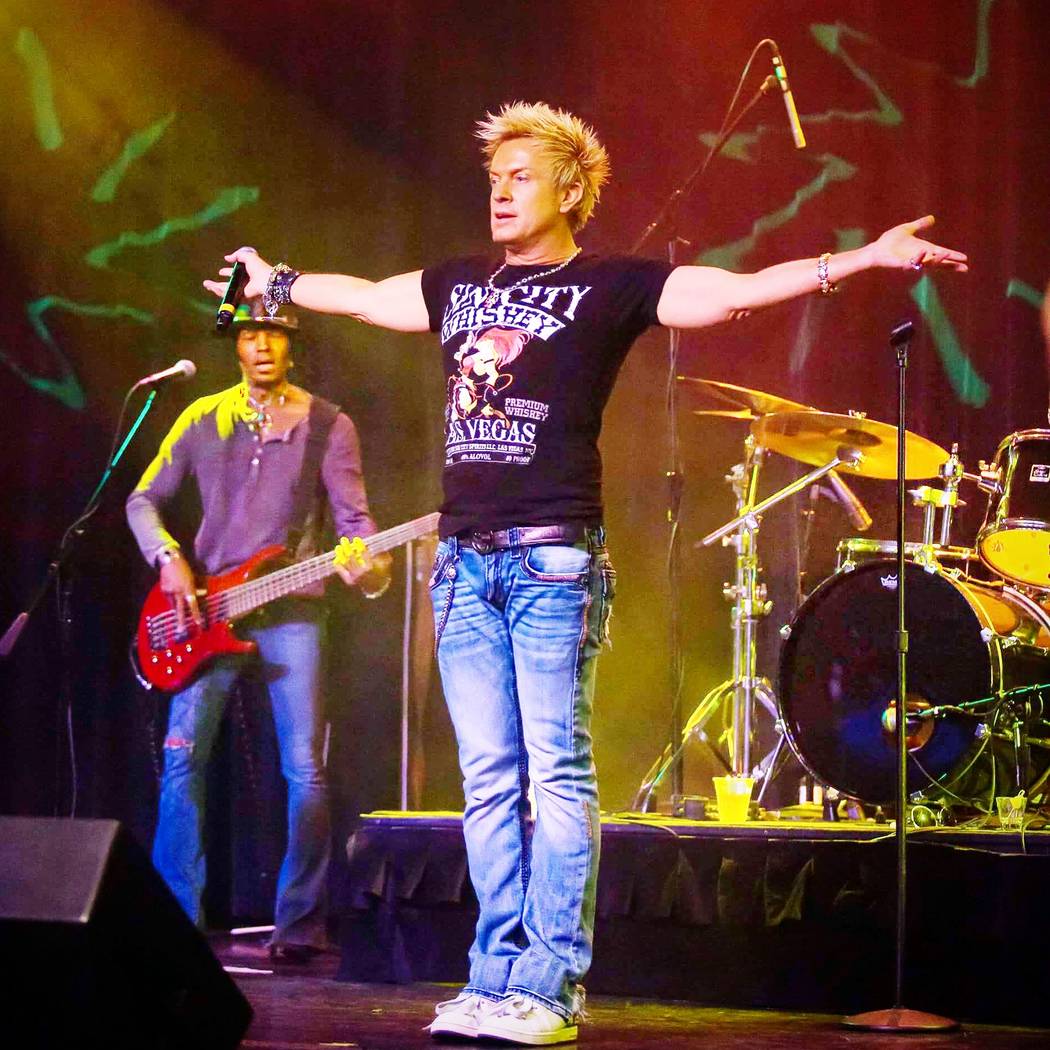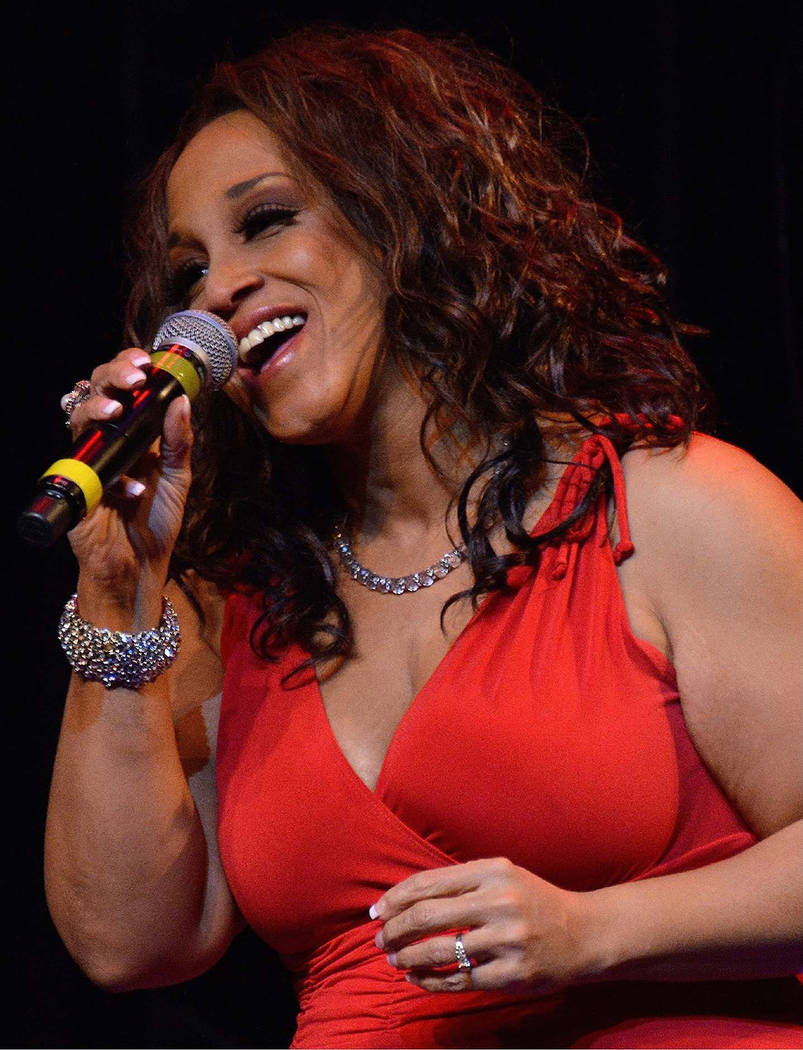 The Kats! Bureau at this writing is at The Perch at T-Mobile Arena, where the Golden Knights beat the Winnipeg Jets, 4-2.
Earlier, the costumed Golden Knight (and are all costumed) staved off a Jet projected on the ice. He sliced it right in half, incredibly, and remains undefeated for the 2017-18 season.
We've touched on the national anthem scene here at T-Mobile, but I'm sure someone famous is going to sing both anthems Friday night. Just a hunch from the streets.
More from this scene, and elsewhere:
The anthem answer
Of all the inventive collaborations out there (we wrote of Paul Anka with Drake this week), one we probably won't see is Carnell "Golden Pipes" Johnson and Carrie Underwood.
The beloved Golden Knights national anthem singer has added a verse (as it were) to the Underwood episode with a four-picture Instagram photo gallery.
The post on his @VegasGoldenPipes page shows Drake holding up his hand in a "Stop!" motion, wincing and ducking as Underwood is shown singing in the photo next to him.
In the lower two pics, Drake is shown smiling as Johnson sings the anthem at T-Mobile.
A case of nerves
Washington Nationals star and Las Vegas native Bryce Harper can dig in against a Noah Syndergaard fastball. But sitting through a Golden Knights playoff game is almost more than he can handle.
"I get more nervous watching them than anything I've ever done in my life, even playing ball,'' Harper told USA Today in a story published Tuesday. " I don't get nervous watching my team or when I play at all. I really don't. But when I'm watching them, I get so nervous. I'll sit on the couch with my wife, going nuts.
"It's unreal.''
A couple of weeks ago, Harper announced on his Instagram page he'd had customized bats made for every member of the Golden Knights. He's batty, that one.
Johnsons abound
Johnson has been the busiest VGK anthem singer during the playoffs. But the city has so many great vocalists you could practically fill out the rest of the playoffs just with those who have the last name Johnson.
Among them: Michelle Johnson (Las Vegas's First Lady of Jazz), Chadwick Johnson (who headlines monthly at Rocks Lounge at Red Rock Resort), Michael Johnson (of The A-List) and Tyriq Johnson (of Santa Fe & The Fat City Horns and the Earth, Wind & Fire tribute act Serpentine Fire). I might be missing a Johnson or two, and if so I"ll find out about it faster than you can say Sonny Crockett.
Also, Vegas has its own version of Underwood. Felice Garcia, a UNLV grad and longtime singer in several Strip production shows (including "Folies Bergere" at Tropicana and "Million Dollar Quartet" at Harrah's) portrayed Underwood in "American Superstars" at the Stratosphere. Garcia, who now lives in L.A. but still sings at the Stratosphere lounge occasionally, and performs an Underwood tribute show across the country and internationally.
Emmet & "AGT'
"The Cocktail Cabaret" co-star Daniel Emmet has teased the upcoming season of "America's Got Talent" on NBC.
All we can say is Emmet has posted a tantalizing note on his Facebook page. He referred to his dog Blue, in the accompanying photo, with the message evidently quoting the canine: "I know someone who auditioned for America's Got Talent!! Tune in this season starting 5/29 on NBC!"
Emmet is a massively talented guy, "AGT" participation notwithstanding. And Blue, too, seems ready for the spotlight …
The Zowie Bowie dozen
Chris Phillips and his Zowie Bowie party train celebrate their 12th anniversary at Rocks Lounge at Red Rock Resort at 11 p.m. Friday. Forget (as he might have) that the hotel opened April 18, 2006. This is the 12th anniversary, and we are sticking to it.
Nieve Malandra is Phillips' co-star in the Rocks Lounge party performances. He's also joined by Jaime Lynch on Thursdays and Saturdays on the Fremont Street Experience. Both singers will join Phillips for Friday's shindig.
There will be a red carpet, assorted cupcakes, and some high leg kicks.
By the numbers
Elton John's final performance of "Million Dollar Piano" at The Colosseum at Caesars Palace on Thursday will be his 450th show since he opened there in 2004. That's 243 for "The Red Piano" and 207 for "MDP."
Greatweet
From Linq Hotel headliner Frank Marino, on his @QueenofVegas account: "I succeeded by saying what everyone else is thinking." #JoanRivers
Cool Hang Alert
Vegas popular hip-hop/jazz band The Lique is celebrating the release of its second album, "Times Like These," at 7 p.m. Friday at B Side at the House of Blues at Mandalay Bay. Tickets are $10 in advance (go to houseofblues.com), $15 at the door.
Contact John Katsilometes at jkatsilometes@reviewjournal.com. Follow @johnnykats on Twitter, @JohnnyKats1 on Instagram.