Golden Knights fall to Flyers, but oh those jackets!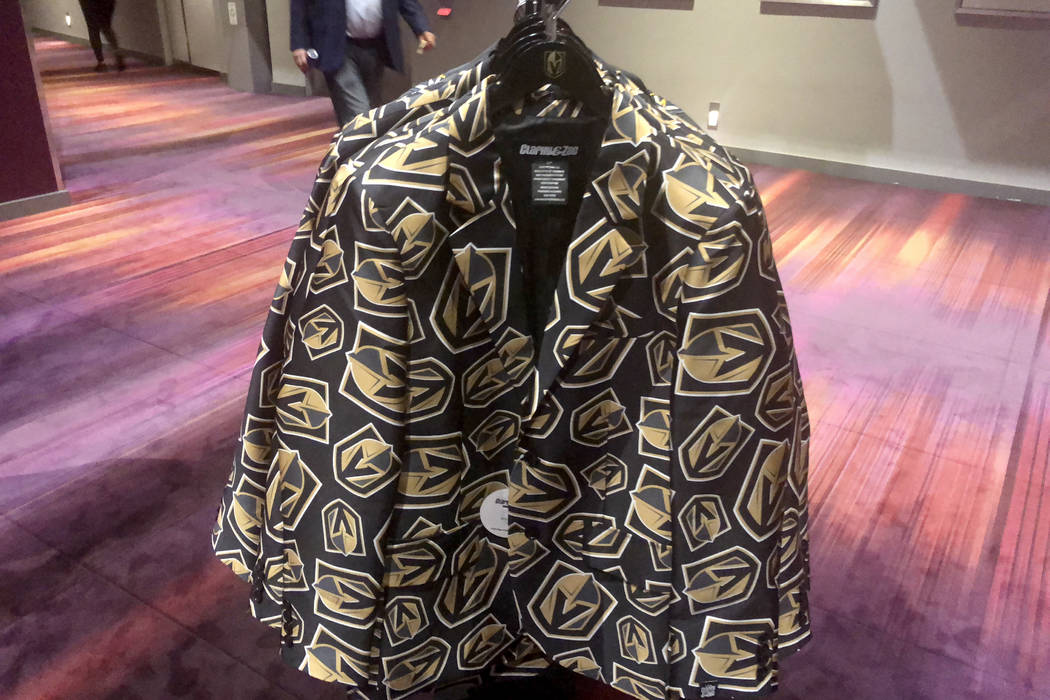 The Kats! Bureau is the place I call The Perch, which is up-up-up above the ice at T-Mobile Arena for the Vegas Golden Knights season opener against the Philadelphia Flyers.
......We hope you appreciate our content. Subscribe Today to continue reading this story, and all of our stories.
We worked the Gold Carpet earlier, which was only partially gold (with VGK logos) and not at all a carpet. Stickers on concrete, but we're not sticklers when it comes to the NHL.
What did we learn? The Golden Knights have many daddies, and more than 20 VGK children from this year's team. I had been asking the players as they entered the arena what they turned to for entertainment in Vegas; easily the most popular answer was, "Spend time with my kids."
What did we learn? … @GoldenKnights #RJNow pic.twitter.com/iH36Z0Om4P

— John Katsilometes (@johnnykats) October 5, 2018
And we need to figure out how many clothing deals these players have signed. This is one well-suited squad. Hardly any of these guys know what brand they are wearing, but it is better to look good than to be able to recite, "This is a Brioni wool two-button suit!"
The items you must have, gentlemen, are the new VGK blazers on sale at the Armory at T-Mobile and the Arsenal at City National Arena. Two of the jackets are splashed with Golden Knights logos, and another looks like a letterman jacket that would be worn by the guys in Human Nature. They are made of 100 percent polyester and run $250, and you'll see them around town, especially when broadcaster Shane Hnidy, marketing exec Brian Killingsworth and I hit the streets while wearing them. Watch out for us, soon enough, at the new club On The Record at The Park MGM.
Now these are some jackets! 😮 Talk about showing off your team spirit. Check out these @GoldenKnights-themed suit jackets! #VegasBorn pic.twitter.com/tCnsokPAuL

— Las Vegas RJ (@reviewjournal) October 5, 2018
The dance is on
Even the Golden Knights season opener couldn't move the Merryhill Elementary School in Summerlin's annual family Halloween Kickoff Dance off of its usual schedule.
As we have learned, the dance is always — always — the Thursday before teachers' in-service.
Merryhill is especially nuts for the Golden Knights because Deryk Engelland's two kids are students. As parents were notified in an e-mail, the dance-party DJ (was it Tiesto?) was instructed to provide game updates during the course of the party. Fortunately, the event dissipated before the start of the ruinous second period.
Mobile in T-Mobile
In The T-Mobile Lap (a new term for VGK's second season), I found …
— Vince Neil, who is a couple of weeks away from his recording reunion with Motley Crue in L.A. Neil was trying to find his friend Chuck Brennan, founder of Dollar Loan Center, in one of the VIP boxes. Brennan texted Neil a suite number, Neil walked in, said hello, and everyone was elated to see him.
After a few minutes, Neil asked, "Where's Chuck Brennan?"
"Who?" one of the guests asked.
"Never mind," Neil said, and walked out. Still not sure if the two ever connected.
— D Las Vegas owners Derek and Greg Stevens. Derek is a suite holder at T-Mobile and Greg, who lives in Detroit, makes about a dozen games a year. The brothers and a few colleagues and at least one journalistic interloper moved from the suite to their seats on the glass, in time to see Marc-Andre Fleury surrender three goals and hit the bench for Malcolm Subban.
Derek Stevens donned his typically distinctive VGK trench coat and slapped the glass to extol the home team. At the end of the second period, he wheeled around to see Jack Binion, son of gaming legend Benny Binion, seated two rows behind him. T-Mobile is the place where the elite meet.
Carnell returns
"Golden Pipes" was back, singing the anthem for the first time since last season's Stanley Cup Playoffs. Carnell Johnson drew an enormous roar. The pre-game festivities were further peppered by the official puck-drop, with a silk act from Cirque's "Mystere" at Treasure Island; and an appearance by Wayne Newton and Lil Jon, a duet waiting to happen.
Oh what a "knight"! #Mystere opened @GoldenKnights second season home game opener with a very stylish puck drop. Catch it in our IG Story Highlights (IG: cirquedusoleil)!❤️ pic.twitter.com/SBJuGDvW7f

— Cirque du Soleil (@Cirque) October 5, 2018
Cameron returns, too
Cameron "The Igniter" Hughes returned to action, too, ripping off his T-shirts and enticing revelry during breaks in the action. I believe Hughes was hanging with Hard Rock Hotel/Virgin Hotel Las Vegas Chief Executive Officer Richard "Boz" Bosworth, who is just a fan. Not part of the arena staging.
My guy! @cameroncheers @GoldenKnights #VegasBorn pic.twitter.com/balnYbQ6hh

— John Katsilometes (@johnnykats) October 5, 2018
Goo alert
I'll just impart the facts: The Blue Man Group, which cranked the siren at the season opener, showed up at The Perch while I was making The Lap. They dropped off a small packet of Best Foods real mayonnaise.
SPOTTED! 👀 #BlueManVEGAS was at the @GoldenKnights 2nd season home opener. See exactly what they got themselves into in our IG story (IG: bluemangroup) pic.twitter.com/mL6oU9C2ET

— Blue Man Group (@bluemangroup) October 5, 2018
This is likely in response to my post on Twitter when I mentioned that I recognized the three Blue Men as they walked into T-Mobile — without their stage makeup. A sign I've lived in VegasVille a long time, folks.
John Katsilometes' column runs daily in the A section. Contact him at jkatsilometes@reviewjournal.com. Follow @johnnykats on Twitter, @JohnnyKats1 on Instagram.