Golden Knights fans make it clear: 'We want the Cup!'
Updated May 20, 2018 - 8:03 pm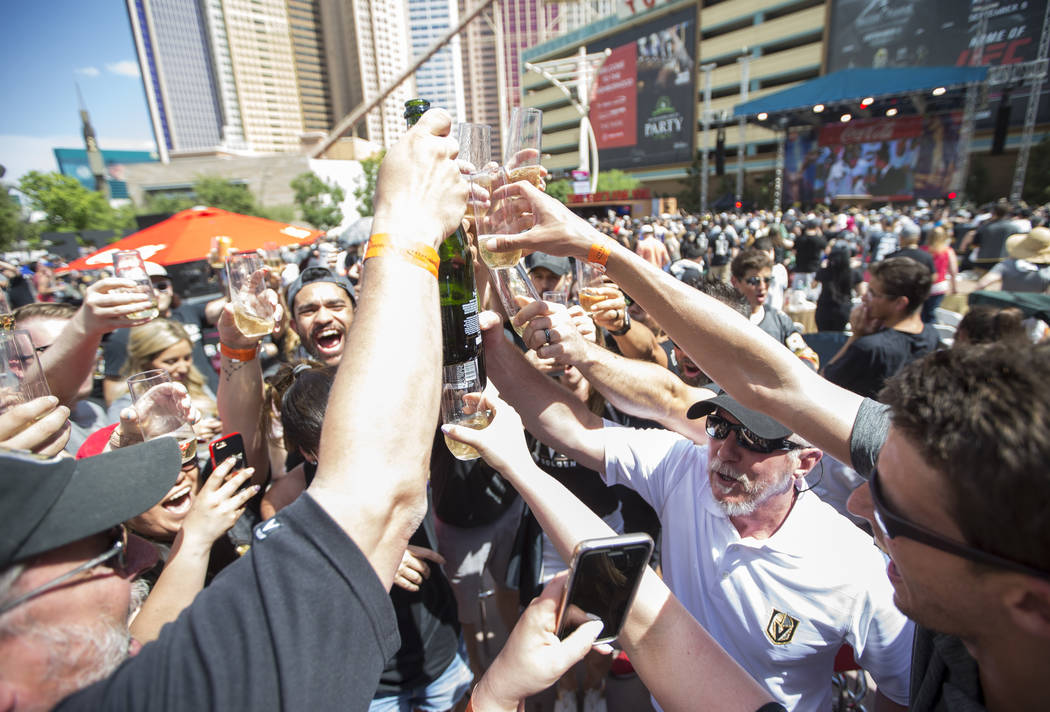 The crowd outside T-Mobile Arena on Sunday afternoon was bloodthirsty, and also Cup-thirsty.
"We want the Cup!" was the roar from 3,000 euphoric Golden Knights fans partying in the heat of the Strip as the Knights beat Winnipeg to advance to the Stanley Cup Final. "We want the Cup!"
To clarify, this isn't the first time Las Vegas has yearned for the Stanley Cup. We've asked for it before, many times, but as a prop.
We've wanted the Cup for display in the lobby of the Hard Rock Hotel, for instance. Or at the Park Theater retail store, or on a platform at the pool at the Palms so that guests could swim up for photo ops during NHL Awards parties.
But Vegas really wants it now. Not as a party piece, but as the trophy awarded to the National Hockey League champion. And those caterwauling fans at Toshiba Plaza believe it can happen.
"I've lived in Las Vegas for 20 years, and I've been waiting for this for a long time," said Paul James, smiling when asked what he did in Las Vegas. "I root for the expansion Vegas Golden Knights."
James created and carried a black sign with gold lettering that read, "Flower Power! He Means Everything" on one side and "Pouviour des Fleury He has Fun" on the other, indicating his fondness for goalie Marc-Andre Fleury.
"We have the power of flower! Fleury!" James said. "And we have (Alex) Tuch, who plays the game with a smile on his face!"
Smiles were abundant, especially from the team's co-emcee, the vaunted Wayne "Big D" Danielson, who has met and milled with all variety of Las Vegans who have embraced the team. "We had Wayne Newton; his eyes were welling up looking around the arena," Big D said. Newton was part of a lineup on Friday night that also included appearances by Cirque du Soleil's "Love" show, Blue Man Group, Backstreet Boys and Lil Jon. All are part of the VGK family.
"I look at that and ask, 'Was it a hockey game or all-star concert lineup for the Golden Knights?" the DJ said. "Well, it was both. We are all blessed here in Vegas to be part of an amazing event and an amazing team."
Mayor cashes in
Las Vegas Mayor Carolyn Goodman jumped in with a text message just as the Golden Knights celebration erupted around town. She reminded of the wager she made with her counterpart in Winnipeg, Brian Bowman, that the losing team's mayor would wear the opposition's jersey in public. "He has to wear a Vegas Golden Knights jersey to his public appearances or a council meeting or city council meeting!"
Goodman also invoked the summit that sparked NHL expansion talk nearly 20 years ago, when her husband, Oscar, had just started his first term as mayor and met with the league commissioner. "I guess Oscar knew something special in 1999 when he sat down with Gary Bettman and they both agreed that ice hockey would be great in Las Vegas!!"
In retrospect, it was a golden moment.
Official party options
The Golden Knights have rotated their "official" viewing parties between Toshiba Plaza, Mandalay Bay Beach, Red Rock Resort and the Downtown Las Vegas Events Center.
One choice venue is a neighbor of T-Mobile — Park Theater — has not been used. One challenge is the venue's crowded headliner schedule. Performances by Ricky Martin and Cher have coincided with the Stanley Cup playoffs, but the theater was open and empty Sunday.
Officials might pursue a party there for the Stanley Cup Final, but the tug of Mandalay Bay Beach is strong. The pool and beach setting is appealing as the temperature rises, and team officials like invoking Mandalay Bay as an official host in its ongoing recovery from Oct. 1.
They're 3-0
The Golden Knights might have a "lucky" resort executive. Palms General Manager Jon Gray and his wife, Ruth, have been at all three of the team's series-clinching victories in Los Angeles, San Jose and Winnipeg.
Michaels' lucky accessories
I ran into MGM Resorts International's Senior Vice President of Public Relations Jenn Michaels at Beerhaus at The Park during the first period. She was not wearing her lucky golden glasses, matching sneakers and tiara. She wasn't carrying her magic VGK wand, either.
As she explained, the gear is only lucky for home games. She never wears the stuff when the team is on the road. In terms of lucky attire, what happens here, really does stay here.
Contact John Katsilometes at jkatsilometes@reviewjournal.com. Follow @johnnykats on Twitter and @JohnnyKats1 on Instagram.