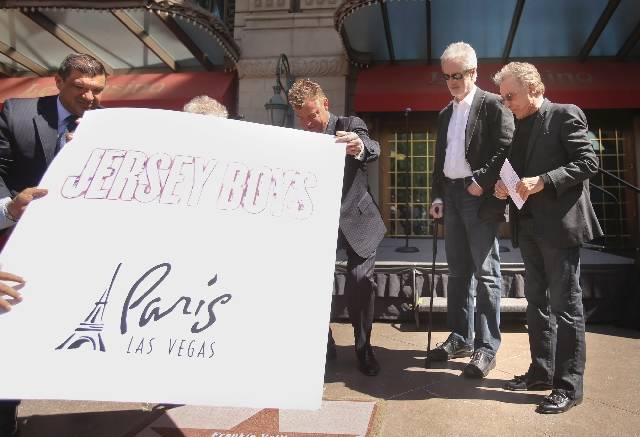 Life runs in cycles. So does professional hockey.
And currently, we are in the cycle where the adult revue "Fantasy" at Luxor is interwoven with the Vegas Golden Knights-L.A. Kings first-round Stanley Cup Playoff series.
The singing star of that show, Lorena Peril, is one of the marquee vocalists on the Strip. She is also a highly coveted national anthem singer in Las Vegas and in California, including several L.A. Kings hockey games at the Staples Center dating to 2011. She most recently performed there before Game 6 of the Western Conference Finals between the Kings and Chicago Blackhawks in May 2014.
Not surprisingly, Peril has been enlisted by the Kings again, to sing the national anthem at Sunday's Game 3. Thus, a well-known entertainer in Las Vegas is being introduced to the fans at Staples Center while wearing a Kings jersey with her lucky number 21 on the back.
The Kings require their anthem singers wear the home team's colors — even if the singer lives in the city of its chief playoff rival.
"I never thought something like this would happen," Peril said during a phone chat Saturday afternoon. "But I've been invited by the Kings, I've been singing for the Kings for years, before Las Vegas even had a team. I'm originally from California, but I'm now living in Vegas, and I love our team in Las Vegas."
Peril has actually performed the anthem at one Vegas Golden Knights game at T-Mobile Arena, on Oct. 17, a 5-4 overtime victory over the Buffalo Sabres. She was one of dozens of singers who auditioned for the chance to sing the anthem at T-Mobile. She has also sang for her original hometown NFL team, the San Francisco 49ers; for the L.A. Clippers, also at Staples Center; and at the PBR World Finals at T-Mobile. She met Golden Nights owner Bill Foley at that event, and he told her then he looked forward to her singing for his team, too.
Peril has spent about six years in two stints in "Fantasy" dating to 2010. Prior to taking that role, she also performed as Christina Aguilera in "American Superstars" at the Stratosphere and in Sin City Bad Girls at the Las Vegas Hilton. Her connection to the Golden Knights-Kings series follows another "Fantasy" singer, New York-New York Entertainment Manager Stephanie Sanchez, who was a lifelong L.A. Kings fan until ditching that team in favor of the Golden Knights (Sanchez was in "Fantasy" for nine years ending in 2009).
Peril emphasizes, "It's not about one team or another, it's about our country. I am excited, and whenever I'm asked to sing the anthem, I'm honored to sing it."
Ice acrobatics at T-Mobile
About an hour after the crowd cleared T-Mobile after the Golden Knights' 2-1, double-overtime victory, workers began turning around the arena for back-to-back concerts by Justin Timberlake. The full process took about three hours from ice to concert stage; and takes four hours to return the venue to a hockey facility ready for actual skating.
Stars settle in
Jason Aldean, one of the headliners at the Academy of Country Music awards show Sunday at MGM Grand Garden Arena, hung out and relaxed at Foundation Room at Mandalay Bay on Friday night. Also in the scene, dressed as Elvis and in full party flourish, was country star Jon Pardi.
Meantime, also on Friday night, Timberlake was spotted at Topgolf at MGM Grand having a bit of tequila.
Strip stars to return
Las Vegas Walk of Stars President Bob Alexander says the attraction will return to the Strip, in a new location: The Linq Promenade. He says he's reached an agreement with Caesars Entertainment to use the promenade as a permanent location for the commemorative stars that were pulled up as protective bollards were installed on the Strip.
A total of 49 of 82 stars have been pulled up in a project the county began in November.
"We've been promised that Caesars won't pull the stars up and they will be displayed permanently near the High Roller," Alexander said Saturday. Alexander said some of the entertainers will help in raising money for the project, which would cost about $250,000, and the Walk of Stars is seeking grant money and corporate sponsorship to help defray costs.
"It's a heck of a hill to climb, but we'll climb it," he said.
The Walk of Stars is set to honor Telemundo broadcast great María Celeste Arrarás on April 24 on the sidewalk in front of MGM Grand. She will be in town to host the Latin Grammy Awards show. Arrarás's star is the first to be presented since Peter "Big Elvis" Vallee was honored at Paris Las Vegas in February 2017.
Suitors for 'Alice'
Prospect Entertainment Chief Executive Officer Tegan Summer, who is opening "Marilyn: A New Musical" at Paris Las Vegas on May 23, was in the audience for Monday's performance of "Alice" at Red Rock Resort.
Summer was seated with Caesars Entertainment President of Entertainment Jason Gastwirth on what seemed to be a genuine scouting mission.
Summer is flush with ideas and plans for multiple shows in Las Vegas, is in acquisition mode and is a big fan of "Alice." Most important, Summer also has a strong working relationship with Caesars Entertainment, and "Alice" creator Ann Martinez's dream is to stage her pet project in a major Vegas resort.
John Katsilometes' column runs daily in the A section. Contact him at jkatsilometes@reviewjournal.com. Follow @johnnykats on Twitter, @JohnnyKats1 on Instagram.