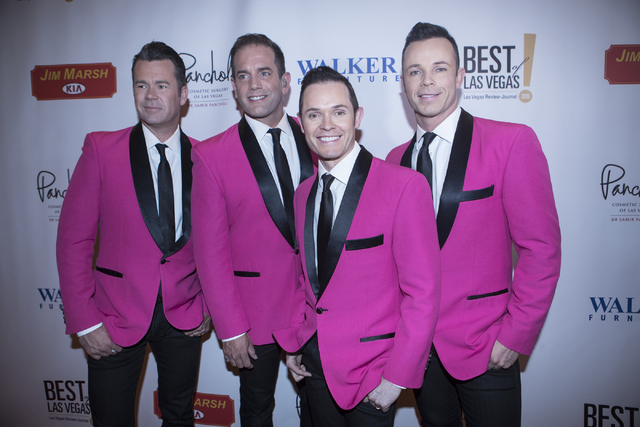 An energetic canvassing of VegasVille has revealed the following:
HN haps
Human Nature is throwing open Venetian Theater for three free "Jukebox" performances May 23 and 24, when they will be filming a national television special.
Seating is limited (isn't it always?), and fans will need to arrive at the venue 45 minutes before the performances (8 p.m. Tuesday; 3 and 7 p.m. Wednesday). To requests tickets or additional information, email rsvp@spientertainment.com.
The specifics of whenj (and where) the shows will be aired, but it promises to be major exposure for the Aussie quartet. Andrew and Michael Tierney, Phil Burton and Toby Allen opened at the old Imperial Palace (now Linq in June 2009 and moved to the Venetian in January 2013).
Gordie's good to go
Impressionist Gordie Brown premiered his new show Tuesday at The Cabaret at Planet Hollywood, with an impressive arsenal of 85 voices (his latest count). The list includes Presidents George W. Bush, Bill Clinton, Barack Obama and Donald Trump, and legends Sammy Davis Jr., Tony Bennett, Jack Nicholson and Paul Simon.
With 185 seats, the Cabaret is small for Brown, compared to the 600 at the Showroom at Golden Nugget. There is no question that Brown misses his band, musically and comically, as he occasionally turns to an unseen musician and calls out, "Wait! No band!"
Brown also says of the cozy venue: "This room is not good for someone with ADD." He regularly comments on the occasional clinking of glasses behind the bar, or the late arrivals who have nowhere to hide.
"You just got here?" Brown said to a couple being seated 10 minutes after show time. "I'll start over!"
This is not the same type of production fans are accustomed to at a Gordie Brown show. But if you look at Brown as a stand-up comic, and this as a stand-up room, it's a satisfying comedy show. Brown delivers the laughs.
Newman in 'Dice'
Laraine Newman, an original member of the Not Ready for Prime Time Players on "Saturday Night Live," is among the guest stars on the upcoming season of "Dice." As previously noted, the Showtime series starring Andrew Dice Clay has been filming at Tropicana Las Vegas this month, and Clay performed a set Saturday night at Laugh Factory. (The audience included fellow actors James Woods, Mike Starr ("Goodfellas") and Kevin Corrigan ("The Departed" and "Pineapple Express").
Las Vegas agent Barbara Lauren cast the show. Those chosen include Shayma Tash, Lou De Meis, Darrell Rivera, Semedo Hairston, Eduard Osipov, Eve Gray, Melody Martinez and William Patrick Johnson. Lauren was also a member of the "Tony N' Tina's Wedding" during its entire 14-year run in Las Vegas.
Panic! On the Broadway
Brendon Urie of the Las Vegas band Panic! At the Disco is starring in the Broadway version of "Kinky Boots." Urie has been cast as the shoe-factory owner Charlie Price.
Another Vegas connection in the production: Director Jerry Mitchell developed "Peepshow" for its residency at Planet Hollywood in 2009, and also opened "Kinky Boots" touring show at the Smith Center in 2014.
The Broadway version of "Kinky Boots" will debut May 26 at the Al Hirschfeld Theatre in Manhattan and runs through Aug. 6.
'Absinthe' does the trick
The internal concern about the Los Angeles version of "Absinthe" at the L.A. Live Event Deck was that the second production would cut into the show's sales at Caesars Palace. But word is that the Vegas "Absinthe" has actually increased sales during the run of the show in L.A.
How does a show that regularly sells out increase sales? By increasing ticket demand. Many "Absinthe" shows at the Spiegeltent benefit from discount pricing from brokers to entice last-minute purchases. But those deals have largely vanished after "Absinthe" opened in L.A. in March, with fans paying the full ticket price — and boosting profits. The L.A. show is set to close May 28, but might well be extended.
Note: This version of the story corrects the theater for the Human Nature shows.
John Katsilometes' column runs daily in the A section Contact him at jkatsilometes@reviewjournal.com. Follow @johnnykatson Twitter, @JohnnyKats1 on Instagram.